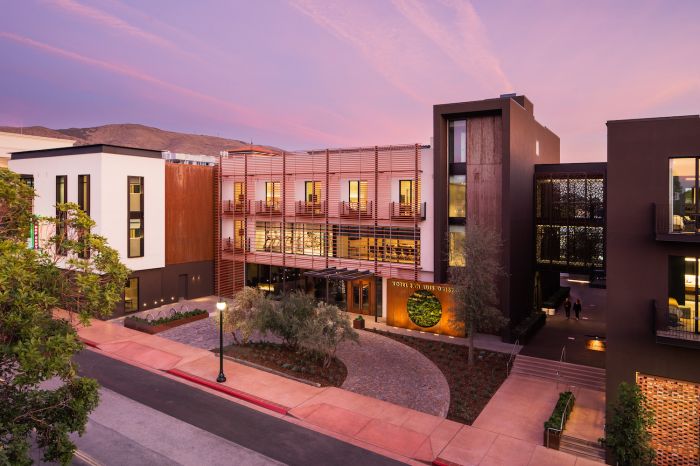 San Luis Obispo, once dubbed 'the happiest place in America,' finally has a hotel befitting its stature as home to one of California's top-ranked higher learning institutions. Hotel San Luis Obispo, or Hotel SLO, a Piazza Hospitality boutique hotel, is sure to lure friends and family of Cal-Poly San Luis Obispo students, but the new stylish digs are meant to serve as more than a way station for college drop-off and pick-up. Luxurious, yet laid-back, the 78-room hotel provides a sophisticated home base for exploring California's Central Coast and its many attractions, while also serving as a destination unto itself.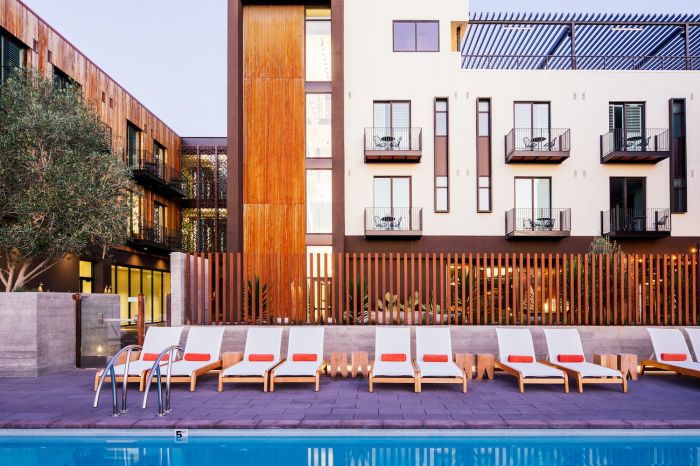 Alone worth a visit is the hotel's expansive rooftop terrace and accompanying lounge, High Bar, an inviting space with stunning views of the surrounding mountains and San Luis Obispo's vibrant downtown. In addition to crafted cocktails, wine, craft beer, and light bites, High Bar features a full bocce court and a lushly planted chef's garden, the bounty of which infuses menu items at the hotel's two other on-site restaurants, the casual Piadina and the fine-dining steak house, Ox + Anchor. Offering a fresh California take on Italian cuisine, Piadina's design draws inspiration from California's beach bonfires with interior shades of light ash wood and terra cotta colors intermixed. Ox + Anchor is a stylishly updated interpretation on the classic steakhouse, providing a relaxed fine-dining experience with a menu that draws inspiration from the hills and sea that surround San Luis Obispo.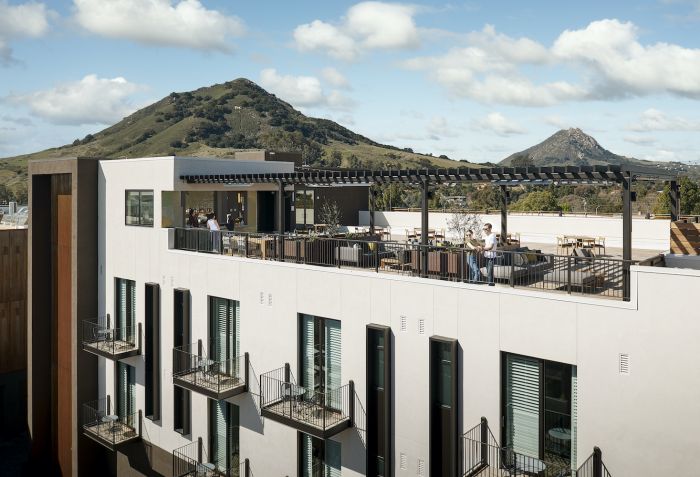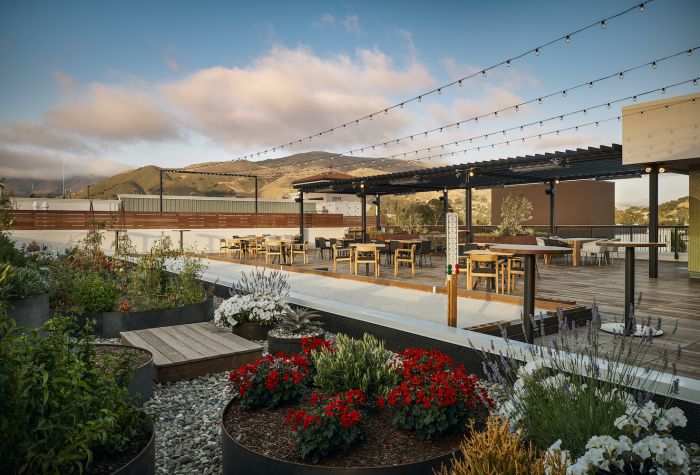 This and above: High Bar
Ox + Anchor Indoor/Outdoor Dining Room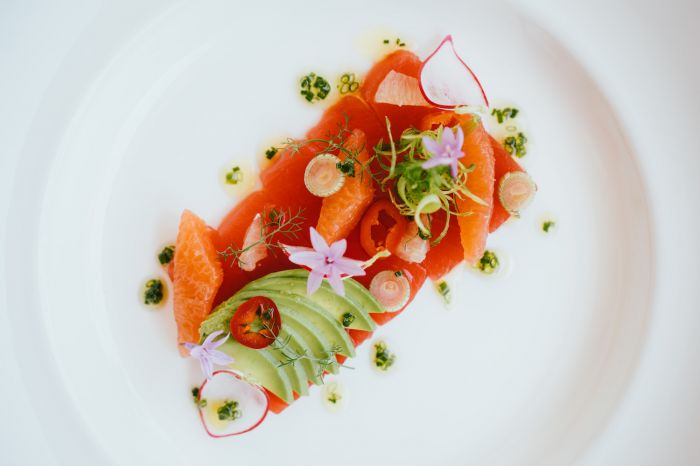 Piadina salmon dish
The hotel's bevy of original art is also a draw. Upon arrival, guests are greeted by a large custom-made, three-dimensional cut paper piece, by artist and anthropologist Matthew Picton. The intricate art presents a layered history of San Luis Obispo, incorporating several findings from the hotel's own site excavations. From its IG-worthy living wall at the entrance by Cal Poly alumnus and famed living wall artist David Brenner, to the 'wood knots' by San Francisco-based artist Katie Gong found over each bed, to the limited-edition prints of SLO architectural landmarks found in each room and hallway by Los Osos-based artist and Cal Poly professor, Sara J. Frantz, Hotel SLO is a feast for the artistic senses.
Intended as an energetic and unique social gathering place for its guests and the local community, and inspired by the surrounding pristine beaches, rolling vineyards, sweeping golden ranch lands, and volcanic mountains, the design features a palette of rich, natural colors and materials. Numerous outdoor areas are intentional year-round retreats and include a public courtyard highlighted by outdoor couches, teak chaise lounges, and firepits. Walking pathways and San Luis Obispo's signature paseos bisect the property's garden courtyard and connect the hotel to shopping and dining destinations on Monterey Street.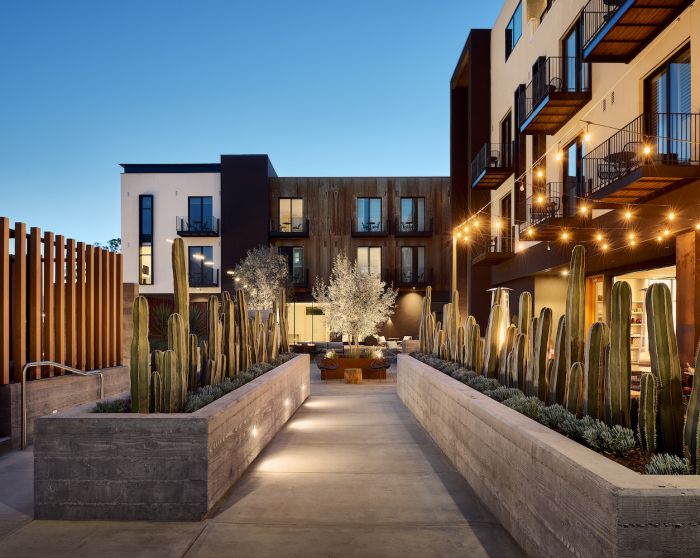 And the rooms…. The property's luxurious rooms and suites include relaxed, fresh and playful furnishings, white oak floors and headboards, leather and brass sconces, mustard-colored throw blankets upcycled from t-shirt trimmings, hand-woven Nani Marquina rugs, and pouffe ottomans. Bathrooms feature glass walk-in showers, with select rooms offering freestanding soaking tubs. Balconies offer views of the historic downtown buildings, the hotel gardens, and the surrounding Seven Sisters Peaks. Sliding glass doors grant access to the suites' outdoor terraces, where golden sunsets create their own dramatic show of art.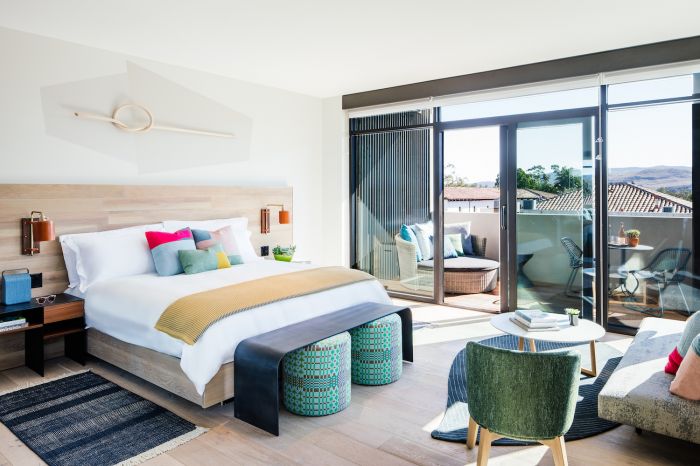 Bonus: Environmentally conscious travelers will appreciate the hotel's commitment to sustainability, including reusable water bottles for every guest, refill stations throughout the hotel, and charging stations for electric vehicles. And history buffs will enjoy Hotel SLO's respect for its historic Chinatown district site. The property's entrance sign represents a Chinese Moon Gate passage. Exterior materials include stucco and Chinese-inspired terra cotta baguette tiles in the entry, used as sunscreens, and Corten steel fabricated in a traditional Chinese cracked glass motif cladding the glass walkways that connect the hotel's east and west wings.
Photos courtesy of Hotel San Luis Obispo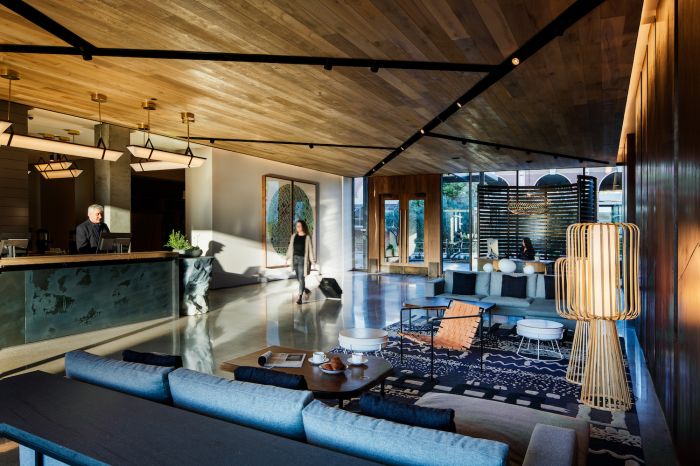 Hotel San Luis Obispo Lobby/Lounge