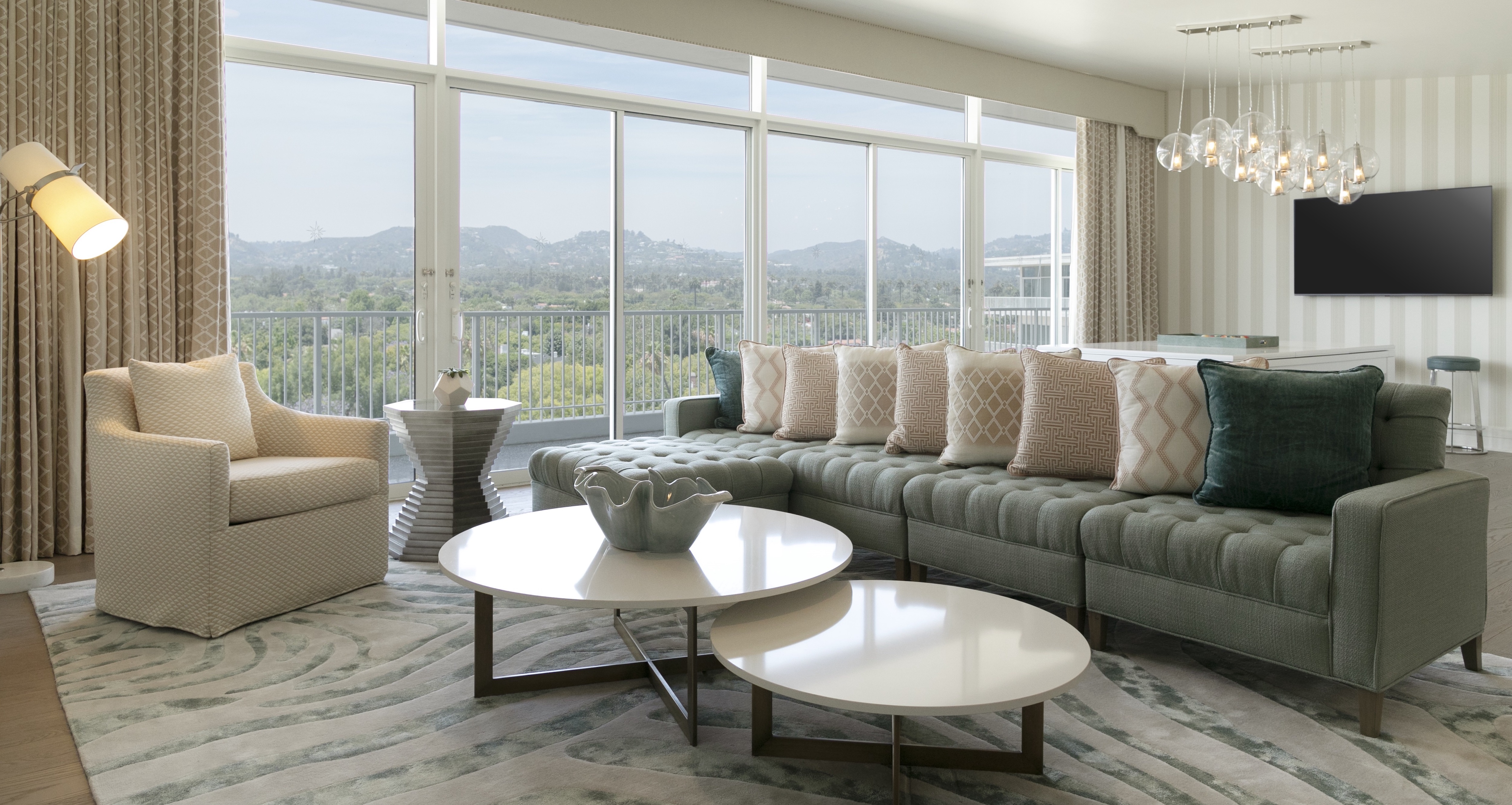 The Beverly Hilton
When it comes to hotels, The Beverly Hilton is a Los Angeles icon as synonymous with glamour and sophistication as the glittering guest list of A-listers, film stars and royalty who have sunned themselves beside its Aqua Star Pool. Opened in 1955, while its original white exterior and red signage have stayed true to architect Welton Becket's midcentury roots, the 566-room property recently put the finishing touches to a $35 million top-to-bottom interior remodel. Because even leading hotels need a tasteful touch up from time to time.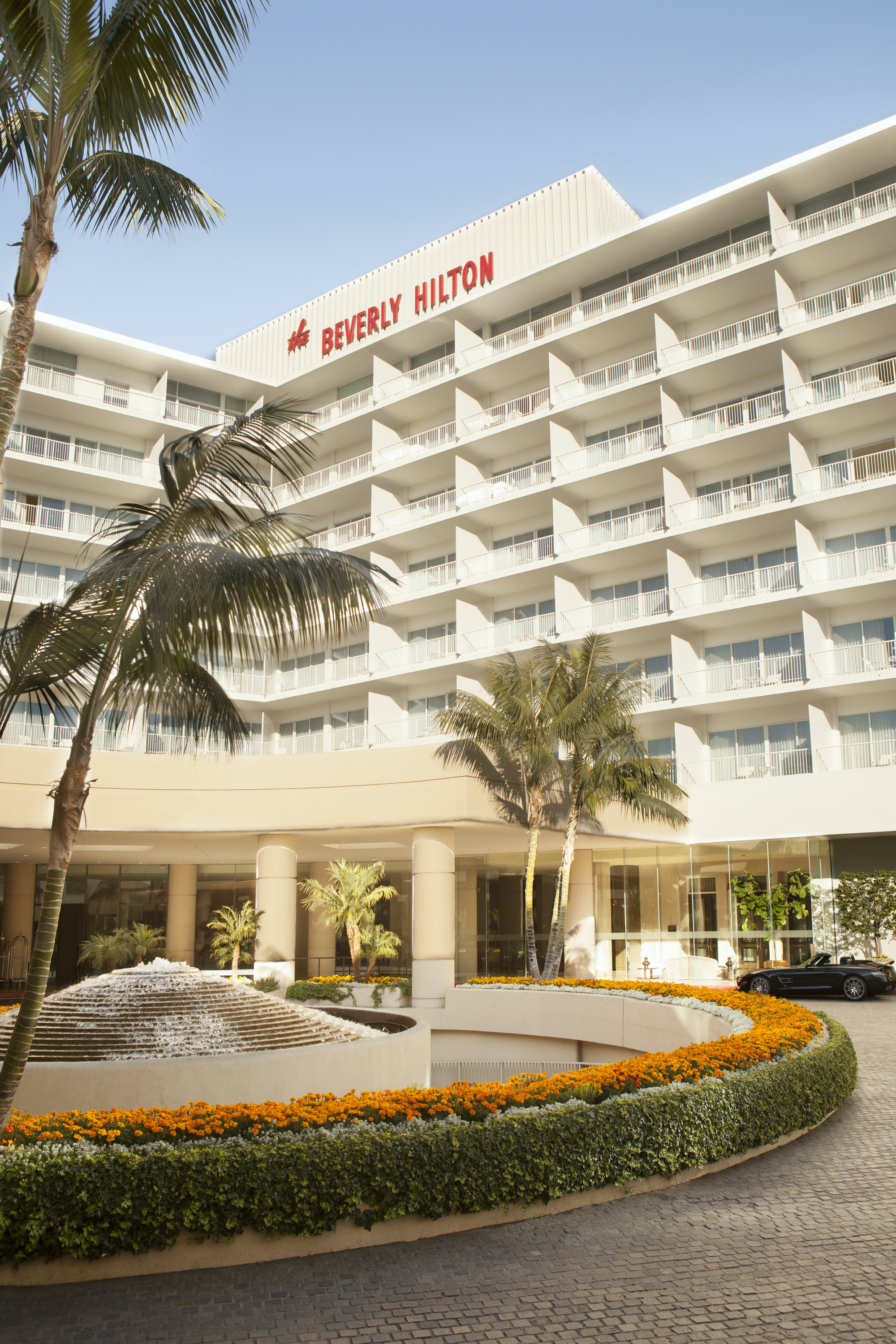 The Beverly Hilton
A Contemporary Icon
While the landmark has undergone numerous updates over the years, General Manager Sandy Murphy shares the new contemporary look and feel to the property is one that's in keeping with its heritage. Tapped to reimagine the interiors was Texas-based Paul Duesing Partners, who completely transformed The Oasis building, poolside Cabana Rooms, Penthouse Suites, and storied Presidential Suite.
"If you make it to the 8th floor, then you know you've made it," says Director of Sales and Marketing Antwon Dixon of the Wilshire Tower's coveted Penthouse collection suites, which are in top demand during awards season and whose walls could no doubt tell a story, or three.
Without a doubt, the grandest being the hotel's 1870-square-foot Presidential Suite, whose floor-to-ceiling windows impeccably frame the Beverly Hills skyline. Once clad in dark woods and heavy fabrics now newly reimagined, it showcases a clean contemporary look (think Hollywood Regency meets modern California) with sleek furnishings and a subtle seafoam and Champagne color palette.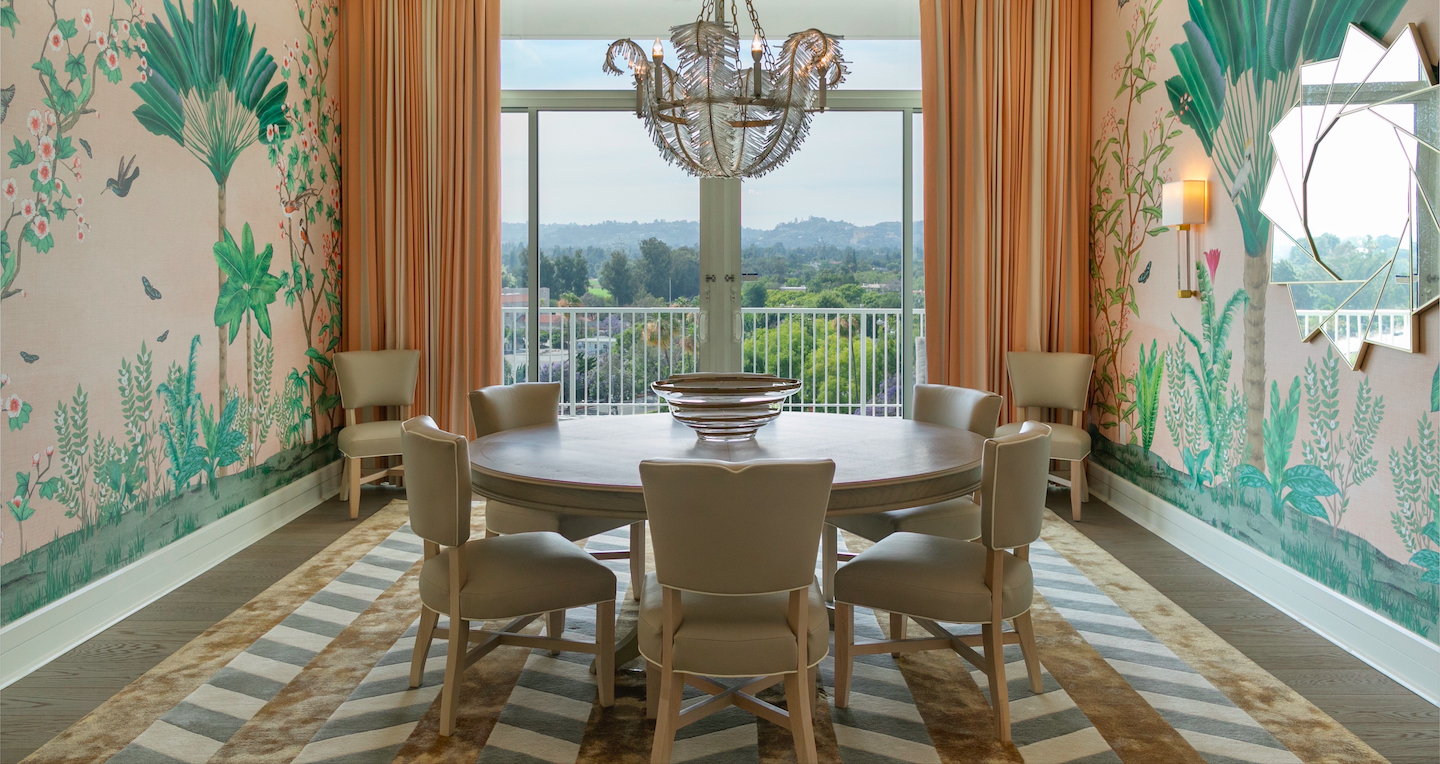 Presidential Suite dining room, The Beverly Hilton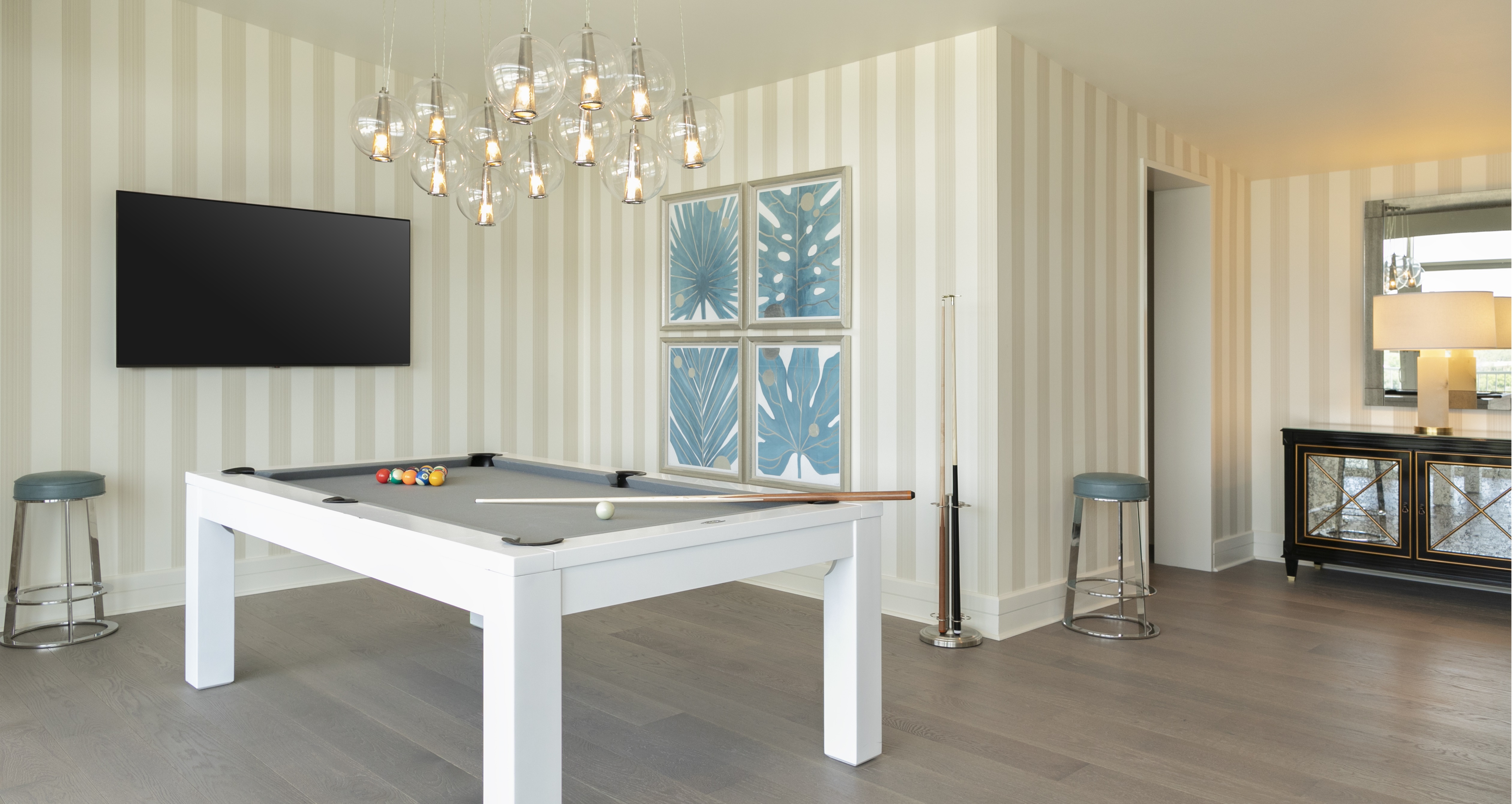 Presidential Suite, The Beverly Hilton
In addition to modern tech amenities, elegant white pool table, and a separate dining room that can seat up to 10 people, an expansive private outdoor terrace runs the entire length of the suite. "Rooms with outside space are a rarity in Los Angeles, and we're one of the few properties in town to offer them," says Murphy, adding that her personal 'must-do' for any guest is to enjoy coffee on their balcony in the morning.
Elevating the luxe residential feel is a spacious new walk-in closet and dressing room, which were incorporated off the master bedroom as part of the remodel. The statement-making bathroom is finished in Calacatta Oro and Nero Marquina marble with white lacquer vanities and chrome hardware. Symbolic mid-century design flourishes include a starburst motif whose theme ties back to the hotel's opening and represents the Rosenthal Star sculptures found throughout the building.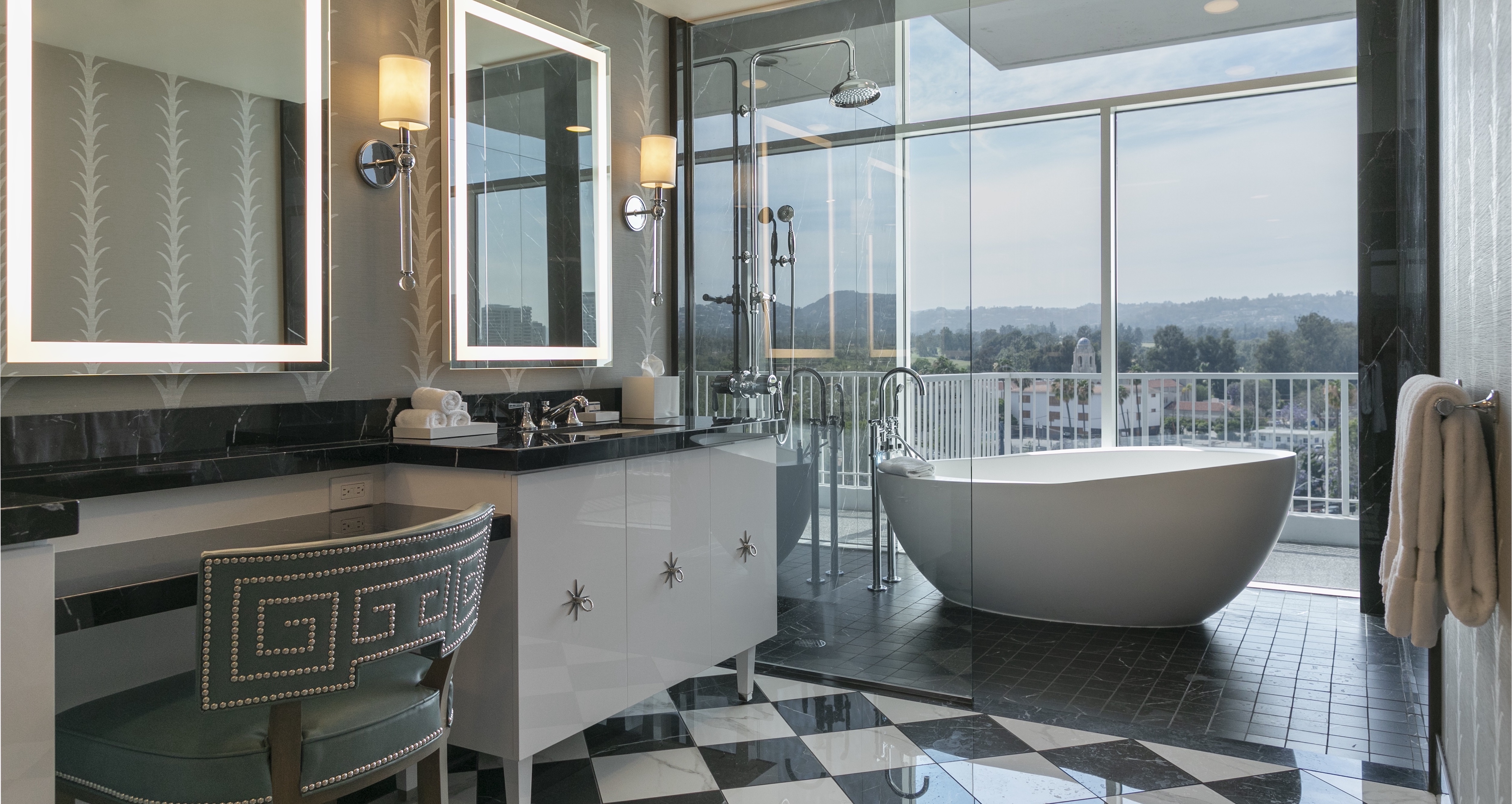 Presidential Suite bathroom, The Beverly Hilton
Murphy shares her "wow factor" for the suite is its standalone marble soaking tub (the window has an automated privacy shade) but says the $5,000 luxury Japanese toilet is worth a discreet mention too.
All sixteen of the highly appointed Penthouse suites can be connected for groups and families, but five Signature Suites on the 6th floor also provide more residential-style living complete with separate lounge and dining areas, private terraces, and magnificent views. Stocked with L'Occitane products the all-white marble bathrooms feel like spa retreats.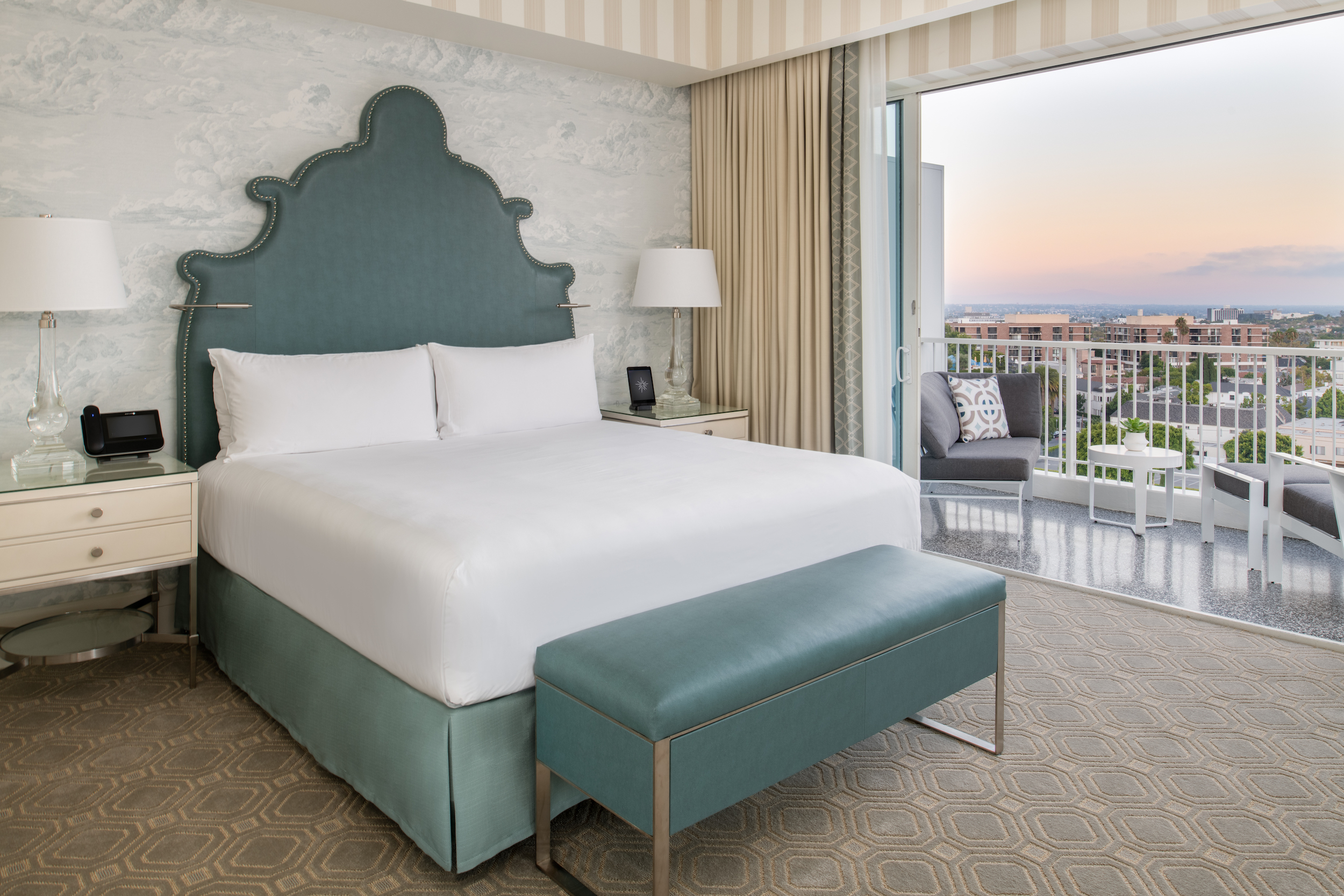 Executive Suite, The Beverly Hilton
The Luxury of a Safe Stay
"We're going above and beyond to keep our guests safe," shares Dixon of the state-of-the-art initiatives that were implemented in response to the pandemic. "The hotel remained open, working with International SOS/Corporate Medical Advisors to develop a bespoke customized safety program. In addition to the eco-friendly LEED approved cleaning products we also introduced our very own Xenex UV Robot, Kennedy."
Confirmed effective against SARS-COV-2 and only found in hospitals like the Mayo Clinic, when not disinfecting luggage and public spaces, Kennedy is deployed for a final germ zapping sweep of pulsed UV-C energy once housekeepers complete guestroom cleaning. Alongside the Waldorf Astoria, The Beverly Hilton is the only other hotel property in Los Angeles providing such advanced cleaning technology.
Kennedy, who was named by Xenex with no connection to the 35th President, is joined by robot co-workers Monroe and Sidney who were christened in honor of Marilyn Monroe and Sidney Poitier by the team.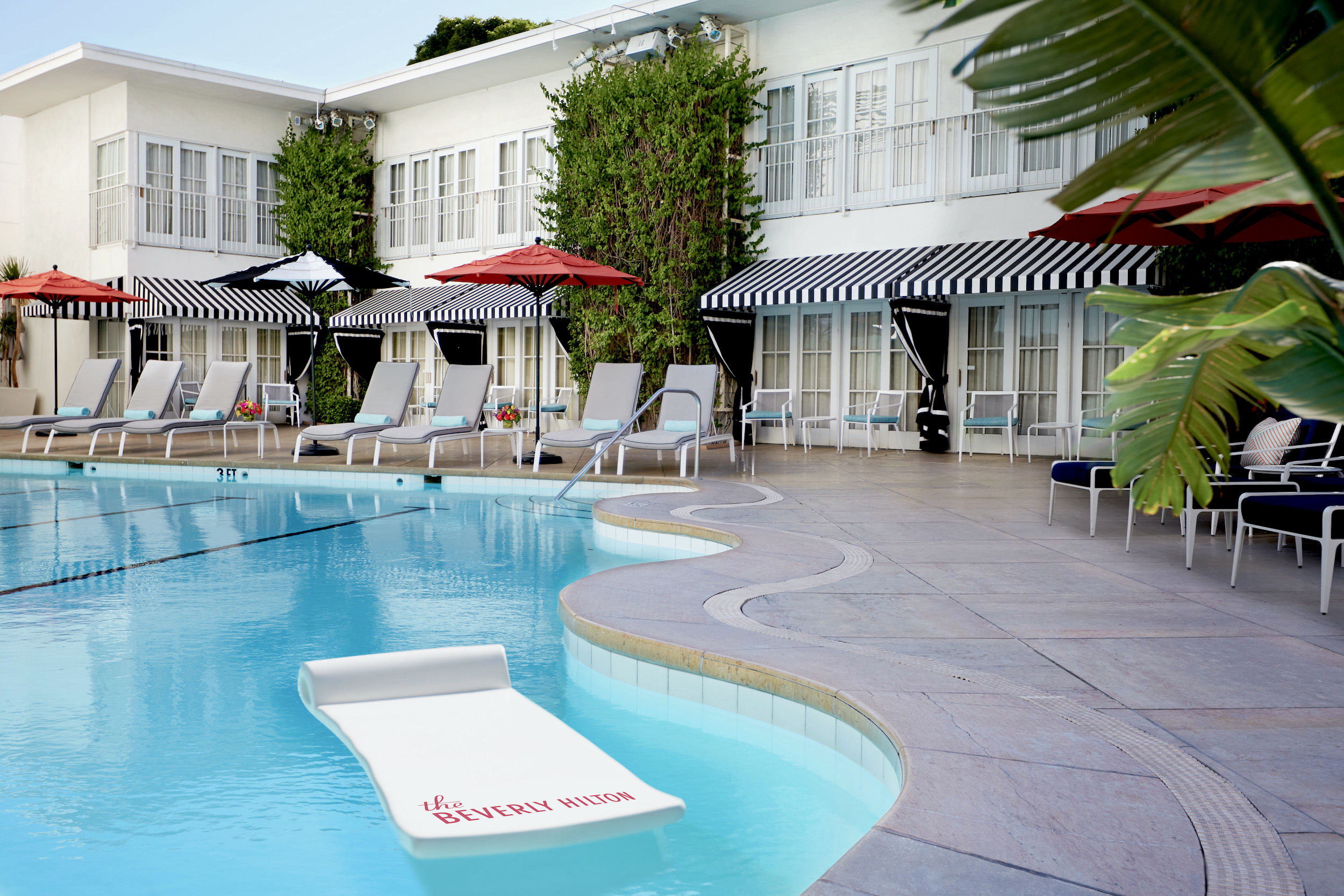 Cabana Rooms & the Aqua Star Pool, The Beverly Hilton
Where Hollywood meets Beverly Hills
Ideal for guests who prefer easy access to the Aqua Star Pool - the largest in Beverly Hills – Cabana Rooms can also be turned into offices with standing or sitting desks and supplies, as required, at daily or multi-night rates. Because, as Murphy points out, who wouldn't want to take a morning swim, grab a slice of pizza when chef fires up the outdoor pizza oven at 11 a.m. and enjoy the view between afternoon meetings?
Set on 8.9 acres in the tony Golden Triangle shopping district just minutes from Rodeo Drive, for guests who prefer to stay on property, outdoor spaces, including intimate leafy enclave the Secret Graden and adjacent Wilshire Garden, lend themselves well to social distancing.
For now, signature restaurant CIRCA 55 has become MERCATO offering grab-and-go dining options that can also be delivered poolside or directly to guestrooms. Access to services, such as the infrared sauna and cryotherapy chamber at high-tech gym, Upgrade Labs, is by appointment only.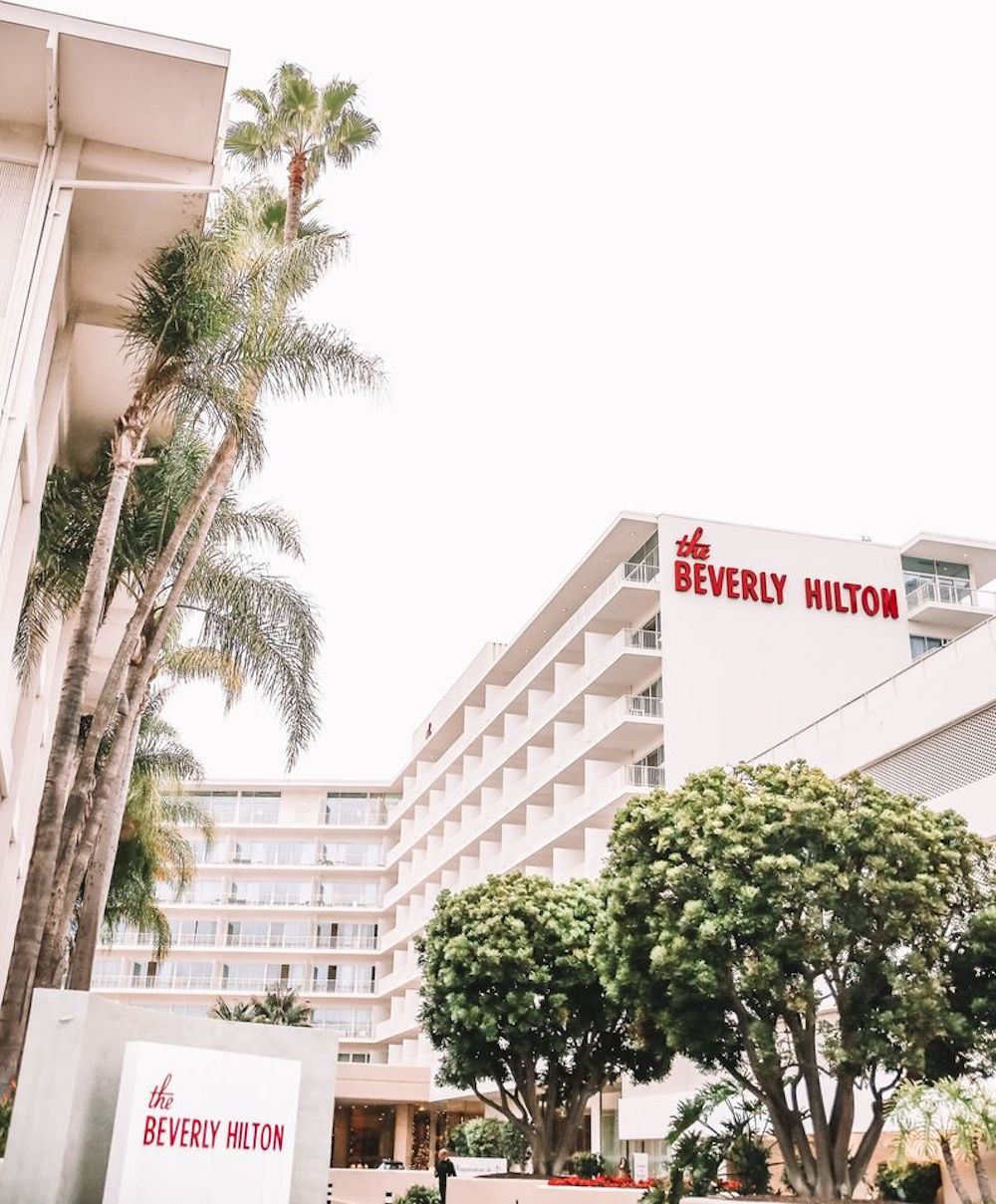 The Beverly Hilton
The Best Is Yet to Come
Home to the Golden Globes for over five decades, the property has a long history of creating magical moments. February 26 might have marked the hotel's last glossy awards gala, and the ensuing wild ride of 2020 dealt a blow to its 65th-anniversary celebrations, but Murphy and Dixon remain optimistic that the red carpets will be rolled out and chandeliers turned on inside the International Ballroom again before long.
The Beverly Hilton is located at 9876 Wilshire Boulevard, Beverly Hills, California. The Penthouse Collection rates start at $2,500 per night, Presidential Suite rates start at $5,000 per night.