(credit: The Venetian Resort Las Vegas)
Over-The-Top Hotel Suites Going for $15k+ Per Night
To qualify as one of the most over-the-top suites in the world, it goes beyond just simple luxury. From exclusive access and stunning views, to coveted experiences, to private butlers and more, sometimes great is no longer good enough. These seven hotel suites all have price tags over $15,000/night and present some of the grandest hospitality experiences in the world. Nestled, usually perched high above, in some of the most lavish hotels in the world, these suites feature more than just plush beds and state-of-the-art technology. Representing some of the biggest and boldest, these suites are massive in size and all present a unique aspect of its locality, whether in its design or offerings, and showcase that $15k does get you something special for a night.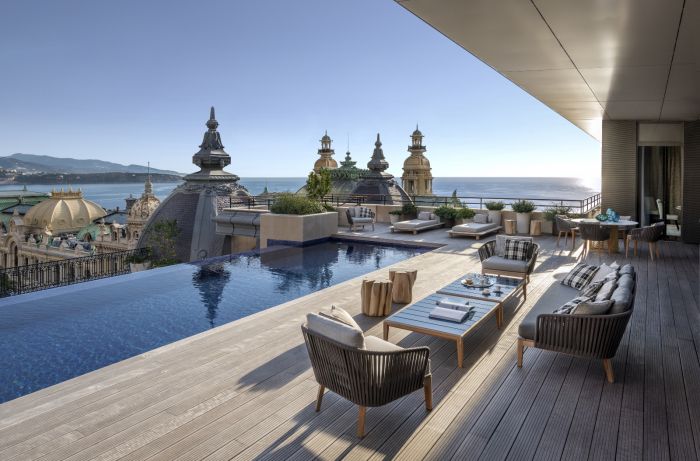 (credit: © MONTE-CARLO Société des Bains de Mer)
Diamond Suite - Prince Rainier III at Hôtel de Paris Monte-Carlo
Hôtel de Paris Monte-Carlo has been welcoming guests for over 150 years on the legendary Casino Square combining its timeless soul and legendary history with its impeccable service and elegance. The extraordinary Diamond Suite - Prince Rainier III, rates begin at €40,000 (approximately $48,500)/night, pays tribute to the "Builder Prince" of Monaco with sculptures and paintings from his personal collection and opens out fully onto the Place du Casino. The suite is a massive 8,934 sq. ft. and features a two-level 3,767 sq. ft. terrace with a heated swimming pool, offering views of the Principality and the Mediterranean Sea. The suite's meticulous design is seen throughout its large main living room, library, dining room and study, guests are met at the airport or heliport and transported in luxury car/helicopter to the hotel and receive a 90-minute treatment for two in the suite or Thermes Marins spa.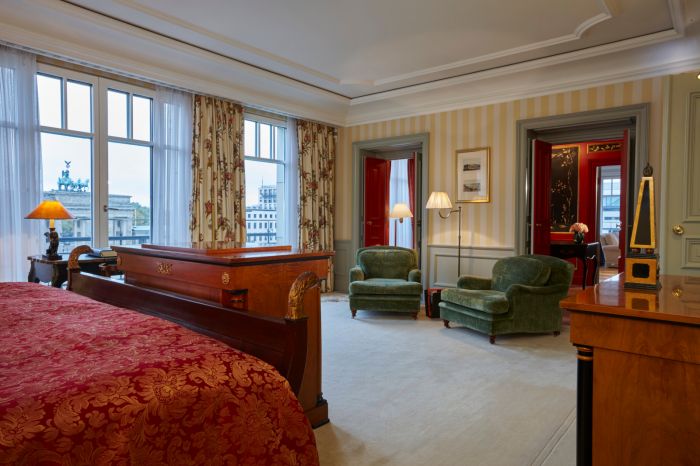 (credit: courtesy of Kempinski)
The Royal Suite at Hotel Adlon Kempinski, Berlin
In the heart of Berlin, just opposite the famous Brandenburg Gate, Hotel Adlon Kempinski, Berlin features 307 luxurious guest rooms, 78 exquisite suites, three restaurants, a magnificent spa and a wellness area. Attracting elite guests from all over the world, The hotel's most extravagant suite is the Royal Suite which starts at €26,000 (approximately $30,648)/night and made for those who want to spend the night like a king or queen. Although this may not be the largest suite on the list, at just under 2,000 sq. ft., the suite features classic decor with plush rugs and rich mahogany accents. Along with a personal butler and limousine service around the clock, the Royal Suite offers stunning views on the seventh floor of the hotel.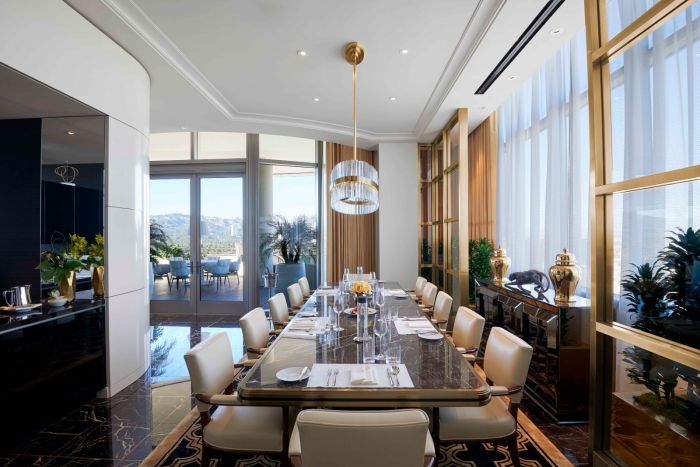 (credit: Waldorf Astoria Beverly Hills)
Presidential Penthouse Suite at Waldorf Astoria Beverly Hills
The exclusive Presidential Penthouse Suite at Waldorf Astoria Beverly Hills is an expansive 3,215-square-foot luxury suite, complete with a 1,459-square-foot terrace. With a starting rate of $25,000/night, guests can enjoy a romantic sky-high oasis on the penthouse floor overlooking scenic Beverly Hills. Featuring floor-to-ceiling windows, Noir Saint Laurent marble throughout and a fully-stocked kitchen, the suite also offers a secluded mini gym, an expansive bar and a Crestron™ smart home system. Guests can be entertained or host friends and family in the private cinema with a home theater system and host a grand dinner at the 12-seat dining table.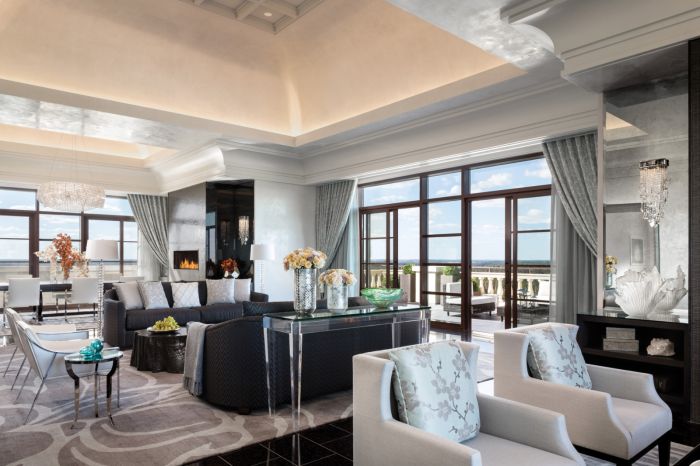 (credit: Four Seasons Resort Orlando)
Royal Suite at Four Seasons Resort Orlando
At Four Seasons Resort Orlando at Walt Disney World Resort, the stunning Royal Suite allows guests and family or friends to sleep and enjoy their stay like royalty. When configured up to a nine-bedroom residence, it creates the ultimate penthouse retreat, the largest suite in Orlando. It sells for $17,000/night (for the one-bedroom suite). Set on the 16th floor, the suite overlooks classic Disney Parks icons such as Cinderella's Castle and EPCOT Spaceship Earth, which can be seen from the 1,000 sq. ft. terrace. Measuring 3,300 sq. ft. in total, the suite has an incredible dining room and a service kitchen (a butler is included with the stay), a plush media room with sound-absorbing panels in a black and taupe palette, a private office and luxury features like espresso granite and French blue limestone patterned floor with white Venetian plastered walls and modern crystal lighting. View a video tour of the Royal Suite here.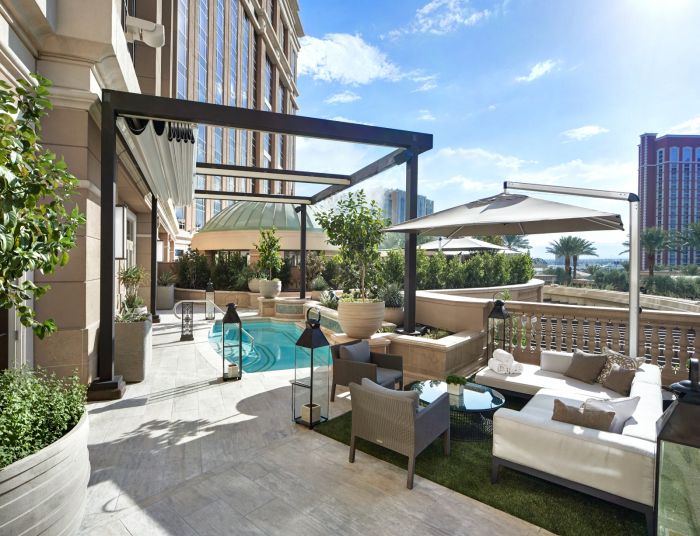 (credit: The Venetian Resort Las Vegas)
Chairman Suites at The Venetian Resort Las Vegas
Inside the Palazzo tower at The Venetian Resort, the Chairman Suites start at $16,000/night. Available as a three- or four-bedroom suite, ranging from 6,367 to 7,828 sq. ft., the suites include a lovely terrace with a private pool and spa. Upon entry to the suite, there is a large mural in the foyer. The interesting fact is that it has no starting or ending point. It was produced in Italy and is 65% silk. Guests can also make use of the media room, massage parlor, workout room, salon parlor and steam room and sauna. With custom-made Singaporian furniture in the living room and a decadent chandelier made of 30 hand-blown double-glass teardrops over the dining room, the suite offers 24-hour butler service and an experience they will surely never forget.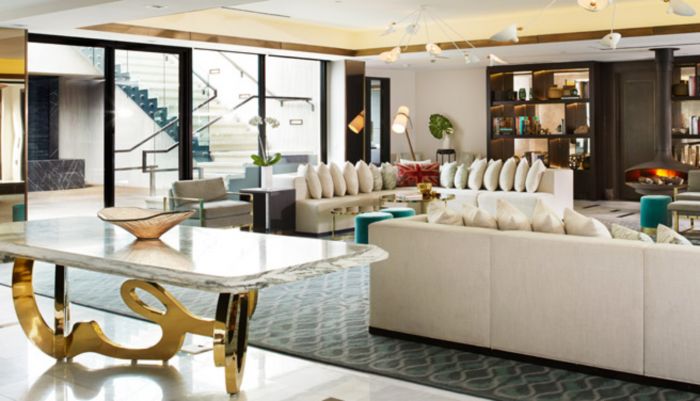 (credit: Courtesy of The London West Hollywood at Beverly Hills)
Penthouse Inspired by Vivienne Westwood at The London West Hollywood at Beverly Hills
As the largest hotel suite in LA (when you consider indoor and outdoor space combined), the 11,000 sq. ft. Penthouse Inspired by Vivienne Westwood is perched on the tenth-floor of the hotel. Guests who book, prices start at $15,000/night, a stay at this suite, enter through a private, contemporary-styled corridor which leads to 6,000 sq. ft. of indoor space of spacious and striking design. Whether on the suite's 5,000 sq. ft. private outdoor rooftop terrace which includes a fire pit, outdoor kitchen and rooftop shower, or spending time in the Grand Salon or at the wet bar with Plum Wine Dispenser, guests' experiences are taken to new heights. Guests are also treated to one hour of private shopping at the Vivienne Westwood and other gifts and amenities.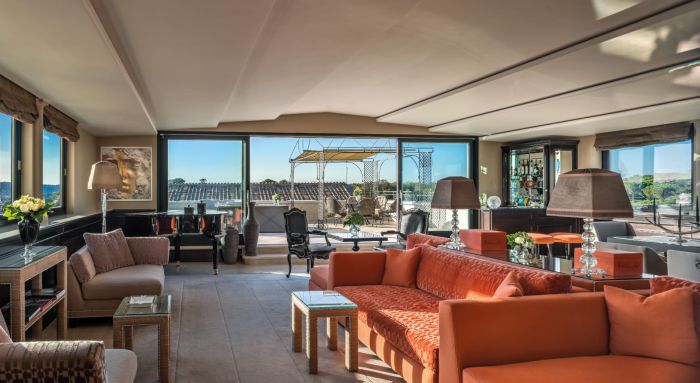 (credit: Hotel Hassler Roma)
Hassler Penthouse at Hotel Hassler Roma
Hotel Hassler Roma has attracted the world's elite and discerning travelers since 1893 and has hosted esteemed celebrities such as Grace Kelly, President John F. Kennedy as well as Igor Stravinsky. Offering breathtaking views of Rome on the eighth floor, the Hassler Penthouse measures 3,552 sq.ft. and has two terraces of 753 and 484 sq.ft. With iconic views including the Spanish Steps, the Piazza di Spagna, the Barcaccia fountain, and the famous Via Condotti, the €15,000 (approximately $18,140)/night suite provides an elegant and contemporary décor with private elevator access to the suite. Along with two large King bedrooms and spacious bathrooms complete with chromotherapy-enhanced rain showers, private butler service is also included.