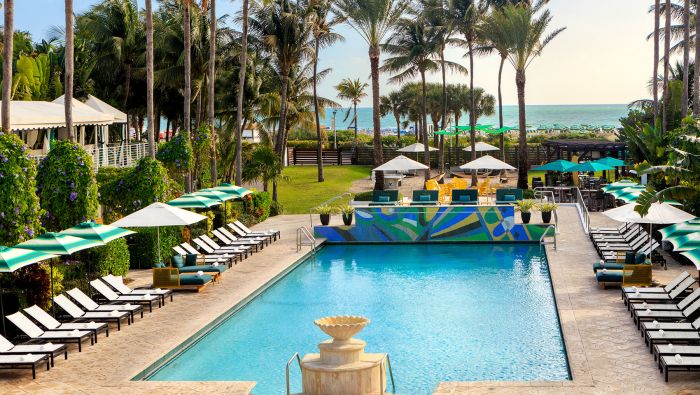 Kimpton Surfcomber Miami South Beach
The summer months are fast approaching and now is the perfect time to plan your perfect beach getaway with the Kimpton Surfcomber Miami, South Beach. The newly renovated property is ideally situated in Miami Beach's historic Art Deco District, steps form the Atlantic, offering balmy breezes, seductive waves and sand-between-your-toes fun for kids of all ages. Kimpton's So Fresh So Clean protocols ensure guest health and safety so that they may have peace of mind while enjoying their beach vacation.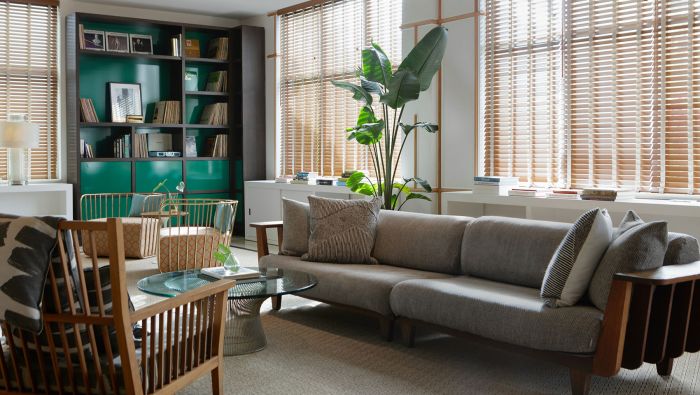 Kimpton Surfcomber Miami South Beach
The hip, Art Deco styled property is a unique boutique hotel offering for visitors to South Beach with its curated DAYLIFE activities such as yoga on the sun deck, a hosted Social Hour in the evenings, water and city views, an oceanfront pool and bar, chic cabanas, complimentary morning coffee + tea service and pet amenities for your furry friend. Fancy a bike ride along the beach? Borrow a loaner bike to take in the sounds and sights of South Beach. If the pool isn't quite your vibe, arrange beach lounge chairs and towels and take in the natural beauty of the ocean.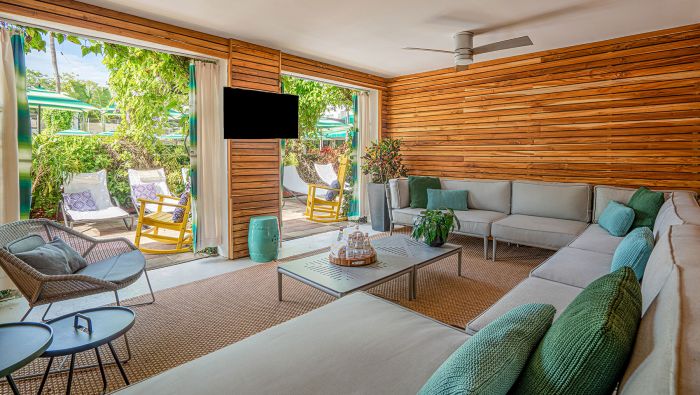 Kimpton Surfcomber Miami South Beach
When it's time to retreat from the unforgiving Miami sun, cool off with a bottle of complimentary GH Mumm champagne with a cabana rental. The spacious and chic Trumpet Cabana includes day passes for up to 6 people, sofa seating, 2 lounge chairs, a television, beach access, and in-cabana food and drink services. The comparably nice Ivy Cabana is located on the balcony overlooking the Atlantic.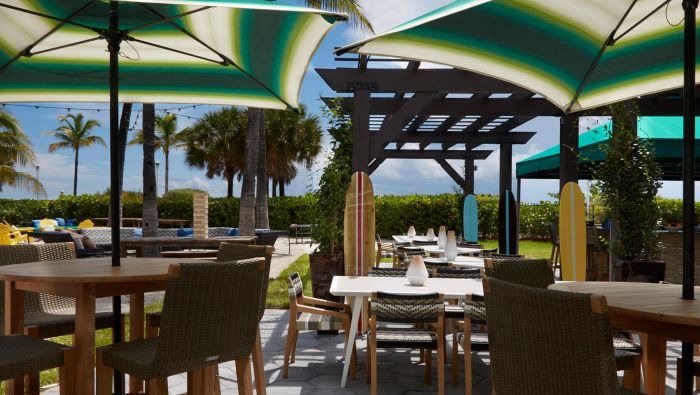 Kimpton Surfcomber Miami South Beach
If you're in a social mood for lunch, head over to the charming, beachside High Tide Beach Bar and Grill. The onsite restaurant and bar offer craft cocktails, margaritas, frozen cappuccinos, White Sangria, and Spiced Rum Punch in addition to beers and wines. Try the satisfying Surf Tacos with poke tuna, chicken, grilled mahi, skirt steak or shrimp. Great snack options include Crispy Smoked Wings or Guac 'n' Chips. Wraps, salads and sandwiches are plentiful, but you will want to save some room to try the delectable tomato caprese, chorizo, beef and peppers or tuna stuffed Empanadas. High Tide Beach Bar and Grill is open daily from 11 am to 7 pm.
Kimpton Surfcomber Miami South Beach
After the sun sets, grab handcrafted food and cocktails at the hotel's lively restaurant and lounge, The Social Club. Savor the newly implemented Empanada Board or a Cheese and Charcuterie Board during Happy Hour for special pricing. Dinner items include a succulent Boneless Short Rib accompanied with potato foam, port reduction, and crispy chips; Club Cordon Bleu with manchego cheese, prosciutto di Parma, thyme potato provençal; Pan Seared Branzino with mandarin butter, green apple cous cous and mint; Grass-Fed Beef Tenderloin with a papito salad, parmesan crust caramelized onion and chimichurri. Chef Javier Carballo hails from Uruguay and infuses his Italian and Spanish heritage into every dish.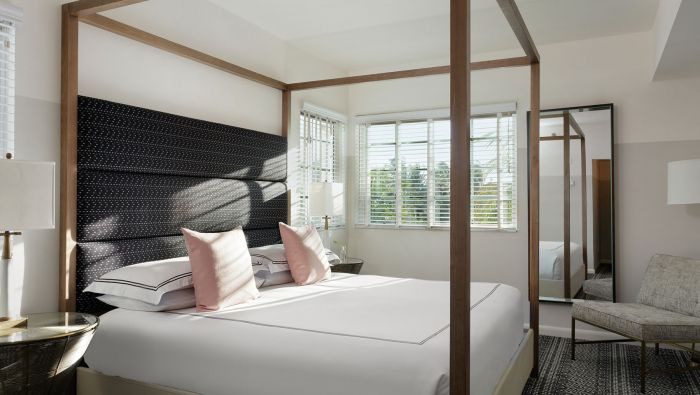 Kimpton Surfcomber Miami South Beach
After a day of sunning, shopping, and gallery hopping, the nightlife of Miami may beckon you. The iconic Lincoln Road Mall, lined with bars, lounges, restaurants and clubs, is a short walk away from the chic beach haven that is Kimpton Surfcomber Miami South Beach. When the time has come for you to rest your weary head, you will be happy to discover lush Frette linens and luxury bath products in your newly renovated room. Each room has been redesigned with elegant lines, playful patterns and a textured, neutral color palette that evokes feelings of calm and comfort. Book now through 7/31/2021 and receive 20% off the Best Flexible rate, 20% off K'Alma Spa treatments and two welcome cocktails with the Renovation Revelation package. Residents of Florida and Georgia receive up to 10% off the Best Flexible rate and can choose to waive the $36 resort fee or the $46 valet parking fee or enjoy a $40 daily food & beverage credit on stays through 9/30/2021 that are booked by 5/31/2021.