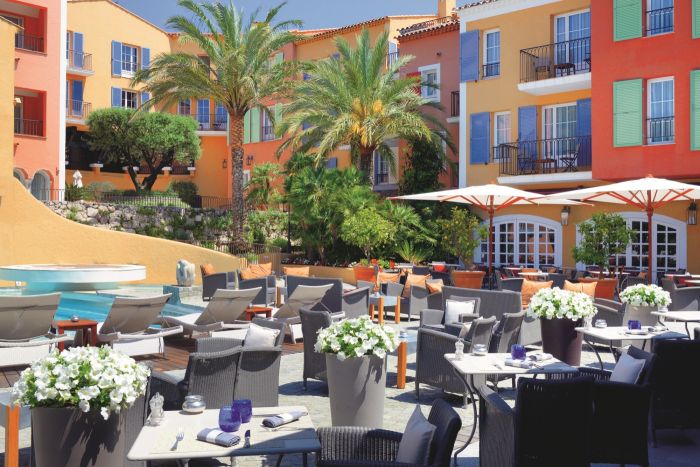 Byblos Saint-Tropez
An array of luxe new amenities and initiatives has made one of the most storied and iconic hotels on the Côte d'Azur into an even more compelling destination, now that France is re-opening its borders to international travelers. The fabled Hotel Byblos is Saint-Tropez, named after an ancient port city in Lebanon, was originally founded by Lebanese billionaire Jean Prosper Gay-Para in an attempt to woo French actress Brigitte Bardot, with whom he was infatuated, in 1967. The elaborate and over-the-top gesture—building a hotel "worthy of Bardot"—has given the place an air of dreamlike romance ever since.
Bardot had been closely associated with Saint-Tropez and its many attractions since starring in Roger Vadim's famed 1956 film And God Created Woman. Gay-Para was unable to win Bardot's affections, but she did show up for the opening of the hotel's now-legendary Les Caves du Roy nightclub, which spanned three days and totaled 700 guests. French entrepreneur Sylvain Floirat purchased the property soon after, retaining the beauty and originality of its design. Over the years the hotel has played host to the likes of Grace Kelly, Lauren Bacall, Jack Nicholson, Mick Jagger (who spent his honeymoon there with Bianca Perez in 1971), Serge Gainsbourg and Jane Birkin (who stayed for eight weeks straight), Naomi Campbell, Beyoncé, Leonardo DiCaprio, George Clooney, Prince Charles, and Bill Gates, among many others.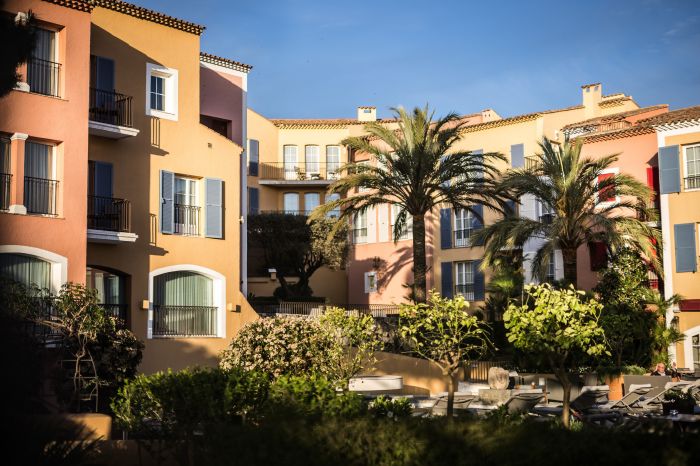 Byblos Saint-Tropez
Now owned and run by the Chevanne family and part of the luxury hospitality firm Groupe Floirat—Antoine Chevanne, Sylvain Floirat's great-grandson, is the company's CEO—the hotel was renovated and updated for its 50th anniversary in 2017, but with original architectural elements and custom-commissioned art pieces left intact and used as inspiration. Since Bardot's day Les Caves du Roy has become even more star-studded, and is said to stock 1,000 bottles of Champagne a night in high season, and the hotel received the incredibly coveted "Palace" distinction in 2012—one of only 16 hotels in all of France to receive the honor, an elevation above merely five-star.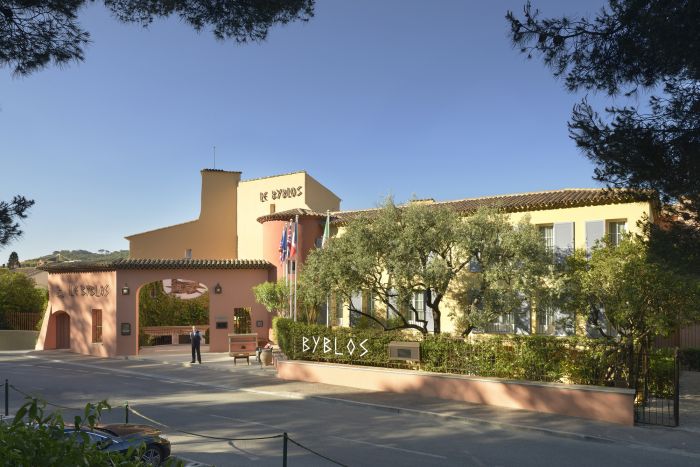 Byblos Saint-Tropez
The hotel is designed as a series of interlocking villas in the Mediterranean colors of the Riviera, lending it an air of timeless elegance. The same palette carries over to each of the individually-designed 91 rooms, including 50 suites. Among other exclusive touches debuted for the property's 50th anniversary, Missoni Home, the interior design arm of the iconic Italian fashion brand, designed the Missoni Suite (formerly the Presidential suite), while Swiss luxury watch brand Audemars Piguet created a limited-edition Byblos timepiece, and celebrated Parisian luggage-maker Goyard produced a bag inspired by the property, which is home to a sybaritic Sisley Spa, and a restaurant overseen by the great Alain Ducasse.
Byblos Saint-Tropez
In 2019, Francois Frossard Design, a multidisciplinary design studio specializing in luxury hospitality, redesigned the hotel's beachfront annex, Byblos Beach Ramatuelle. Frossard, who had previously worked on a revamp of Les Caves du Roy, created an upscale, barefoot luxury vibe for for the 120-seat indoor/outdoor restaurant with its open kitchen, and bar/lounge. Inspired by its natural surroundings and the world of sailing, Byblos Beach Ramatuelle, features Byblos' signature orange along with splashes of yellow, and white-painted custom wooden furniture, shaded by natural linen woven between wood beams. The menu focuses on dishes with a distinctive accent, including ceviche, fresh vegetables, grilled meat, a range of different olive oils, home-made ice cream and sorbets. The hand of Byblos' new Executive Chef Nicola Canuti is in evidence; "reflecting both the hotel's location and Chef Canuti's Italian origins," Byblos' gastronomic concept is heavily influenced by the Mediterranean, "taking inspiration from the treasures of the French and Italian rivieras, and working with local producers from the Côte d'Azur region."
Byblos Saint-Tropez
He now oversees all of the property's food and beverage offerings, including the beach club, in-room dining, the 'B' Lounge cocktail bar, Italian trattoria Cucina by Alain Ducasse, and the hotel's latest addition, Arcadia, a new restaurant by the pool, open for lunch and dinner. The launch of 'Byblos Confidential' meanwhile consists of interconnecting rooms and suites which have been turned into luxury apartments for guests to take up residence at the famed hotel, in the manner of a Bardot-era movie star. And finally, the new bespoke Detox Program allows guests to "embrace self-care and re-energize in the South of France, starting with a full consultation upon arrival to determine a regimen of 10 one-hour spa treatments. Sounds like heaven to us.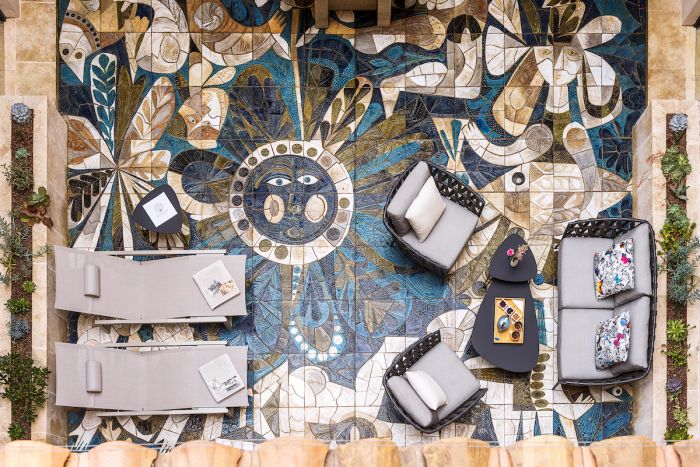 Byblos Saint-Tropez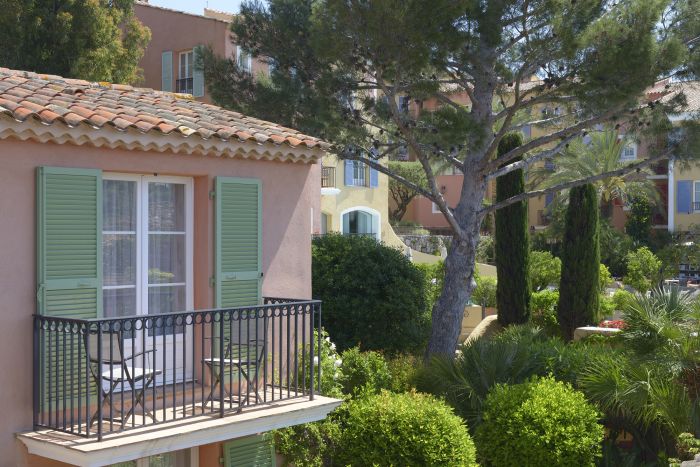 Byblos Saint-Tropez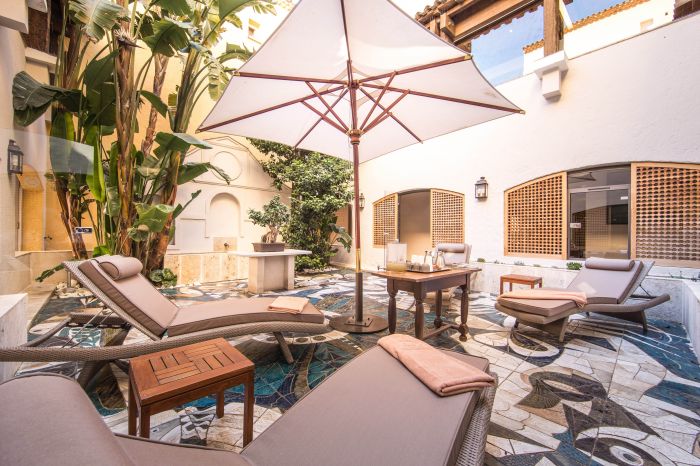 Byblos Saint-Tropez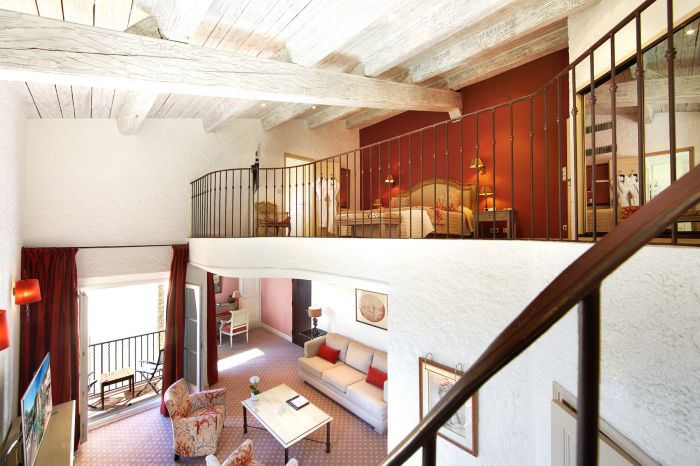 Byblos Saint-Tropez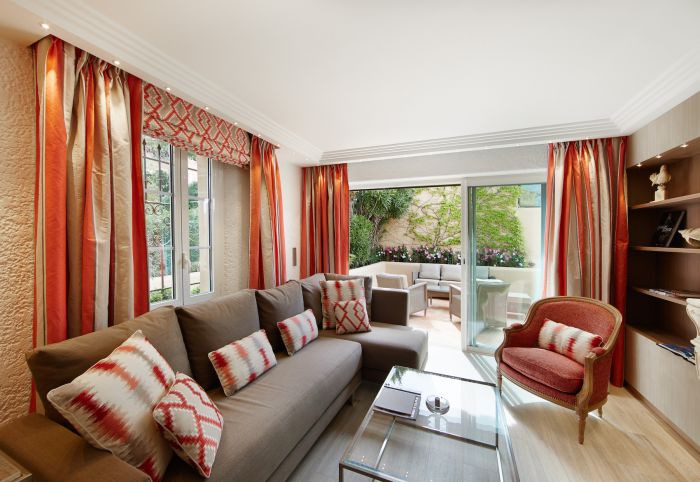 Byblos Saint-Tropez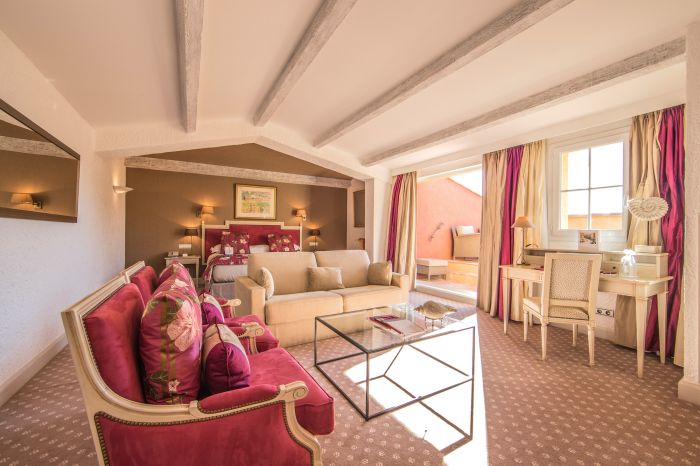 Byblos Saint-Tropez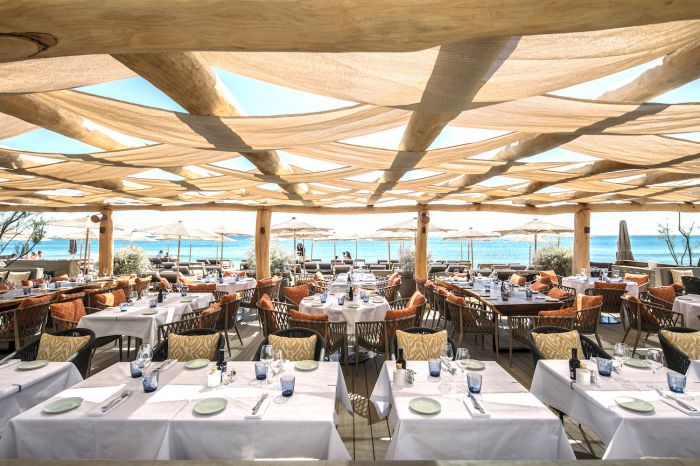 Byblos Saint-Tropez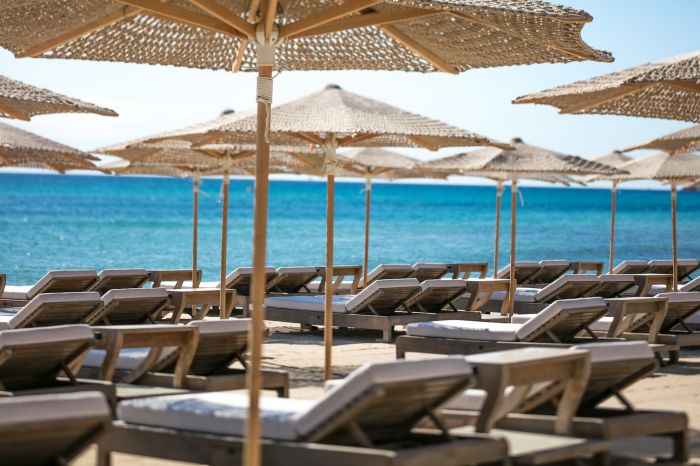 Byblos Saint-Tropez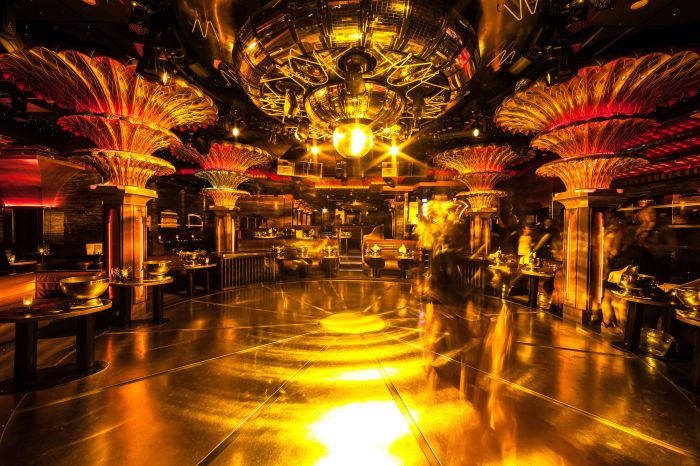 Byblos Saint-Tropez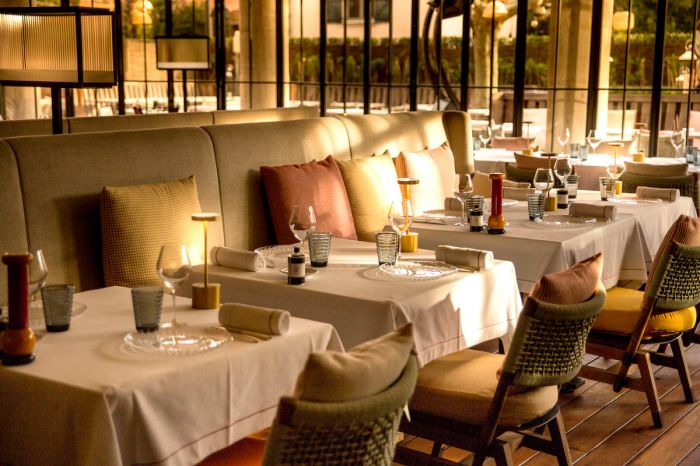 Byblos Saint-Tropez
Byblos Saint-Tropez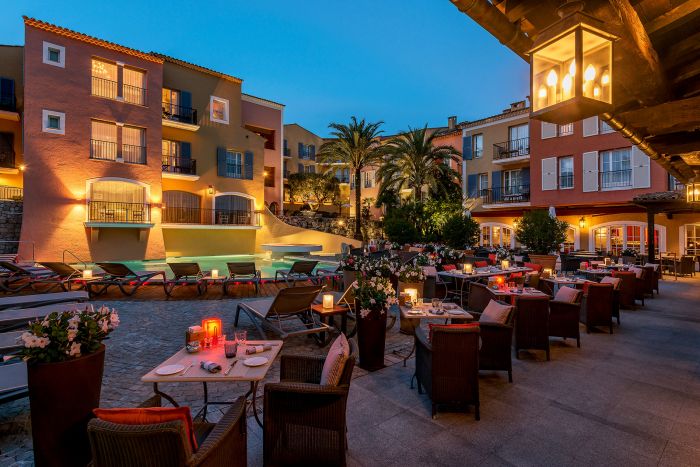 Byblos Saint-Tropez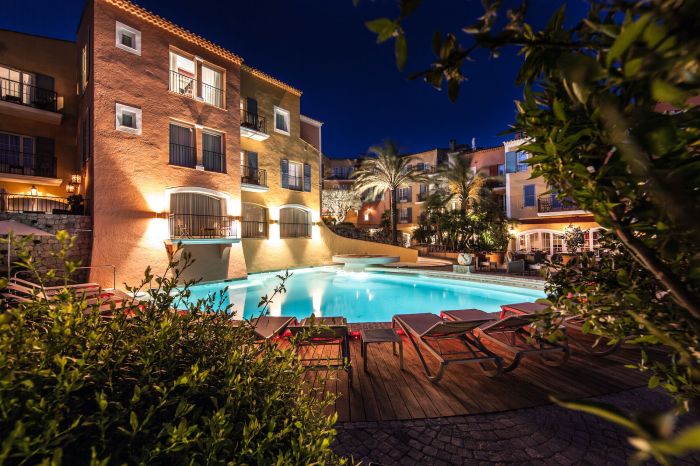 Byblos Saint-Tropez