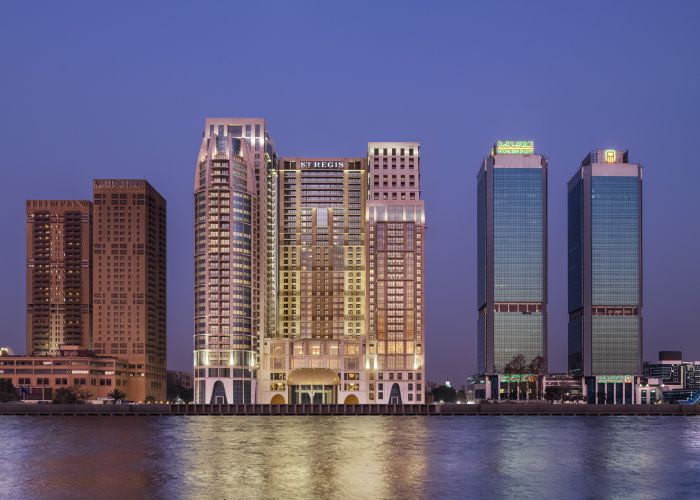 Image courtesy of The St. Regis Cairo
Towering palatially over the banks of the River Nile in the heart of Cairo, The new St. Regis Cairo, is an emblem of modern luxury and old-world opulence that artfully embodies the mythical lore and contemporary lifestyle of Egypt's dynamic capital. Designed by world-renowned architect Michael Graves, every part of the stately 36-story hotel offers a feast for the senses. With beautiful design, world-class restaurants, and extraordinary service, The St. Regis Cairo balances glamour and elegance in a way that transports guests to a world of opulence and old-world grandeur.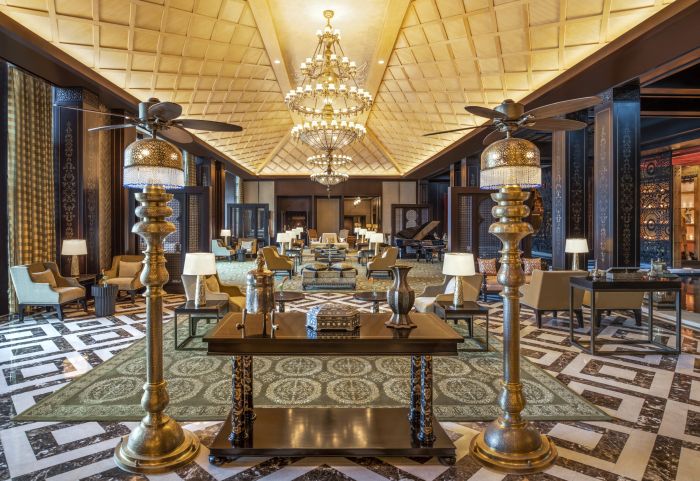 Image courtesy of The St. Regis Cairo
Down to the smallest of details, the architecture and design of The St. Regis Cairo is an exercise in form and function, delivering refinement and a sense of decadence to all who enter. Given Cairo's ancient and fabled history, a literal homage to Egypt might be expected. Instead, however, Michael Graves and his creative team have opted for a layered curatorial approach to the design of the property that reveals itself in subtle ways. The modern (almost futuristic) lines of the exterior façade give way to an interior in which Graves has balanced tradition and modernity through the use of structural and aesthetic motifs. The genius of this artistic balance is revealed through the clever juxtaposition of restrained minimalism and curated ornament. Dark mahogany corridors brightened with mother of pearl inlays, graceful lines, and rich textures pair tradition with modernity, creating design moments which give The St. Regis Cairo a uniquely Egyptian aura. One such moment is a soaring mural entitled "The Pink Sun," a magnificently opulent backdrop of the ultra-luxe St. Regis Bar. Confidently contemporary, the mural depicts the birth of a modern civilization and symbolic moments of Egyptian history in a kaleidoscopic palette of metallics and bright colors.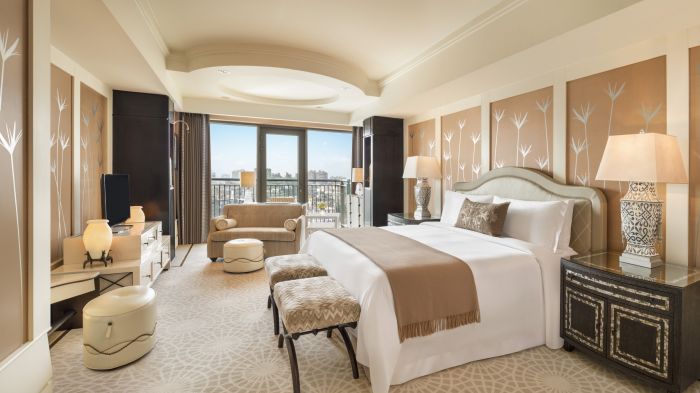 Image courtesy of The St. Regis Cairo
The St. Regis Cairo's exquisite attention to detail extends into the hotel's 362 spacious guest rooms, suites, and luxury apartments, all of which provide guests with unparalleled luxury and personalized service. Many of the rooms have been designed to take advantage of postcard views of the River Nile and the city of Cairo just beyond, offering many rare and unique vantage points of the lively metropolis. Design elements such as custom furniture, intricate mosaics, and alabaster urns are beautifully executed, drawing inspiration from Egyptian artistry. This includes the beautiful papyrus wall coverings that function as art installations which differ slightly from room-to-room, making no two rooms alike. In the expansive marble en-suite marble bathrooms, ceiling-high mosaic murals reflecting nature and Egyptian culture surround deep soaking tubs, creating an environment that is both opulent and relaxing.
A feeling of relaxation is also built into the design of the St. Regis brand's signature Iridium Spa. The state-of-the-art facility spanning two floors - connected by curved glass and marble staircases - creates a space for guests to partake in wellness experiences and signature treatments in a calm and peaceful environment. Therapy areas include sauna, steam, and ice rooms, a shock shower, and vitality pools. Special rituals such as chilled mint water towels and jars of honey on ice are offered for skin hydration, and are part of the steam room experience. This unique Egyptian spa tradition correlates with some of the ancient wellness rituals that can be found on Iridium Spa's extensive treatment menu. Advanced therapy options include Iridium Spa's signature light therapy treatment, which has been shown to treat acne and reduce the appearance of wrinkles. If a full spa day is not your style, The St. Regis Cairo also features a fully-equipped athletic club, and both indoor and outdoor swimming pools.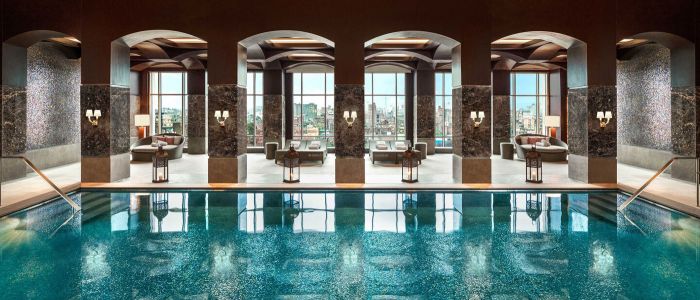 Image courtesy of The St. Regis Cairo
The St. Regis Cairo's elegant gathering spaces are a mesmerizing draw for both guests and locals alike. Most notably, The Water Garden, The St. Regis Cairo's sparkling crown jewel - and premier spot in town to see, and be seen. With its shimmering reflecting water feature, gracefully gilded lanterns, chic lounging areas, and sweeping views of the River Nile. The Water Garden offers an elevated and uniquely Egyptian experience that is best experienced at the hotel's Afternoon Tea - a ritual which takes place at St. Regis properties around the world. At The St. Regis Cairo the aptly named 1922 Afternoon Tea is a new concept inspired by the date of the discovery of Tut Ankh-Amun Tomb in November of 1922, marking a milestone in Egyptian history. The inspirations for this concept appear in every detail of the Afternoon Tea experience, which includes fine porcelain china, gilded cutlery, hand-carved painted tea towers, and papyrus paper menus in a treasury box resembling paintings in King Tut's tomb, The experience is brought full-circle with classic 1920's jazz and a menu comprised of culinary delights inspired by traditional Egyptian delicacies - think: pistachio and wild honey cakes topped with gold leaf, smoked Nile duck medallions, Red Sea black squid ink bread topped with herbs and cream. All of this with a panoramic view of the River Nile view and the sweet aroma of Egyptian rose and mint tea wafting in the air.
The Afternoon Tea is followed by a daily sunset celebration that includes a champagne sabering inside of the lobby lounge. This beloved St. Regis tradition is particularly special at The St. Regis Cairo. Ceremonial bells - indicating that the evening ritual is about to begin - are followed by historical stories of victory and celebrations, while soft music plays in the background. The culmination is a theatrical sabering of the bottle and a glass of champagne for all in attendance, leaving guests with a taste of St. Regis luxury and a glimpse of what awaits.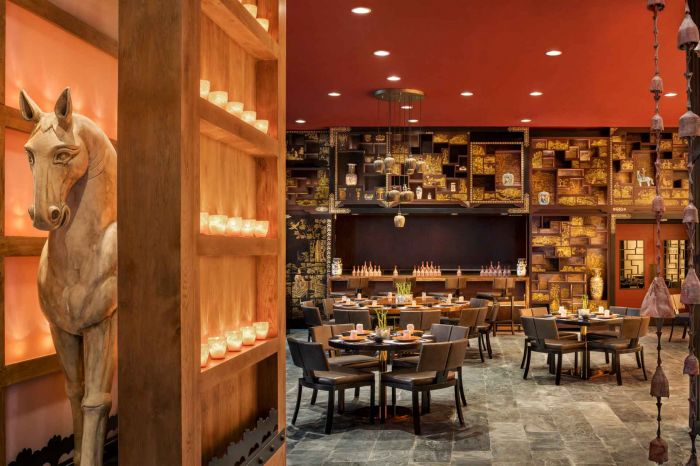 Image courtesy of The St. Regis Cairo
A culinary destination unlike any other in Egypt, The St. Regis Cairo offers a range of dining options that highlight the best in global cuisine. Tianma offers an authentically Singaporean experience with a menu that references Chinese and Indian cuisine. The dishes at Tianma are flavorful and beautifully presented with artistic panache inside of a beautifully designed space that is nothing short of breathtaking. Starting with a dramatic entrance which takes guests over a reflecting pool and through a covered passage flanked by towering wooden horses and into a dining space that feels almost otherworldly. Up next is La Zisa, an equally inviting, yet decidedly more casual dining space overlooking the River Nile. Here, guests will experience a menu that is best described as a fusion of flavors connecting Italian cuisine with local culinary influences. The dishes here are inventive and represent the best of both cultures. Rounding out the hotel's restaurants is J&G Steakhouse, a glamorous and chic experience that rivals the top steakhouses in New York, San Francisco, and Beverly Hills. Prime cuts of meat and fish are served up with unique cocktails, fine wines, stunning decor, and a birds-eye view of the River Nile and the Cairo skyline.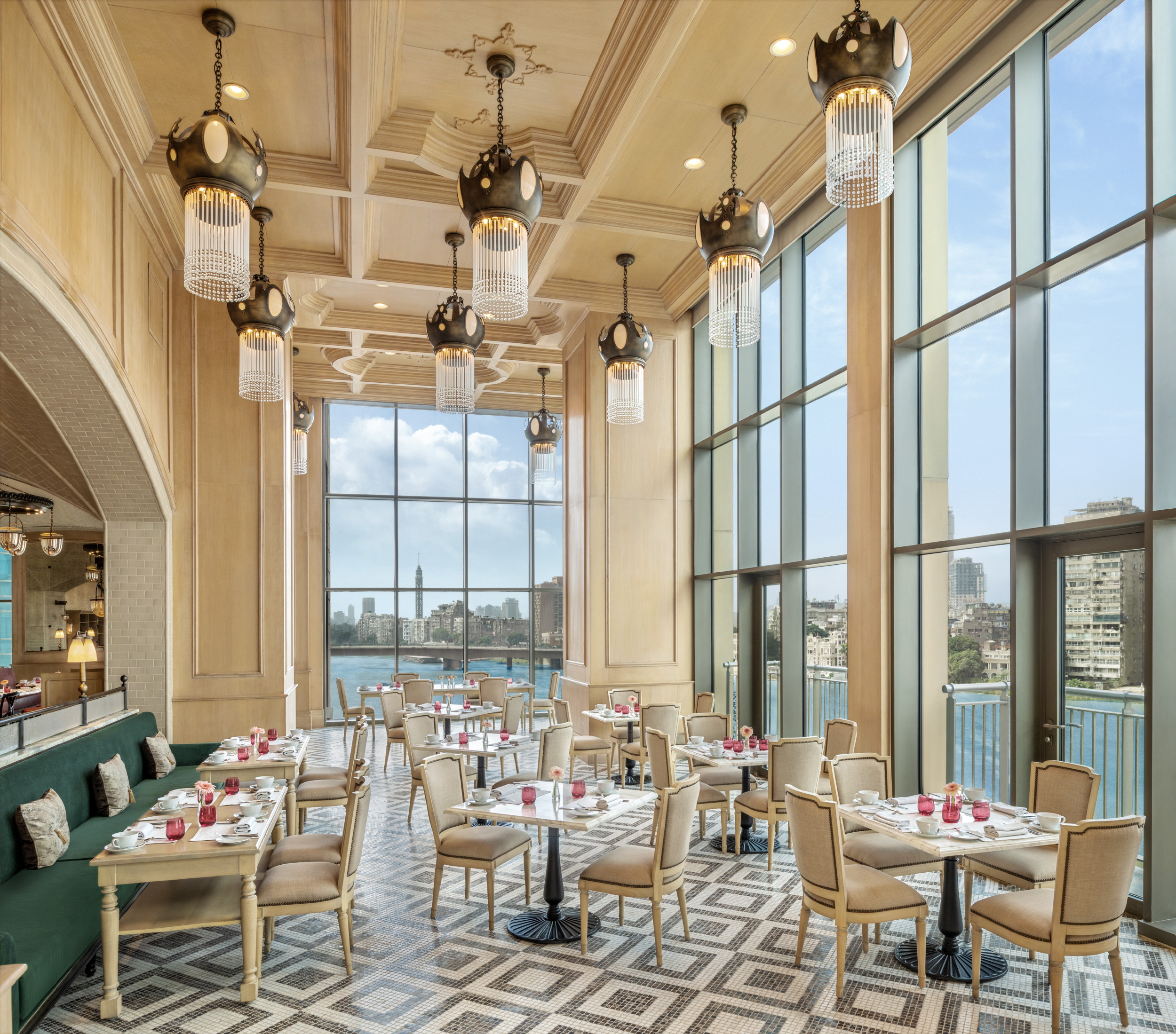 Image courtesy of The St. Regis Cairo
The St. Regis Cairo makes a bold statement as a new reflection of Egypt's rich history, dynamic present, and exciting future. Through bold innovation, exquisite design, exceptional service and next level refinement, The St. Regis Cairo has redefined contemporary Egyptian chic. Establishing itself as not only a monument to luxury, but as one of the world's top luxury hotels, lifting the standard and raising the bar for 5-star international travel in the 21st century.