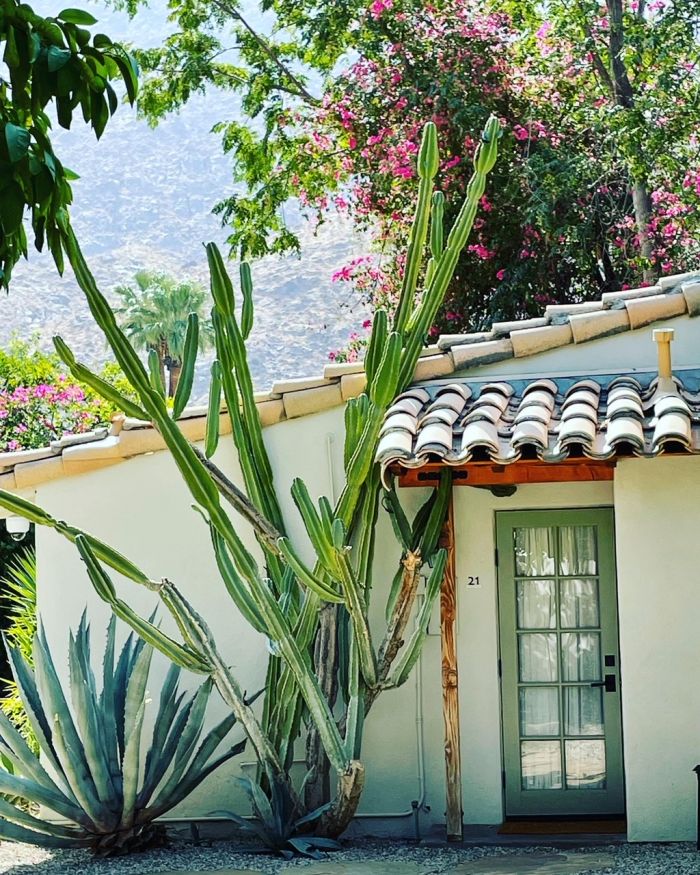 Jill Weinlein
Staying at Casa Cody in the heart of Palm Springs has been a chill spot in Palm Springs since the 1900s, when Harriet Cody and her husband arrived by wagon and stood underneath the majestic San Jacinto mountains.
Building an adobe-style home to keep warm in the winter and cool in the summer, they appreciated the beauty and stillness of the desert. Since Harriet was a cousin to showman Buffalo Bill, and her home became a respite for celebrities including actor Charlie Chaplin.
Today, the property offers a desert residential feel with its row of ranch-style "Old West" L-shaped guest rooms looking out onto a sparkling pool. Inside each room are Spanish decor elements including Saltillo flooring, wood armoires, cane and wood chairs, and beautiful green tile in the shower and kitchenette.
It's quiet in this two acre, adult-friendly compound. Every now and then you will see a dog sitting on a patio with its owner working on her computer, or a guest with his dog taking a stroll through the grounds. Well behaved dogs of any size are welcome, and a pet fee will be added to your stay.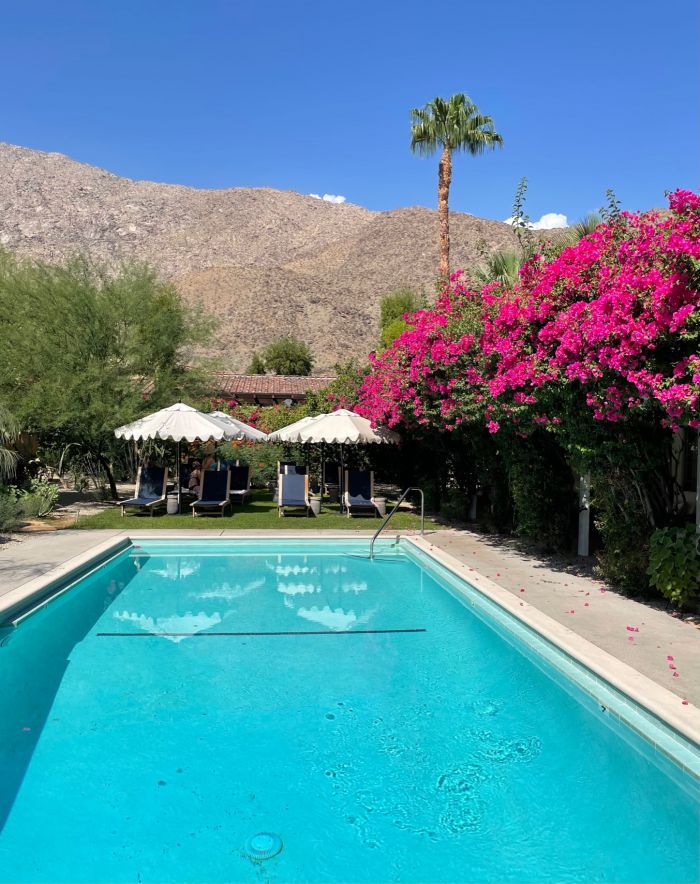 Jill Weinlein
Guest rooms have bright magenta-colored Bougainvillea flowers above their door and are within steps of two swimming pools heated by the Palm Springs sunshine. A fenced whirlpool spa is popular in the evening for soaking and stargazing.
Comfortable lounge chairs and large umbrellas rest on cool green grass. No matter what time of the year, the outdoor terrace is the most popular spot for guests to work, relax and chill.
The recently restored hotel is now a quaint Bed and Breakfast. Each morning the staff display eco-friendly containers of Greek yogurt, cups of granola, bagels with cream cheese, croissants, two different fruit juices and coffee.
After breakfast or during the day, guests can take one of the cruiser bicycles for a spin all around Palm Springs.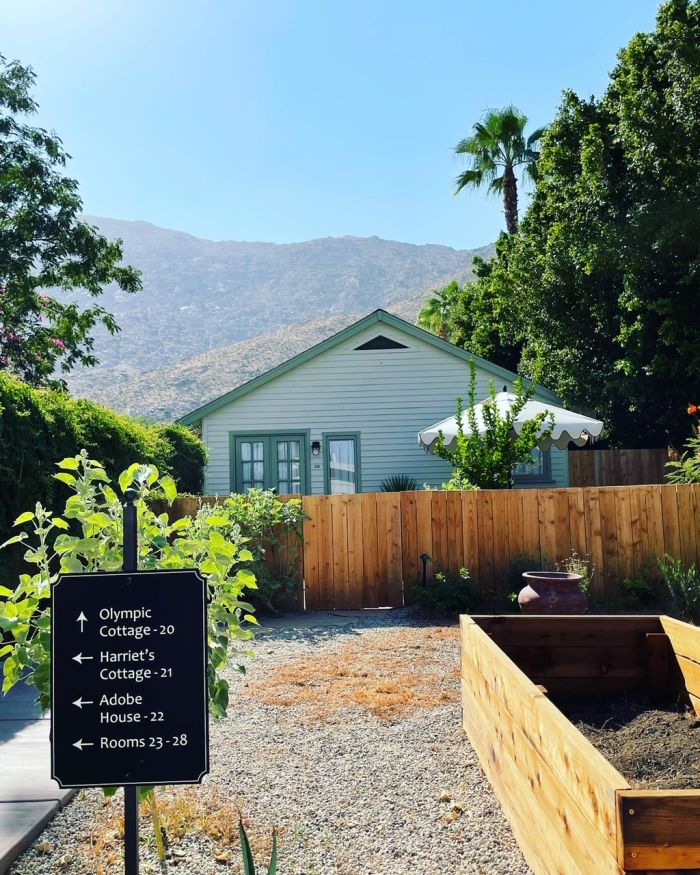 Jill Weinlein
One of the most desirable accommodations is staying in the stand-alone original Adobe House, Harriet's Cottage or the Olympic Cottage, which was originally built to house athletes for the Summer Olympics in Los Angeles in 1932. Assistant General Manager Sofia Jimenez said, 'It was shipped to Palm Springs and is a popular guest unit.' In front of this cottage, there are three seasonal planter boxes that are in the process of growing seasonal herbs and vegetables. Throughout the two-acres there are citrus trees ripe with fruit for guests to pick.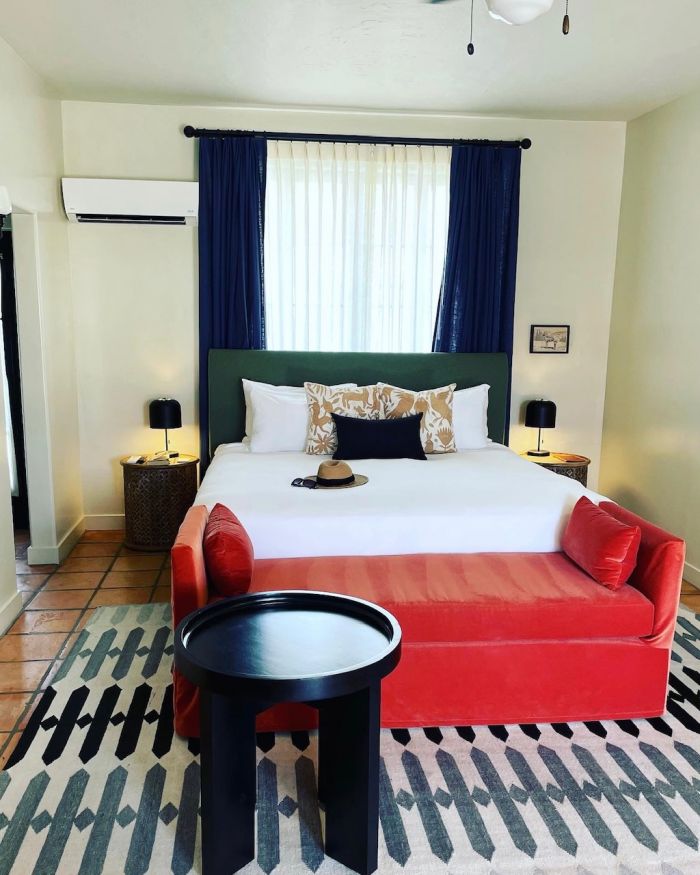 Jill Weinlein
The ranch style spacious studio rooms have a front and rear door offering guests easy access to grassy lawns, and both swimming pools. The king and queen size beds are fitted with Parachute Home bed linens, and behind the bathroom door are two salmon-colored custom kimono-style and embroidered FINERY X CASETTA robes.
Some rooms have a kitchenette and minibar filled with items to purchase, plus kitchen cookbooks curated by Now Serving. Air conditioning and blackout curtains keep the rooms cool and dark in the evening for a comfortable sleeping environment.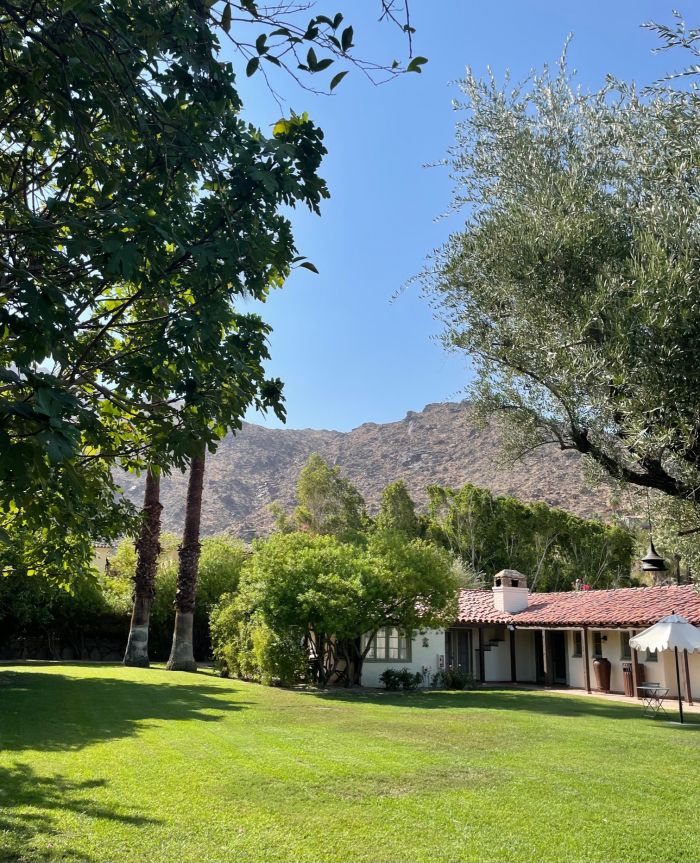 Jill Weinlein
'The Winter's House is our most popular wedding destination,' Jimenez said. The North Lawn is a private space for a ceremony and reception. 'We have weddings reserved almost every weekend through Spring 2022.' Guests will enjoy staying in one of the refreshed guestrooms, while the bride and groom can enjoy the privacy of the Adobe House.
Any season of the year, Casa Cody provides a relaxed and chill experience for guests. It's idyllic location is within blocks from Palm Canyon Drive's dining venues, including nearby rooftop of Kimpton The Rowan Palm Springs Hotel's 4 Saints.