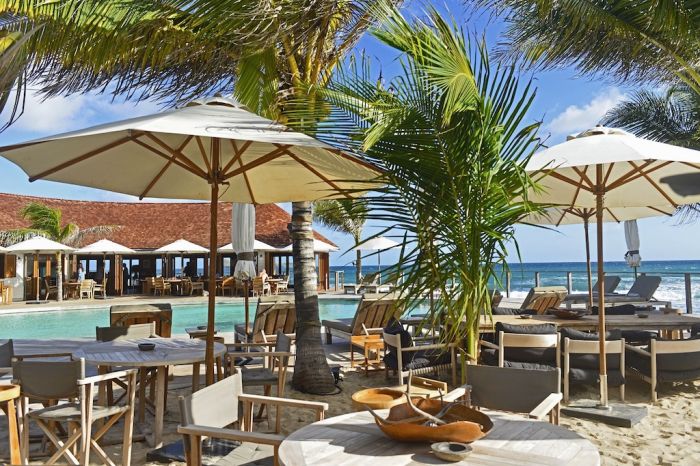 Manapany
Although Manapany is a short flight away from many US cities, it is a world away in terms of luxury offerings in a lush, tropical setting. The eco-chic resort is situated in Anse des Cayes on a private, white sandy beach on the picturesque island of Saint Barthelemy. The charming property, part of the B Signature hotel collection, is the island's first eco-resort and delivers on perfecting the fine art of relaxation as you tune in with nature with the help of a complimentary morning yoga session on the sundeck or unwind with a spa treatment that uses 100% natural products. Whatever diversion you choose, Manapany will ensure that you will be recharged and refreshed before your departure.
Manapany
The boutique property is committed to the protection and preservation of it's environment and this ethos is illustrated in many aspects of the resort's design and function. Manapany's own vegetable garden and orchard of citrus, mango, passion fruit, banana and coconut trees provide fresh, organic ingredients for the restaurant's health-focused menu, while many other products are locally sourced. Solar panels take full advantage of the island's abundance of sunlight and transforms this energy to produce hot water. Additionally, the resort produces its own water and electric vehicles are used to maneuver the 4.2-acre resort. When it comes to cleaning, steam and natural products are used so that no chemicals will harm the environment. As for treatments and services at the spa, organic products from Dr. Hauschka are used.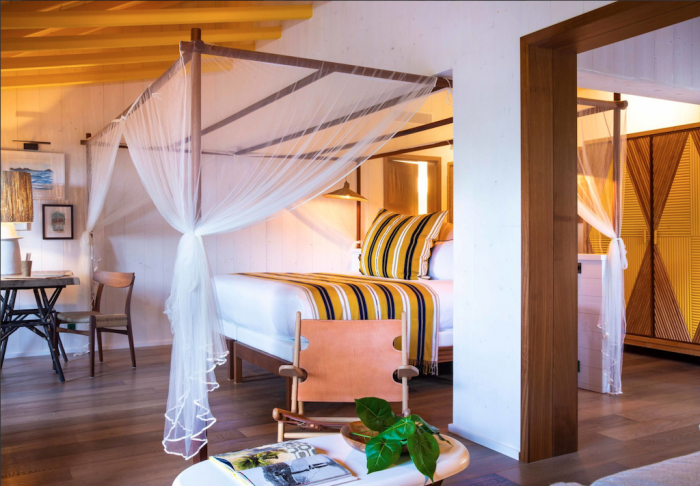 Manapany
The chicly appointed 43 rooms and suites showcase unobstructed views of the sea and surrounding gardens, as each has a private terrace. Every room is unique and blends an elegant yet contemporary French design with a casual décor with handmade furnishings sourced from local artisans. Expect tropical woodwork in natural tones paired with vibrant Caribbean colors in hues of red, yellow, green and blue. The exquisite cotton rugs and cushions are woven by Mexican artisans. Every room and suite feature a King-Size bed, a welcome tray with tea and coffee, a minibar, air conditioning, free high-speed WIFI and bath products from B Signature. Luxury perks of a stay at the luxury boutique resort include daily American breakfast, e-car airport transfers, and a Pilates and yoga class per person per stay.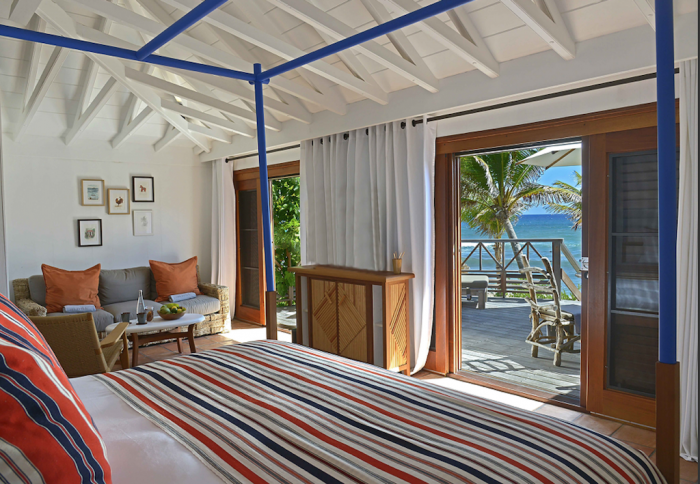 Manapany
If you love to be lulled to sleep by the soothing sound of waves, book a Beach Junior Suite located directly on the beach and close to the swimming pool. In addition to a plush sofa on your private terrace, there is a separate living room facing the sea. The Panoramic Suites possess two bedrooms and two bathrooms and overlook the entire bay of Anse des Cayes. If space is what you're after, look no further than Villa Creole. The two-level, two-bedroom villa is 88 square meters and located directly on the beach. The open plan living room with an adjacent kitchen is ideal for entertaining larger groups.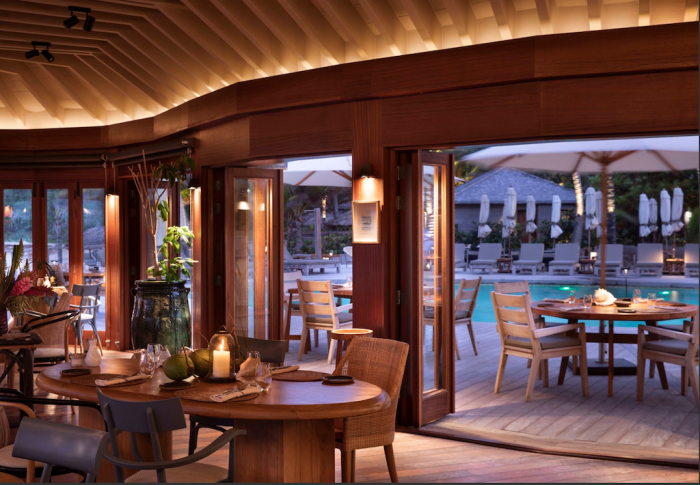 Manapany Restaurant
You won't need to venture far for an unforgettable meal or a surprisingly delightful cocktail as Manapany Restaurant and Manapany Bar offer world-class culinary creations. Before dinner, taste all of the flavors of St Barth with a refreshing Signature Cocktail such as Back To The Roots with Havana rum, mango, passion fruit, guava and lime or an Aloe Mule of Absolut Elyx, mango shrub with aloe vera, lime and ginger beer. For dinner, enjoy Caribbean inspired dishes such as The Green Gazpacho or Hand-Chopped Mahi-Mahi Tartar starter. Try a light but flavorful Tuna Poke with quinoa, avocado, pickles, papaya, wakame, tuna and BIO coconut oil dressing. Fresh fish is delivered to the property daily and is transformed into a Creole Mahi-Mahi with potato muslin, combava and Thai bok choy. The Manap' Cheeseburger is a crowd favorite while The Gnocchi with homemade potatoes, truffled cream and a Parmigiano Reggiano emulsion will please the biggest pasta lover.
Manapany
The winter holidays are fast approaching, so why not book your next family adventure with one of Manapany's enticing offers? Manapany's beach is the perfect surf beach so choose the Surfin' Manapany offer that includes one 2-hour surf lesson with a certified teacher during your stay for your child aged 4 or older along with buffet breakfast, a VIP treatment and a complimentary upgrade based on availability. For those wishing to stay in St Barth longer, select the Stay 4 Nights and Pay 3 offer. Receive 1 free night during a 4-night stay. Experience the luxury and beauty of the island of St Barth during the high-season, opening October 21, 2021.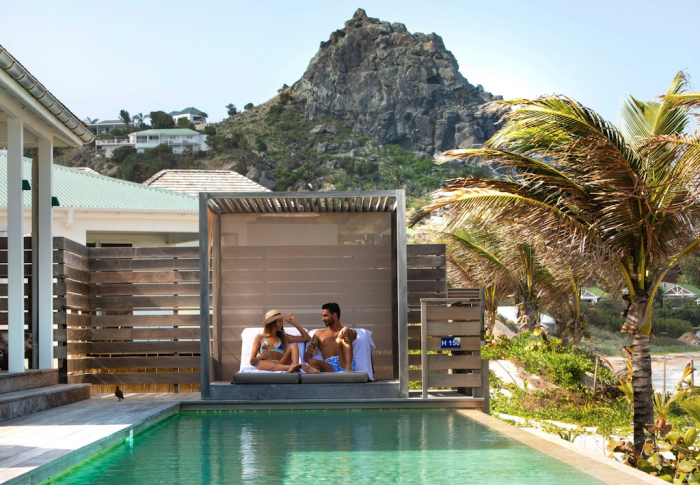 Manapany