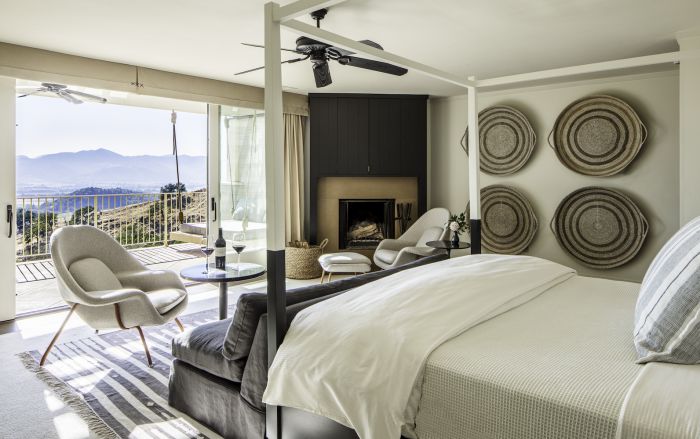 Robert Frost Suite. Photo by Michael Hospelt
Your introduction to Poetry Inn's unrivaled hospitality begins with an email query prior to your stay. Are you celebrating a special occasion? Would you like assistance with dinner reservations? Will you be wine tasting, and if so, what varietal most interests you? It behooves you to be specific, because your exceptionally gracious Poetry Inn hosts aim to please. Mention your favorite cocktail, and it will be served at your specified time. Request a particular newspaper, and it will be delivered with your morning coffee and pastry. Feeling the need for a little extra rest and relaxation? A 90-minute, on property massage can be easily arranged.
From the moment you are greeted upon arrival with a glass of Cliff Lede Vineyards Sauvignon Blanc (Lede is the inn's owner), to your much-too-soon departure - here, any departure is too soon - Poetry Inn's perceptive and intuitive hospitality professionals are at your service, which, by any standard, is the ultimate in luxury. A casually strewn and unbelievably soft cashmere throw, a working fireplace, and a deep soaking bathtub also find their place on any luxe lover's hospitality wish list. Add freshly cut flowers, a gourmet three course breakfast, and a view over which to swoon, and few other Napa Valley hotels compare.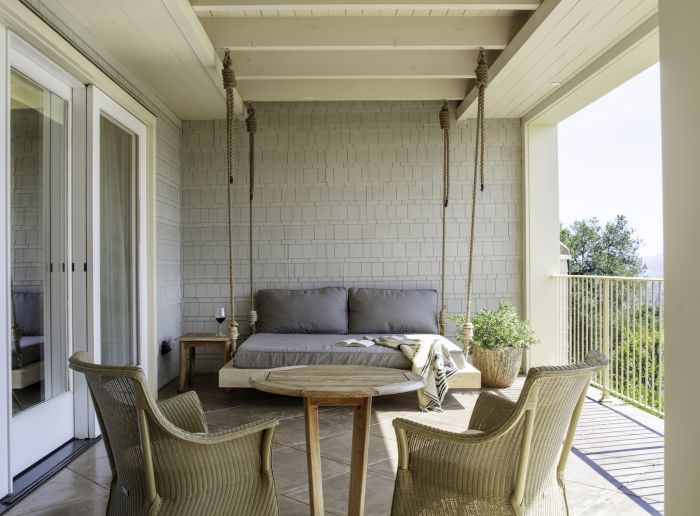 Walt Whitman Suite Deck. Photo by Michael Hospelt
Poetry Inn is Lede's sumptuously tangible ode to the written word. One of Napa's foremost vintners, Lede's love of verse is equal to his well-documented love of rock and roll. (His Poetry Inn adjacent vineyard blocks are named for classic rock songs.) At Poetry Inn, he has named each of his suites for noted poets: Emily Dickinson, Walt Whitman, Robert Frost, Robert Louis Stevenson, and e.e. cummings. A recent refresh of the inn by St. Helena-based Erin Martin Design includes visual nods to each icon. For instance, the Robert Louis Stevenson suite's walls are adorned with stanzas from "My Shadow," and the Robert Frost suite features a mural of the woods from "The Road not Taken," each painted by artist Michael Duté who was invited by Martin to use the inns walls as his canvas.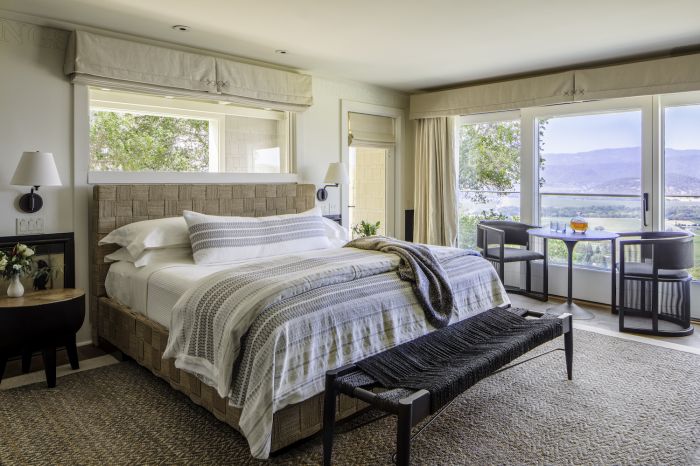 e.e. cummings Suite. Photo by Michael Hospelt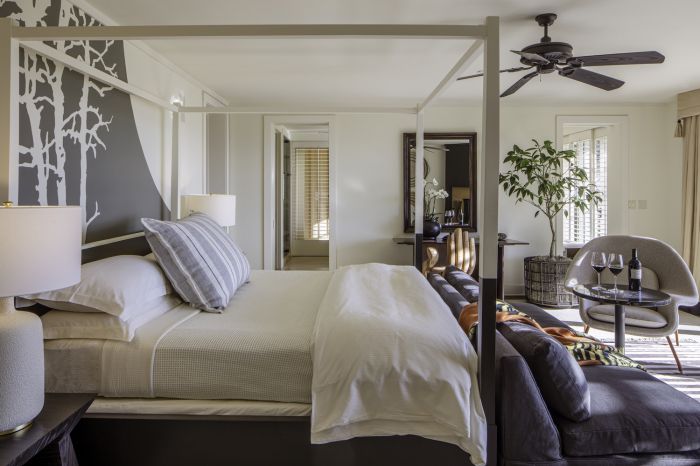 Robert Frost Suite. Photo by Michael Hospelt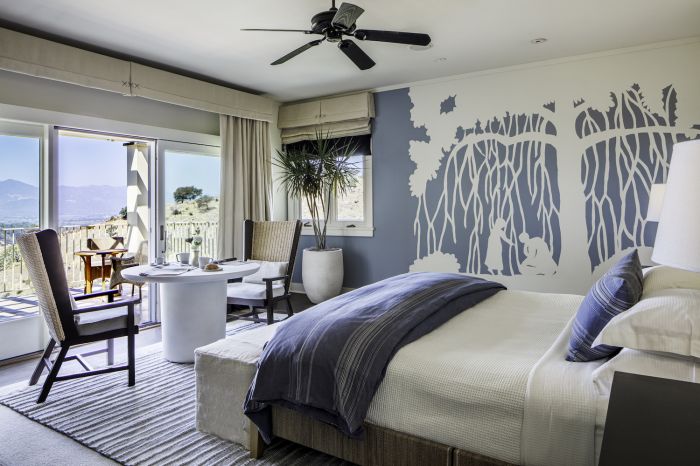 Emily Dickinson Suite. Photo by Michael Hospelt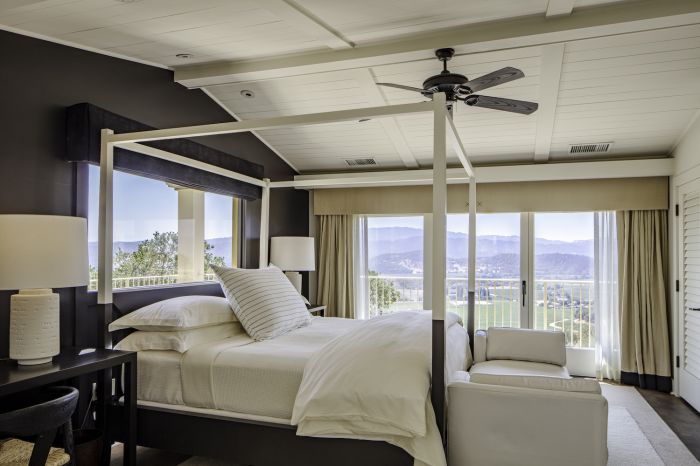 Robert Louis Stevenson Suite. Photo by Michael Hospelt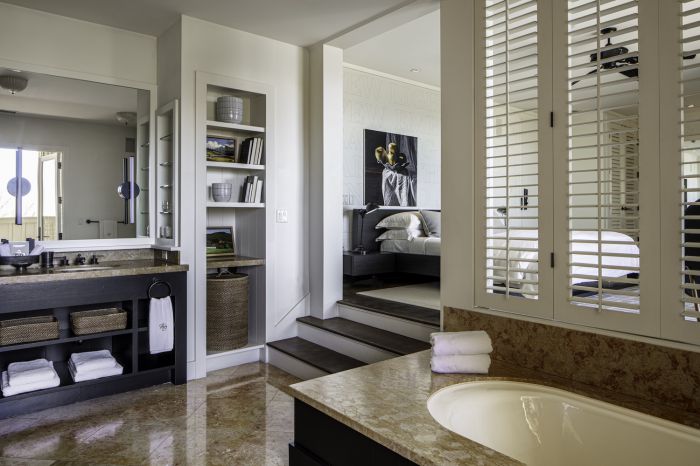 Walt Whitman Suite. Photo by Michael Hospelt
Lede further adorns the suites and public areas with significant artworks from his personal collection, which, combined with Martin's tactile and visual touches, provide a feast for the senses. But no matter the multiple whimsical riches within, it's the breathtaking view that most stuns. Perched 500 feet above the valley floor at the end of a steep, private drive, the Howard Backen-designed property faces west and affords sweeping panoramas of the valley below. (Venture an additional 500 feet on the inn's newly created hiking path for even more breathtaking vistas.) Each of the five suites feature large picture windows and furnished balconies that take full advantage of every sunset. The central living room also features these views, and is the perfect spot to which to return after an evening out, where, awaiting at the new Hemingway Bar are a selection of aperitifs, cordials, and fine spirits.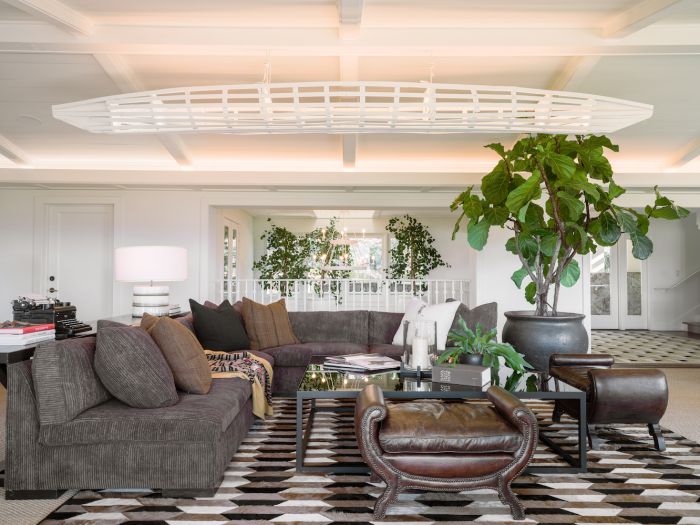 Poetry Inn Lobby Living Room. Photo by Michael Hospelt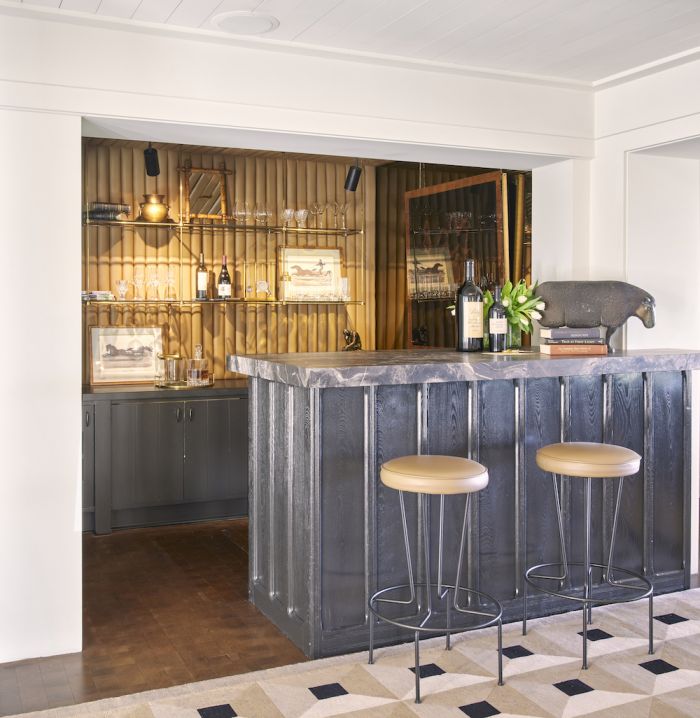 Poetry Inn Hemingway Bar. Photo by Michael Hospelt
In the morning, enjoy a gourmet, three course breakfast prepared by the inn's executive chef Lynn Vita whose daily changing menu features locally sourced goodness. Perhaps the inn's most luxurious amenity, of which there are too many to count, this is a meal over which to linger. Start with freshly baked pastry from nearby Bouchon Bakery, followed by your choice of fruit, steel-cut oats with brown sugar, nuts and dried fruit, or house made granola with Strauss organic yogurt and berries. Next, select something sweet (maybe a sourdough waffle, or brown butter pancakes) or savory (perhaps classic eggs benedict, wild mushroom toast, or a smoked salmon plate.) The best choice? A multi-night stay that allows you to sample each and every delicious offering.