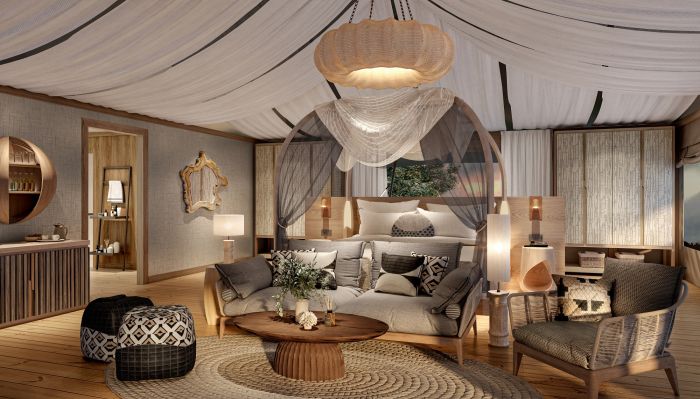 Courtesy of JW Marriott
Adventure awaits travelers to Kenya when JW Marriott opens Masai Mara Lodge, the hotelier's first luxury safari property in Africa. Welcoming guests in 2023, JW Marriott Masai Mara Lodge's prime location is on the edge of the Mara National Reserve, one of Africa's most renowned wildlife conservation and wilderness regions.
Overlooking the banks of the River Talek, JW Marriott Masai Mara Lodge will offer guests a distinctively elevated camp from which to discover the Masai Mara National Reserve, its stunning vistas and abundant wildlife. During their stay, guests will enjoy the immersive, holistic approach to wellness while being mindful of the environment and their impact on the land.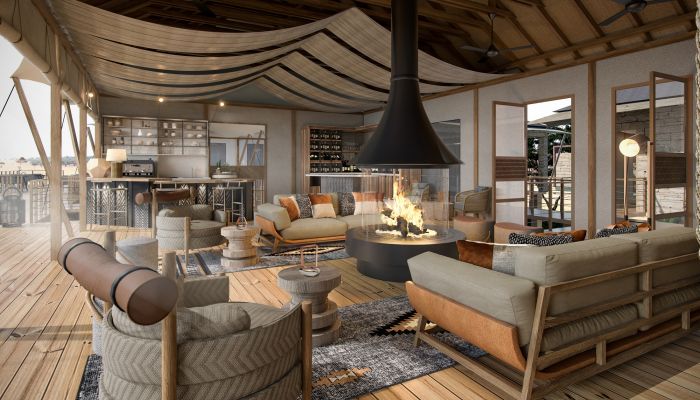 Courtesy of JW Marriott
The Lodge will feature just 20 private tents, including one presidential canvas-topped pavilion and two interconnecting canopied suites. Ideal for families, each has a private terrace overlooking the river. Communal guest spaces will include a restaurant, lounge bar, spa, and a large outdoor terrace with fire pits that will host traditional Masai dance performances in the evening.
The untamed landscape will offer guests the opportunity to observe the "Big Five" that Masai Mara is home to: lions, leopards, buffalos, rhinoceros, and elephants. Between June and September, the reserve is the stage for one of nature's most spectacular sights: the annual great wildebeest migration, when more than 10 million animals travel 1,800 miles from the Serengeti in neighboring Tanzania.