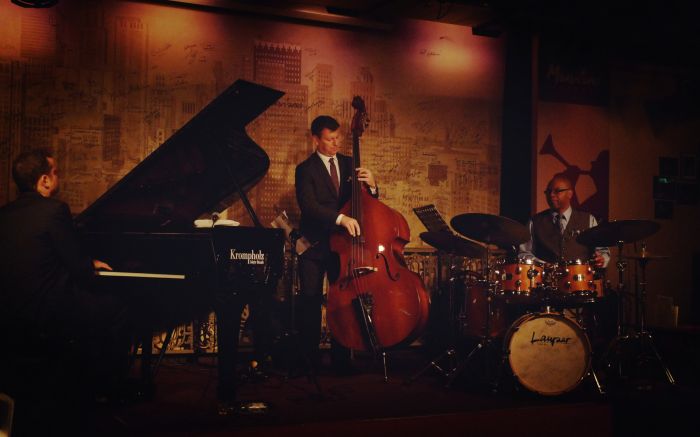 All Images Credit Hotel Innere Enge
Jazz is a lot like truffles. It's not for everyone. But for those of us who love it, we just can't get enough of it. It doesn't matter where you are in the world; from where jazz music originated in the brothels of New Orleans, to where it took its classic form in St Louis or Chicago. Or we can even find a bastion for the lovers of Jazz far away in Europe in a place that could not contrast anymore to its roots. The city of Bern, Switzerland is where you'll find a destination for the connoisseurs of jazz like no other, the Hotel Innere Enge.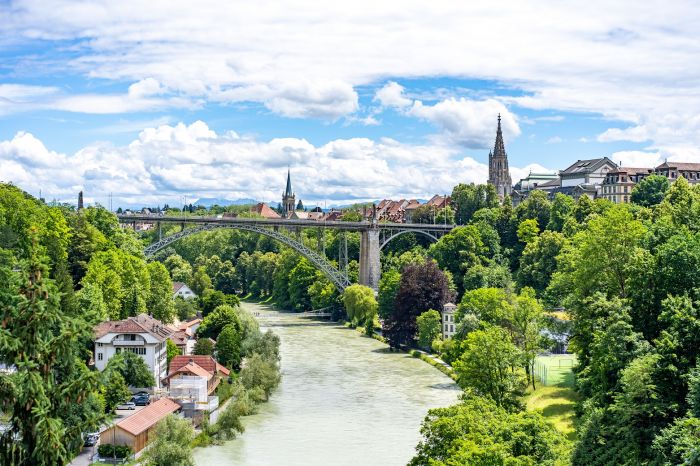 Bern is one of Switzerland's most appealing big cities. It offers the ideal contrast of cosmopolitan culture and a magnificent medieval old city. The Aare River cuts a u-shaped swath through Bern giving it a stunning cityscape dotted with arched stone bridges, Victorian-era row houses, and chapel peaks that pierce the clouds. To make it even more stunning, the backdrop is the snow-capped Bernese mountains. An ideal way to spend a day in Bern is to wander through the old town while taking in its most famous sites, having a local beer at an outdoor café followed by a steep walk up into hillside to Bern's Rose Garden at sunset in order to take in the gorgeous views over the city.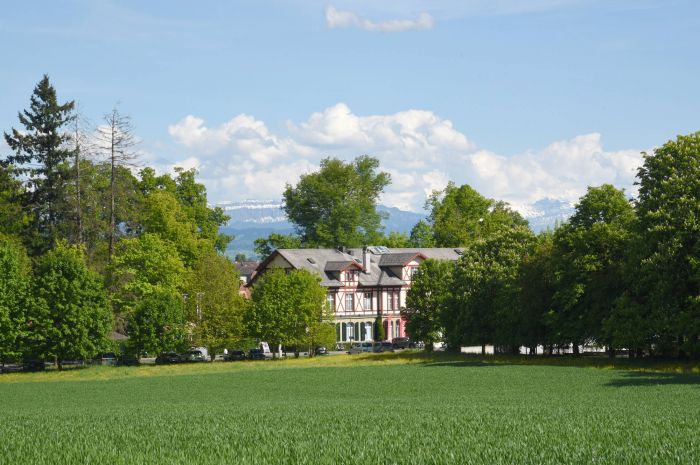 Across the city lies the Hotel Innere Enge, a unique Jazz Hotel that is truly one of a kind. The hotel is part museum, part accommodation, jazz club, and most of all, an homage to the love of jazz music. Over the years, the hotel has welcomed some of the greatest names in jazz and pays tribute to the greats from Miles Davis to Dizzie Gillespie, Lionel Hampton, and Louis Armstrong among many other esteemed names from this beloved music genre.
The Hotel Innere Enge is located on a hilltop bluff overlooking Bern in a leafy suburb a short drive from the center of the city. From the outside, it appears as a traditional Swiss Tudor style home built in 1865 surrounded by a parklike setting of old chestnut trees, and manicured gardens; all of which are situated on a bluff overlooking the city and Alpine mountains.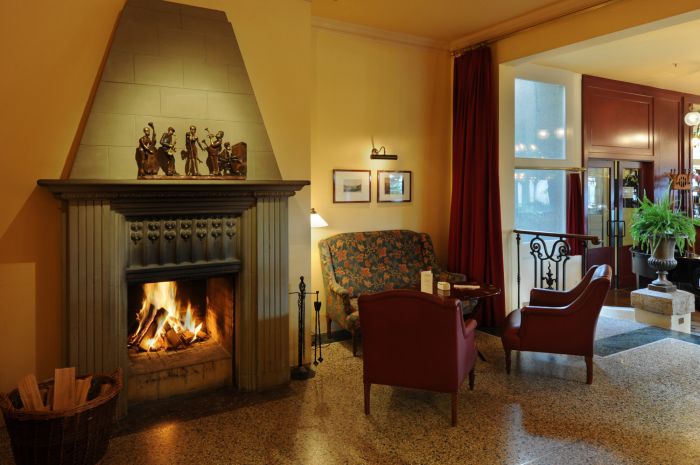 Indoors is nothing less than a full-on experience of Jazz immersion. Every room offers a touch of jazz from xylophones, snare drums, and trumpets and a treasure trove of memorabilia donated by jazz luminaries, past and present. The design is exquisite, with bold colors and contemporary furnishes with magnificent sculptures, busts, and art pieces at every turn. On the first floor, the Josephine Brasserie is their lovely bistro bedecked with jazz memorabilia with a distinctive New Orleans aesthetic complete with a long bar and leather banquets. Further along, there is a restaurant in a circular-shaped glass room offering exceptional meals and delicious views over the city.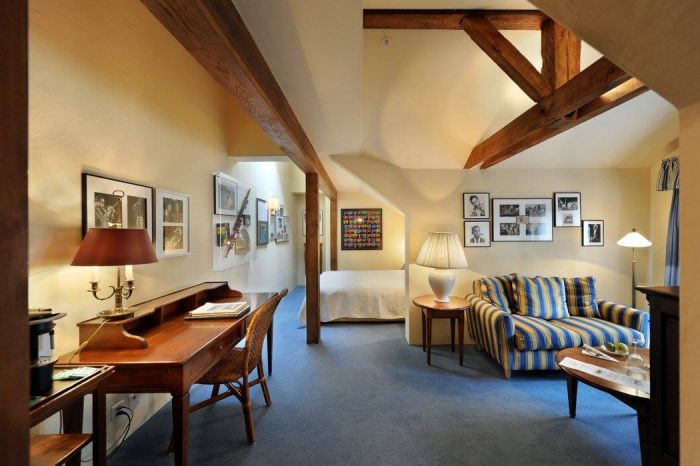 For those who love jazz, the guest rooms are sure to fulfill a fantasy. 15 rooms are named in honor of the jazz greats many of whom have stayed and performed there. Each room features personal belongings, instruments, signed music arrangements, albums, and vintage posters. Beyond the jazzy inspirations, the rooms themselves are exquisite well with traditional furnishings, a sitting area, exposed rafters, and wonderful views over the city skyline.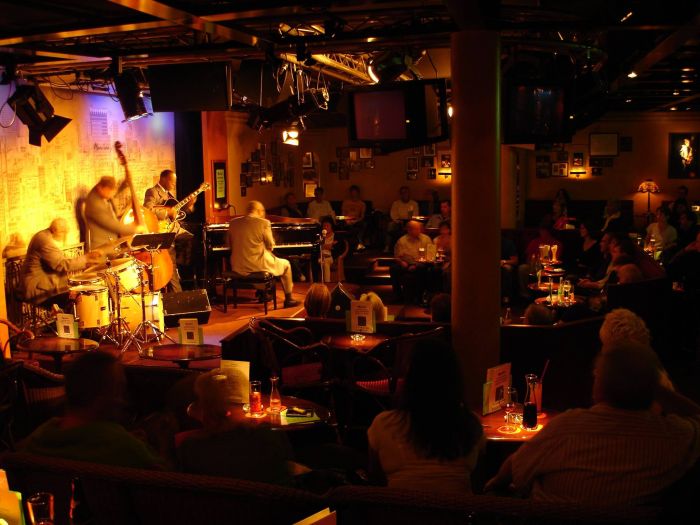 This hotel offers more than the Jazz world's walk down memory lane. The hotel is also home to Marian's Jazzroom which opened in 1992 and has become one of the top Jazz clubs in Europe. The setting is exactly what the Jazz connoisseur would hope for and is quite large with a capacity for over 100 guests. But what makes it a standout is the acoustics and the setup is such that there is no bad seat in the house and still manages to offer a level of intimacy where guests can feel, see, hear, and feel each of the notes performed. The venue hosts weekly performances from groups visiting from bands from around Europe.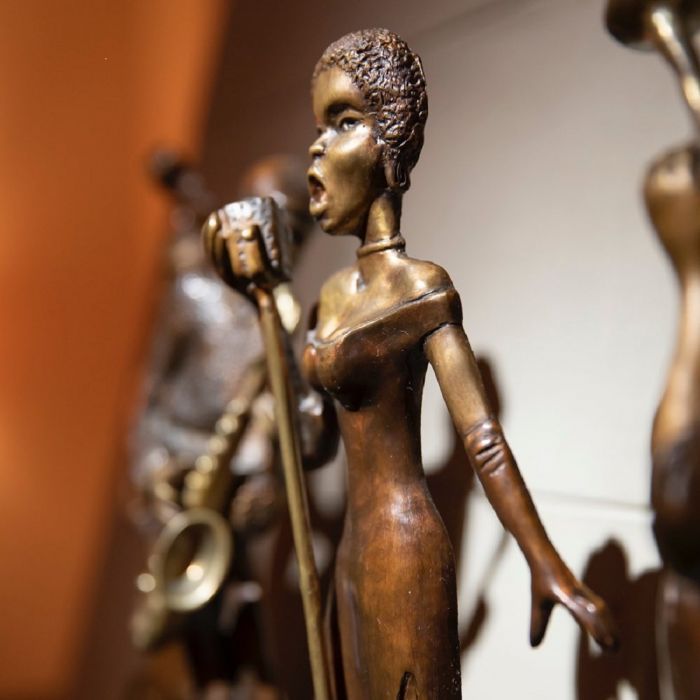 The owners of the hotel have committed their lives to jazz and are among its most ardent promoters in Europe. For more than 45 years, they have produced the International Jazz Festival Bern. The jazz and blues festivals take place on the hotel grounds and for over ten weeks and welcomes an extensive list of world-class musicians.
For the lovers of Jazz music visiting Europe, a must-stop is the Hotel Innere Enge. There, guests can have an unforgettable immersive jazz experience in one of Europe's most memorable cities.