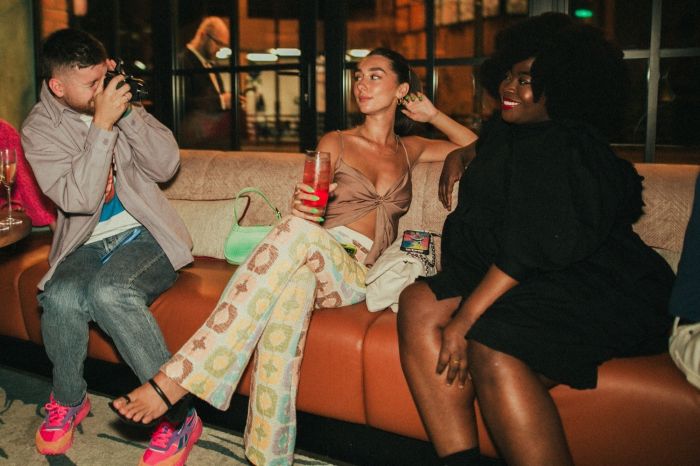 All Images Credit Accor
Like New York has its boroughs and Paris has its arrondissements, London has its villages and neighborhoods, each with their own attributes and unique personalities. Shoreditch is part of the East End and is known for its edginess and grit, artsy vibe and graffiti, and an authenticity that sets it apart from the others. This is the up-and-coming part of London with new office towers, construction zones, and building cranes in every direction. The rebirth has attracted a vanguard of freethinkers, tech geeks, and corporate ladder climbers snatching up flats as quickly as they come on the market. Located in the middle of it all is a luxury hotel newcomer itself, the hipster-ready Mondrian London Shoreditch.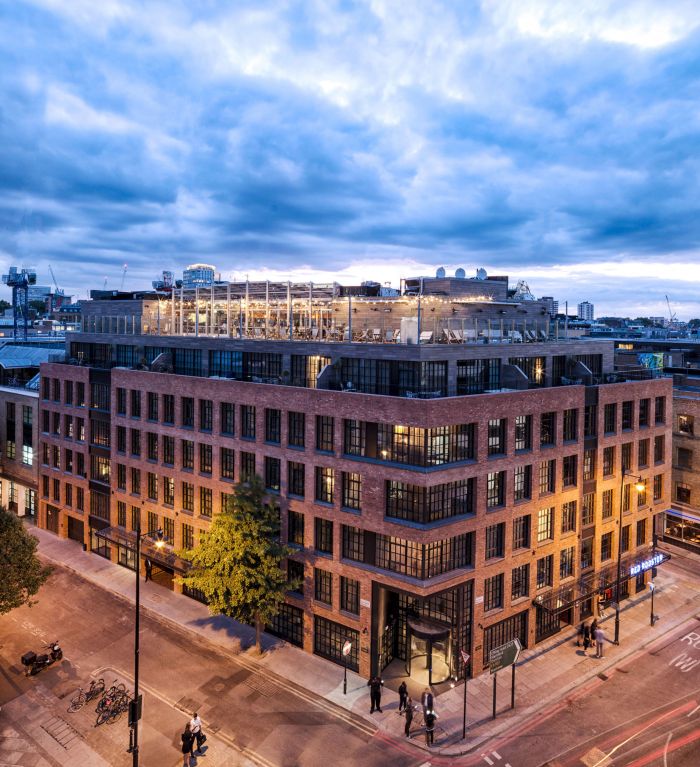 The Mondrian London Shoreditch offers 120 guests' rooms with everything for today's switched-on traveler from the location to its slick and sleek design to outstanding Andalusian cuisine courtesy of Bibo Shoreditch and renowned chef Dani García. The amenities don't stop there and include a 24-hour gym, spa, co-working space as well as several places to indulge in some serious cocktail culture or to just chill out.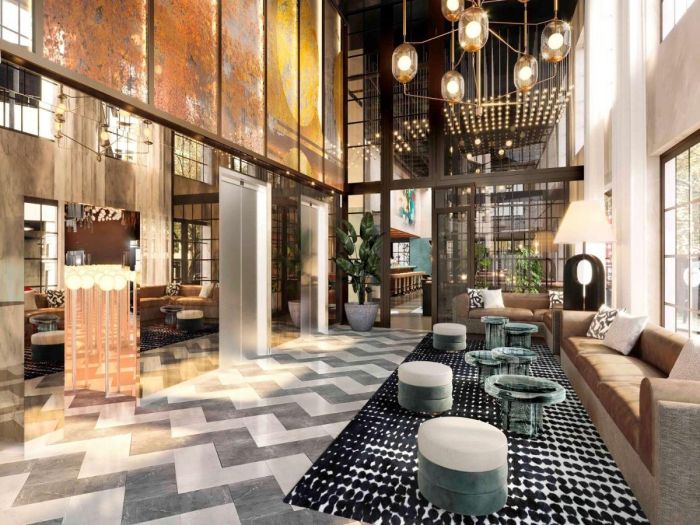 The Mondrian London Shoreditch is all the descriptions one could come up with to mean cool. Chic, hot, trendy, uber-this or that. As we used to say, it's all that and a bag of chips. From the outside, it's a seven-floor rectangular red brick building that without the signage, one would think it to be a factory. Once inside, the décor is industrial-chic and perfectly fitted to the surrounding neighborhood. You will not find your predictable hotel lobby furniture of forgettable couches and boring coffee tables there. This is the antithesis of all of that with dramatic copper accents, rustic brick walls, evocative objects d'art, and dramatic lighting balanced with tropical greenery courtesy of the tree-sized potted plants.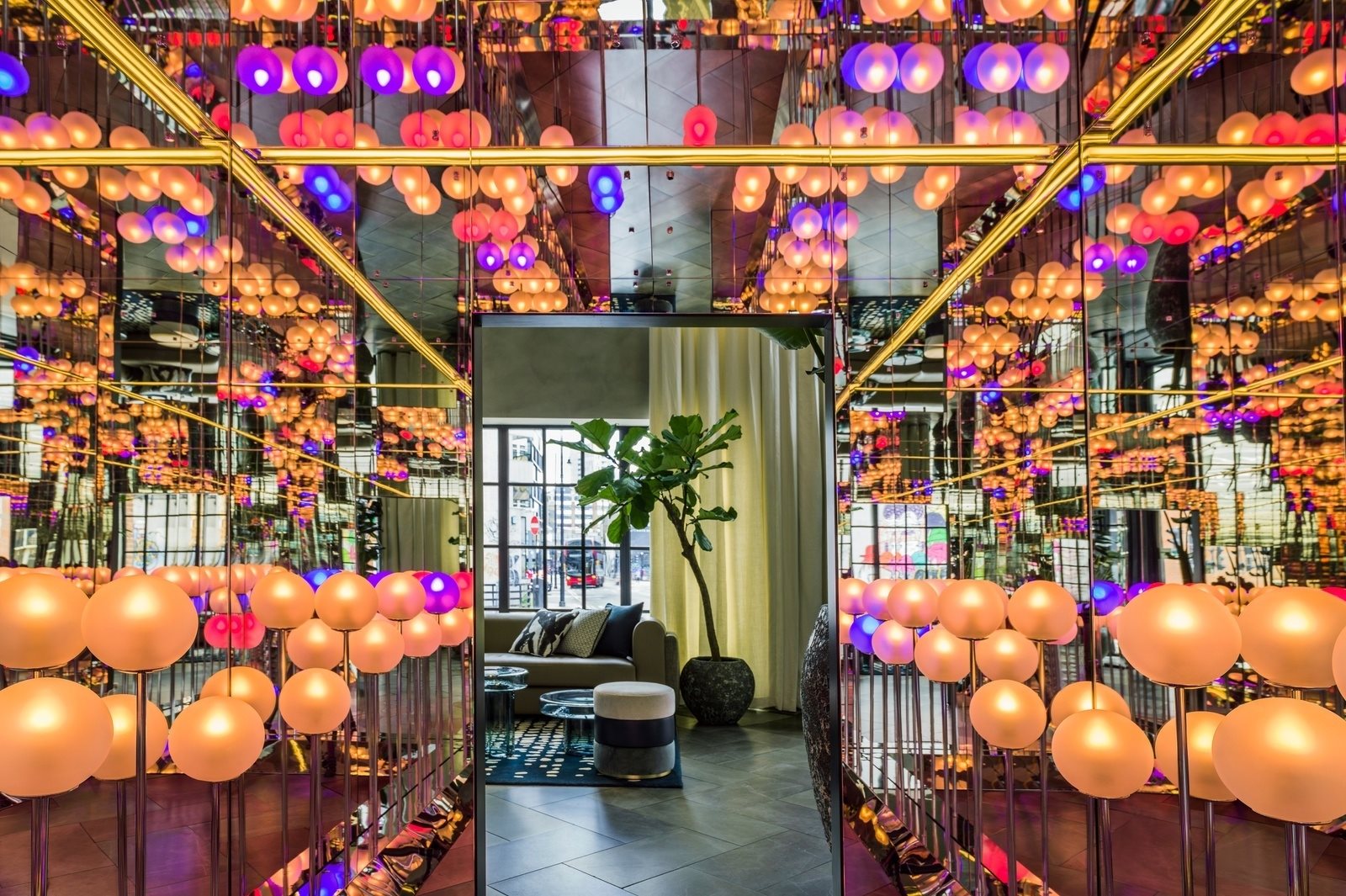 One would imagine the interior designer's vision was to create an Instagram-worthy hotel as it seems that every corner is made for an influencer's next signature shot. They've even got a holographic selfie booth with mirrors and globe lighting solely made for that must-have social media shot-of-the-day guaranteed to be posted moments later.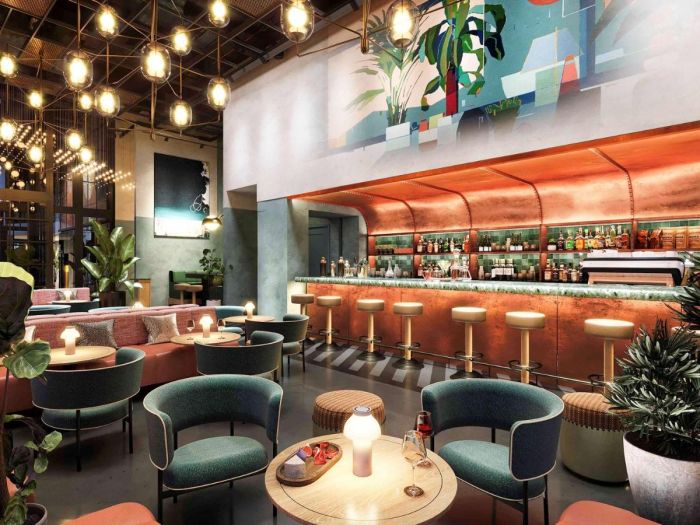 The design follows through to Cristina's, located next to the lobby, which is a comfortable place to lounge about for a drink or a light meal. Airy and stylish with a vibrant atmosphere, the lounge features two-story ceilings, copper accents, and a large abstract painting over a concrete wall by British modern artist Fred Coppin. The bar is known for its extensive wine list with biodynamic wines, craft producers, and exotic signature drinks as well as their sandos which are crustless gourmet Japanese sandwiches.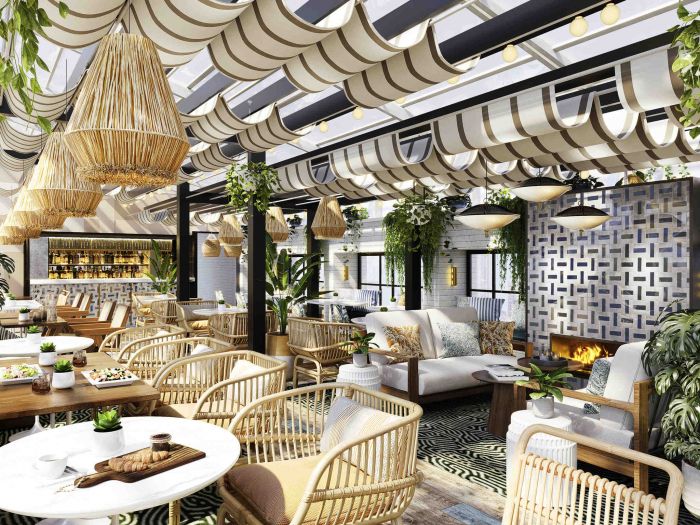 One of the hotel's most alluring features is the New York-esque rooftop overlooking the whirring cityscape below. The space is open for hotel guests for breakfast. The view is just as compelling indoors with a tropical design that feels more like Cuba than the big smoke with leafy green foliage, vibrant striped fabrics, rattan furniture, a central fireplace, and a rooftop terrace with a plunge pool.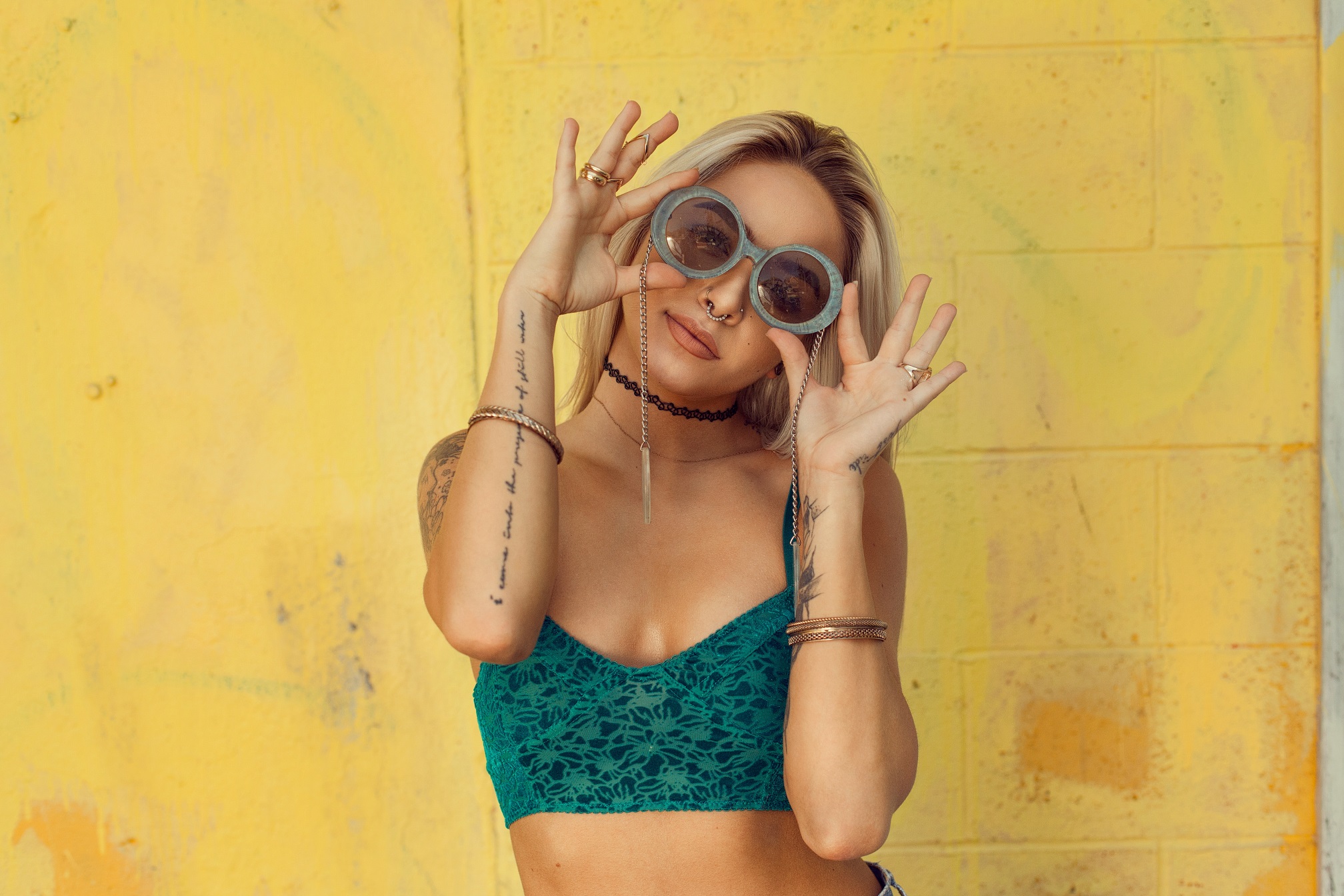 The Mondrian London Shorditch is so much more than a place for a good night's rest. This is a lifestyle hotel meaning that the hotel is as much a part of the experience as the area itself. This is the type of hotel where visible tattoos are to be expected and where you'll find digital nomads, artsy types, and entrepreneurs in a sanctuary meant just for them. You'll see them about the hotel in working spaces or at the bars - laptop facing with a cup of joe nearby. In lounge areas they gather to hash out the details of their next big project on the back of a napkin, aided by a few negronis to help with the thought process or to celebrate after the handshake of a done deal.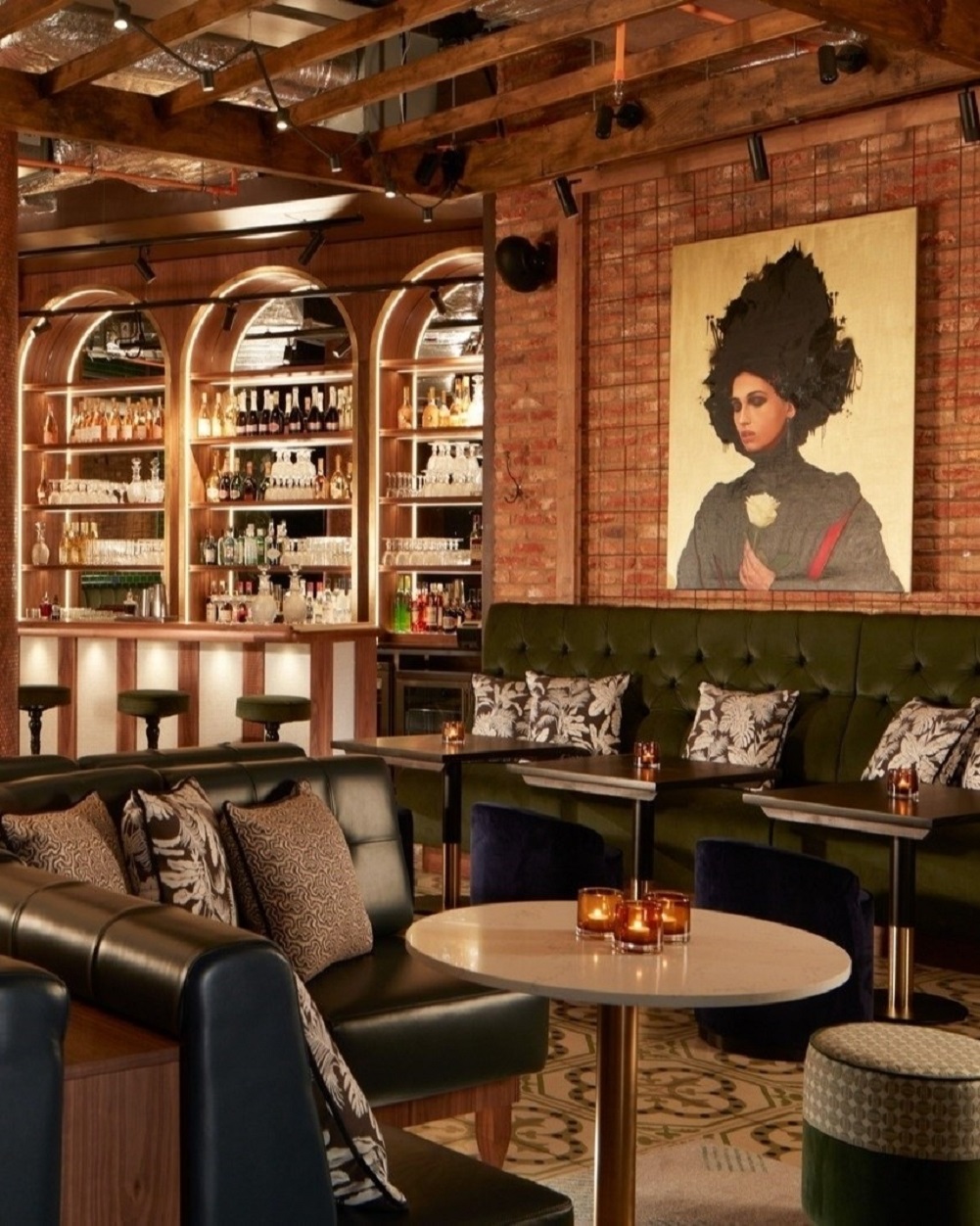 The Curtain Club
The setting is made to foster creative collaboration and is part of the hotel's DNA. What you'll find at the Mondrian, and across London, is a city where private clubs are the norm. The hotel's legacy is in the former home of the Curtain Club which was a private club and hotel. Today the private club co-exists within the Mondrian where members have access to separate and private facilities such as their own lounges, work areas, a screening room, and even a nightclub and exclusive special events.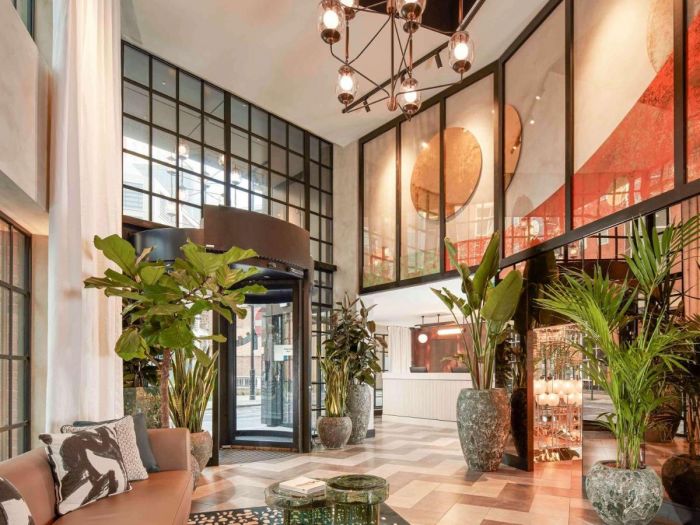 The Mondrian London Shorditch's swagger is rooted in the group's founding hotel, the Mondrian South Beach Miami. Anyone who has been to Miami Beach knows the Mondrian. It is one of those iconic hotels that has been the IT hotel for decades with swanky interiors, unmissable dinner soirees, and legendary Sunday pool parties where tanned and toned bodies laze about its Alice in Wonderland pool scene. In short, it is the hotel where the cool people stay. The hotel brand has brought that South Beach bravado across the pond for their European flagship created for those very same cool people.
The high-style aesthetic continues in the rooms and suites. This is an urban hotel so don't expect large and spacious rooms however the accommodations are configured for comfort and make good use of their compact size. The slick design is the most memorable element with exposed white brick walls, authentic artwork, green leather chesterfield seats, high-tech doodads, and floor-to-ceiling windows and doors for rooms flooded with natural light. The bathrooms are wonderful as well with white marble surfaces and a steam feature for a relaxing steam bath after a day in the urban jungle. A number of the rooms and suites offer wrap-around roof terraces sitting above the city with deck floors and lounge chairs for a serving of fresh air and somedays-sunshine while enjoying a bottle of rose.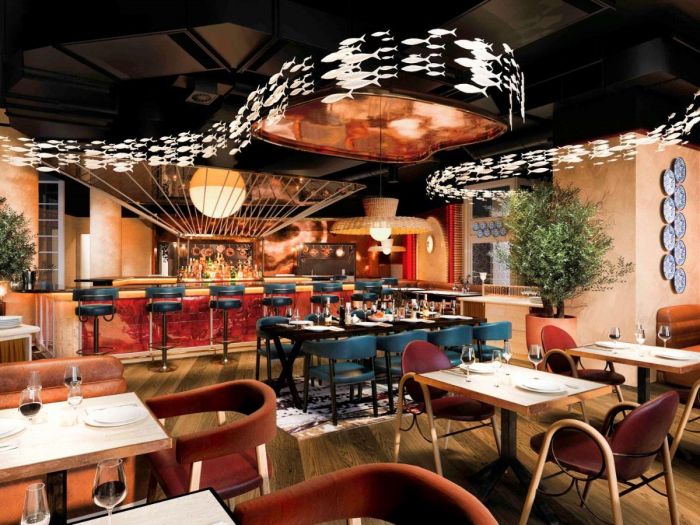 The dining experience at the Mondrian Shorditch completes the puzzle with Bibo Shoredtich. What they've done is to partner with Dani Garcia, a world-renowned chef whose previous restaurant received three Michelin stars, and then taken away the formality, fuss, and fancy of a fine dining restaurant. This is as far as you can get from your predictable hotel restaurant or stuffy fine dining venue. Gone are the typical trappings of aloof service, stiff ambiance, and exorbitant prices and replaced with a dinner party with a hip attitude. Expect a funky and at times noisy affair complete with boozy birthday celebrations, rowdy client dinners, and friends out to have a good time, cocktails, and some really great food.
The experience starts with the location, in the basement level in a large and spread-out space where most nights of the week it is full and buzzing. The industrial-sleek design is as appetizing as the cuisine with copper covering walls, red tiles surfaces, bamboo basket pendant lights, and a school of swimming ceramic fish as a design accent against the ceiling. In the center is the large bar with high chairs with bartenders mixing, sharking, and stirring up elixirs from Agua de Sevilla (whisky, cava, and pineapple juice), red and white sangria, or those never-get's-old margaritas. The ambiance is made complete with an eclectic mix of dance-in-your-seat music.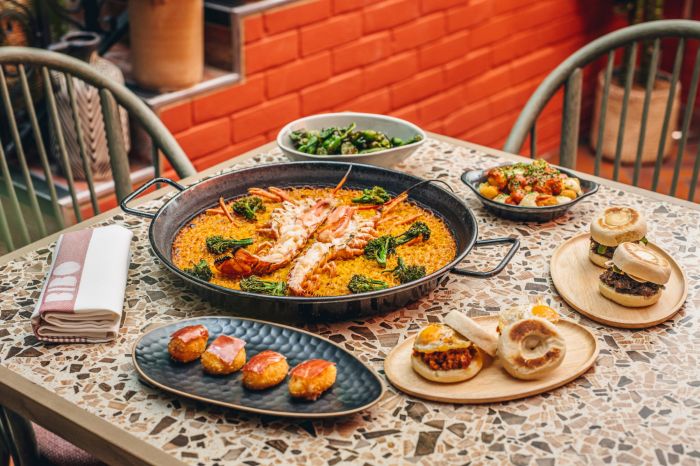 Forget any idea of white starched tablecloths and seven sets of forks, knives, and spoons. The style is halfway between a brasserie and a tapas bar. This is Andaluias cuisine where several tapas are shared by the table or and large plates are expected to be enjoyed by two or more forks at a time. The list of must-have dishes is long. One dish that is sure to give the next table a case of order envy is the sizzling plate of garlic prawns. If the sound and steam doesn't get them then the smell of the roasted garlic surely will. The other standout starters include their legendary oxtail brioche and salty ink croquetas.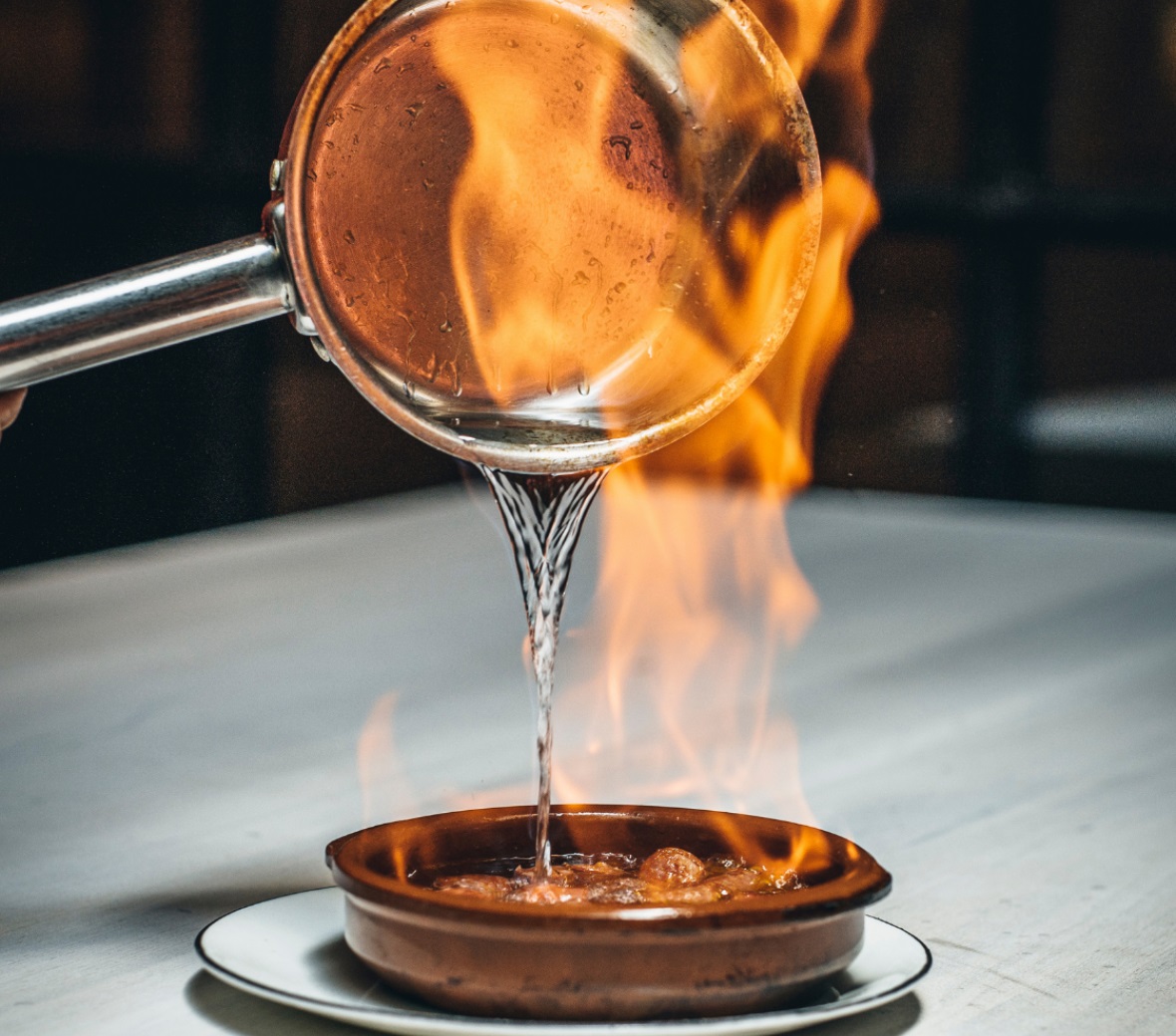 The list of mains demands a roundtrip dinner reservation as they go well beyond what can be managed in one visit. The chorizo flambe is another dish for order envy as are their paellas with options with roasted chicken, carved tableside, or with whole lobster made for three. Bibo Shorditch is the perfect night out for an unmissable meal if you are a hotel guest or not.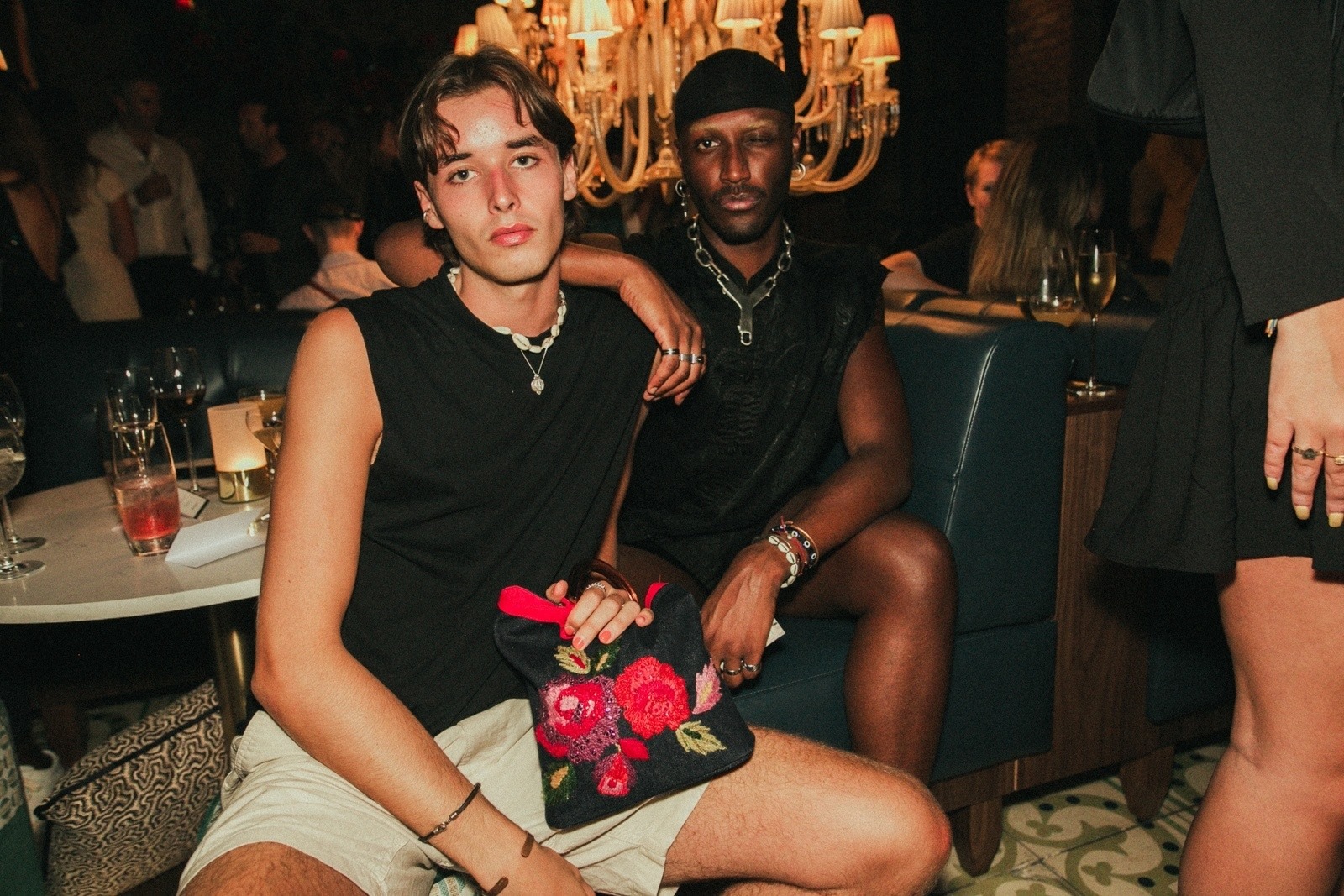 Most first-time visitors to London will opt for the usual suspect hotels located near Trafalgar Square or Covent Garden but for those looking some something with a bit more spice, Shoreditch is where you'll want to be. The irreverent attitude of the area is reflected in the graffiti, artsy vibe and the less than prim and proper way of life. The Mondrian London Shorditch has tapped into this authenticity and created a sanctuary for the creative and the cool as well as those to admire them. This is clearly not your grandmother's hotel. Instead, the Mondrian offers something fresh for today's upmarket travelers looking for a hotel experience that reflects their unique personality.