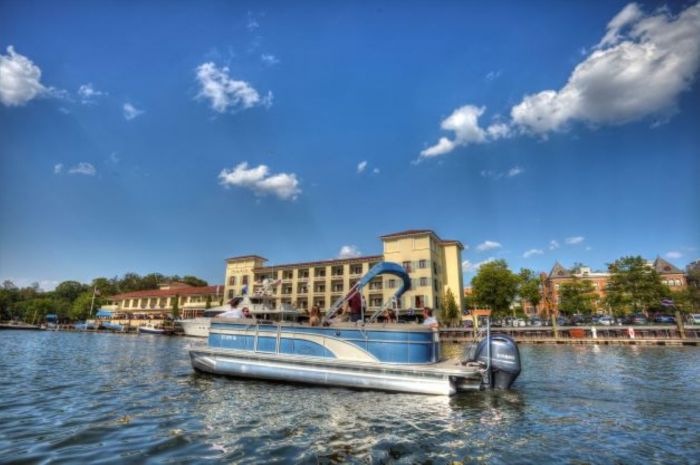 Courtesy of Delamar Greenwich Harbor
If you are looking for a true escape from the everyday hustle and bustle, the Delamar Greenwich Harbor will certainly provide a luxurious waterfront stay.
Located on a marina in Greenwich Harbor that leads out to Long Island Sound, the intimate 82-room property has five suites and two Presidential Suites. The Mediterranean-style hotel sits nearby Bruce Park and just a short walk to downtown. Here, you will find the tony street of Greenwich Avenue, which has often been labeled "East Coast's Rodeo Drive" lined with luxury shops like Hermès, Saks Fifth Avenue and Tiffany & Co.
As soon as we arrived at the check-in desk, we were quickly greeted with chilled bottles of water by the friendly attendants who told us about the complimentary car service (in a Tesla) available to take us anywhere within a three-mile radius of the property. Other complimentary amenities include valet parking, grab-and-go breakfast, and coffee, tea, hot chocolate and espresso available all day in the library.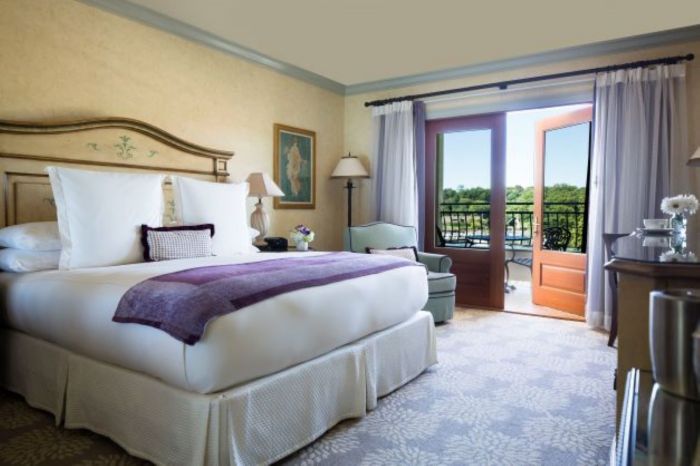 Courtesy of Delamar Greenwich Harbor
We were shown the elevator to the upstairs first floor where we stayed in a deluxe harbor view, pet-friendly, king room. Not only does the property accommodate pets, but they truly roll out the red carpet for your four-legged friend. When we arrived, they already had a luxurious dog bed for our bulldog to use during her stay along with two large bowls for food and water, a bag of treats and bottled water. (Note: a nightly pet fee does apply).
Our spacious guest room had a large waterfront terrace where we enjoyed yogurt, fresh fruit, coffee and snacks from the grab-and-go offerings presented in the library each morning. Our room also featured Bulgari shower and bath products and a soaking tub as well as hot water provided by an eco-friendly, thermal system powered by the sun.
Courtesy of Delamar Greenwich Harbor
From the Venetian plaster walls and polished limestone from Jerusalem in the lobby to the Malaysian mosaic and other impressive collections of art commissioned by the hotel or loaned from local galleries found throughout the hotel, every luxurious detail was considered when designing this hotel. This year, the Delamar Greenwich Harbor is celebrating its 20th anniversary and they are already preparing for a refresh of many interior spaces in 2024.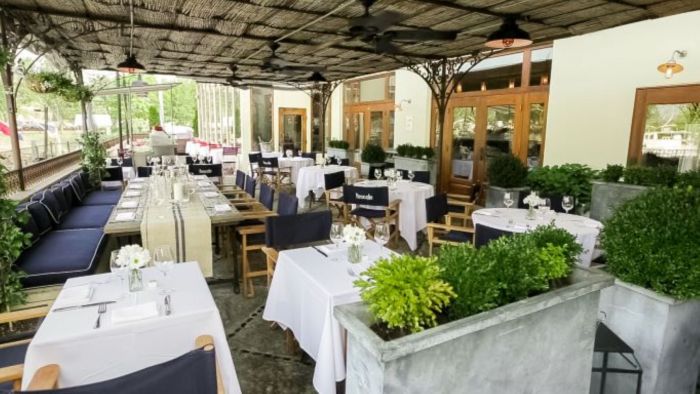 Courtesy of Delamar Greenwich Harbor
When it comes to dinner, a reservation at Delamar's on-site restaurant, L'escale, is a must. The Mediterranean menu here was designed by their award winning Executive Chef Frederic Kieffer. We recommend starting off with one of their Instagrammable cocktails like the "Casablanca," a delicious combination of Monkey 47 Gin, lemon juice and L'escale champagne garnished with an edible flower; or "How to Marry a Millionaire" made with Belvidere Vodka infused mixed berry, elderflower and frozen lychee.
For starters, you won't want to miss the standout Burgundian escargots, a decadent "pour commencer" served in the shells swimming in warm garlic shallot butter accompanied by a lightly toasted baguette. The deliciously fresh and local oysters here were from nearby Noank and arrived in a deep cup with a briny yet sweet flavor. The housemade smoked salmon was large enough to share with diced eggs, chives and capers served with toast points.
Moving right along, the Bouillabaisse is one of their signature dishes filled with monkfish, rock shrimp and mussels served in a rich sauce with fennel and saffron potatoes. The halibut special was declared a favorite along with the prime Angus New York steak frites. The juicy steak was cooked to a medium rare perfection and accompanied by a tangy shallot side, and, of course, a side of irresistible golden fries.
No one was counting calories that night, so for dessert, we enjoyed the Vanilla Crème Brulee with pecan butter crunch cookie and Dame Blanche, a rich and indulgent combination of vanilla ice cream, chocolate brownie, almonds and chocolate sauce. Service here was just as impeccable as every dish presented. We were told L'escale will be closing in December with another French-themed restaurant opening in its place in April, so be sure to book your reservation here soon before it closes.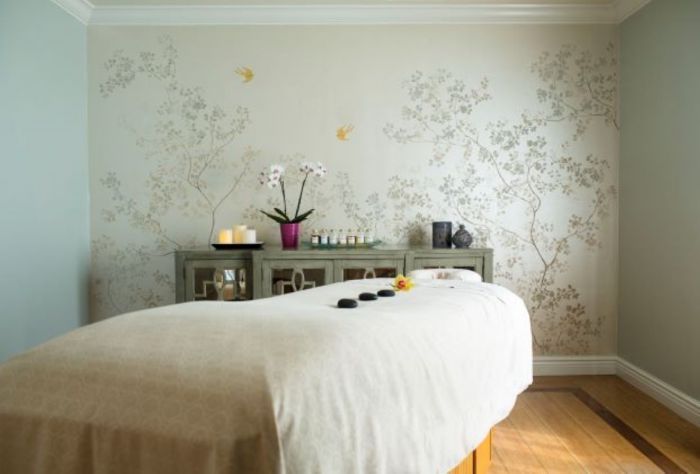 Courtesy of Delamar Greenwich Harbor
The hotel also has a full-service day spa inspired by classic European beauty standards that offers everything from full body massages to indulgent facials. After a relaxing 60-minute massage, we left feeling refreshed and rejuvenated. The spa recently announced their partnership with ELEVAI Skincare as an exclusive retailer in Connecticut of their products which are designed to promote healthier skin.
For added fun, the front desk attendants are only too happy to assist in booking a private charter to enjoy the beautiful sights along Greenwich Harbor. The only thing you have to do is ask.
Delamar Greenwich Harbor is located at 500 Steamboat Road in Greenwich, CT.