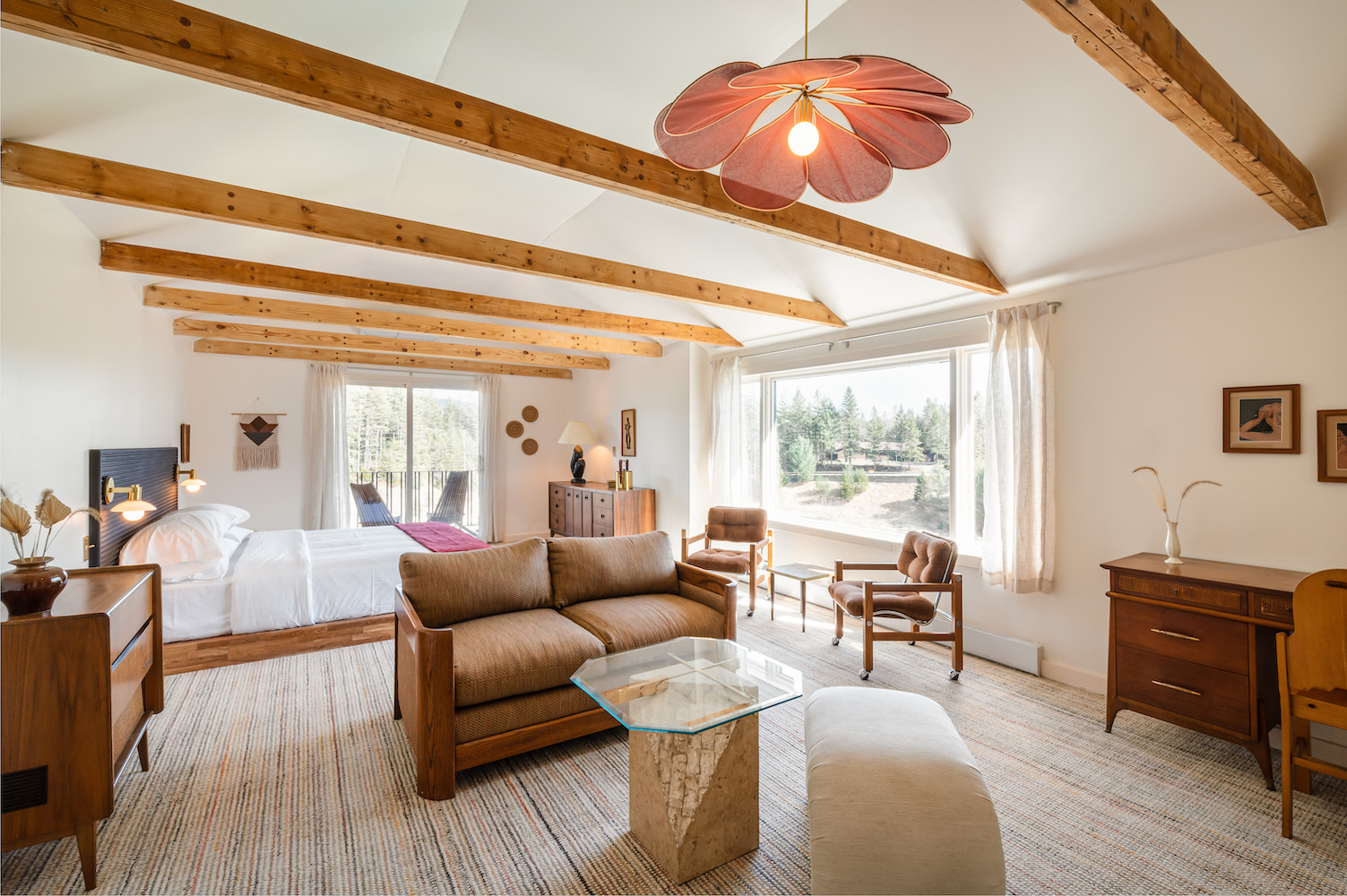 All photos courtesy of Lawrence Braun
Hiking trails, scenic highways, and some of the highest peaks in New York State are all major draws for travelers looking to get back to nature in the Adirondacks, but with the recent opening of a second property from "design destination to watch" Eastwind Hotels, there's now another good reason to pencil in a visit. The former 1950s motor inn turned Scandinavian-chic retreat Eastwind Lake Placid boasts vintage design details, glamping cabins, and a swimming pool – all moments away from downtown Lake Placid and one of the largest protected parklands in the United States.
With Lake Placid bringing the world to Upstate New York for the 1980 Olympics, Eastwind founders Bjorn Boyer, Julija Stoliarova, and Dan Cipriani were inspired to create a village of their own with the 26-room property. "After starting in the Catskills, our intention to expand the Eastwind brand drove us further north, giving design enthusiasts a new destination within a destination to explore and outdoor lovers like ourselves a refined space in the Adirondacks to disconnect from the everyday and reconnect with themselves, friends and family."
Scandinavia Meets Postmodernism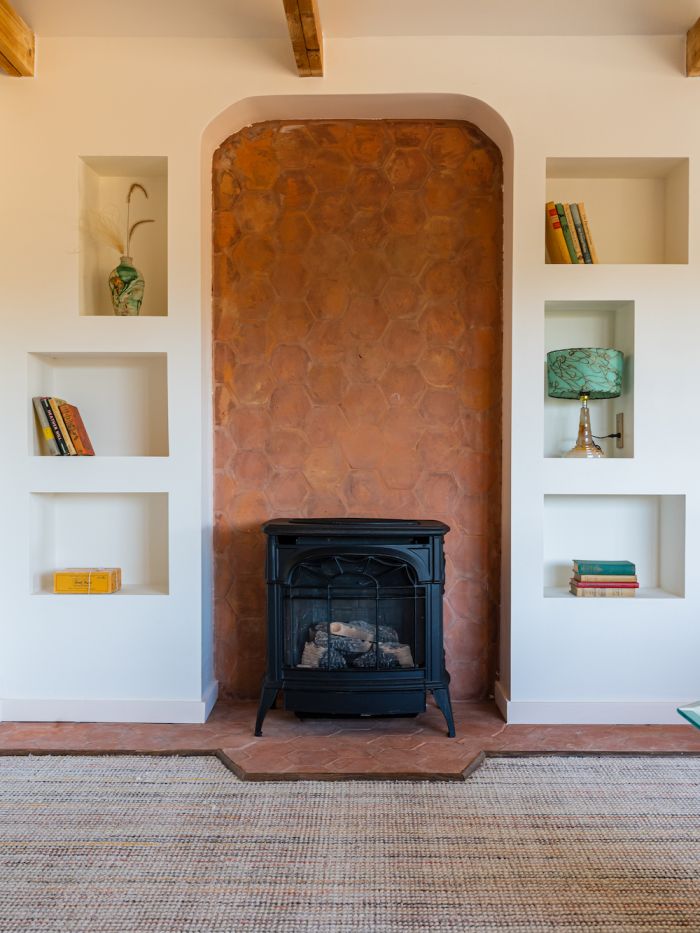 These days when it comes to boutique hotel stays, designer-curated spaces are to be expected. But, thanks to Eastwind, co-founder and creative director Julija Stoliarova has taken the tasteful 'elemental getaway retreat' to another level. The property has 26 unique accommodations, including 17 guest rooms and eight luxury cabins. Differing slightly in layout and décor the majority feature king beds and amenities ranging from fireplaces, desks, sleeper sofas and bathtubs to private patios looking out to the pool.
A longtime admirer of the 'clean lines and wood elements of Scandinavian design,' Stoliarova also took cues and inspiration from postmodernism when individually curating the spaces. 'I was inspired by fellow female curators, some of whom I found on Instagram, to play with the postmodern movement's abstract forms and bold colors. With vintage and found objects, we've been able to put our touch on every room, making each a different experience, all with a unifying warmth only home can provide,' she says.
The hotel also features Lushna cabins, a signature of the first Eastwind property in Windham. The all-weather, wood-framed, freestanding cabins are available as either Suites or Petites, but all feature queen beds, full indoor private bathrooms and adjoining outdoor patios. Plush amenities like Frette linens, Zenology bath products, Bluetooth speakers and electric kettles with tea and coffee kits for those early mornings also feature.
Simple Yet Refined Dining
Taking cues from its sister property in the Catskills, Eastwind Lake Placid features a simple yet refined food and beverage program. Think breakfast baskets in the morning, bar bites and sandwiches from the reception bar, and communal, outdoor meals cooked on the open-flame Argentinian grill during summer. Additional intimate eating and drinking experiences on the property include a former blacksmith shop turned private dining space for groups of up to 10 people and a separate bar and lounge.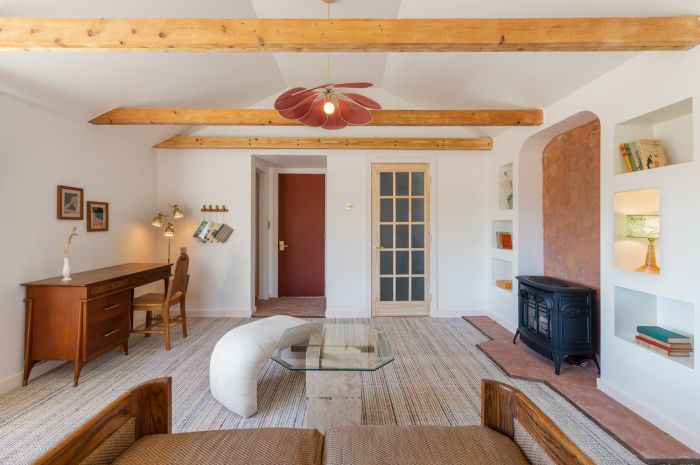 Indoor and Outdoor Activities
Spread across 2.8 acres of land along the Chubb Rivera and open year-round, guests have an array of indoor and outdoor amenities at their fingertips. Geared at discerning outdoor enthusiasts, there are bike and skate rentals, plus a swimming pool. A vintage library, spa, central fire pit, and saunas also feature and does programming that includes live music on weekends, plus yoga and Pilates classes.
Around Town
Located alongside the Chubb River, it's a 10-minute walk from the hotel to Main Street and the heart of downtown Lake Placid. Known for its Olympic roots, the quaint town of Lake Placid is also home to Adirondack Park. Created in 1892 by the State of New York, it features over 2,000 miles of marked hiking trails, 15 miles of mountain bike trails, six million acres of mountains, 3,000 freshwater lakes, rivers, streams and ponds for year-round fly fishing, canoeing, and kayaking excursions. For more information or to make reservations visit www.eastwindhotels.com.