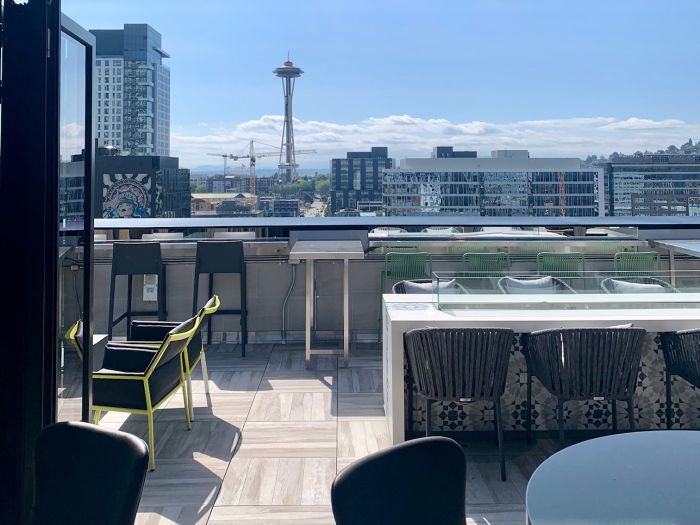 Astra Hotel Seattle's ALTITUDE Sky Lounge® Photo by Fran Miller
Seattle's newest hospitality option is more than merely a place to rest one's weary head while visiting the Emerald City. The Astra Hotel Seattle, part of Marriott's Tribute Portfolio, is located in the techy South Lake Union neighborhood, home to Google and Amazon campuses. It's also a mere ten minute walk from Climate Pledge Arena, home of the NHL's Seattle Kraken, the league's newest franchise, of which its eye-catching sea monster "S" logo sent fans worldwide into a merchandise sales fervor before players even skated onto the ice last fall.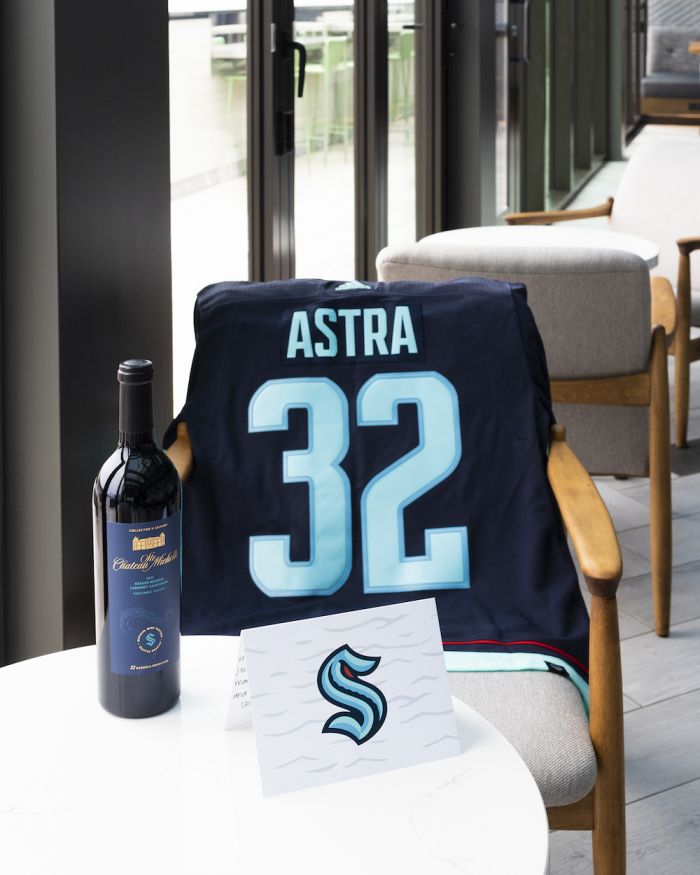 Photo courtesy of Astra Hotel Seattle
It makes sense that such close proximity has yielded a powerful partnership between the hotel, the team, and the arena, the results of which will be a boon not only to Kraken fans, but also to fans of the WNBA's Seattle Storm who also play at the arena, and to those who pilgrimage to town to catch the world's biggest performers of live music.
"We are so excited to bring on the Astra as our official hotel partner," said Rosie Selle, VP of Marketing at Climate Pledge Arena. "Their proximity to the arena and South Lake Union and Uptown neighborhoods makes them the place to stay when attending concerts, events or Kraken games at Climate Pledge Arena."
As an official partner of Climate Pledge Arena (originally built for the 1962 Seattle World's Fair, and completely redeveloped as the first net zero certified arena in the world) and the Seattle Kraken, the Astra Hotel offers exclusive experience packages and contests throughout the year. Additionally, those that visit the Climate Pledge Arena's website will see Astra Hotel's logo integrated into the "Plan Your Trip" page, where they will be able to book a room directly. Astra Hotel will also be featured on the Seattle Kraken website.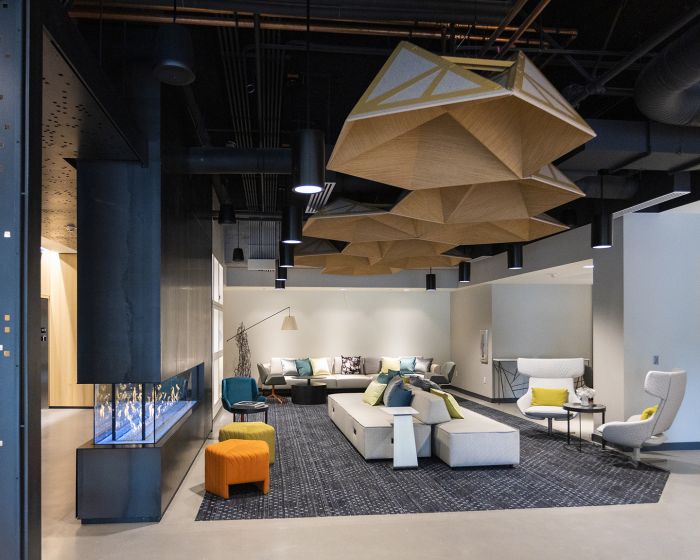 Astra Hotel Lobby, photo courtesy of Astra Hotel Seattle
"We're incredibly proud to team up with Climate Pledge Arena and the Kraken to provide guests an elevated and authentic Seattle experience," said Marco Filice, general manager of Astra Hotel Seattle. "The inventive and ambitious local community that surrounds us defines our hotel's experience. We look forward to providing one-of-a-kind memories, blending art and technology for those attending events at Climate Pledge Arena and cheering on the Seattle Kraken."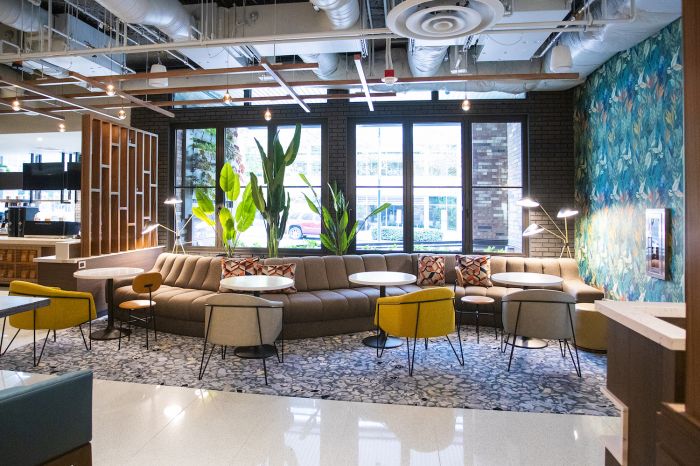 Otium Grill & Greens lounge. Photo courtesy of Astra Hotel Seattle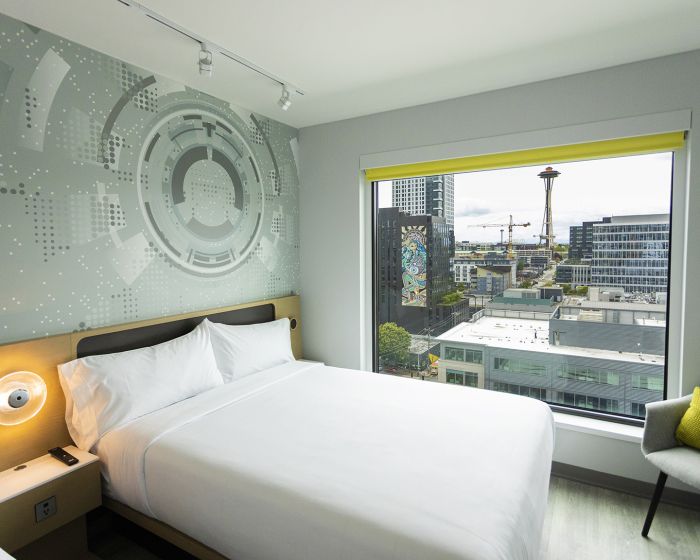 Astra Hotel guest room. Photo courtesy of Astra Hotel Seattle
The 16-story, space-themed Astra is highly illustrative of the Tribute Portfolio brand's passion for unique design and vibrancy, and for creating connection with community. Many of its 265 light and bright guest rooms feature panoramic views of the Seattle Skyline and its iconic Space Needle. But no matter the room view, every guest can catch a glimpse of the sparkling panorama with a visit to the rooftop ALTITUDE Sky Lounge® where craft cocktails, locally sourced charcuterie, and an impressive selection of beer and wine are served with every stunning sunset.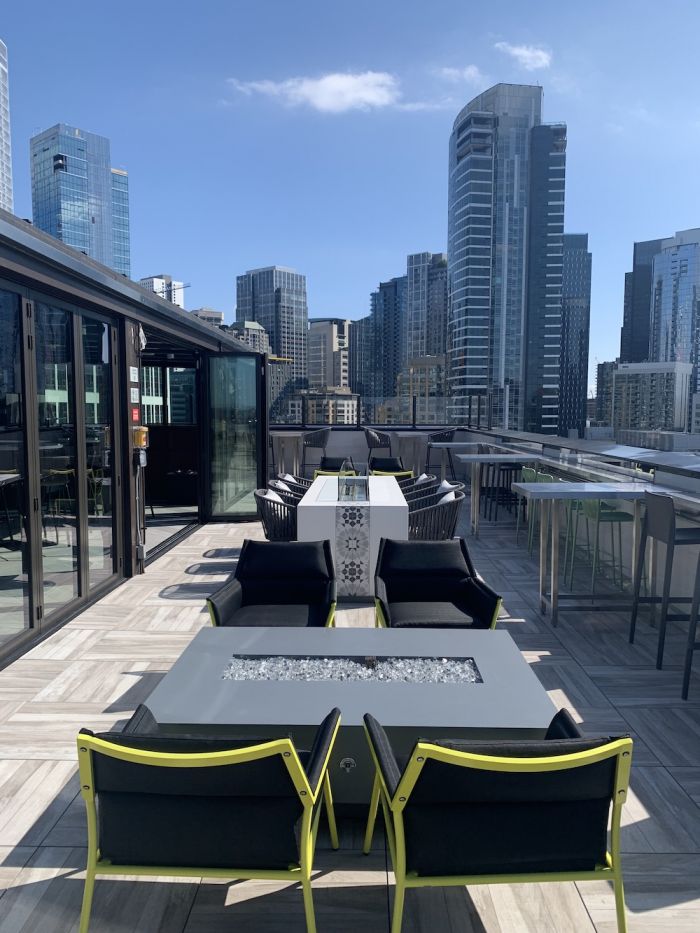 ALTITUDE Sky Lounge® Photo by Fran Miller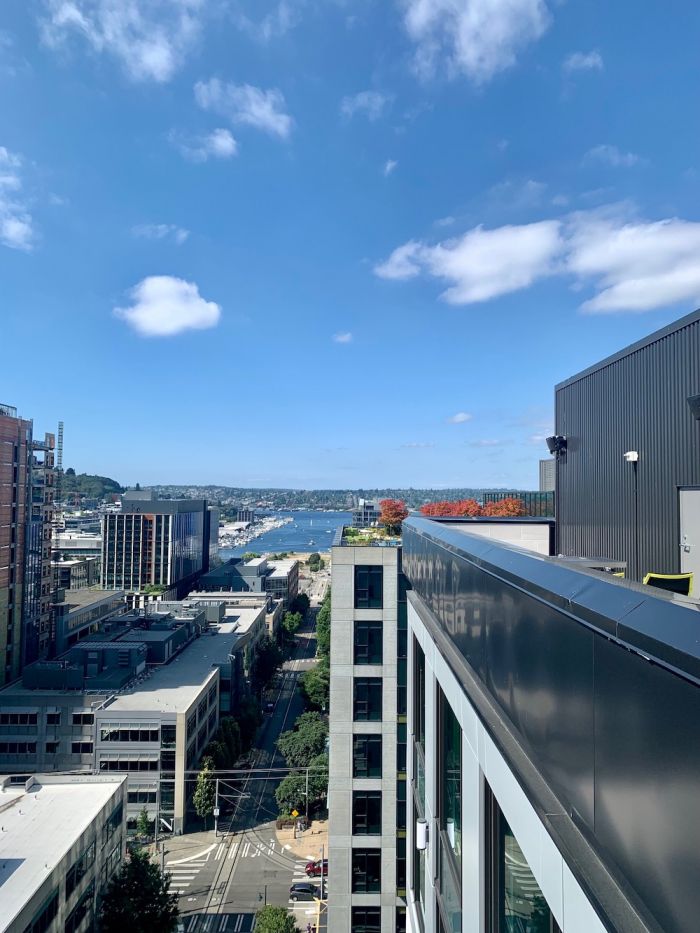 View from ALTITUDE Sky Lounge® Photo by Fran Miller
On the ground floor, Otium Grill & Greens provides veggie-forward, fresh cuisine daily along with an impressive beverage program served within the beautiful bar space. And an outpost of Caffe Ladro – a favorite of the local coffee-loving crowd – offers caffeine in all its forms, as well as quick morning bites and pastries.
Astra's large, state-of-the-art, open 24/7 fitness center features Peloton bikes and Life Fitness equipment. The property also features 5,000 square feet of high-tech meeting and event space.
Astra Hotel Seattle: 300 Terry Ave. N., Seattle, WA