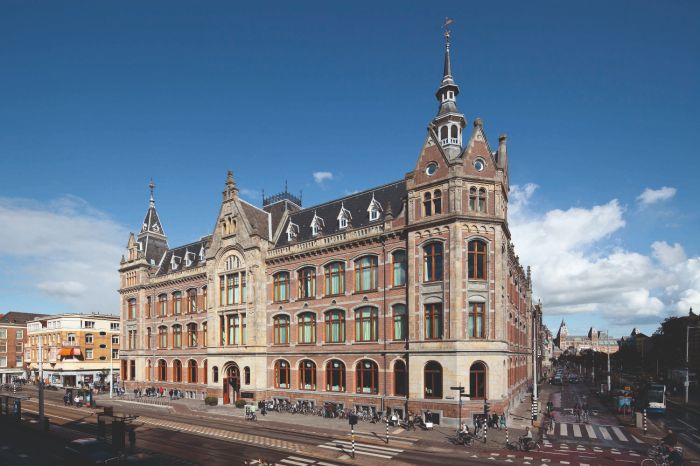 (credit: Conservatorium Hotel)
Luxury, grandeur, and an artistic masterpiece are the immediate feeling when entering the Conservatorium Hotel, Amsterdam. Evoking glamour and elegance for sophisticated traveler, Conservatorium combines a landmark heritage building with a graceful, contemporary design. The magnificent building lies in the heart of Amsterdam's Museum Square, a very short walk to the Van Gogh Museum, Rijksmuseum Museum (National Museum of Netherlands) Stedelijk Museum (modern and contemporary art) and Concertgebouw (among the finest concert halls in the world).
It is also a block away from a street lined with many beautiful designer shops found in Paris, London and Beverly Hills. This elegant building was built at the end of the 19thcentury as the Rijspostspaarbank later becoming the home of the Sweelinck Conservatorium. In 2008, the Set Hotels purchased the property transforming this city's jewel into a luxury hotel offering all the modern amenities while keeping all the opulence and brilliance of its original architectural integrity.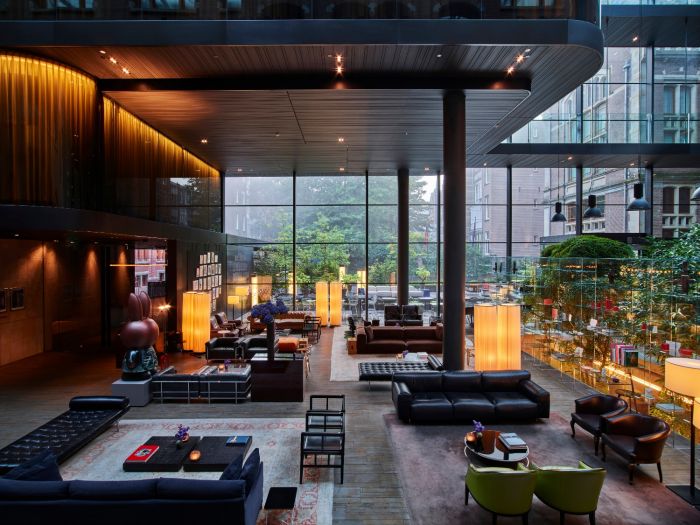 (credit: Conservatorium Hotel)
Upon arrival, guests are greeted by a multistory light filled atrium (which houses the hotel bar and breakfast café) that enhanced the grandeur feeling of the hotel. The highlight of your dining experience in Amsterdam will surely be the Taiko Restaurant, located on the second floor of the hotel.
At Taiko Restaurant, you are greeted with the sound of an authentic drum, the modern décor with the beautiful views and the culinary masterpieces are not to be missed be amazed and enjoy. Presentations of each course were true works of art and the unique combination of flavors, textures and color only enhanced the dining adventure.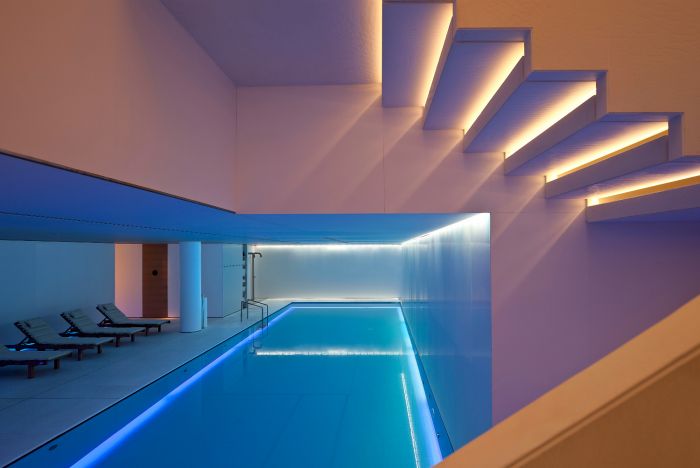 (credit: Conservatorium Hotel)
The Akasha Wellbeing Spa, located on the lower level of the hotel is a beautiful place to enjoy a jacuzzi, sauna, private or couples massage. From the heated swimming pool to their lounge chairs, the spa provides a wonderful place to have a respite from the outside world. This serene, elegant atmosphere and the personal attention by the staff provide the overall experience of indulgence for its guests.
The hallways leading to the accommodations are beautifully appointed with tapestries, pieces of art, magnificent columns and beautiful archways. Similar to the beauty of the common ways, the suites are modern, bright and some face a beautiful courtyard which provide light and privacy. Their suites present privacy from the hustle and bustle of everything Amsterdam had to offer their guests.
This hotel offers quiet elegant luxury at its finest, from the environment, staff, and amenities. Enjoy a step back in time of beauty and grandeur with all the conveniences of modern upscale living.