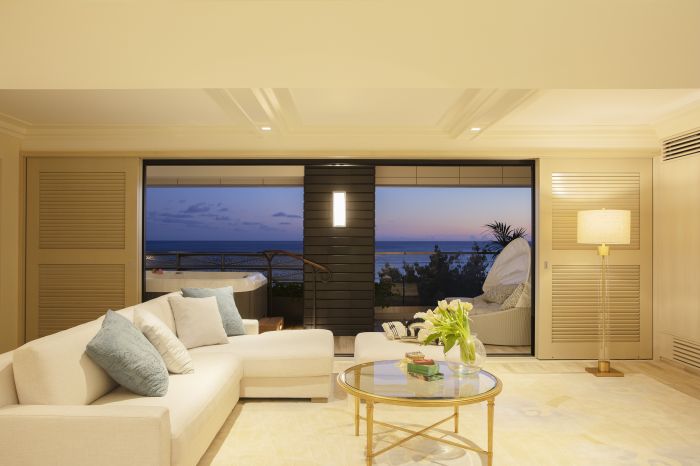 ESPACIO, The Jewel of Waikiki
There is an air of luxury at ESPACIO, the Jewel of Waikiki, that stands apart from even the most luxe hotels in Waikiki. From the white glove service and personal concierges to just nine suites spanning an entire floor, something about the resort immediately feels different from other hotel experiences in the bustling neighborhood of Waikiki.
Opened in late 2019 then closed for about a year during the pandemic, ESPACIO is essentially a brand-new hotel in Honolulu. The boutique property boasts just nine suites, each 2,250 square feet, that cover an entire floor and have the feel of a private penthouse residence, and exudes contemporary luxury. Each suite has private elevator access, a chef's grade kitchen with fully stocked refrigerators, two to three bedrooms, multiple bathrooms with dry saunas, and a spacious private balcony with a hot spa.
But what sets ESPACIO apart from other luxury hotel and resorts in Hawaii is its unfettered access to some of the most coveted destinations and experiences in Honolulu, beginning with its fine dining, French Japanese tasting menu restaurant, Mugen. Meaning "infinity," Mugen takes fine dining to new heights and is bringing Hawaii along with it. The tasting menu showcases premier ingredients sourced locally and from across the globe through the lens of traditional Japanese and French technique, culminating in a refined yet innovative menu that takes diners on a culinary journey. The cocktail and carefully curated wine programs only serve to enhance the unmatched dining experience on Oahu.
Guests can also enjoy private rooftop pool access for a Sunset Caviar & Champagne service, as well as an in-suite Kaiseki meal prepared in real time by critically acclaimed Chef Mamoru Tatemori. Those staying in one of ESPACIO's nine suites can also enjoy world-class spa treatments at the ESPACIO Spa or take a dip in the hotel's rooftop infinity pool.
Beyond the hotel's walls, guests can also unlock some of Honolulu's most popular historic and cultural attractions for after-hours and private tours, exhibit previews, and archive access that is made available exclusively to ESPACIO guests. The hotel's concierge can help guests book a White Glove Chamberlain Tour of Iolani Palace, the historic home of Hawaii's last reigning monarchs, or facilitate behind-the-scenes exhibit tours or after-hours privileges at the Honolulu Museum of Art and the Bishop Museum.
ESPACIO, The Jewel of Waikiki is a gem hiding in plain sight and offers a refreshing new approach to both luxury and hospitality in Waikiki. Rates start at $3,500 per night, but the privacy, exclusivity, and experiences are priceless.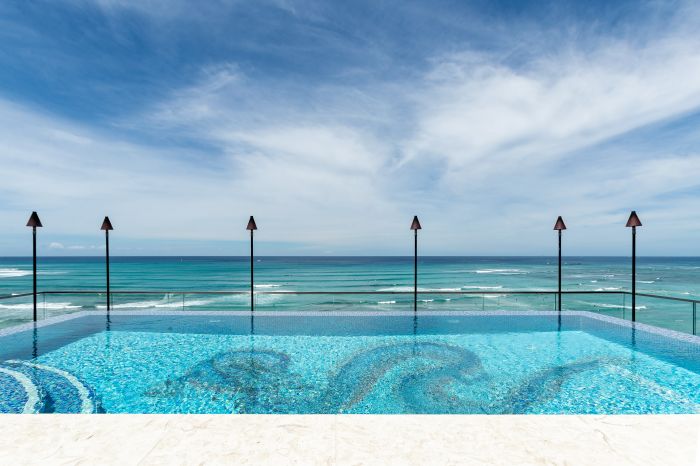 ESPACIO The Jewel of Waikiki
The Rooftop Infinity Pool at ESPACIO The Jewel of Waikiki