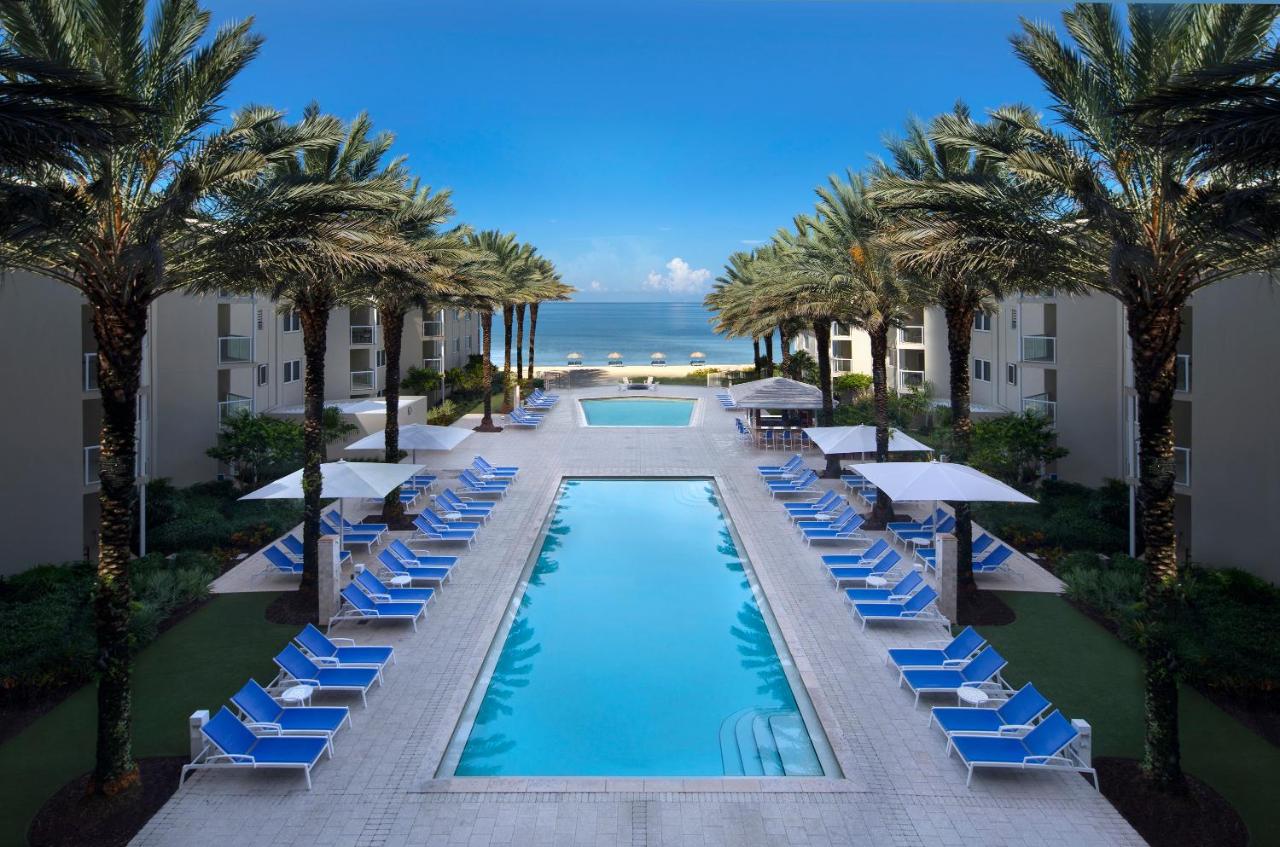 Phot courtesy of Edgewater Beach Hotel
Located on Florida's Gulf Coast, Naples is the quintessential beach town, known for its soft, white-sand beaches, emerald waters, stunning sunsets, and endless acres of unspoiled landscapes.
It's also a destination frequented by luxury-seeking travelers looking to indulge in high-end shopping, world-class arts and culture, and sophisticated dining experiences. But Naples isn't just a playground for adults. Uniquely situated near sought-after family attractions and some of the area's best beaches, Naples offers opportunities for endless encounters with nature and luxury.
On a recent trip to Florida's Paradise Coast, which encompasses Naples, Marco Island, Everglades City, Immokalee, and Ave Maria, I indulged first-hand in all the laidback luxury this area had to offer – with my husband and 2-year-old son in tow.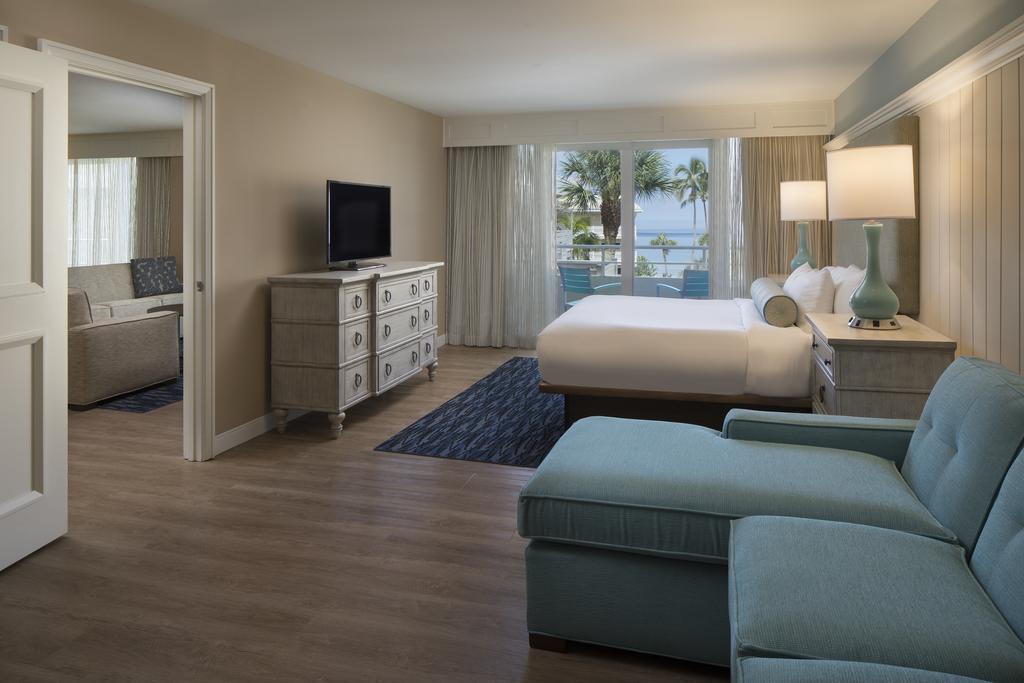 Photo courtesy of Edgewater Beach Hotel
Edgewater Beach Hotel is an intimate 125-suite hotel overlooking the Gulf of Mexico. On the drive in, as well as in the lobby, there is no over-the-top theme to dominate the hotel's interior spaces – subtle wood paneling, a combination of wood and terrazzo flooring, and an understated chandelier to separate the onsite restaurant from the lobby's front desk area.
The six-story yellow stucco complex is surrounded on three sides by guestroom buildings. The interior courtyard houses the pool and outdoor bar, which look out onto the beach just a few yards away. There's also a large fire pit with deck chairs overlooking the ocean that would be a perfect place to watch the sunset on cooler nights.
Because it's not a huge property, you really can't go wrong when it comes to choosing accommodations at Edgewater. For the most convenience, a pool view suite on the first floor. It won't give you the most privacy as lanais open up to the pool deck, but it's a great option for families with older kids as the pool is literally steps away.
Our family opted for a 2-bedroom oceanview suite, which was completely worth it. Besides the stunning view, this suite offered two comfortable bedrooms with ensuite bathrooms, a dining area with a large table, a living room, and a full kitchen complete with plates, glasses, cutlery, pots, and pans – everything you need to prepare a home-cooked meal.
You can even reserve a private chef through services like Take a Chef or Table at Home or grab some groceries and DIY dinner at this home away from home. A supermarket and several eateries are also located within a few blocks of the hotel, which is conveniently located just a 15-minute drive from Naples Municipal Airport.
Photo by Adria Greenhauff
Families in particular will favor the convenience of this beachfront hotel.
Edgewater Beach Hotel also features an onsite restaurant, Coast, which is worth a visit. Enjoy dishes like grilled filet mignon served with Maine lobster risotto, garlic broccolini, and red wine reduction; pan-seared salmon served with jasmine-scented rice, garlic broccolini, orange-maple reduction (personal recommendation); and zucchini noodle stir fry with red onions, asparagus, bell peppers, rainbow carrots in a basil-garlic tomato broth. For dessert, you can't go wrong with the Monkeybuntz, a warm & gooey, cinnamon-caramel pull-apart sticky bun topped with vanilla cream cheese icing and served along with a scoop of vanilla ice cream.
For more information on Edgewater Beach Hotel, including nightly rates, visit www.opalcollection.com/edgewater.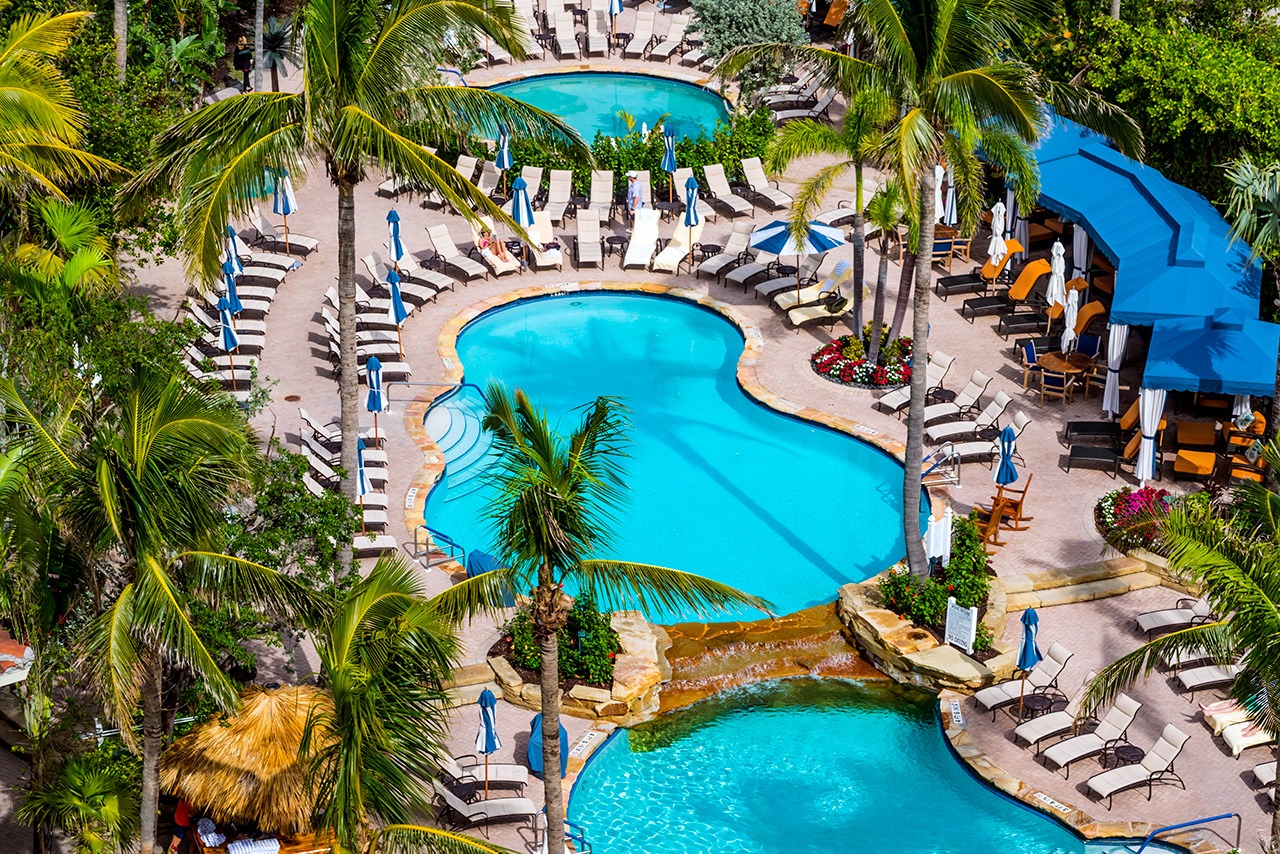 Photo courtesy of LaPlaya Beach & Golf Resort
If you're looking for more of a resort vibe with plenty of onsite amenities and activities galore, consider a stay at LaPlaya Beach & Golf Resort. Settled along the turquoise waters of the Gulf of Mexico – about a 15-minute drive north of Edgewater – LaPlaya offers a full-fledged tropical destination that has something for everyone. The property features 189 rooms and suites, a top-rated golf course, a full-service spa, and four swimming pools.
Pro-tip for families with little ones: book a room on the ground level with an outdoor lanai. Not only will you get your pair of comfy lounge chairs and deck space, but there's also both pool and beach access just steps away.
The resort recently amplified its family-friendly offerings just in time for our brood to check them out.
"We know how important it is for our guests to have memorable experiences during their stay, and our goal is to continue to provide kids and families with the ultimate summer holiday experience," said Linda Menshon, the resort's director of sales and marketing.
LaPlaya Hatchlings is the resort's new complimentary kids' program, which offers fun conservation-based educational activities that emphasize the importance of eco-friendly travel, natural resource conservation, and animal preservation. This unique program also includes activities that center around Southwest Florida's unique ecosystem. The young 'Hatchlings' learn about the diverse ecosystem that surrounds LaPlaya, through various hands-on activities led by a dedicated staff as well as demonstrations provided by the local conservancy and the Naples Zoo.
One of our toddler's favorite activities was feeding the fish every morning at the property's onsite koi pond. Hatchlings also receive a gift bag upon arrival which includes activity books, treats, and educational materials about the Southwest Florida ecosystem.
In addition to the plethora of kid-friendly activities, we highly recommend booking the KidsDream Factory Experience, which offers a themed in-room glamping experience complete with a hand-crafted teepee-like tent, plush mattress, and pillows, plus matching themed decor with cushions, twinkling lights, festive rugs, a breakfast tray with a customized amenity or keepsake and an overnight kit that can be taken home. The package typically comes with a choice of three different themes –Mermaid, Nautical, or Beach – but the amazing staff at LaPlaya was able to customize an adorable experience for our superhero-loving toddler that this mom won't soon forget.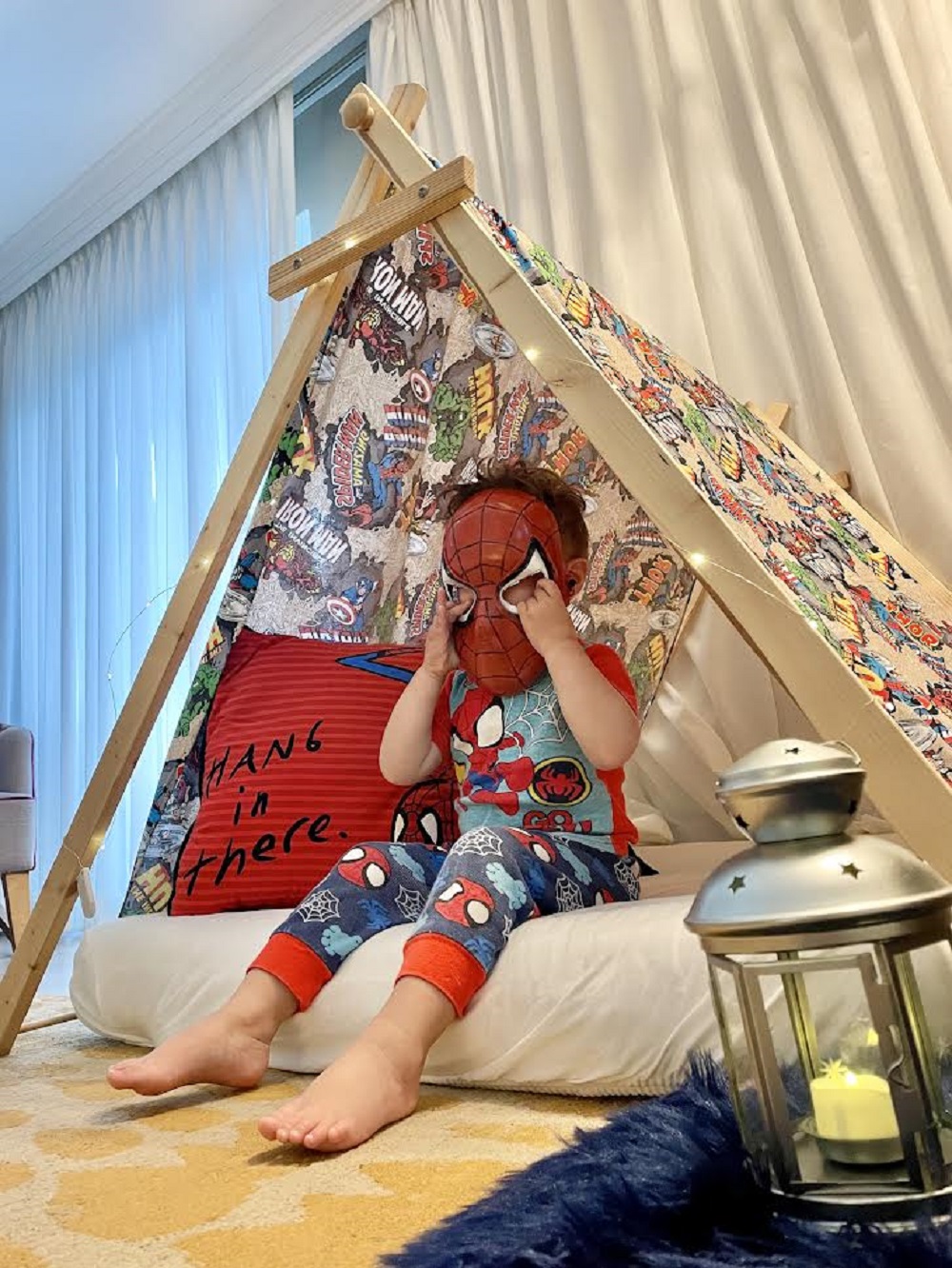 Photo by Adria Greenhauff
There are plenty of other things to enjoy here, too. Explore the city on the resort's complimentary beach cruiser rentals. Beachgoers can lounge on the sandy shores of LaPlaya's private beach or in a private poolside cabana. Water lovers can hop on an eventful airboat tour through the mangroves, rent a boat or enjoy a relaxing sunset cruise. Adventurers can kayak, paddleboard or jet on a Wave runner through rushing waves. Other on-site beach rentals include bodyboards, snorkeling gear, and raft lounge chairs.
Dinner at BALEEN, LaPlaya's onsite restaurant is also not to be missed. Not only does the restaurant known for its exquisite food – menu items include tropical ceviche, Pine Island clams, and Macadamia Crusted Mahi – the sunset views from the outdoor terrace are unrivaled.
BALEEN has received accolades such asConde Nast Traveler Gold Listand the 'Great Hotels' ranking of Travel + Leisure. Most recently, Baleen was awardedWine Spectator's Award of Excellence.
For more information, including nightly rates, visit laplayaresort.com.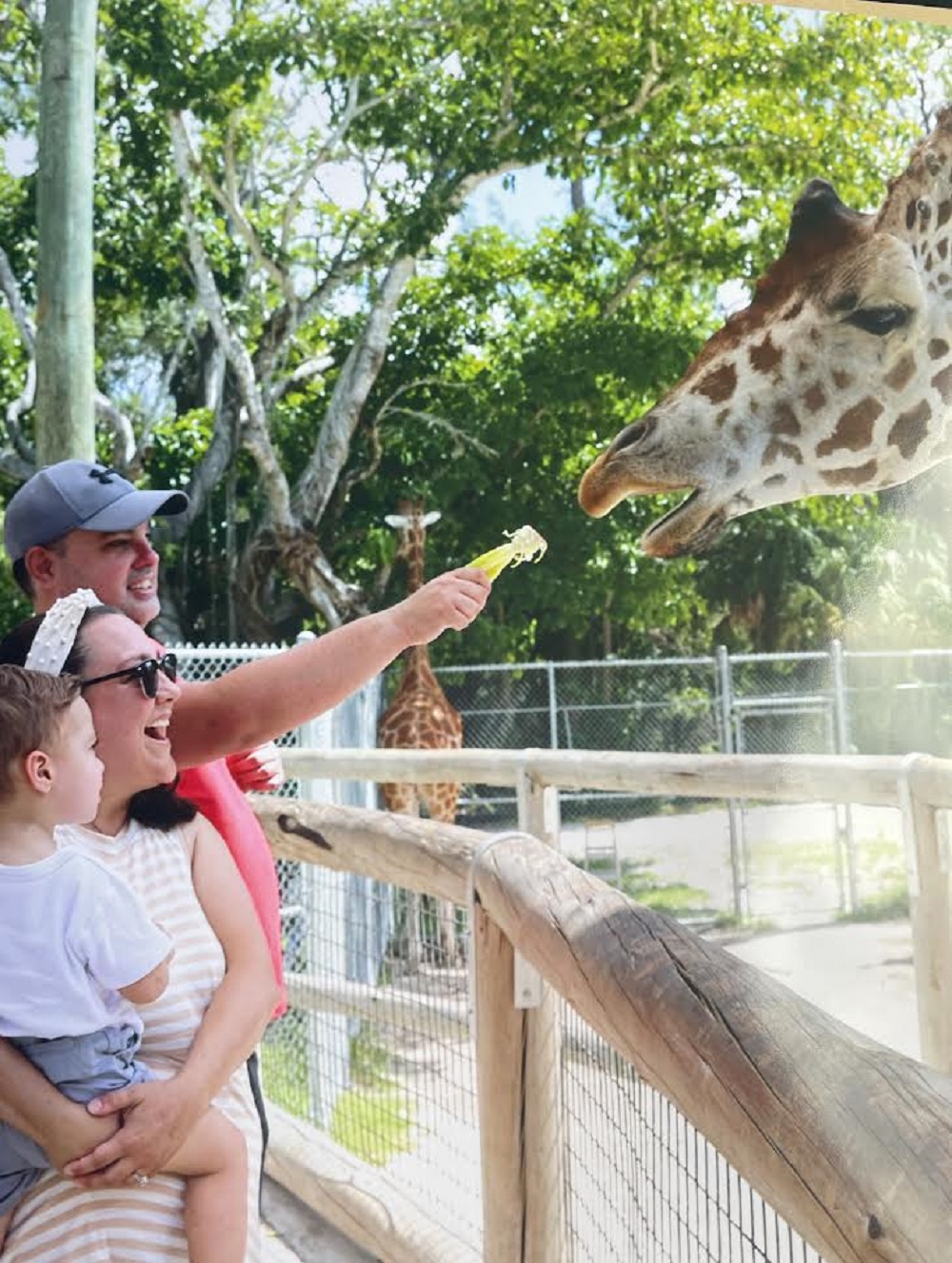 Photo by Adria Greenhauff
What to Do
Naples Zoo at Caribbean Gardens: This historic tropical garden and nationally accredited zoo feature fun and educational wildlife experiences to inspire people of all ages. Within the 43-acre property, you can enjoy seeing animals like lions, monkeys, and zebras as well as rarely-seen African honey badgers. At large glass walls, visitors can get impressively close to carnivores like Malayan tigers, clouded leopards, black bears, and our Florida panther.
A family-friendly activity not to be missed at the Naples Zoo is feeding the herd of four giraffes. This up-close experience is offered every day between 10 a.m. and 3 p.m. for an additional fee. The boat ride around the zoo's center lake is also a great way to take in beautiful landscapes while getting refuge from the sun during the warmer months.
Night Walks and Other Guided Experiences at Corkscrew Swamp Sanctuary: Audubon's Corkscrew Swamp Sanctuary has guided walks the lineup of public programs hosted at the Blair Audubon Center. The Blair Audubon Center's 2.25-mile boardwalk meanders through pine flatwood, wet prairie, freshwater marsh, and the largest old-growth bald cypress forest in North America. Several days a week, skilled Boardwalk Naturalists are available to answer questions and point out sights and sounds of the swamp for curious visitors. Advance tickets are required and can be purchased at corkscrew.audubon.org/visit.
Boats, Boards & Fun on the Water: Rent a boat and put on your captain's hat aboard a vessel from Port of Naples Marina, or opt for a two-seater jet ski from Naples Jet Ski Rental for splash-worthy fun with the family. Stop off at Keewaydin Island – accessible only by boat – for some shore time. If you'd rather not steer the ship, sit back and relax aboard a sailing catamaran with Sweet Liberty or Off the Hook Adventures. Get face-to-face with majestic dolphins on a three-hour eco-tour aboard The Dolphin Explorer to not only learn more about these beautiful creatures but also help spot and count the ones you see.
For more information on Naples and Florida's Paradise Coast, visit paradisecoast.com.