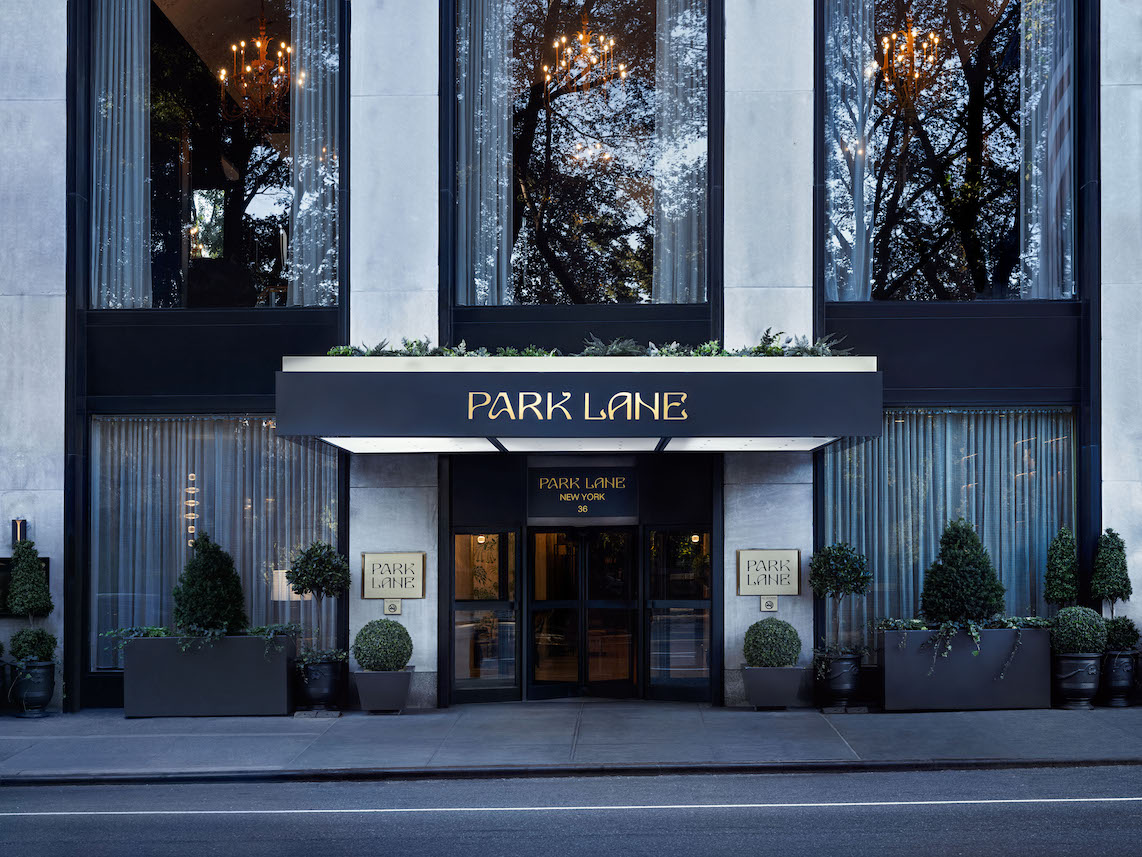 Park Lane New York
There are plenty of hacks for catching those all-important Z's, but studies show sleep quality has been on the decline for decades with many of us now getting less than six hours of it a night. Perhaps no surprise then that sleep has become the next big thing in wellness travel with luxury hotel brands tapping into the trend by designing dedicated suites, hosting multi-night retreats, and collaborating with experts on workshops and special programming to help guests improve and reset their circadian rhythms. Consider getting a good night's rest the new going out, and these five hotels – from Los Angeles and New York to the Spanish holiday island of Ibiza – where to check in for some of the best sleep-focused stays featuring cloud-like Bryte beds, CBD product partnerships, resident sleep doctors and more.
Park Lane New York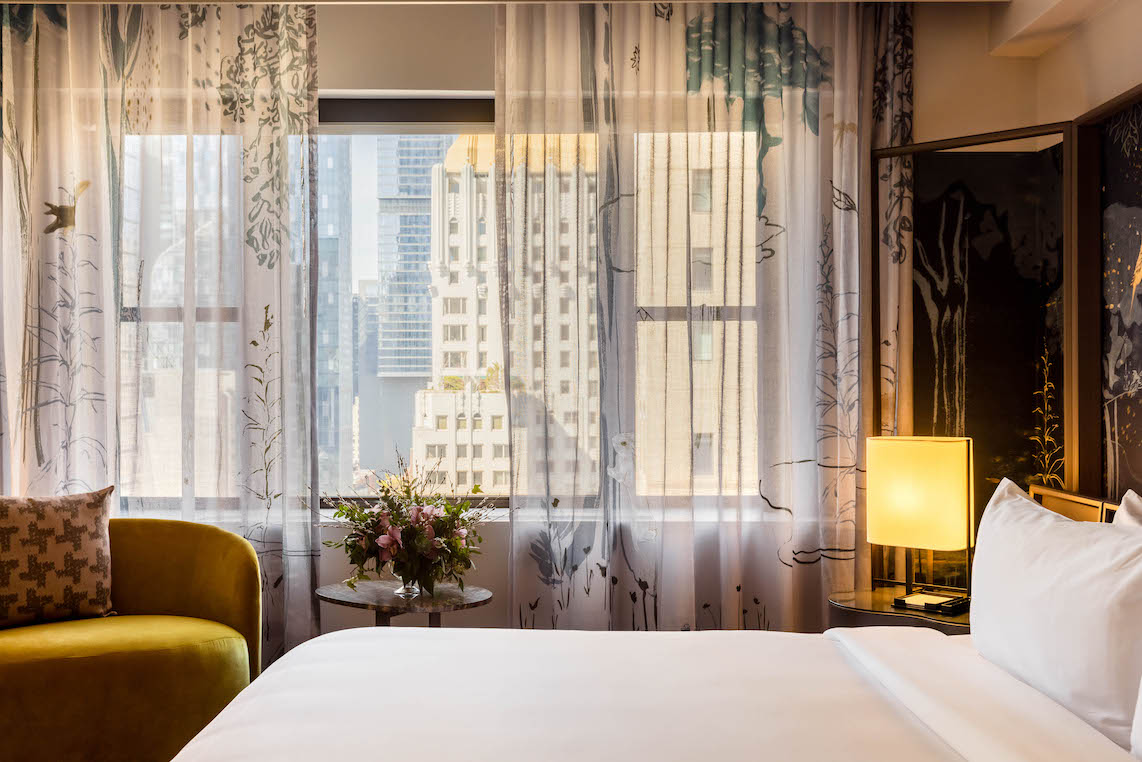 Park Lane New York
Manhattan's prestigious Central Park South hotel collaborated with OTO CBD on a special National Sleep Awareness Month package geared towards travelers arriving on overnight flights that is now being extended. Perks of the Hello, Red Eye package include a complimentary 6 am check-in and a choice of OTO's award-winning CBD Sleep Drops and CBD Power Drops - each has a perfect amount of CBD to help relax, unwind, or stay energized for the day. And when it's time to retire to rooms or studio suites, there's the "Amplify CBD Spritz" turndown amenity. Composed with OTO CBD Cocktail Bitters, grapefruit syrup, medium dry apple cider, and tonic, it promises a restful night's sleep and optimal jet lag recovery. Regardless of stay length, the package includes a week's supply of sleep and power drops, but both can also be purchased from the in-room menu while supplies last.
parklanenewyork.com // 36 Central Park S, New York, NY
Six Senses Ibiza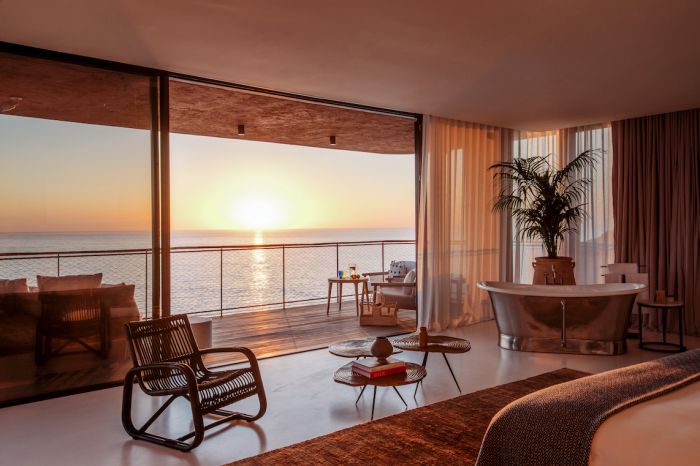 Six Senses Ibiza
Located on the northern tip of Spain's most enchanting Balearic islands, Six Senses Ibiza offers a year-round Sleep Wellness Program in three, five, and seven nights. The stunning location is an idyllic and peaceful setting for anyone keen to restore energy levels and establish healthier and sustainable routines. Specifically designed to improve sleep patterns, the ultimate de-stressor and refresher stay combines advice from the resort's Sleep Doctor, the benefits of yoga nidra meditation and pranayama breathwork, and relaxing spa treatments and therapies, including a dreamcatcher massage and cryotherapy session. Stays begin with a personalized wellness screening, feature sleep tracking throughout, plus nutrition advice and low-intensity training – Pilates and yoga – and conclude with a program wrap-up.
sixsenses.com // Carrer Camí de sa Torre, San Juan Bautista, Ibiza
Four Seasons Hotel Los Angeles at Beverly Hills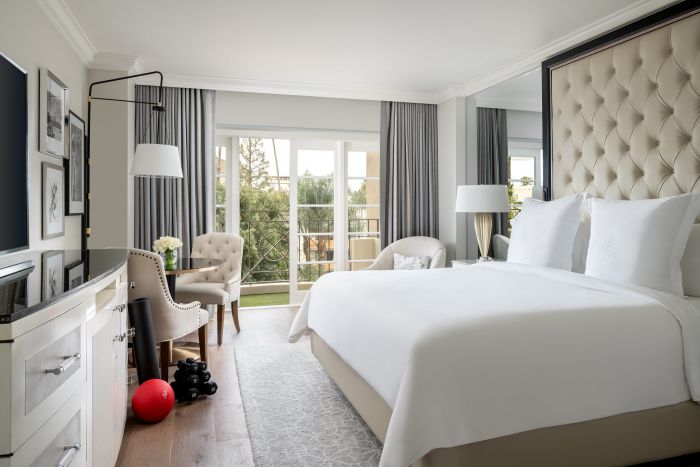 Four Seasons Hotel Los Angeles at Beverly Hills
The dedicated Wellness Suite at this Ritzy Beverly Hills landmark features an array of amenities dedicated not just to sleep health and fitness but allergy sufferers too – with hypoallergenic wood floors, water and air purification systems, we're talking one of the healthiest hotel rooms in town. Workout accessories (hand weights and a medicine ball) and Alo-branded yoga equipment are included should a quick floor workout or running through some vinyasa flows appeal. Moods can be matched to the energizing lighting, which also helps regulate circadian rhythms. Made with essential oils and botanical extracts, products by eco-brand LATHER will leave skin and hair soft and smooth after a luxurious just before-bed bubble bath. And featuring "smart mattress technology," if the Restorative Bed by Bryte didn't actively put you to sleep, the soundscape machine and guided meditation narrated by Deepak Chopra should get you there. Sweet dreams.
fourseasons.com/losangeles // 300 Doheny Dr, Los Angeles, CA
Hästens Sleep Spa Hotel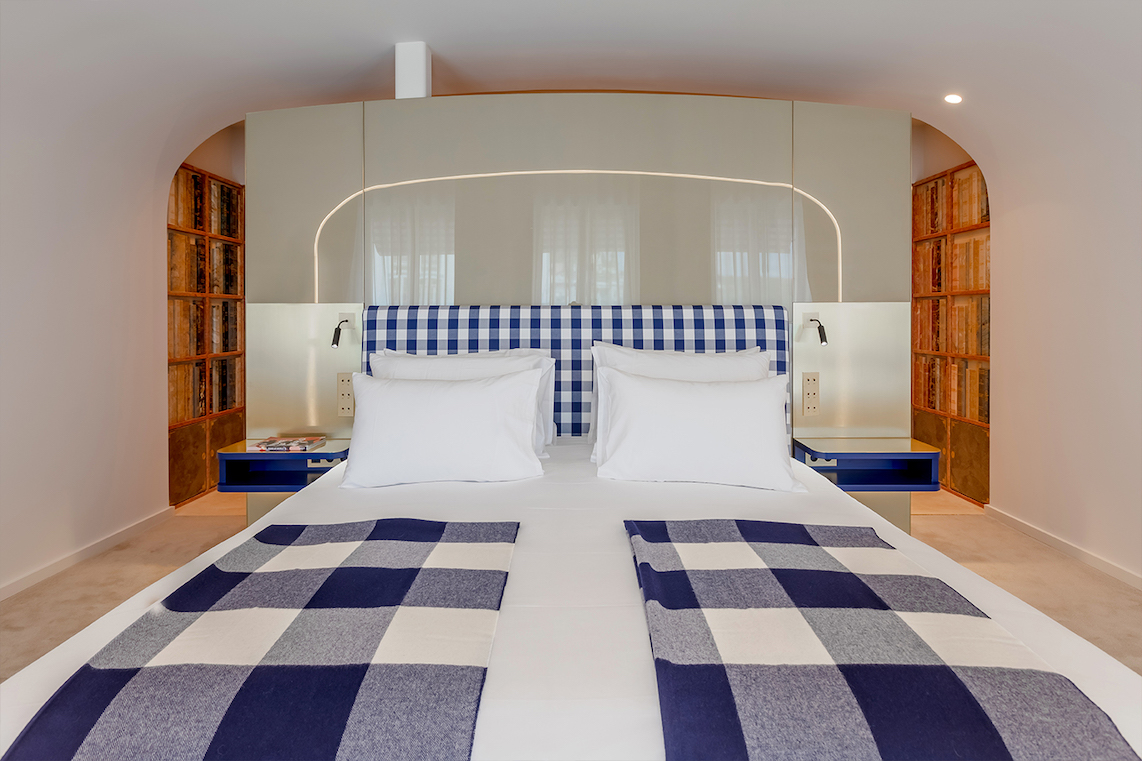 Hästens Sleep SPA
Swedish company Hästens has been making high-end beds and mattresses since 1852, so it makes sense one of the world's most prestigious bedding brands has opened its own Sleep SPA hotel. Located in the riverfront city of Coimbra, Portugal, what makes an experience here special is the opportunity to sleep on a mattress so dreamy and exclusive that you'll probably never have another overnight stay like it. The 15 rooms feature Hästens limited edition Herlewing mattress (which retail for around $40,000) and robes and pajamas in the brand's signature blue-checked pattern. There's a pillow menu (choose from five), time-specific music playlists on the Hastens app, plus an in-room channel of sleep health videos developed and presented by US chiropractor and sleep expert Dr. Edie Perry.
cbrboutiquehotel.com // Largo da Portagem 27, Coimbra, Portugal
Hotel Figueroa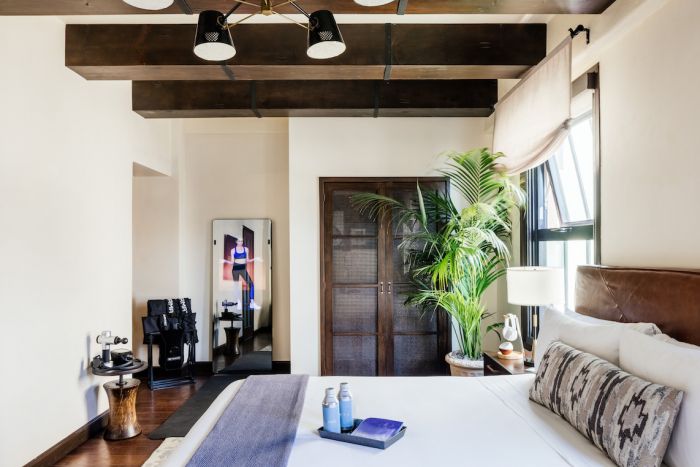 Tanveer Badal for Hotel Figueroa
The specialty self-care 'zen den' Rest & Recovery Suite has been a guest favorite since it launched at DTLA's historic hotel two years ago. Pre-order your own customized Pluto Pillow based on sleeping preferences, which will be ready upon arrival in the suite. Look forward to pure air courtesy of Molekule's Air Pro and Air Mini+ systems and a solid night of sleep with help from GammaLight Therapy's Revive Red Light and Rookie Wellness Sleep Sticks. If sounds of the city keep you awake, noise-minimizing Happy Ears Eco-friendly Earplugs will help. When it's time to wake up Loftie Lamps simulate the sunrise in-room while workouts can be performed before the FORME fitness mirror with Normatec tools from Hyperice on hand for recovery. And in step with the sleep theme, included in the just-launched Slumber In Style package is an OSEA Vagus Nerve Travel Set from the cult-favorite Malibu skincare brand to inspire restorative sleep rituals.
hotelfigueroa.com // 939 S Figueroa St, Los Angeles, CA