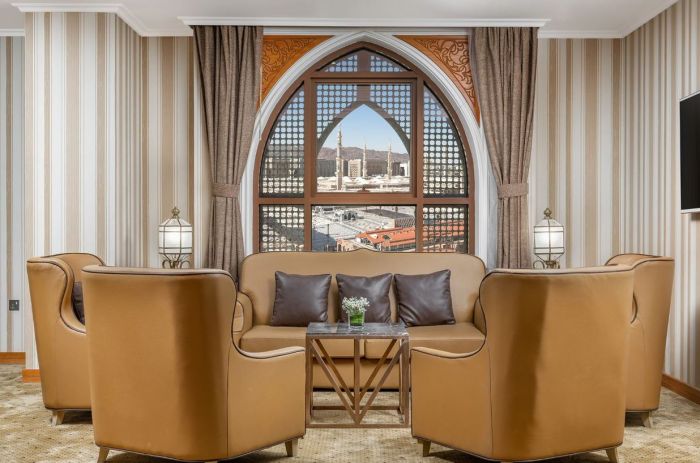 Ideally situated just 25 minutes from the Prince Mohammed Bin Abdulaziz International Airport, Elaf Al Taqwa Hotel Madina is a family hotel in the heart of Islamic culture and civilization, Madina. The Luxury Lifestyles Awards winner for Best Luxury Family Hotel in Saudi Arabia in 2023 provides guests with a once-in-a-lifetime spiritual experience.
Each room in the Elaf Al Taqwa Hotel Madina has been carefully positioned to provide views of the city's famous landmarks, like the Al Masjid an-Nabawi and Haram Piazza and large Arabian-styled windows, with beautifully intricate detailing, provide ample light for guests throughout the day. Guests of the Executive floor have access to the Executive Lounge, including free drinks daily from 5 pm to 7 pm, express check-in and check-out, and free amenities upon arrival that include discounted parking, and discount on meeting room packages.
Elaf Al Taqwa Hotel Madina offers 23 "junior" suites, which provide guests with full amenities, sleek designs, and modern furnishing that includes a dedicated lounging area for relaxation and meditation.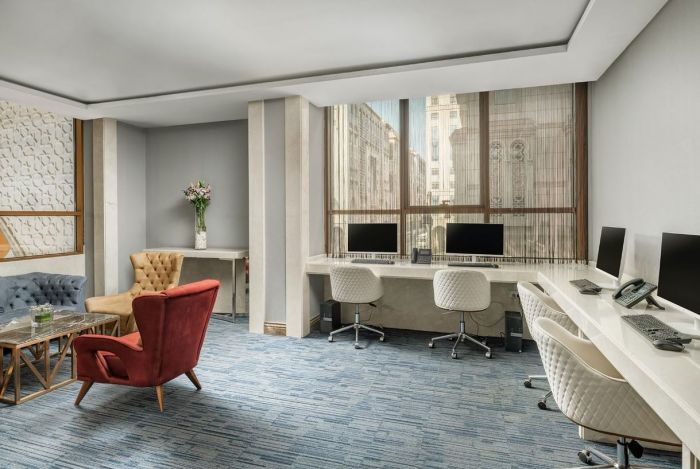 A wide variety of cuisines are available at the Ohod Restaurant and an international breakfast spread and buffet are on offer daily, with a delectable fusion of traditional Arabian cuisines and celebrated specialties from around the globe. 150 guests can be seated at the Ohod Restaurant, which too provides breathtaking views of Al Masjid an-Nabawi and Al Haram courtyard.
Elaf Al Taqwa provides accessible rooms for special needs guests and caters to this with a user-friendly array of facilities, like free designated handicapped parking bays, a dedicated check-in desk, braille signage, automated hotel main door openings, lever type door handles and a dedicated team of staff, who are available 24 hours a day, in case of an emergency.
A meeting room is provided to guests with a space accommodating up to 14 people, to conduct business meetings or training, with modern technologies and equipment, allowing for full connectivity and media presentation capabilities.
A business center, with presentation capabilities and a fully functional boardroom set up, is available for guests 7 days a week, and a 24-hour gym, equipped with all equipment to all guests at Elaf Al Taqwa Hotel Madina.
Dr. Adel Ezzat, CEO of Elaf Group said: "We are delighted to inaugurate the Elaf -Al Taqwa Hotel in Medina. This is a significant step towards diversifying our portfolio of hotels in the country. Our new hotel is an important addition to the KSA's hospitality sector, offering superior services and integrated amenities in the most convenient location. In addition, the hotel also meets the requirements of its visitors as well as the residents. Additionally, it features a business center with the most cutting-edge equipment, as well as a collection of facilities developed to meet the needs of all residents. We look forward to hosting visitors, individuals, and families, and providing them with a unique experience."
For more on this celebrated hotel, visit https://www.elafhotels.com/elaf-al-taqwa
About Luxury Lifestyle Awards
Luxury Lifestyle Awards is a global award selecting, recognizing, celebrating and promoting the best luxury goods and services all over the world. The goal of the company is to connect people with the best of luxury. LLA has evaluated more than 10 000 various goods and services in 400 categories from 60 countries and analyzed the results to give you a TOP list of the best of the best in the world. Such world-renowned brands as Chanel, Dom Perignon, and Ferrari were proudly named winners. The victory brings companies status and recognition, global promotion and exposure to an entirely new market of customers.
For more information, please visit: https://luxurylifestyleawards.com/
Like us on Facebook: https://www.facebook.com/LuxuryLifestyleAwards/
Join us on Instagram: https://www.instagram.com/luxurylifestyleawards/