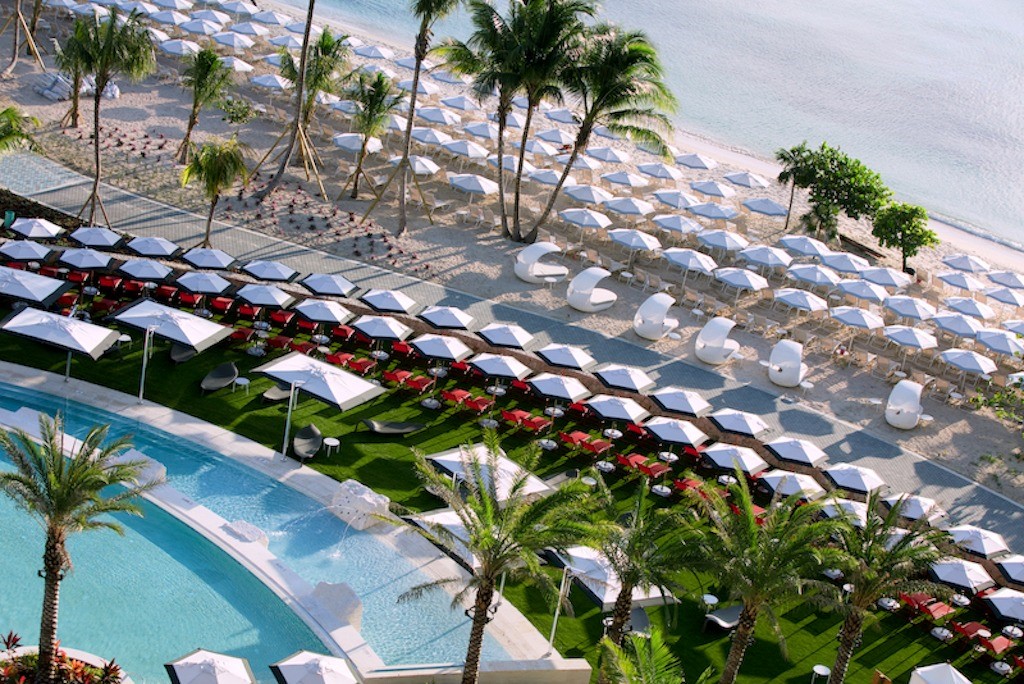 Kimpton Seafire Resort and Spa
If the Caribbean is calling your name, consider booking a trip to visit the famed Seven Mile Beach on Grand Cayman to take in the idyllic crystal clear water and soft, powdery sand as far as the eye can see. For extraordinary accommodations, the Kimpton Seafire Resort + Spa is an ideal choice thanks to its spacious rooms and suites (with ocean views aplenty), tantalizing culinary options, and most remarkably, an awe-inspiring spa, which boasts the first Hammam and quartz sand table on the island.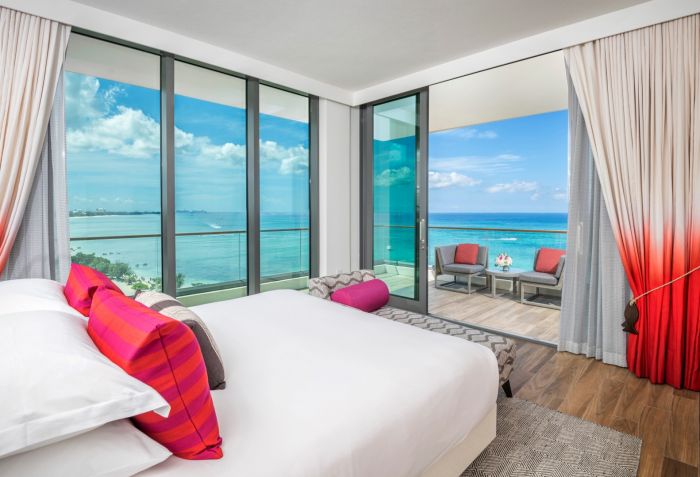 Kimpton Seafire Resort and Spa
With 264 guest rooms and suites, the Kimpton Seafire Resort + Spa aims to please with expansive balconies inviting guests to soak up the sun as much as possible; as well as elevated decor touches like triple-sheeted Frette linens, custom-made furnishings from France and Spain, and an overall aesthetically soothing color palette of both neutral tones and tasteful pops of vibrant color woven throughout the interiors.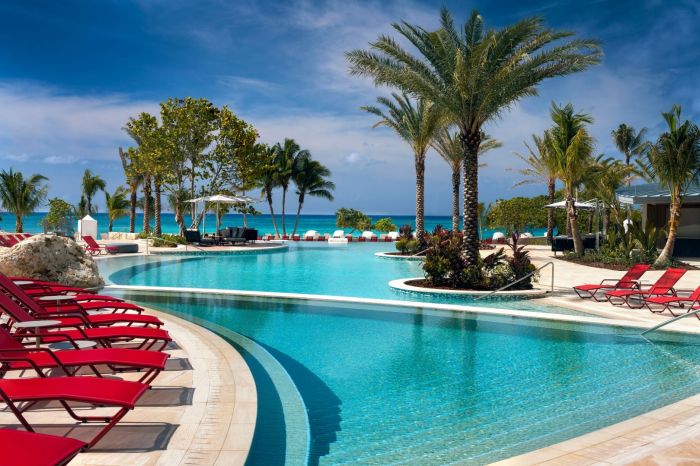 Kimpton Seafire Resort and Spa
As for the common areas, there's a sparkling pool complete with private beach cabanas (and quite possibly the best pina coladas and on-demand cracked coconuts on the planet), plus water activities via Red Sail Sports, which includes guided scuba diving tours, parasailing, kitesurfing, flyboarding, and so much more.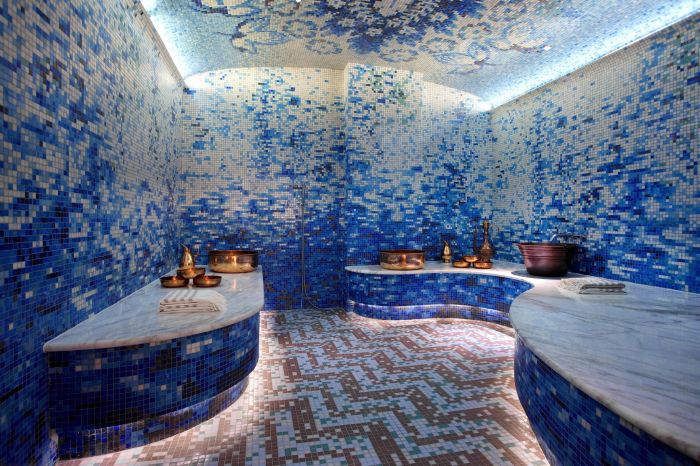 Kimpton Seafire Resort and Spa
If you're looking for a tranquil escape, book a treatment (or two) at the breathtaking 8,500-square foot spa and clear the rest of your afternoon to luxuriate in this unique oasis. The spa offers curated face and body treatments that feature divine island-inspired ingredients (think: coconut-infused massages, tropical rainforest facials, and the like) plus an inviting indoor-outdoor garden retreat complete with a soothing waterfall and grand soaking tub to restore the mind and body afterwards. Not to be missed is the rare Hammam resplendent in dazzling Turkish tiles, a visual and sensorial treat for any spa goer.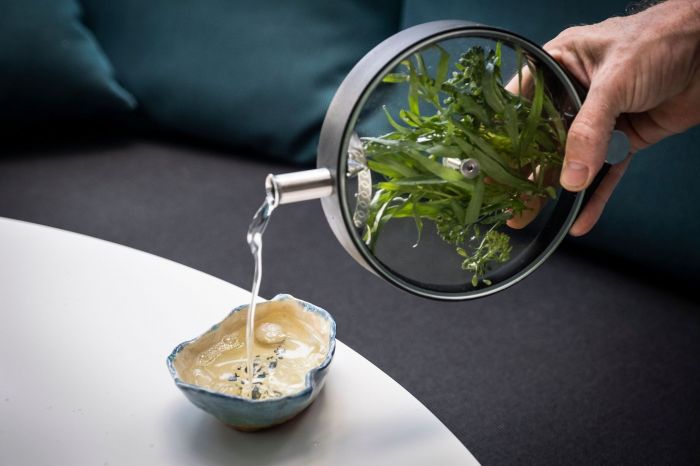 Kimpton Seafire Resort and Spa
To quench your thirst after a full day of fun in the sun, be sure to swing by the newly opened Library by the Sea, a swanky premier cocktail concept featuring unique concoctions infused with local ingredients like seasonal fruits and exotic botanicals from the sea. These inventive beverages were dreamt up by Kimpton Seafire's Beverage Manager Jim Wrigley and are inspired by works of literature, music, art, and film — just another thoughtful touch that makes this property so special.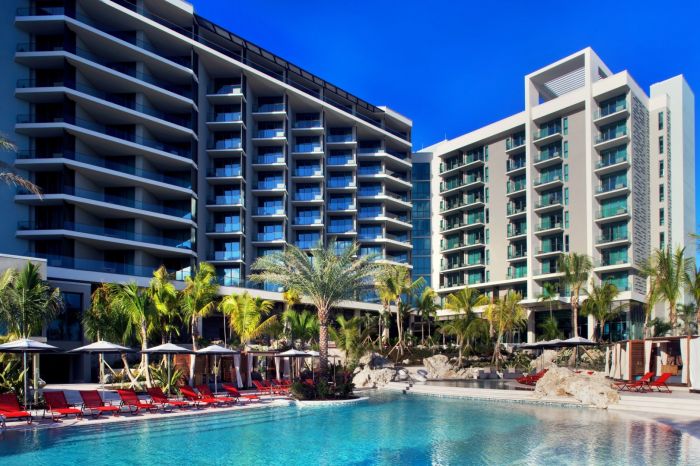 Kimpton Seafire Resort and Spa
And finally, no vacation is complete without culinary delights, and Kimpton Seafire does not disappoint. Given that Grand Cayman is dubbed the "culinary capital of the Caribbean", the property takes it a step further with three dining options, Ave, Avecita, and Coccoloba, that tantalize the taste buds of even the most discerning foodie. Enjoy savory tapas bites, chef's table delights, and casual poolside fare — and everything in between — all whilst in paradise.