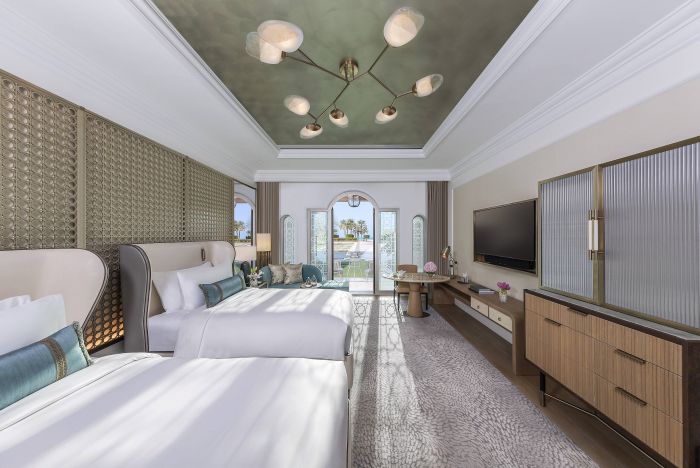 Provided by property.
Mandarin Oriental Emirates Palace, located in Abu Dhabi, made its grand debut in 2005 as an embodiment of His Highness Sheikh Zayed bin Sultan Al Nahyan's vision. This visionary leader sought to merge tradition and modernity while honoring traditional values and cultural heritage. Sprawling over a million square meters, the palace showcases Arabian hospitality at its finest, drawing inspiration from Andalusian architecture and local ambiance prevalent in the Emirate of Abu Dhabi. Located on the Corniche in Abu Dhabi, the property is recognized as one of the most luxurious destinations in the city and is known for its opulent décor, impeccable service, and stunning views of the Arabian Gulf. The massive hotel has 828 rooms and suites, all of which are spacious and luxuriously appointed.
The architectural marvel of Emirates Palace seamlessly blends ancient Arabian influences with a forward-looking mindset, incorporating deep openings, high arches, decorative shapes, long hallways, terraces, and lofty ceilings adorned with 24-carat gold inlays. These elements serve as a bridge connecting the rich Arab heritage with the promising future of the Emirate. Emirates Palace stands proudly with its 114 radiant domes, exuding a harmonious blend of golden hues reminiscent of the Arabian Desert sands. The exterior is adorned with shimmering silver fountains and lush green gardens, capturing the essence of the oriental character that defines the hotel. Notably, Emirates Palace boasts the distinction of having a Gold Leaf Specialist as part of its in-house team, responsible for preserving and maintaining the palace's extensive one million square meters of gold leaf (and yes, that includes the famous gold cappuccino).
Within its opulent interior, the palace exudes an oriental ambiance, embellished with mother-of-pearl and crystal accents. These exquisite adornments grace the palace's 390 rooms, suites, Royal Suites, ballrooms, and the esteemed conference center, designed to host grand conferences and events. The conference center features a magnificent theater, the largest in the UAE and any hotel worldwide, accommodating up to 1,100 people.
At Emirates Palace Mandarin Oriental, the hotel is divided into two majestic wings, East and West, extending from the resort's central dome, leading guests to their secluded quarters through expansive marble corridors. The beginning of these guest wings is marked by plush carpeting, offering a regal entrance. Soft sunlight bathes the halls through skylights and windows, revealing tranquil courtyards. Polished blond wood banisters and intricately carved doors emanate a welcoming warmth.
The 302 rooms and 88 suites at Emirates Palace Mandarin Oriental exemplify luxury and comfort. They feature plush carpets, curved marble tabletops, spacious wardrobes, and classic armchairs and sofas adorned with intricately carved wood, sea-inspired pastels, and golden hues. Cutting-edge amenities include large flat-screen TVs, entertainment centers, and in-room iPads, ensuring a top-notch in-room entertainment experience.
The guestrooms boast king-sized beds with luxurious cotton linens and plump pillows and duvets. A separate sitting area invites relaxation on a graceful chaise longue, while a broad, carved wooden workspace caters to remote work needs. The generously sized bathrooms offer marble floors, countertops, expansive sunken bathtubs, and soothing rain showers. Floor-to-ceiling windows framed by elegant drapes open to private balconies with outdoor seating, providing serene views of lush gardens, tranquil courtyards, or the sparkling Arabian Sea.
The opulent suites at Emirates Palace Mandarin Oriental epitomize unparalleled luxury. Indulge in richly woven textiles in soothing blues and greens, complemented by plush cream and gold carpets, intricate gilded accents, and abundant natural light. These spacious suites feature separate living and sleeping areas, modern entertainment centers, workspaces, and private terraces or balconies, ideal for intimate al fresco dining. The suite bathrooms are designed to provide a lavish experience with marble floors and walls, dual sinks, oversized bathtubs, and invigorating rain showers.
The hotel has various dining options, including Talea and Hakkasan, each awarded one Michelin star in the inaugural Guide 2022. The restaurants offer a variety of cuisines, from traditional Emirati to international fare.
Emirates Palace is a true gem in luxury hotels. Whether seeking a romantic getaway, a family vacation, or a place to host a grand event, Emirates Palace exceeds expectations. The sheer luxury, impeccable service, and attention to detail create an unforgettable experience. Overall, Emirates Palace is an excellent choice for those looking for a luxurious stay in Abu Dhabi.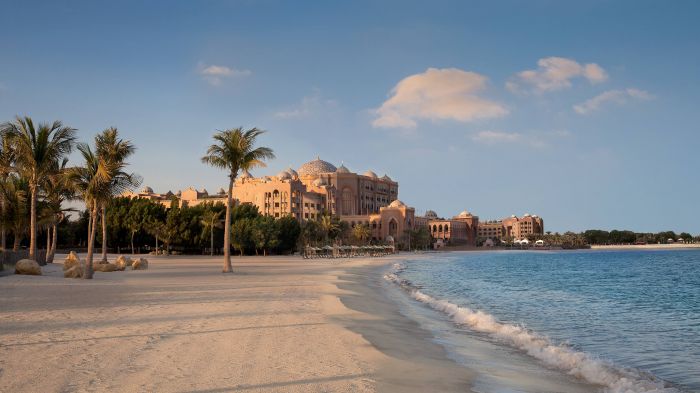 Provided by property.