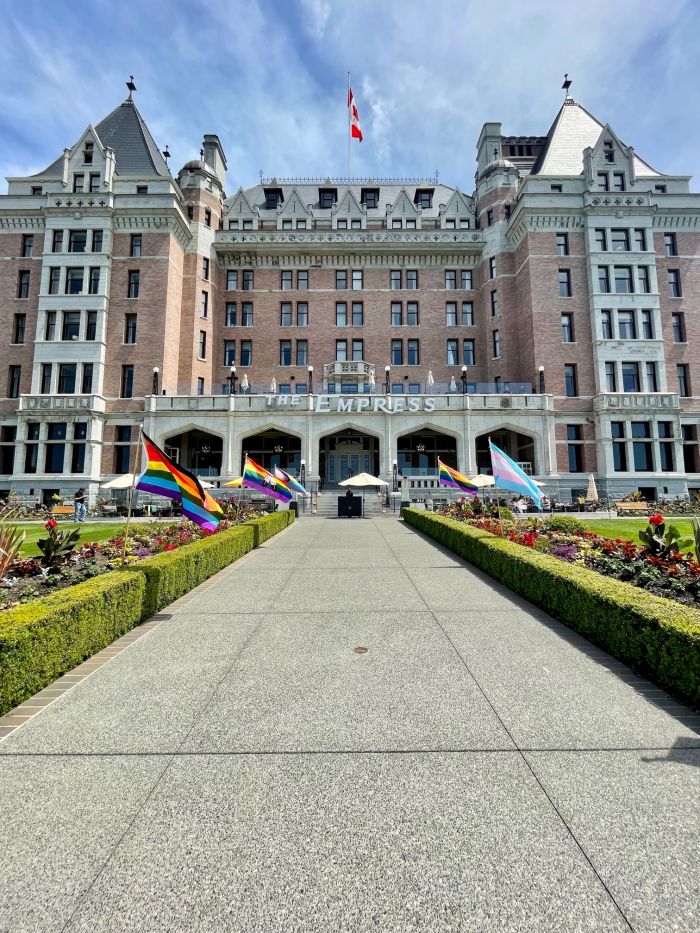 Jill Weinlein
Recently, the Fairmont Empress Hotel in historic Victoria, B.C., completed a $60+ million dollar restoration to bring the Grand Dame of Canada into a new era of modern luxury.
Located on Vancouver Island, Canada's Castle on the Coast debuted its new Fairmont Empress Gold. Now visitors receive a 'hotel within a hotel' experience while exploring stunningly beautiful British Columbia.
Not much was touched on the exquisite exterior, a nod to French Renaissance with Tudor architecture. Gorgeous thick stones, bricks, neo-gothic dormers, gables, and turrets provide a step back in time and European feel.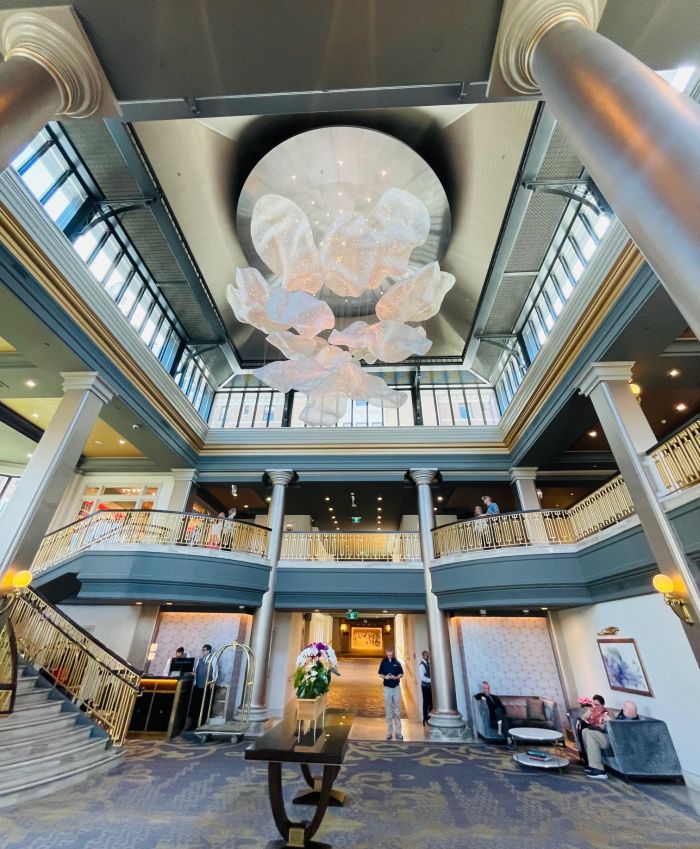 Jill Weinlein
Inside the towering lobby is a stunning crystal chandelier soaring above. Shaped as flower petals enhanced with 250,000 hand-cut crystals, this eye-catching free form sculpture is a nod to the Garden City, and to the rose garden in the front of the hotel. Throughout the day, the crystals dazzle in color as the sun shines into the upper windows bathing the lobby with natural light.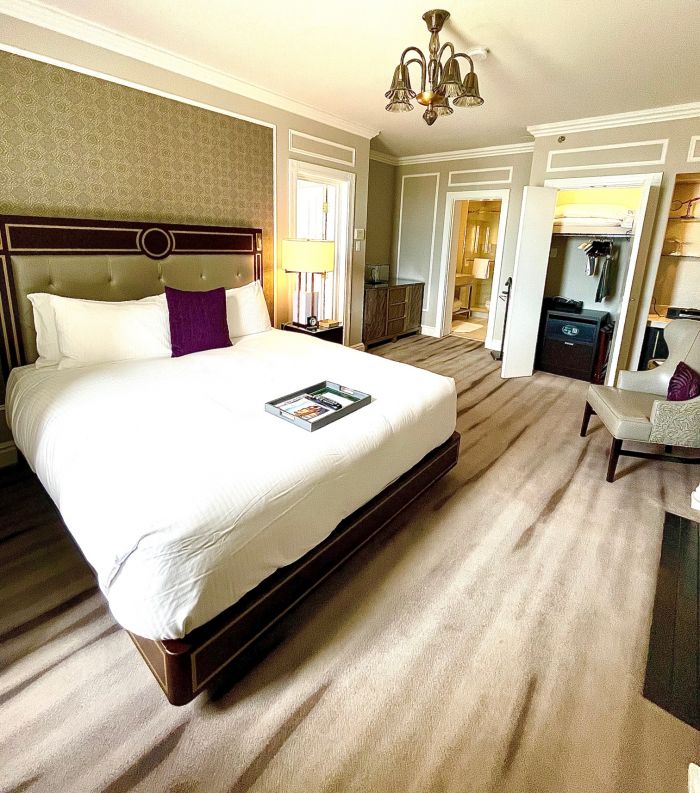 Jill Weinlein
Beyond the lobby are 431 beautifully appointed guest rooms and suites, part of the new Fairmont Gold Experience. Designers took former guest rooms overlooking the harbor, and converted 22 rooms into Gold Experience rooms.
Spacious one bedroom Inner Harbor view suites offer elegant decor in the living area and separate one bedroom. Luxurious thread count sheets are fitted on the comfortable pillow-top king size bed. The spa like marble bath features a soothing rain shower with two shower heads.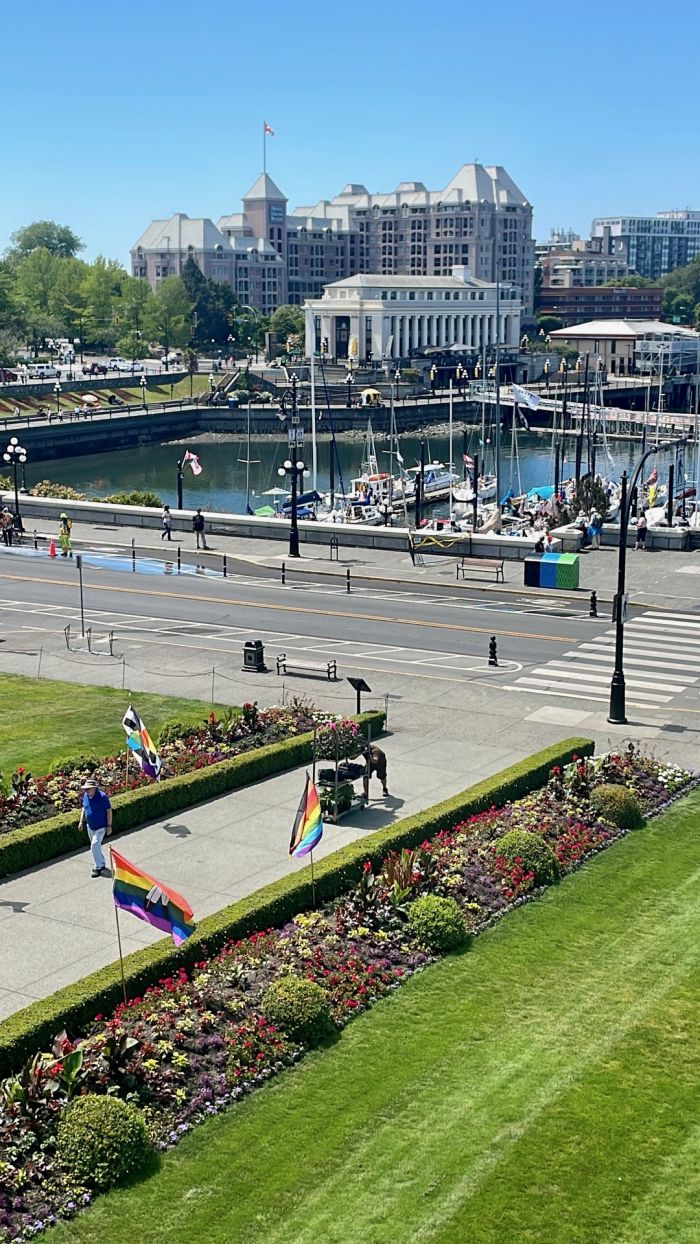 Jill Weinlein
On the first floor of the Fairmont Empress Hotel is the Fairmont Gold Lounge overlooking the Inner Harbor and gardens. Guests staying at this level check in and check out on the first floor instead of the lobby. Staff lead you to your room or to the new Gold Lounge for a refreshment and bite to eat.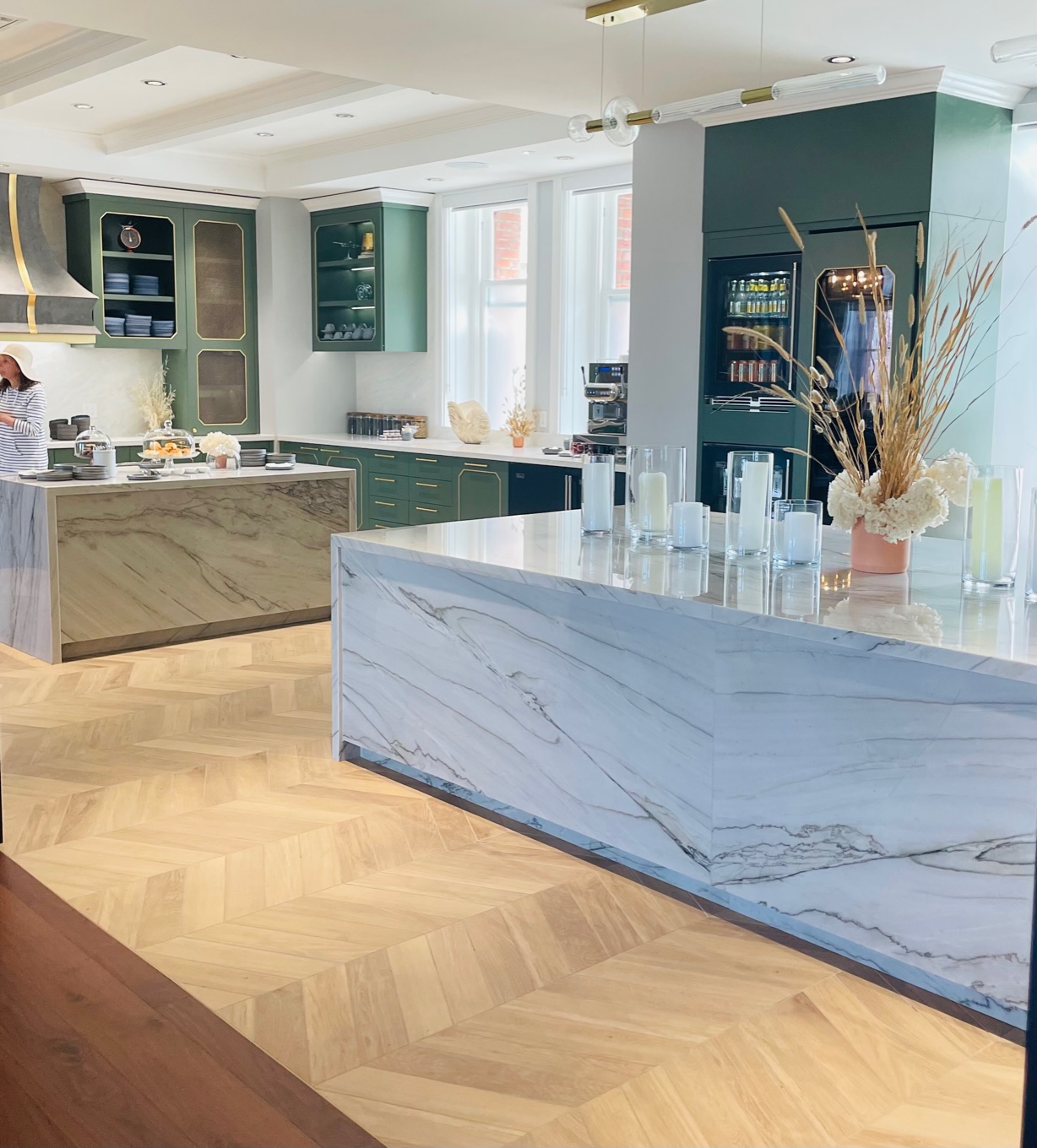 Jill Weinlein
Walking into the Gold Lounge feels as if you are a guest in someone's elegant estate. The large full kitchen offers complimentary coffee, juice, smoothies, hot and cold breakfast, all day snacks, evening tapas and desserts. Beverages, wine, beer and cocktails are also provided to guests throughout the day.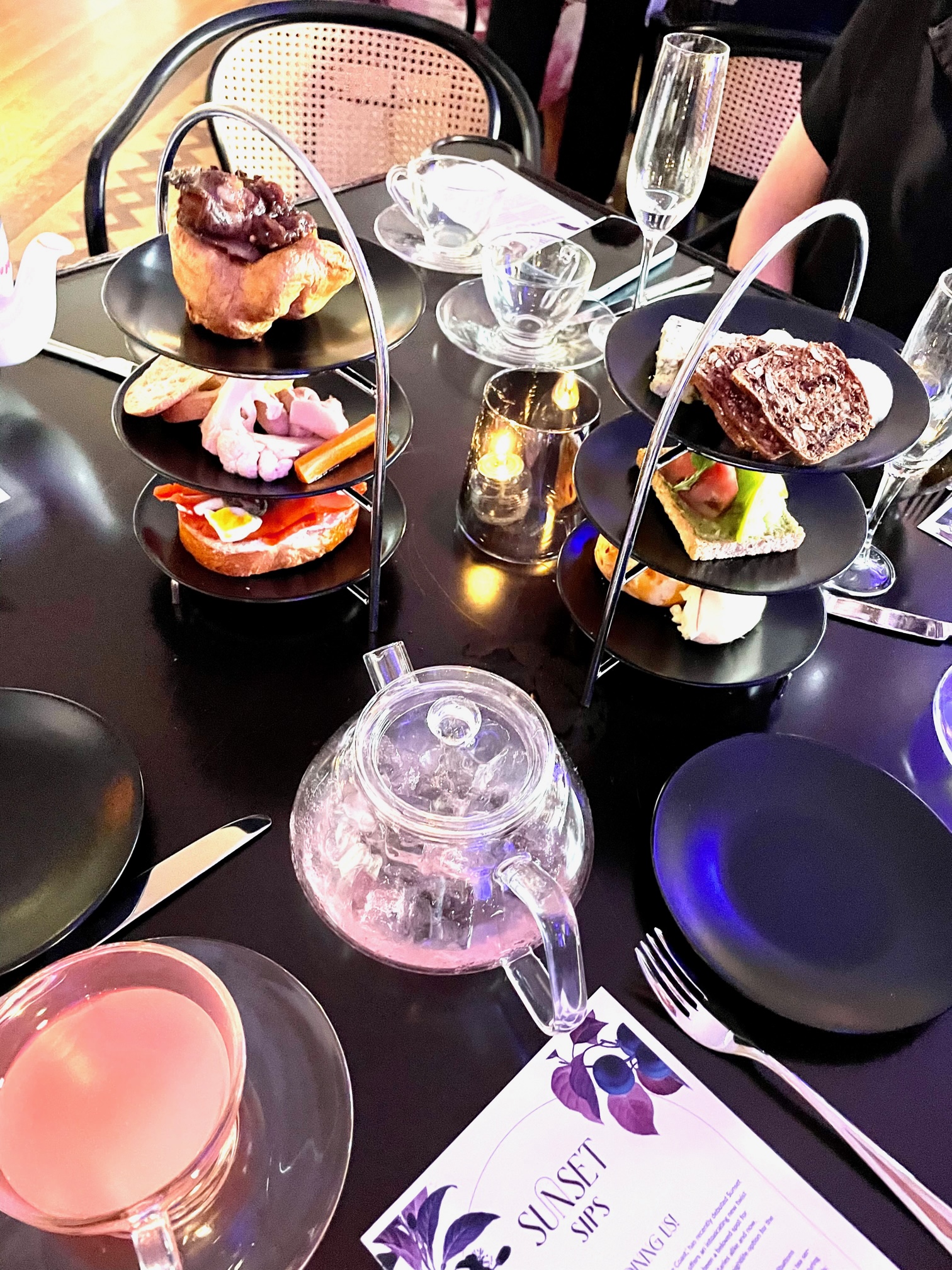 Jill Weinlein
A new and unique culinary experience is Sunset Sips at Fairmont Empress. Downstairs beyond Q at the Empress Restaurant in the elegant tea lounge is a new evening cocktail and tapa experience. As the sun sets behind the Inner Harbor, guests enjoy crafted tea-infused cocktails and mocktails poured from colorful teapots.
Dan McGowan, General Manager of the hotel and his team created Sunset Sips. 'This iconic room was dark in the evening after our popular afternoon tea service finished. This is one of the best spots to capture the beautiful sunset views of the Inner Harbor. Now we have an elegant evening venue for guests, cruise passengers and locals to enjoy while visiting the hotel,' said McGowan.
Jill Weinlein
During sunset, the sky in Victoria showcases orange, red and purple colors. Sunset Sips tea-infused libations include the Mad Hatter made with dill-infused tequila, Cointreau, raspberry lemonade tea syrup, pineapple and lime are poured into clear glass tea cups.
Other cocktails include the tropical and smooth Daisy Ricky made with citrus punch tea-infused Barcardi, and The Spare & The Actress made with Rose Congu iced tea, Marker's Mark, Aperol and lemon.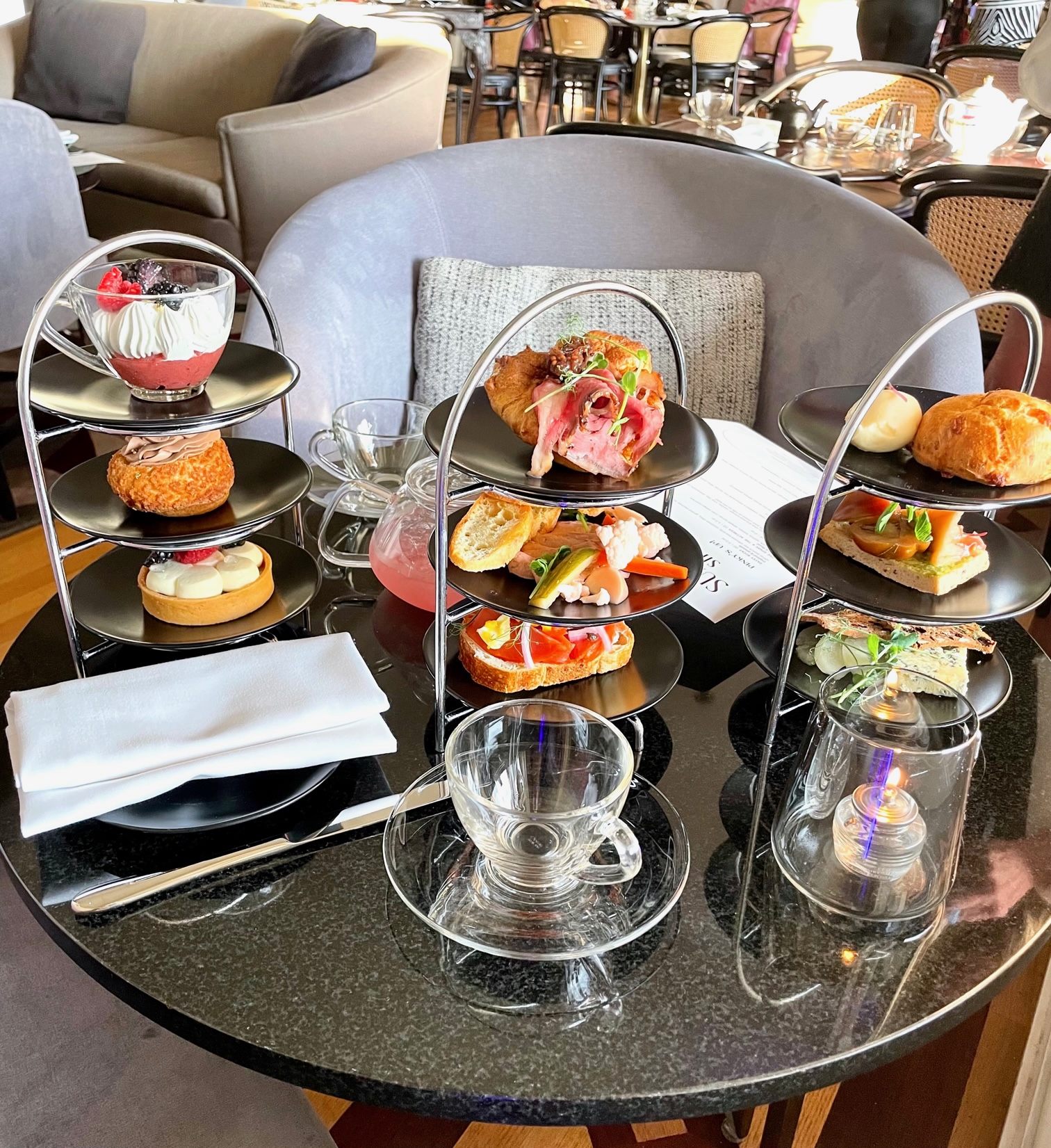 Jill Weinlein
To set the ambiance, music from the 1920s plays in the background as guests enjoy a Prohibition-style evening. Three-tiered tea stands are brought to the table featuring savory tapas and sweet desserts.
Savory bites include a gluten-free warm white Cheddar cheese and chive biscuit with orange marmalade butter; grilled avocado and tomato tartine on gluten-free multi-grain, and slow-roasted roast beef stuffed Yorkshire pudding with caramelized rosemary red onions. The local smoked sockeye salmon on sourdough is topped with crispy capers, red onion and sliced soft boiled egg.
Sweet treats include a strawberry-rhubarb tart, gluten-free tapioca violet mousse and chocolate profiteroles. This special evening Sunset Sips is $45 per person. Extra tapas can be ordered for an additional charge.
Summers in Victoria B.C. are sunny, warm and filled with a kaleidoscope of beautiful flowers. Right now the iconic 1908 Fairmont Empress has special offers that include Good as Gold to stay in one of the newer Gold guest rooms with entrance into the stunning Gold Lounge, as well as an Empress for the Day package at the Willow Stream Spa.