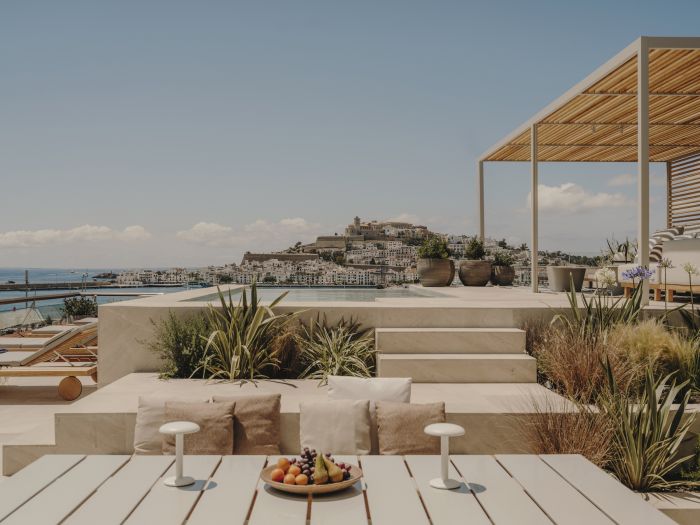 Ibiza Gran Hotel
At Ibiza Gran Hotel, the first five-star hotel that entered Ibiza, the destination has recently unveiled a breathtaking renovation to its largest suite. Known as Gran Suite Dalt Vila, the suite is considered one of the most decadent and sought-after suites across the Balearics with pricing starting at $7,000 USD per night.
The luxurious 1,600-square-foot loft overlooks the bay and Formentera with unmatched views of the Mediterranean blue sky and sea. It includes a large bedroom, spacious living room, dining area, cocktail bar & wine cellar, and a 1,900 square-foot terrace with a heated infinity pool, outdoor jacuzzi, and solarium with an olive tree. Exclusive amenities include luxury Bentley airport transfers, access to the famed Open Spa, Brand Ambassador service, and butler service upon request, along with thoughtful touches like customized pajamas.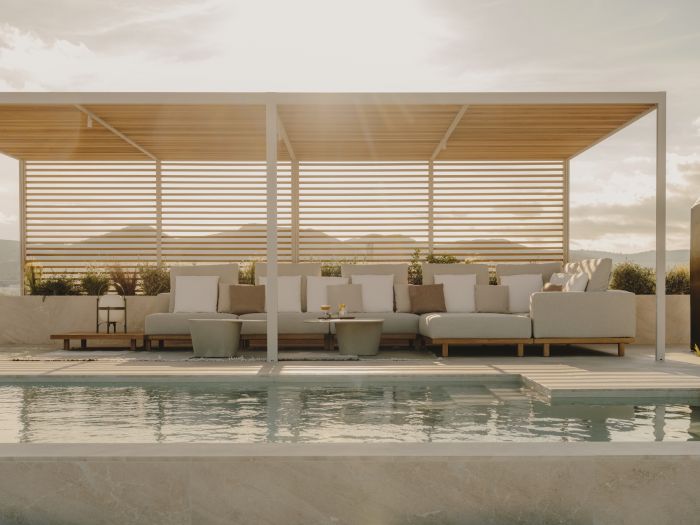 Ibiza Gran Hotel,  heated infinity pool. 
The Gran Suite Dalt Vila was recently renovated as a custom project by Spanish interior designer Sandra Tarruella. The Sandra Tarruella Interioristas studio has carried out 300 unique works—some of great international recognition— earning a coveted position as a benchmark for design in Spain. The firm has extensive experience in the field of haute cuisine, hospitality, housing and more, working with Michelin-star chefs for whom they have designed some of their most relevant establishments.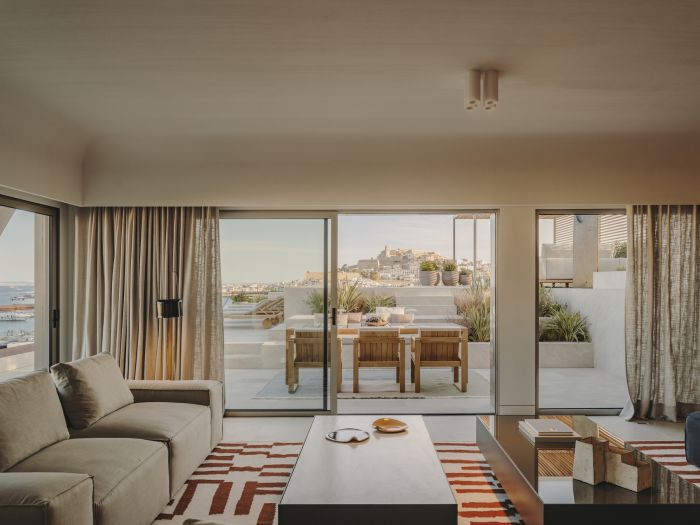 Ibiza Gran Hotel
The suite's interior design was inspired by the beauty of its unmistakable Dalt Vila view, with a chromatic range of colors selected to embody the World Heritage Site's stone walls and white houses. Adorned with custom and designer furniture pieces, artwork in collaboration with ABA ART LAB, exterior sculptures by Franco Monti, and ceramics by Pere Coll, Gran Suite Dalt Vila has a bright, exclusive, warm, and elegant atmosphere intimately related to the values of Ibiza Gran Hotel.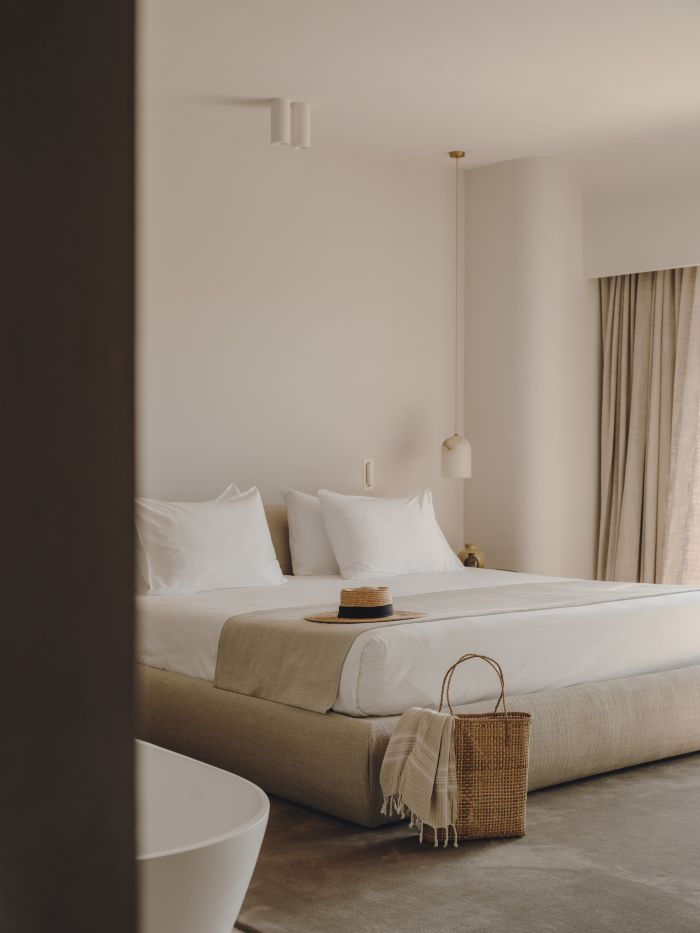 Ibiza Gran Hotel
Discerning travelers can enjoy the unique haven and serene sanctuary at Ibiza Gran Hotel, located amidst the island's wonderful and varied lifestyle. The Mediterranean icon is known for providing the most luxurious and sophisticated hotel experience on the island. Renowned for its exceptional service, outstanding culinary venues, celebration of contemporary art, state-of-the-art wellness, and relaxed atmosphere, Ibiza Gran Hotel is an ideal getaway. The longstanding independently owned five-star hotel is situated in the heart of Ibiza's "golden mile" and offers five award-winning restaurants, the only casino on the island, an exciting new nightlife venue, two dazzling pools and a world-class spa.
To learn more about Ibiza Gran Hotel and its Gran Suite Dalt Vila, visit https://ibizagranhotel.com/.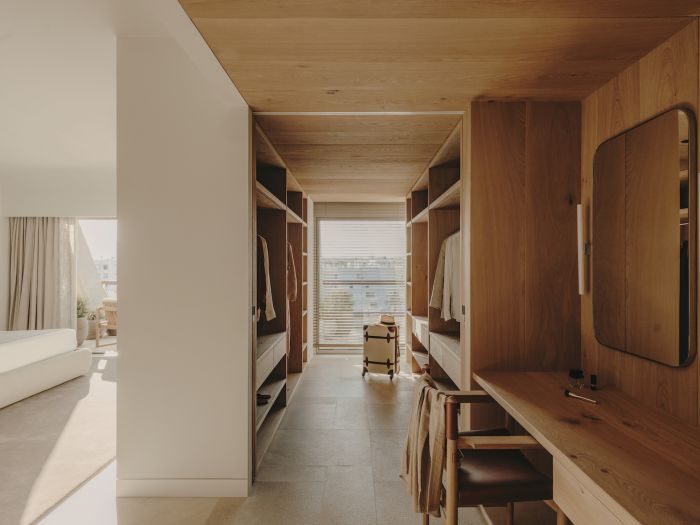 Ibiza Gran Hotel
The renovated suite features ample closet space for its guests.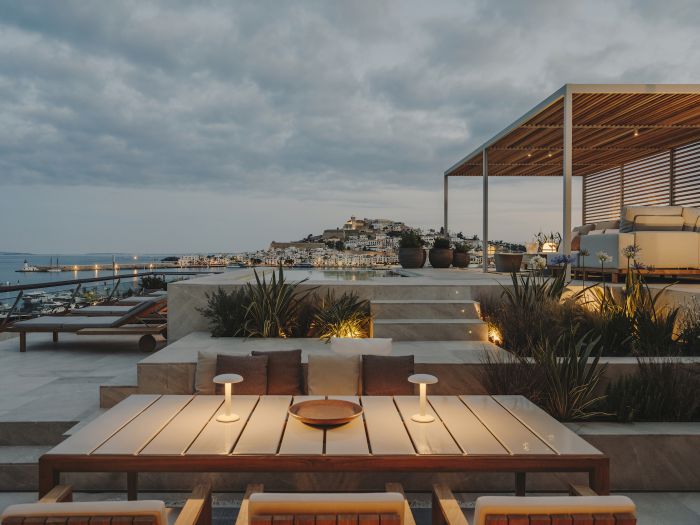 Ibiza Gran Hotel
An evening view of the stunning outdoor space of the vila, which serves as a balcony to the Mediterranean.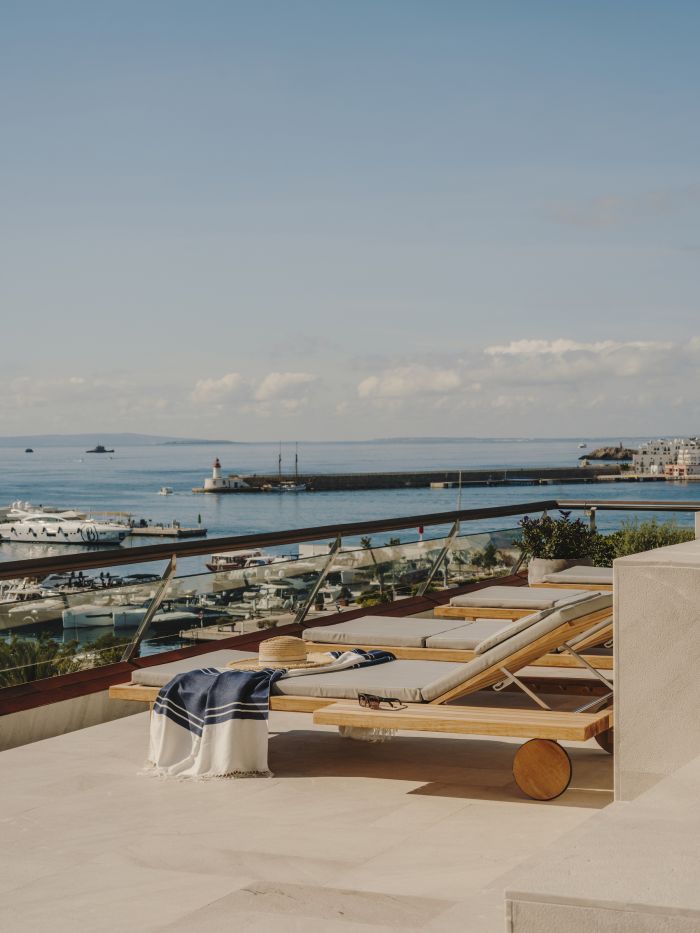 Ibiza Gran Hotel
Guests at the Gran Suite Dalt Vila can take in stunning water views.