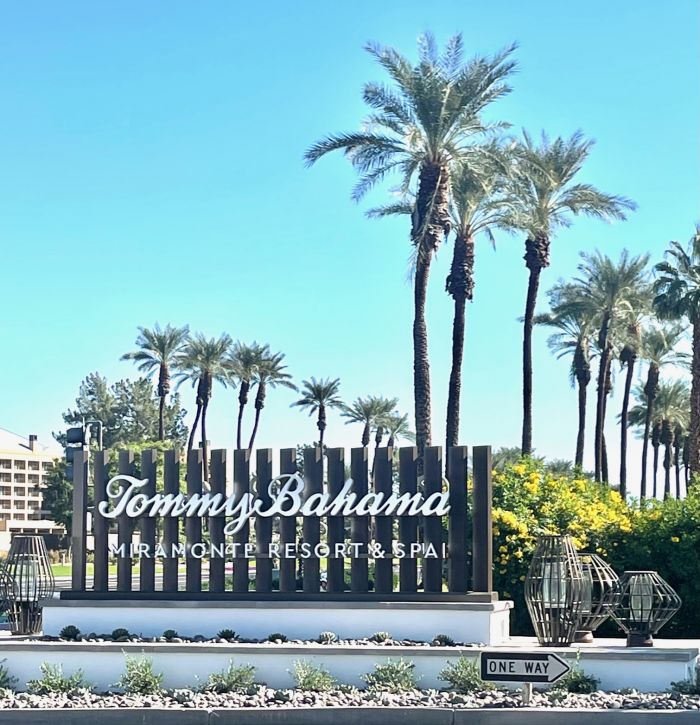 Tommy Bahama Miramonte Resort & Spa - Photo Jill Weinlein
Two swinging Tommy Bahama wicker egg chairs hang at the entrance of the new Tommy Bahama Miramonte Resort & Spa lobby in Indian Wells. Debuting on November 1, the desert luxury Miramonte Resort & Spa now offers Tommy Bahama tropical island living decor.
This is the first resort concept of the popular Tommy Bahama lifestyle brand. "We are thrilled to welcome visitors to the one-of-a-kind Tommy Bahama Miramonte Resort & Spa," said Kevin Barnes, general manager. "The transformed resort seamlessly merges Tommy Bahama's signature, easy-going aesthetic with our unique haven, and Grapefruit Basil's new culinary experience is a true highlight, thoughtfully designed for our valued guests and the desert community."
New design elements start at the street with new signage. Inside the lobby there is playful typography and green, rose and grapefruit hues. The contemporary furniture with colorful tropical patterns enhances the vacation vibe ambiance.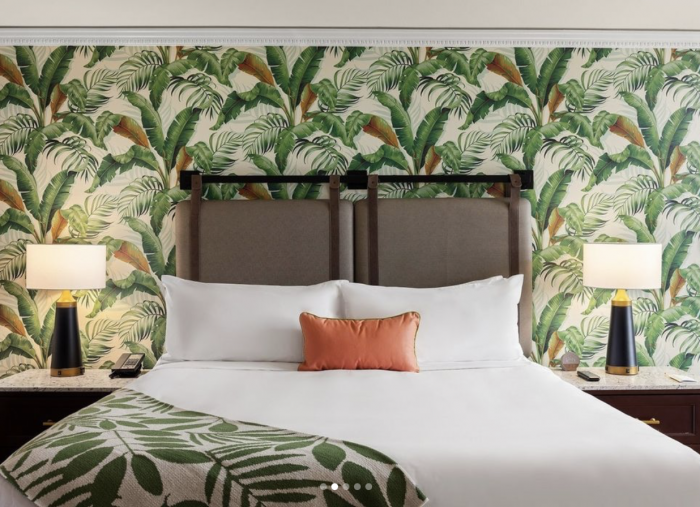 Photo by Tommy Bahama Miramonte Resort & Spa
It's a masterful blend of Tommy Bahama's laid-back design aesthetic with Miramonte's architecture. It can be seen throughout the resort and in each of the resort's 215 refreshed and re-imagined tropical design guestrooms.
The brand's world-class artistry and craftsmanship with bespoke Tommy Bahama prints and décor provide a welcoming residential feel while transporting guests to a paradise state of mind.
Guest rooms and villas view gardens, a swimming pool or the majestic Santa Rosa Mountains. "At Tommy Bahama, we've always believed in the art of living well and embracing the island lifestyle," said Doug Wood, CEO of Tommy Bahama. "With this resort, we're crafting an entirely new concept of leisure, fusing our brand's essence with the unparalleled beauty of this desert oasis and creating a destination where every moment feels like a timeless escape."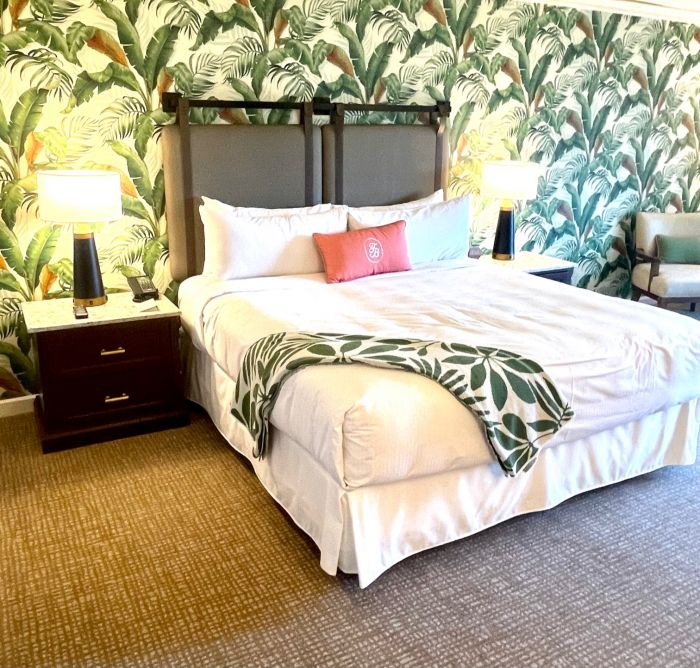 King Guest Rooms - Photo Jill Weinlein
Archways welcome guests into the two-story hotel with most rooms featuring a private patio or balcony. Thoughtful placements of wallpaper featuring lush green palms and a pop of grapefruit pink colors. Bathrooms feature custom Tommy Bahama and LAFCO amenities.
"The marrying of Tommy Bahama's skillful conception with Lowe's expertise in developing inspiring environments has created a truly special experience at the Tommy Bahama Miramonte Resort & Spa," added Robert J. Lowe, Chairman and Founder of Lowe which co-owns the Tommy Bahama Miramonte Resort & Spa. 'With our hospitality management subsidiary, CoralTree Hospitality, at the helm, our guests will receive the same world-class service at this newly imagined resort."
Luxury suites include The Tiger Suite displaying Tommy Bahama's Los Altos collection. This theme draws inspiration from cultural and design influences around the world. Those staying in the modern Palm Suite will appreciate the traditional charm of lush, tropical heritage-inspired wallpaper, and leather-wrapped carved bamboo and rattan detailing from the Twin Palms collection.
Walk upstairs to the second level Pineapple Suite for a dazzling island spirit with playful pineapple and paraquet wallpaper. The weathered driftwood, woven rattan, and textured metal embody the timeless Cypress Point collection.
At the 1,078-square-foot Grand Marlin Suite, the most luxurious of all the suites, custom pieces are from the exclusive Tommy Bahama Palm Desert collection. Besides a primary bedroom with a spa-like bathroom, there is a dining table, living room, wet bar and guest bathroom. The floor-to-ceiling windows provide picturesque views of the San Jacinto and Santa Rosa Mountains.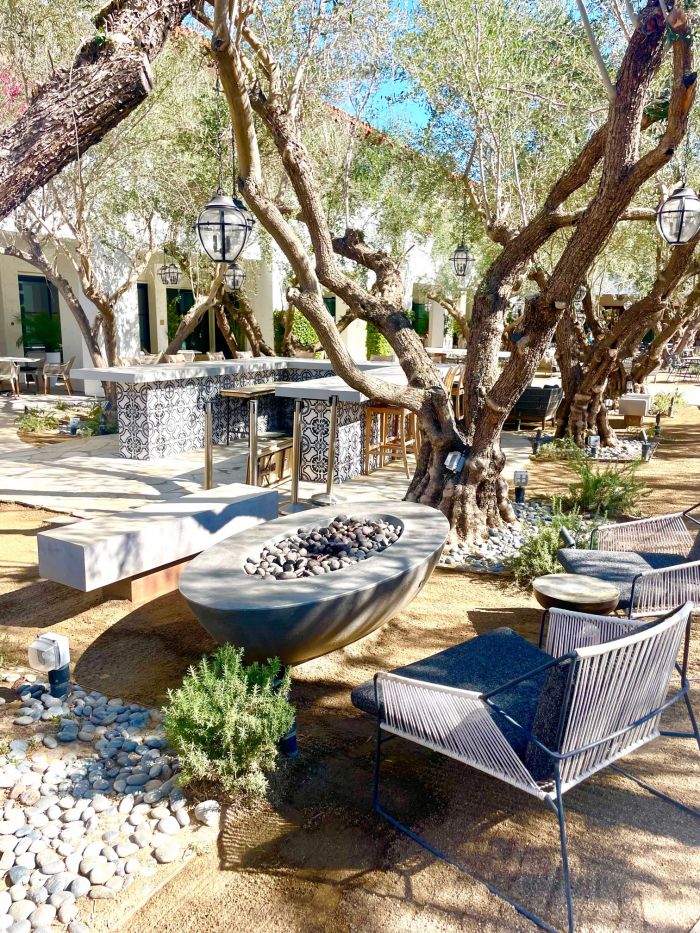 Plenty of outdoor areas - Photo Jill Weinlein
Woven into 11 expansive acres are garden pathways winding through ancient olive trees, fragrant citrus groves and seasonal flowers. The olive grove is complete with hanging lanterns and fire pits. This is an ideal spot to sit with a tropical cocktail or glass of wine among a relaxing atmosphere.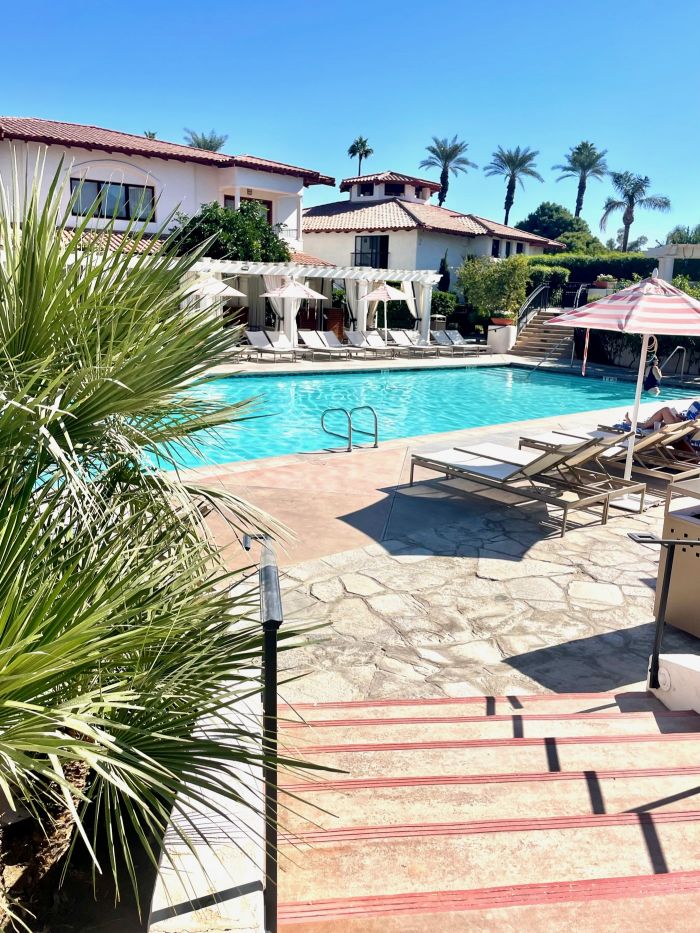 Main Pool - Photo Jill Weinlein
There are three inviting saltwater pools. The resort's main pool has plenty of lounge chairs and cabanas. There is also a small pool at Spa Rosa reserved for guests rejuvenating before and after treatment.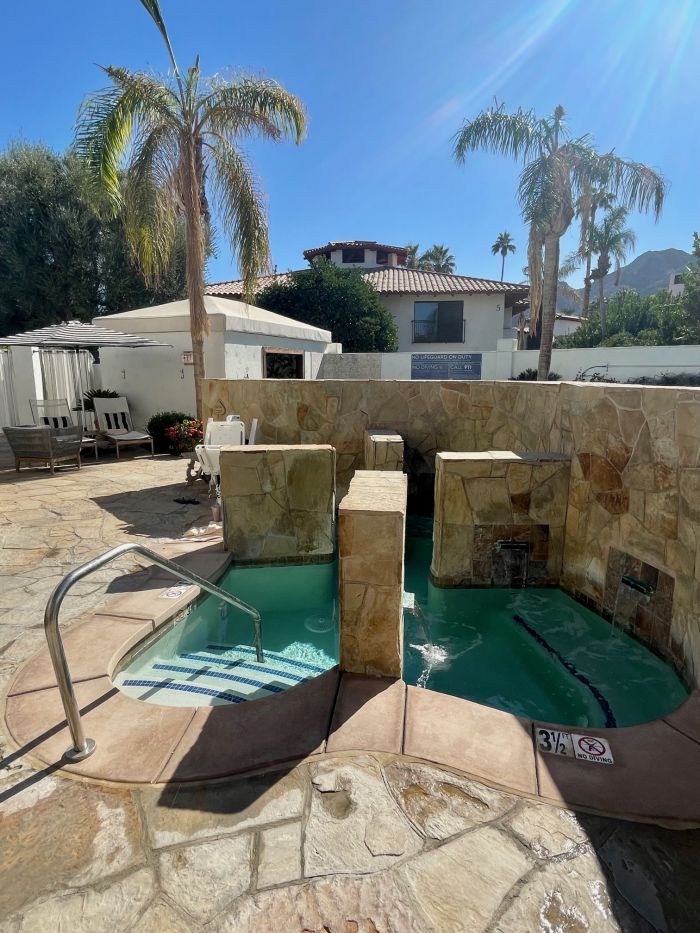 Spa Rosa - Photo Jill Weinlein
The refreshed 12,000-square-foot Spa Rosa offers 11 serenely appointed treatment rooms for indoor and outdoor services. A new menu of desert-inspired wellness treatments and rituals includes a holistic menu drawing inspiration from the healing powers of the surrounding desert. Tommy Bahama's Spa Rosa treatments include guided Daydream to Life Ritual, Island State of Mind Massage, Santa Rose Mountain Mud Body Mask, and Precious Rose Quartz Facial.
Guests can unwind in Spa Rosa's eucalyptus-infused steam rooms, out on the four outdoor cabanas with open-air showers, or in the outdoor meditation dens. There are also hot and cold soaking pools for relaxation.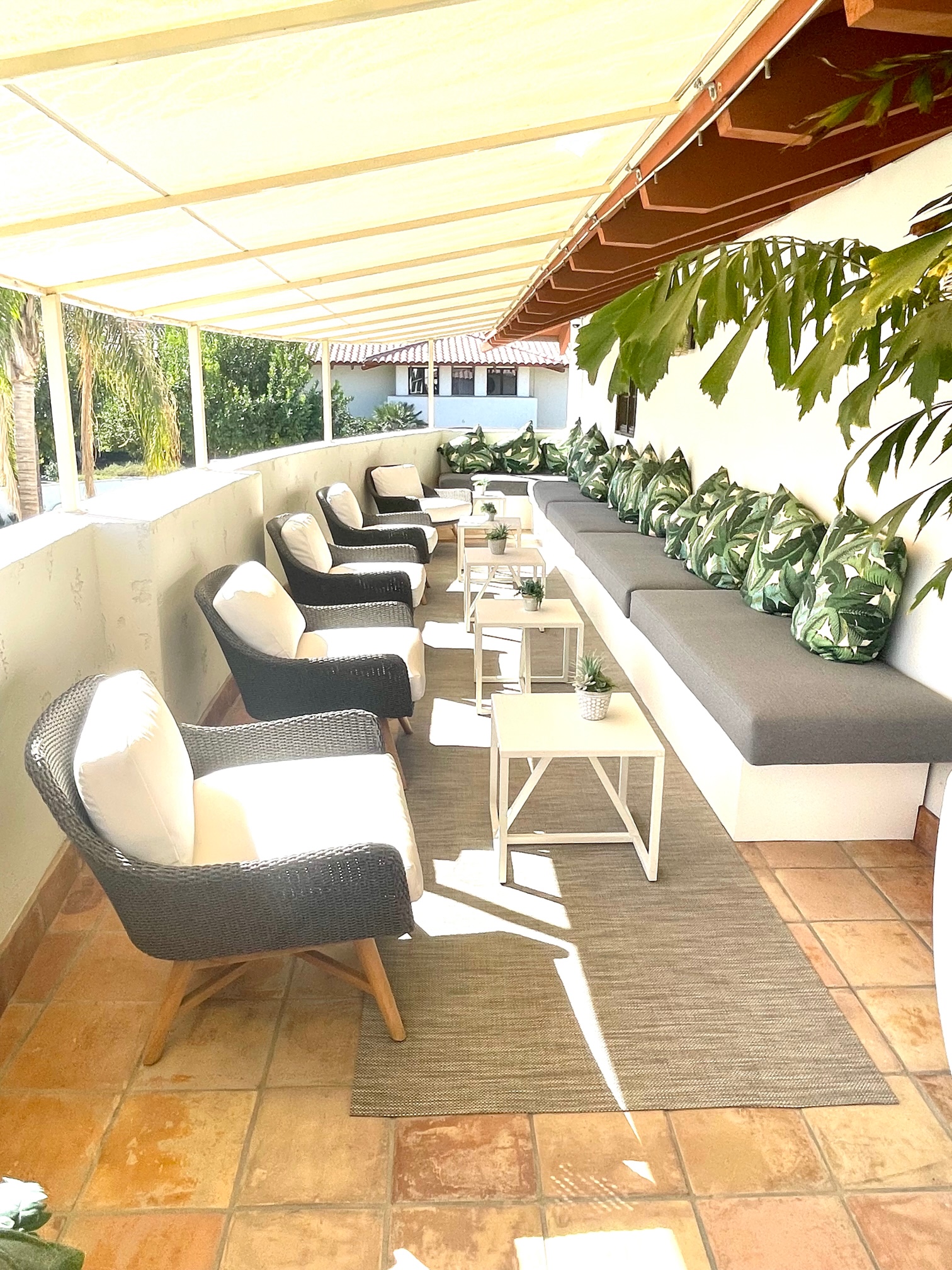 Event space about Spa Rosa - Photo Jill Weinlein
Groups can rent the upstairs terrace for meetings and a private wellness retreat. Spa Rosa can plan breakout activities such as yoga on the lawn, a sound bath session with a local shaman or creating body oils using citrus from the property's groves.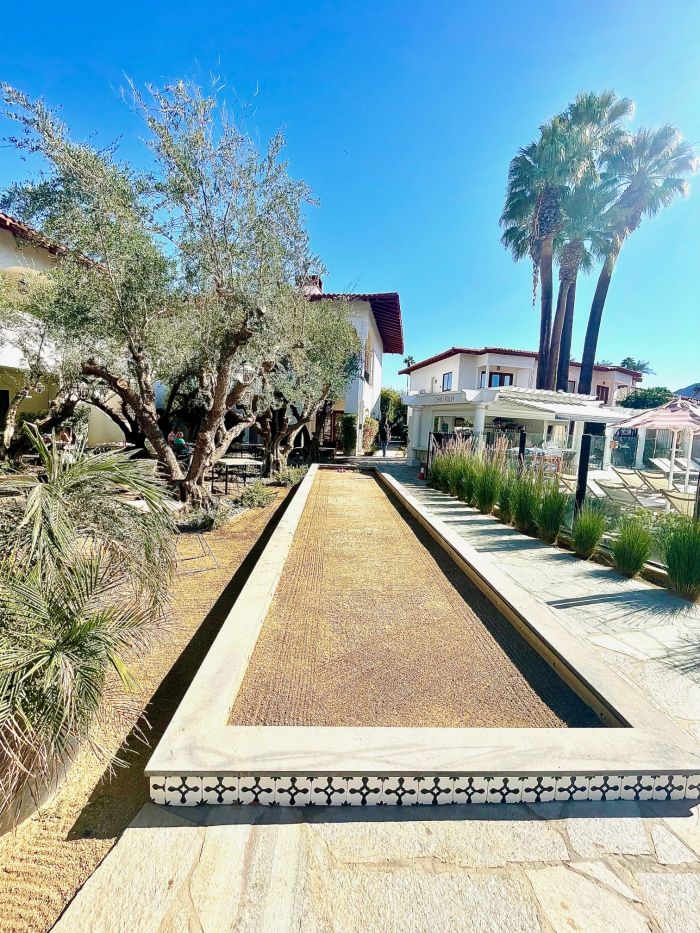 Bocce Ball court - Photo Jill Weinlein
Bocce ball games occur throughout the day near Grapefruit Basil Restaurant. It's a popular spot in the early evening while guests listening to live music while watching the sunset.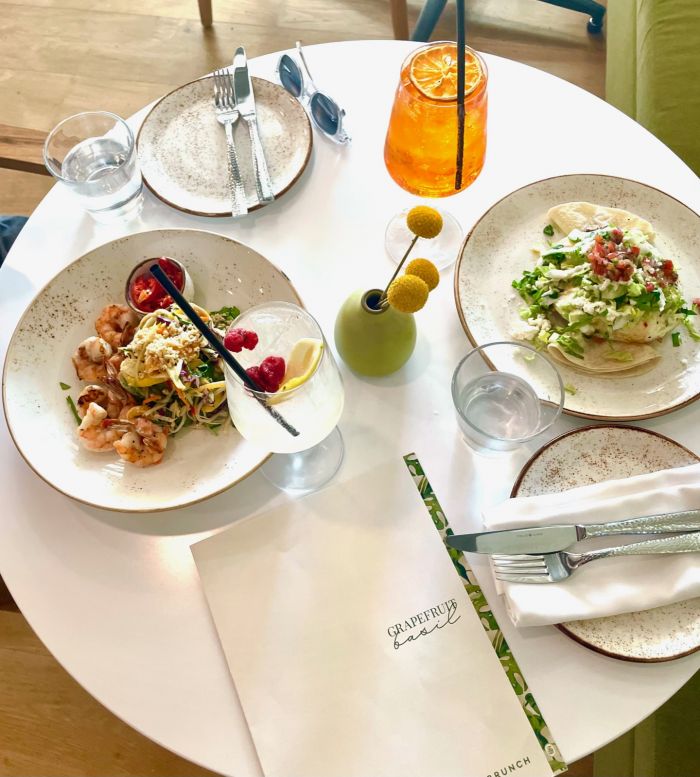 Dine at Grapefruit & Basil - Photo by Jill Weinlein
Grapefruit Basil is the first of its kind developed exclusively for Tommy Bahama Miramonte Resort & Spa. This all-day signature restaurant and bar is named after the famed Tommy Bahama cocktail. It also pays homage to the multitude of fragrant citrus trees found across the property.
The interiors are calming hues of white and green with yellow accents. Meyer lemon trees are planted next to soft green velvet booth seating.
Coastal-inspired brunch and dinner menu items include Santa Barbara smoked salmon, beef from a Santa Carota ranch in Bakersfield and Rancho Gordo beans harvested in Napa Valley. Dishes are enhanced with citrus and herbs grown in the resort garden.
Be sure to try the Huevos Rancheros Tostada and the cold Thai Shrimp Noodle Salad with a mocktail or tropical rum Tommy Bahama cocktail.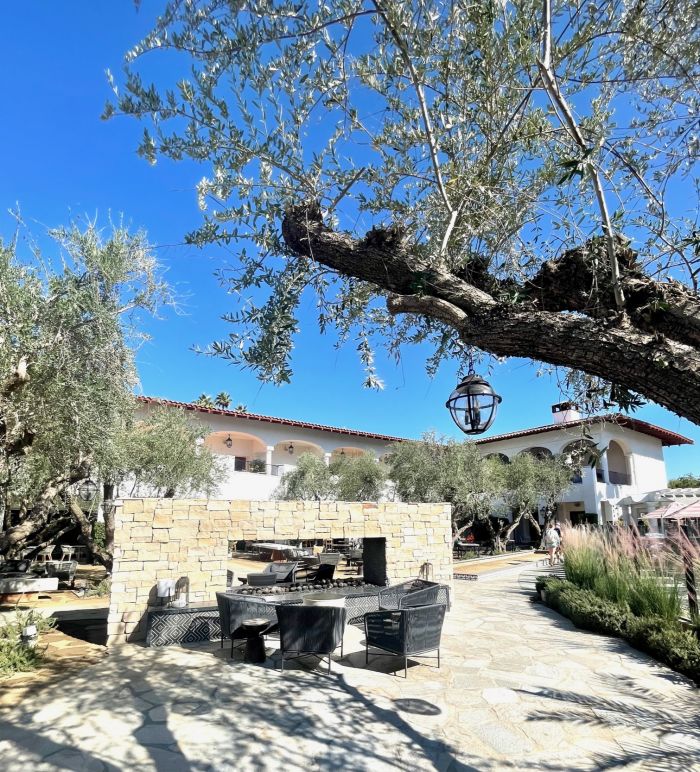 Picturesque outdoor areas - Photo Jill Weinlein
Daily immersive activities for guests to find their 'Paradise' in every moment include live acoustic guitar sounds at sunset in the Olive Grove Patio. In the morning there are hikes and bikes available for guests to take to tour of Indian Wells Lane.
Hatha, Restorative, Vinyasa, Yin and Aerial Yoga classes, plus sound bath experiences are offered throughout the week.
Morning neighborhood walks, and visits to the nearby weekly Farmer's Market, plus Mandala drawing classes are offered in the lobby.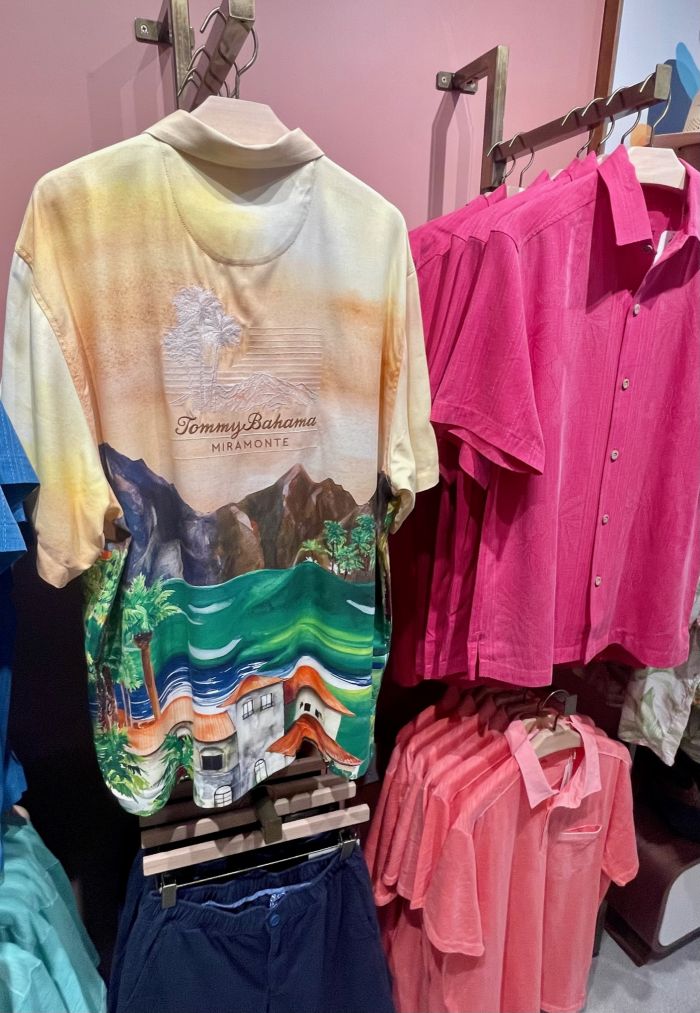 Rosa Boutique - Photo by Jill Weinlein
The Rosa Boutique is a thoughtfully curated specialty shop that sells the exclusive Tommy Bahama Miramonte Hotel & Spa designer shirt. Beloved Tommy Bahama Grapefruit Basil candles, braided print bags, bathing suits, golf apparel, Tommy Bahama printed pickleball paddles and golf club head covers, in addition to jewelry, sunglasses, hats, footwear, books, towels and gifts are available for sale.
Guests can recreate this vacation experience in their own home, as all of the products are available for purchase.
For a tropical getaway in the Coachella Valley, Tommy Bahama Miramonte Resort & Spa provides a desert oasis filled with sunny days, starry nights and majestic views everywhere you look.