By Jill Weinlein Jan. 12th, 2023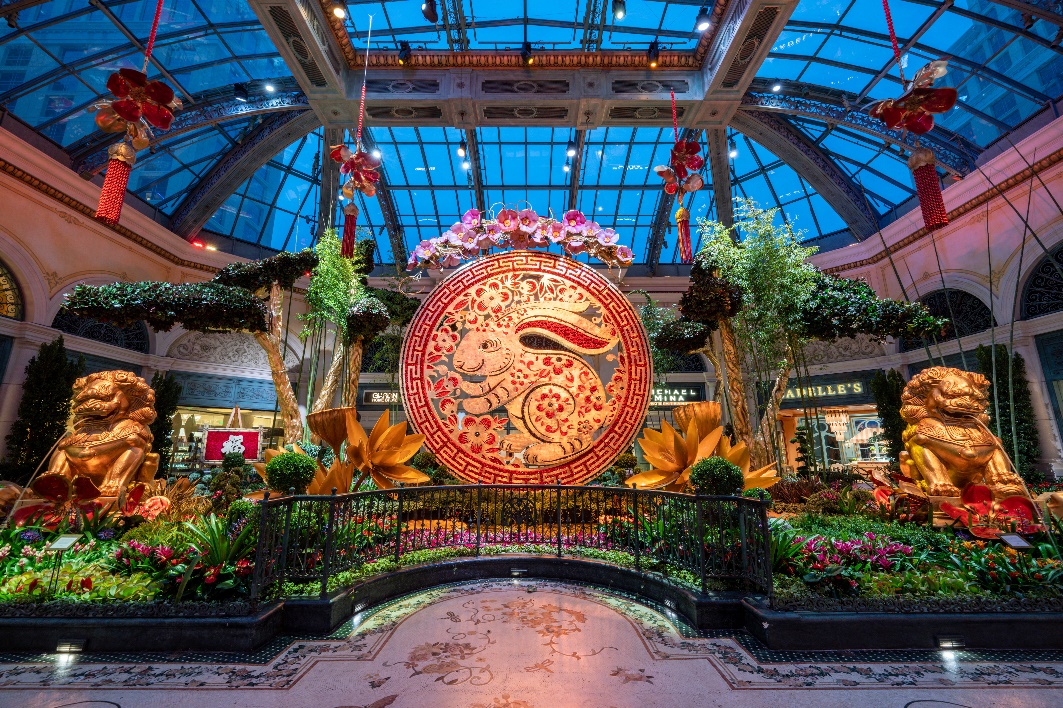 Bellagio Conservatory & Botanical Gardens
Inspired by the beautiful villages of Europe, The AAA Five Diamond luxury Bellagio Resort & Casino offers beauty everywhere you look. From the Mediterranean blue-colored lake showcasing magnificent aquatic ballet performances daily, and the exquisite Conservatory & Botanical Gardens reflecting tranquility and peace.
On January 9, the resort unveiled it's newest garden "Year of the Rabbit" display to celebrate the Lunar New Year. Guests and visitors can enter the Conservatory to explore beds of gardens welcoming new beginnings. Each bed is layered with beautiful colors conveying messages of harmony, good luck, enlightenment and prosperity.
Designer Ed Libby collaborated with Bellagio's Horticulture team to create a display that honors the Black Water Rabbit, signifying deep wisdom and a connection to Earth. "We've designed a beautiful space of tranquility and cultural enlightenment where we hope guests will gather to usher in the Year of the Black Water Rabbit and embrace the good fortune it will bring," said Libby. "We look forward to welcoming visitors from around the world to enjoy the Conservatory as it delivers a symbol of hope and prosperity for the new year."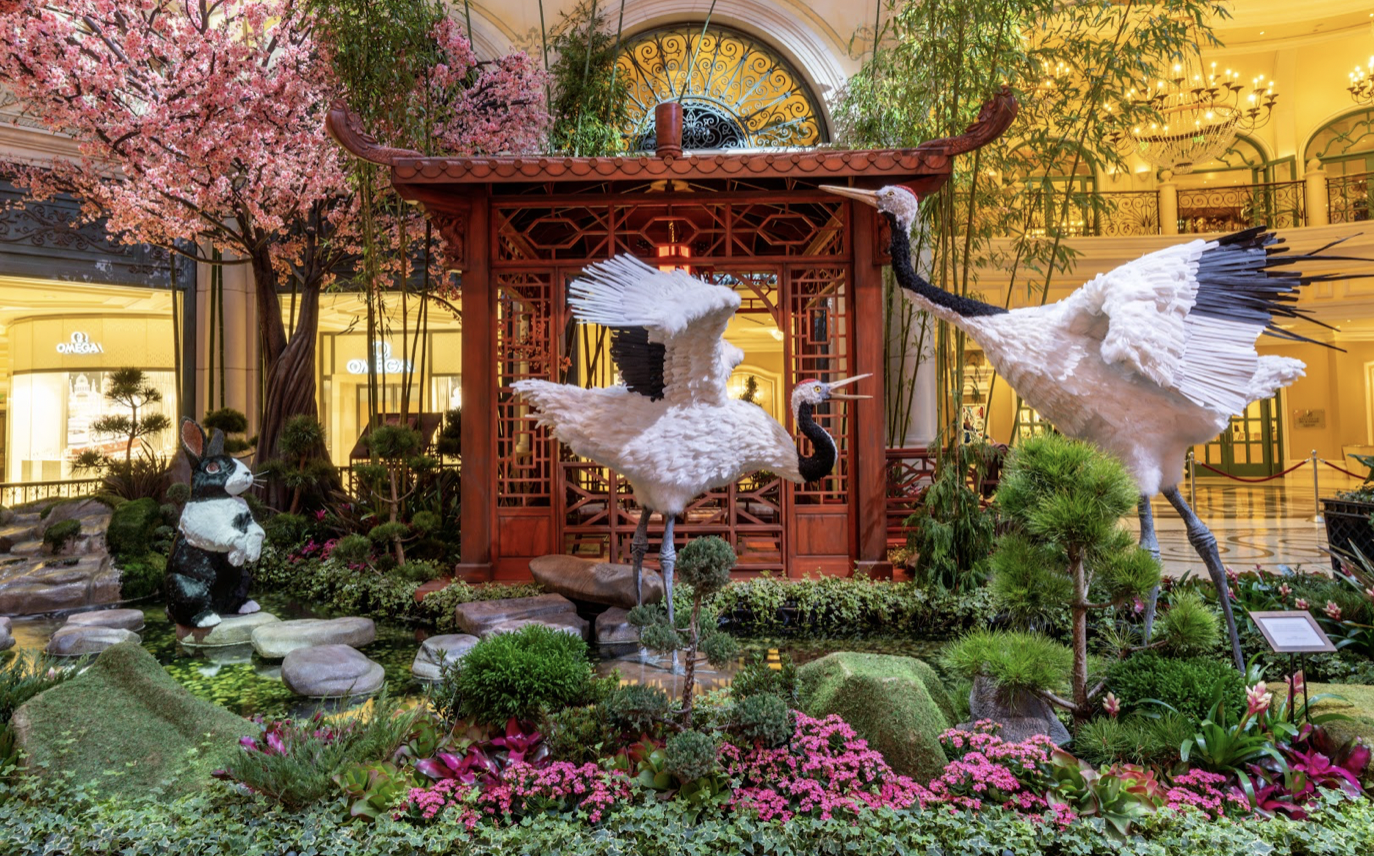 Bellagio Conservatory & Botanical Gardens
In the South Bed, visitors will notice a black and white rabbit and the glowing moon of the jade rabbit as it smiles down. There are happy chirps of live zebra finches, elegant cranes and pink lunar moths displayed near a majestic cherry blossom tree. These are crafted with botanical materials, symbolizing resilience, transformation and success.
In the center is a traditional tea house, representing hospitality, discipline and grace. Bellagio is pleased to host The Garden Table, an immersive dining experience in this unique dining space. The talented Bellagio culinary team creates an indulgent dim sum lunch and a dinner feast for up to four guests. The menu is prepared by the culinary team at Noodles, Bellagio's Pan-Asian restaurant.
The menu includes an 'Eight Treasures Dim Sum Platter' lunch for $88 per person. This prix-fixe menu includes Abalone Shui Mai, Traditional Shrimp Har Gau, Barbeque Pork Buns, and Pan-Fried Pot Stickers, among other specialties, along with dessert and select beverages. Reservations are available at 1 p.m. and 3 p.m.
They are also preparing a 'Feast of Prosperity Dinner' with special culinary delights that include Fortune Chilean Sea Bass, Healthy Poached Empress Chicken, Wealthy Salt & Pepper Shrimp, Joyful Pepper Beef and Longevity Noodles plus dessert and select beverages. Reservations are available seven nights a week at 6 p.m. and 8 p.m.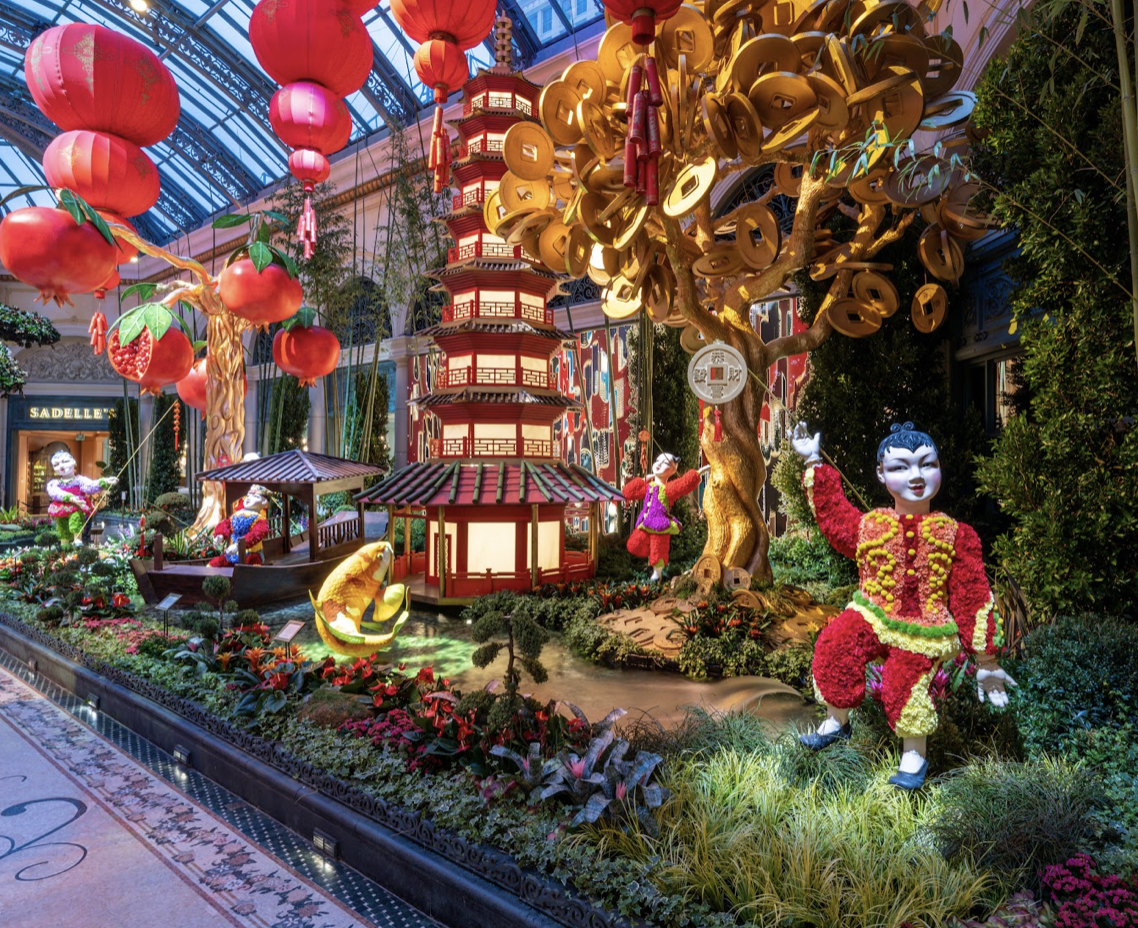 Bellagio Conservatory & Botanical Gardens
Be sure to visit the North Garden Bed offering the Temple of Six Banyan Trees. There are five floral topiary children made with 45,600 flowers including carnations and botanical accents. This area offers a moving water feature symbolizing messages of play, celebration, and enlightenment.
A golden money tree is set in the center of the garden. This beautiful feature is comprised of 88 gold I-Ching coins made from metallic materials. This is the symbol of good fortune and luck to guests.
Hanging above are pomegranates and Chinese red lanterns with gold patterns, guiding guests to peace and prosperity. For an even more immersive experience, the scent of ginger and amber 'Serenity' fills the air, and LED screens reflect fireworks and falling gold coins.
The 'Year of the Rabbit' display will run through March 4, 2023. It's a beautiful spot for a meal, and space to celebrate and Asian culture and traditions.

Jill Weinlein
Los Angeles based Jill Weinlein covers travel, food and lifestyle destinations for multiple newspapers, magazines and websites. Her areas of expertise include, luxury travel, culinary reviews, cruising and family travel destinations. Born in Los Angeles, Jill studied Communications and Theatre Arts at UCLA. She has a a Dine and Travel blog - www.dineandtravel.me and she writes a weekly restaur...(Read More)