By Susan Kime Aug. 30th, 2023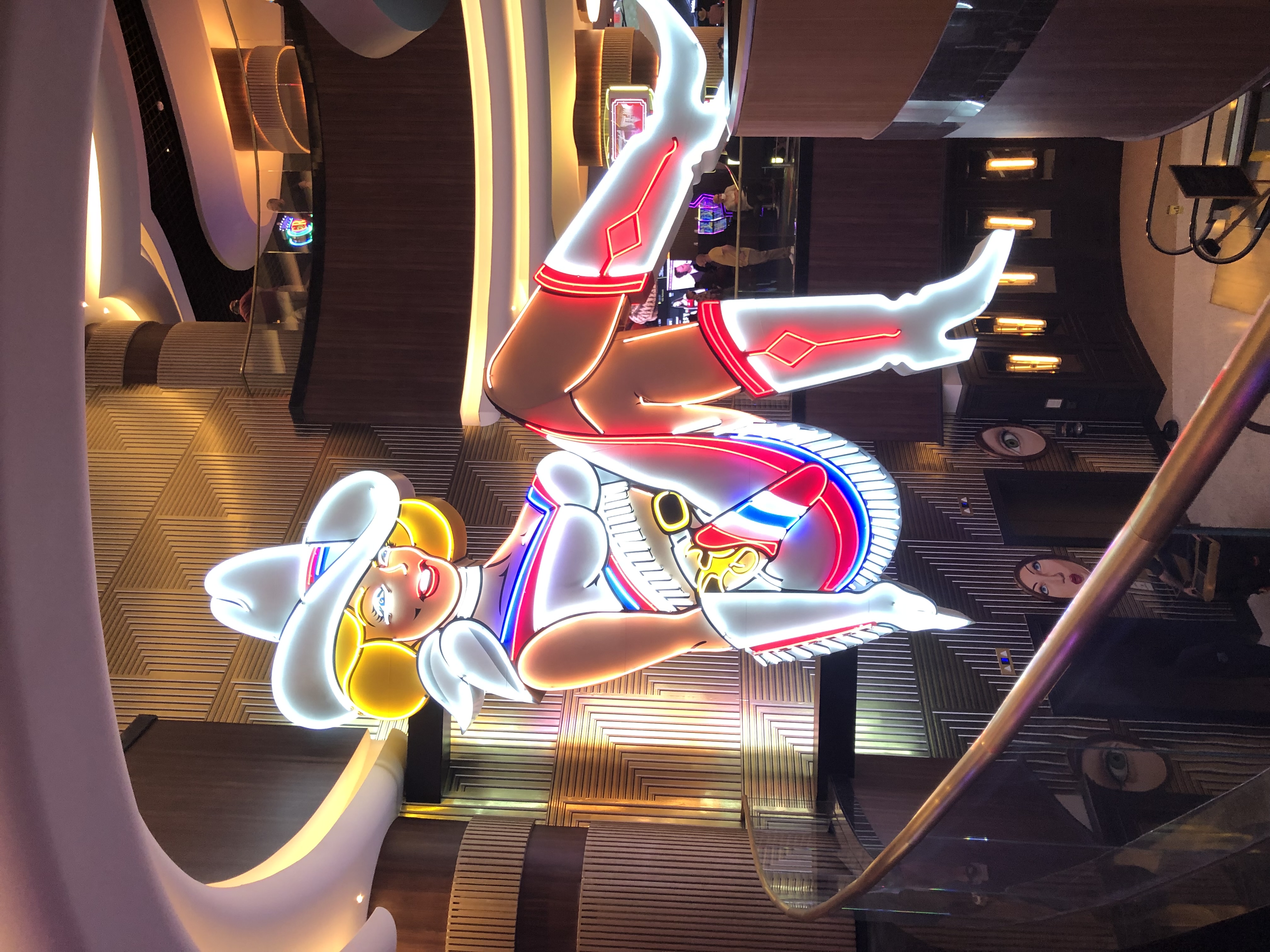 Susan Kime
We were relatively late to the party as we had never been in Las Vegas. But in 2009, which now seems like a century ago, we were asked to cover the AMEX Luxury Summit, being held at the Mandarin Oriental in Las Vegas. First impressions? a colorful, growing city, especially with City Center being almost finished. It felt also, as if something architecturally substantial lay beyond all the glitter. We were asked if we wanted an interview with the young, dynamic CEO of MGM Las Vegas, Jim Murren. We mention all of this because of something Mr. Murren said that we never forgot. He said he wanted to turn Las Vegas into a cultural capital.
Even though we had interviewed visionaries before, this vision of Sin City (as it was called then and now) evolving, into a Paris, or Rome, or Florence of the Western US was unexpected, and beyond surprising. Shocking, really. It went against, seemingly, the DNA of what the city was built for, but then…
Fast-forward to 2023, a mere fourteen years later -- City Center is complete, many high-end resorts have been built, and within them, in addition to some casinos, are substantial art galleries -- the Gallery at Aria, and the Bellagio Gallery of Fine Art are just two examples. Then there is the the Smith Center For The Performing Arts has been built with exceptional Art Deco interiors. Many exterior and interior hotel spaces also contain dazzling works of art -- Maya Lin, Damien Hurst, Claes Oldenburg, Henry Moore, Jenny Holzer, Dale Chihuly. and many more.
The fine art seemed one important dimension of the Mr. Murren's vision, but arguably, the origins of the vision -- began with a book, published in 1972, which has been read and discussed since then, by architects and city planners -- as it was written by well-respected Yale architects. Called Learning From Las Vegas, it was written by three architects, Robert Venturi, Denise Scott-Brown, and Steven Izenour, It reads more like an academic exegesis, with multiple footnotes, source material, visual examples, and bibliography. And yet -- the ideas discussed are still alive, and fierce. The thoughts put forth had a similar visionary clout of Mr. Murren's -- but the Venturi book dealt with Las Vegas architecture. Mr. Venturi, Ms. Scott-Brown, and Mr. Izenour contextually bifurcated the architectural designs on and off the late 1960's strip into two dimensions: the duck and the shed.
After studying the architecture found in and around the Strip, the authors developed the idea that buildings are either "ducks." Those representing their function through unique shape and design, or "sheds." Buildings that required signage to differentiate one from another. The sheds are further differentiated if they are decorated, often by neon or other forms of unique signage.
Signage is a distinct cultural tributary --- as many assume that Las Vegas culture can be symbolized by the neon sign, and the light that glows from within the signage.
So it is not a distant cognitive leap to know of the popular ten-year-old Neon Museum located inside the historic La Concha Motel lobby. This distinctive shell-shaped building (a "duck") was designed by architect Paul Revere Williams. The curvilinear La Concha Motel lobby is a striking example of Mid-Century modern design characterized by Atomic- and Space Age shapes and motifs.
It is an unusual building, and yearly, is home base to a popular event called, Duck Duck Shed.
This event builds a new narrative, based in part on Learning From Las Vegas, shows that the diverse ideas of Duck and Shed can be interlocked, as both architectures of duck and shed are separate, yet can blend by using Neon lights from Las Vegas signage, shedding greater light on the particular Las Vegas culture experience design.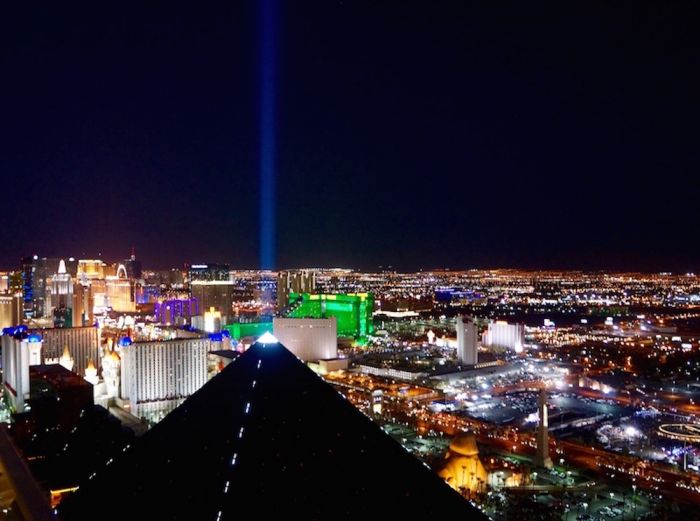 Susan Kime - Las Vegas skyline
Highlighting the best of Las Vegas' design, architecture and culture, Duck Duck Shed's 2023 experiential lineup includes:
•First Look at Sphere's Immersive New Show, "Postcard from Earth": Be amongst the first to experience "Postcard from Earth," the multi-sensory film created, produced, and directed by Oscar-winner Darren Aronofsky at the Sphere on The Strip.
•The Evolution of Light in Las Vegas Casinos with the City's Iconic Architects & Designers: How Las Vegas evolved from "no natural light, no clocks and no birds" in the 1960s to a destination punctuated with conservatories and spectacular glass walls, engulfing the resorts with daylight, and how light affects the visitor's experience.
•Cirque du Soleil's "O" Celebrates 25 years in Las Vegas: A behind-the-scenes, on-stage experience with Cirque du Soleil's 'O,' which will celebrate 25 years in Las Vegas this fall.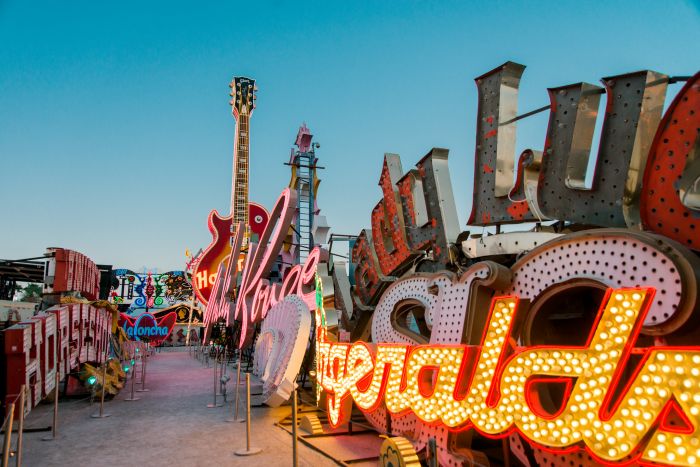 The Neon Museum
•Dinner with "Mouthpiece of the Mob" Oscar Goodman: Former Las Vegas Mayor Oscar Goodman was also a mob defense attorney for some of the biggest names in organized crime including Anthony "Tony the Ant" Spilotro, Frank "Lefty" Rosenthal, Jimmy Chagra, Natale Richichi, Nicky Scarfo, Vinny Ferrara, and many others. Goodman will host a three-course dinner, specialty cocktail and wine pairing prepared by Chef Ben Jenkins as he tells the story of encountering his first-ever mob client.
•Las Vegas' Impact on Urban Design with Christopher Hawthorne: A discussion with famed architectural critic and former Chief Design Officer for Los Angeles, Christopher Hawthorne, who will share insights into the renowned book "Learning From Las Vegas" and discuss its relevance on urban design today.
•Evolving Entertainment - How Vegas Designs Experiences: Las Vegas has long been at the forefront of entertainment innovation with developers competing to push the limits of experience design from our famous fountains and the world's largest signs to elaborate swimming pools and immersive theatrical productions. Join renowned scholar and author Stefan Al to see the most creative and innovative examples of Las Vegas' experience designs and how architects, designers, engineers, and marketers joined forces to redefine entertainment boundaries.
•Lore of Downtown Vegas Walking Tour: A walking tour of Fremont Street with local historian Richard Hooker that explores casinos, neon signs, obscure objects and curious artifacts that have contributed to the past 100-plus years of Las Vegas' history.
•Explore Vegas' Design Heritage with an Architect's Tour of the Neon Boneyard: Led by Jaclyn Roth of Assemblage Studios, this walking tour will guide visitors through the Neon Boneyard, providing architecturally specific insights into the properties of yesterday and today and the architects and designers who created them.
There are even more experience design components than these. The thought leaders coming together at the Duck Duck Shed Event further illuminate thoughts brought together by Venturi in 1972 and Murren in 2009. still alive and evolving.
Great ideas revolve, evolve, and hybridize because they do not finish and are not static, nor does the identity of Las Vegas. Rather, it moves, past into present, present into future.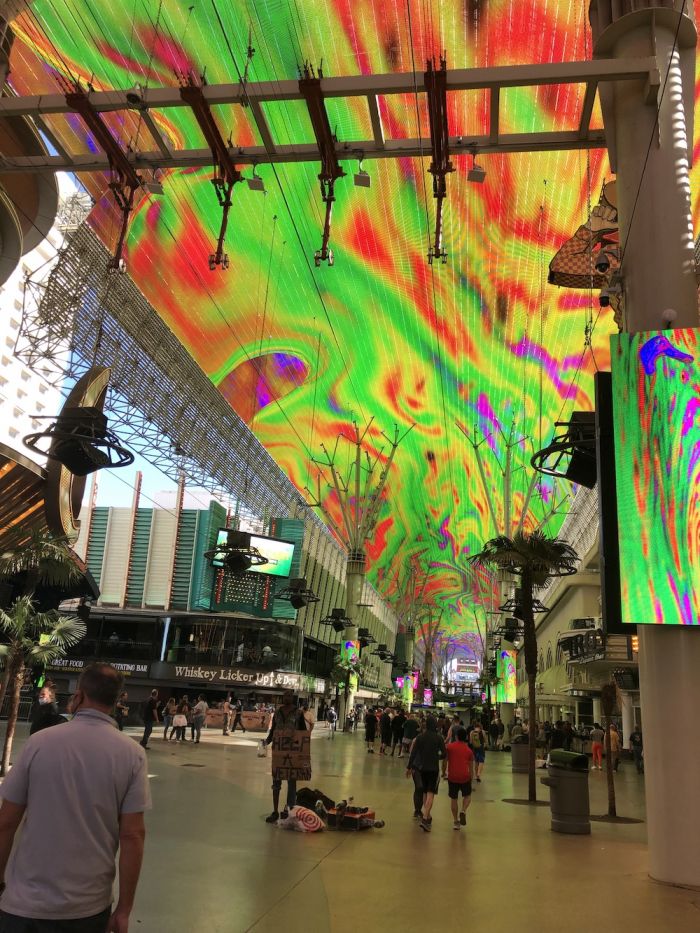 Susan Kime
From The Fremont Street Expoerience, painted moving digial ceiling.

Susan Kime
Susan Kime's career combines publishing, journalism and editing. She was the Destination Club/Fractional Update Editor for Elite Traveler, and senior club news correspondent for The Robb Report's Vacation Homes. Her work has been published in Stratos, Luxury Living, European CEO, The London Telegraph, Caviar Affair, ARDA Developments, and Luxist/AOL. She was the Editor-in-Chief of Travel Conno...(Read More)