By Sean Hillen Jul. 19th, 2016
Photo & Video Credit: The Milestone
Stepping into London's Milestone Hotel is like going back in time to a bygone era in England. Its molded ceilings, lattice windows and polished walnut wainscoting act as reminders that this property is more than 300 years old. The five-floor luxury hotel first opened in the '20s and was named after the old cast-iron milestone standing outside which consists of three elegant Victorian townhouses.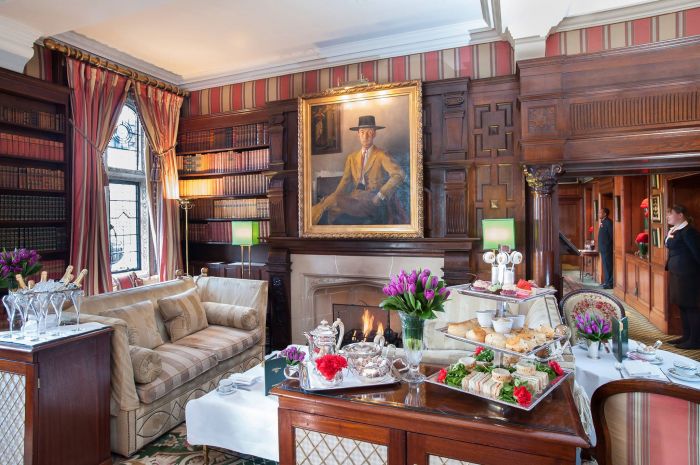 Photo Credit: The Milestone
Overlooking Kensington Gardens and a short walk from the Royal Albert Hall, the property features delightful nooks and narrow hallways all emblazoned with vases of bright carnations, including the elevator and bathrooms. The flower displays indicate that the hotel is a member of the family-owned Red Carnation Collection (RCH) established by Stanley and Bea Tollman. The pair first opened properties in South Africa in the mid-1950s and has since added 17 more hotels to their portfolio places such as Guernsey, Dorset, Ireland, Geneva, Florida, London and South Africa.
Located on Kensington Road, the Milestone comprises 44 deluxe guestrooms, 12 luxury suites and six long-stay apartments. The overall decoration is elaborate, with flowing fabrics, cushions, thick, patterned carpets and framed pictures on patterned walls.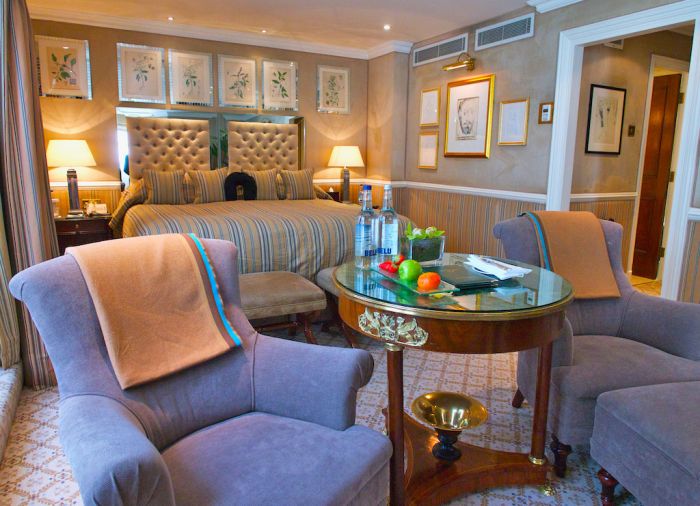 Photo Credit: Columbia Hillen
We stayed in a deluxe studio with twin veranda doors leading out on to a small terrace bordered by a hedge. Surrounding houses blocked out traffic noise from the busy Kensington High Street, offering a relaxing atmosphere. Its walls were bountifully decorated with 20 or more framed prints. Padded wallpaper, comfy upholstery that included a cozy armchair and matching footstool, large-screen television, a corner palm plant, a magazine rack, work desk and a coffee table combined to create a stylish, old-world ambiance. A small box filled with office supplies including tape, scissors, a stapler, elastic bands, colored markers, a rubber, pencil sharpener and a ruler were left for our convenience.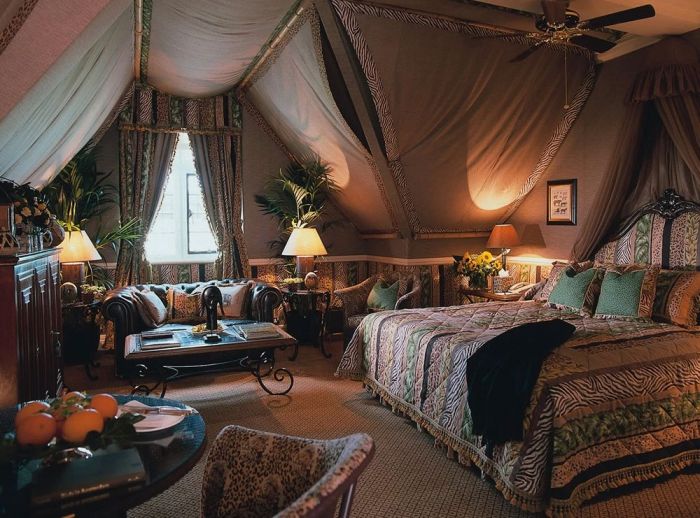 Photo Credit: The Milestone
Among the other accommodations are themed suites such as Safari, where a canvas canopy adorns the ceiling with a large bed draped in curtains of natural earthy tones below and Venetian, which boasts an array of Venetian artwork depicting traditional cityscapes such as the famous Grand Canal, decorative handheld fans and upholstered seats in velvet.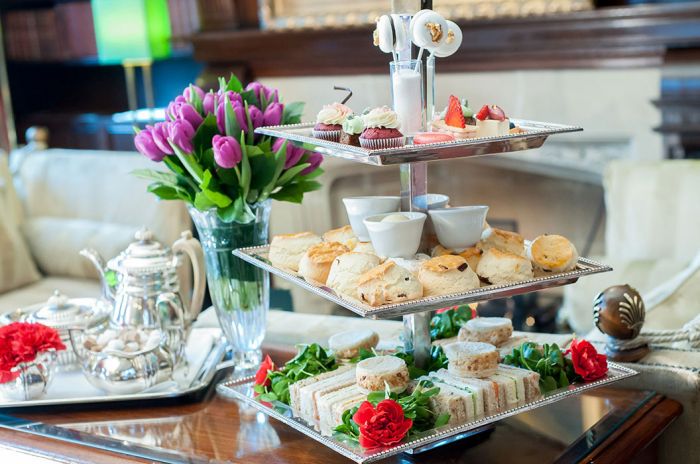 Photo Credit: The Milestone
Guest can enjoy fine dining at the Cheneston's restaurant, while a light menu can be experienced in the split-level Stables Bar. The eatery incorporates dishes from the owner's cookbook Bea Tollman – A Life in Food such as chicken pot pie, and the chef's Scandinavian dishes. Try the traditional afternoon tea in the charming, book-lined Conservatory with an open fireplace.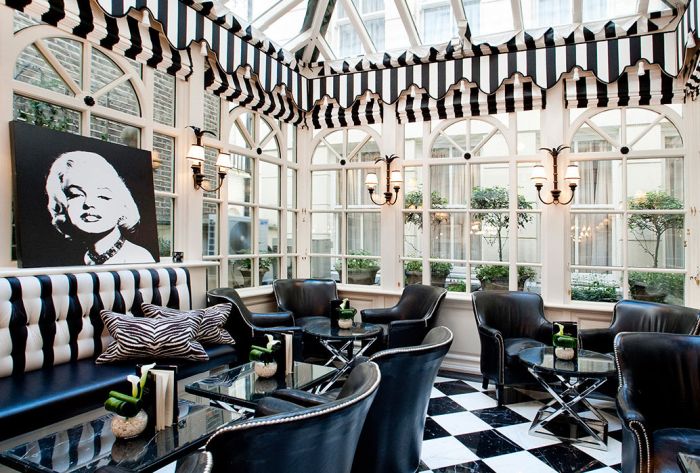 Photo Credit: The Milestone
The Milestone also offers sauna and heated resistance pool facilities, 24-hour butler service and complimentary Wi-Fi. An exhaustive Guest Preference Form is also sent prior to your arrival with questions ranging from choice of pillow to which welcome drink you'd prefer. A charming hotel custom, each night guests will receive an assortment of bedtime gifts such as a miniature reading lamp and small-sized books. We were treated to welcome cupcakes engraved with our names. It's the small, personal details that make The Milestone so memorable in a city where it's easy to get lost in the crowd of locals and tourists.
Sean Hillen
Sean Hillen has been an international journalist and editor for over 30 years and published author. His contemporary novel, 'Pretty Ugly' is an intriguing ride through the murky undercurrent of the lucrative cosmetic industry http://www.seanhillenauthor.com/  Sean's writing experience spans several continents - in Ireland, for the national daily The Irish Times and in England, as foreig...(Read More)