By Carin von Berg Dec. 11th, 2018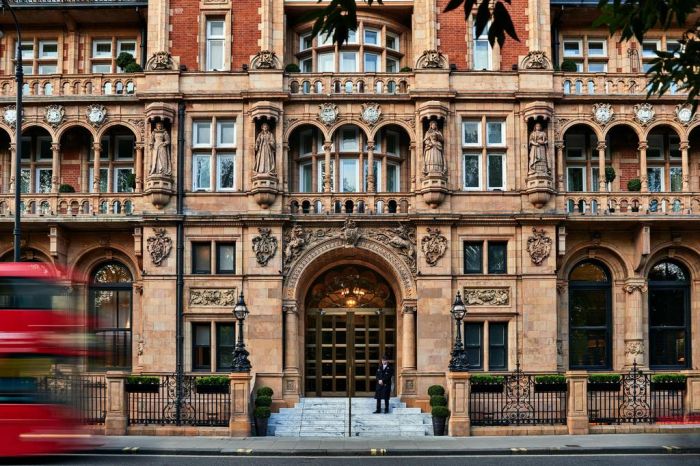 Will Pyrce
Kimpton Hotels and Restaurants recently debuted the Kimpton Fitzroy London, its first property in the United Kingdom. The property kicks off Kimpton's expansion into the United Kingdom, with openings lined up for Edinburgh, Glasgow and Manchester. The luxury hotel is located in a historic building from 1898 that sits directly across from scenic Russell Square in London's upbeat Bloomsbury neighborhood.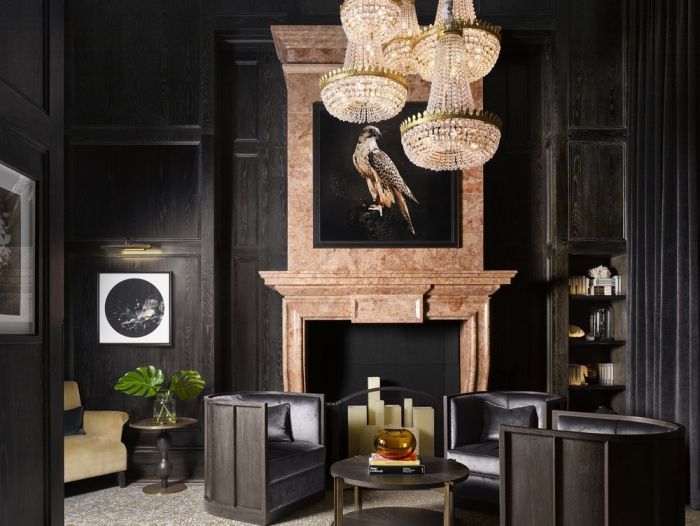 Will Pyrce
The stunning property encompasses an entire city block and features 334 guest rooms and suites, three restaurants and a glamorous bar. The Kimpton Fitzroy is a stone's throw away from Russell Square tube station and perfectly situated near the British Museum, several prestigious universities, the West End, and the upscale neighborhoods of Mayfair, Marylebone, and Covent Garden. According to Paul Walters, general manager, "This hotel will bring a new luxury approach to the United Kingdom — a more inclusive style of luxury as opposed to museum-like spaces so guests don't need to keep their voices down in the lobby or wear a suit jacket to dinner. A defining trait for the Kimpton brand is the focus on heartfelt human connections. We want guests to enjoy the glamour of a historic iconic building but still feel free to be themselves. It's an approach we're excited to bring to London, as we know it's what guests in this city are craving,"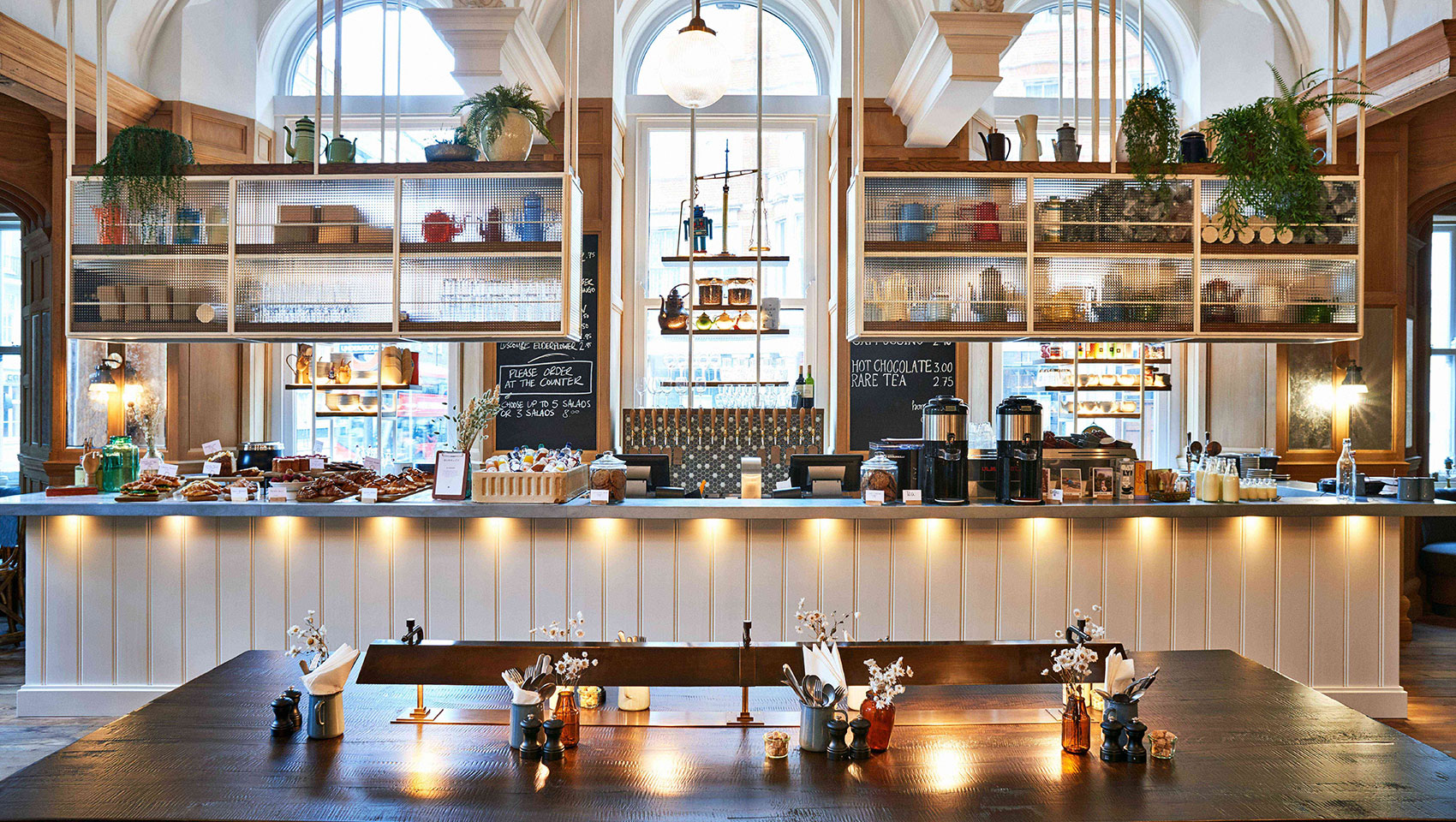 Will Pyrce- Burr & Co.
Upon entering the majestic, luxury hotel, you will be bowled over by the attentive service and mesmerized by the grand marble and plush furnishings of its interior. Should you arrive prior to your scheduled check-in or if you simply enjoy elegant, communal spaces, there are several superbly appointed sitting areas that offer comfort and luxury. Head over to the warm and inviting Burr & Co. to grab breakfast, a midday snack, a glass of wine or a first-rate cappuccino while you peruse the local newspaper or decide the details of your stay in London. Popular with local students and businessmen alike, the trendy coffee shop is buzzing with energy and positivity enhanced by the personable waitstaff.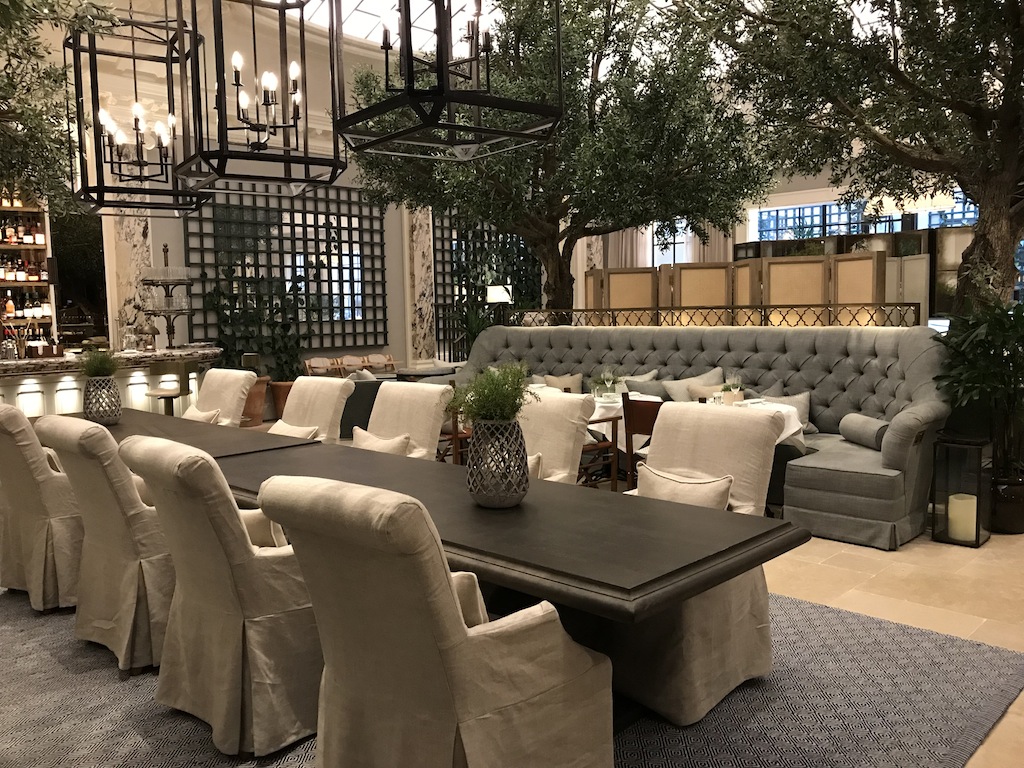 Carin von Berg-Palm Court
Fancy Afternoon Tea? Look no further than the impressive Palm Court to experience a one-of-a-kind tea service that is set amidst lush greenery in an interior courtyard that is flooded with natural light thanks to the soaring glass ceiling. Sink into plush, banquet seating as you study the inventive menu that is inspired by the four quadrants in Humphry Repton's designs for Russell Square gardens, utilizing international flavors and ingredients. Tea service is served in 3 parts: Savory, Scones and Sweet. To begin, there is the warm and heavenly Potato, Truffle, and Quail Egg with Melba toast. This course is followed by finger friendly Smoked Trout with fennel and apple beetroot bread, Carrot and star anise with wood sorrel white bread, Tandoori Chicken on raita caraway bread and Goat's Curd with fig mustard on onion bread. Next, you have a selection of scones that are Traditional, Chamomile Tea, Chocolate Pearls and Candied Lemon and Orange. The scones are served with Rodda's Cornish clotted cream, seasonal jam and fruit curd. Finally, you have a choice of four desserts that include unique flavors of Grapefruit and Blood Orange, Chocolate and Sichuan Popcorn, Rose and Chestnut, and Hazelnut and Mandarin.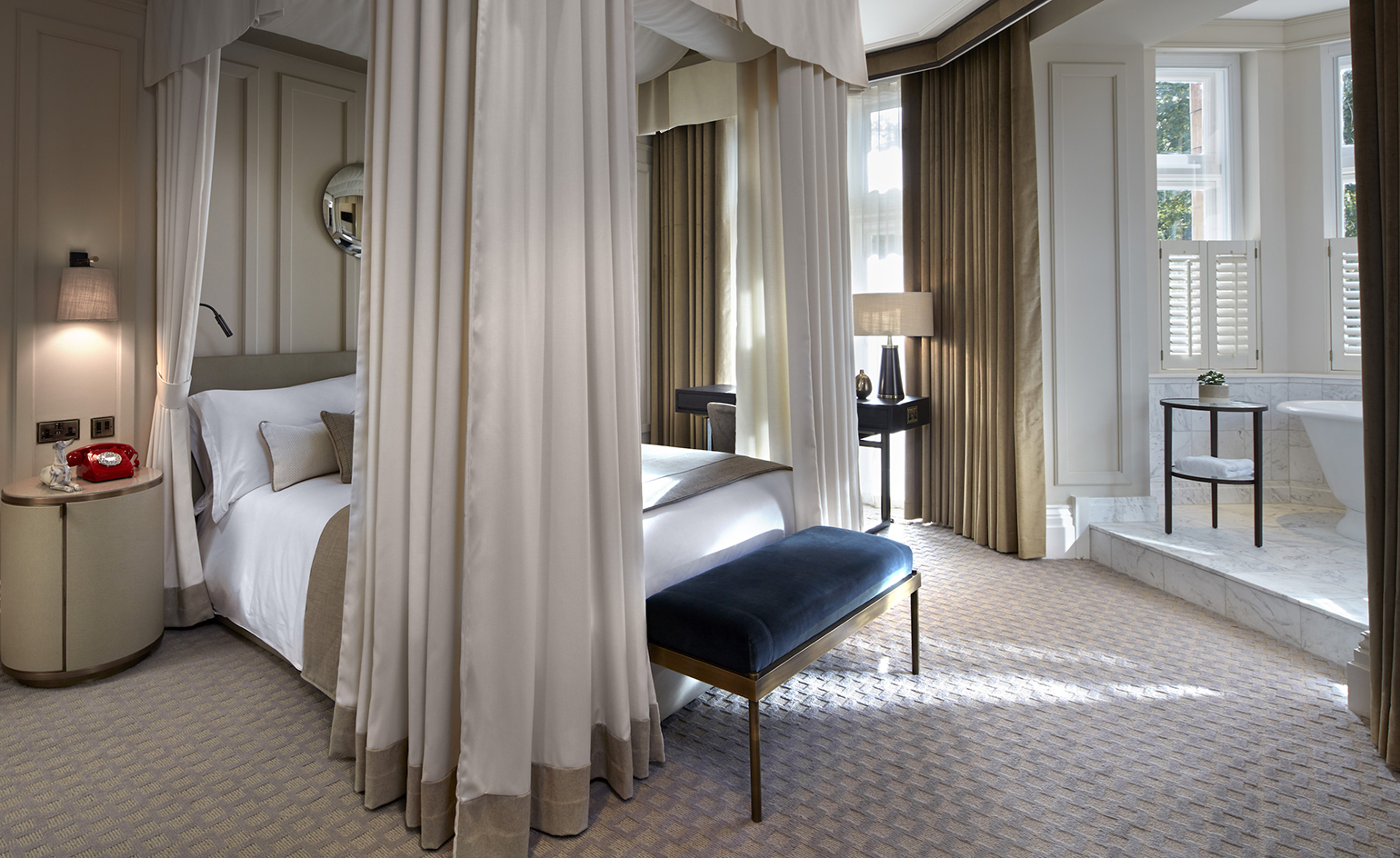 Will Pyrce- Junior Suite
Each of the Kimpton Fitzroy's elegantly appointed rooms and suites is decorated with contemporary artwork and custom beds that have 300-thread-count-linens. The Urban Double has a practical work-desk and accent lighting while the slightly larger Superior Double possesses a writing desk and a sitting area. The sophisticated suites overlook Russell Square and have cozy fireplaces, two flat-screen televisions, luxurious marble bathrooms that include an all-marble walk-in shower and a freestanding tub (in select suites). The Junior Suites include an open sitting area while the One Bedroom and Corner Suites have a self-contained living room. If you would like to throw an intimate dinner party for your friends and family the Repton Suite includes a chic dining room in addition to a separate living area.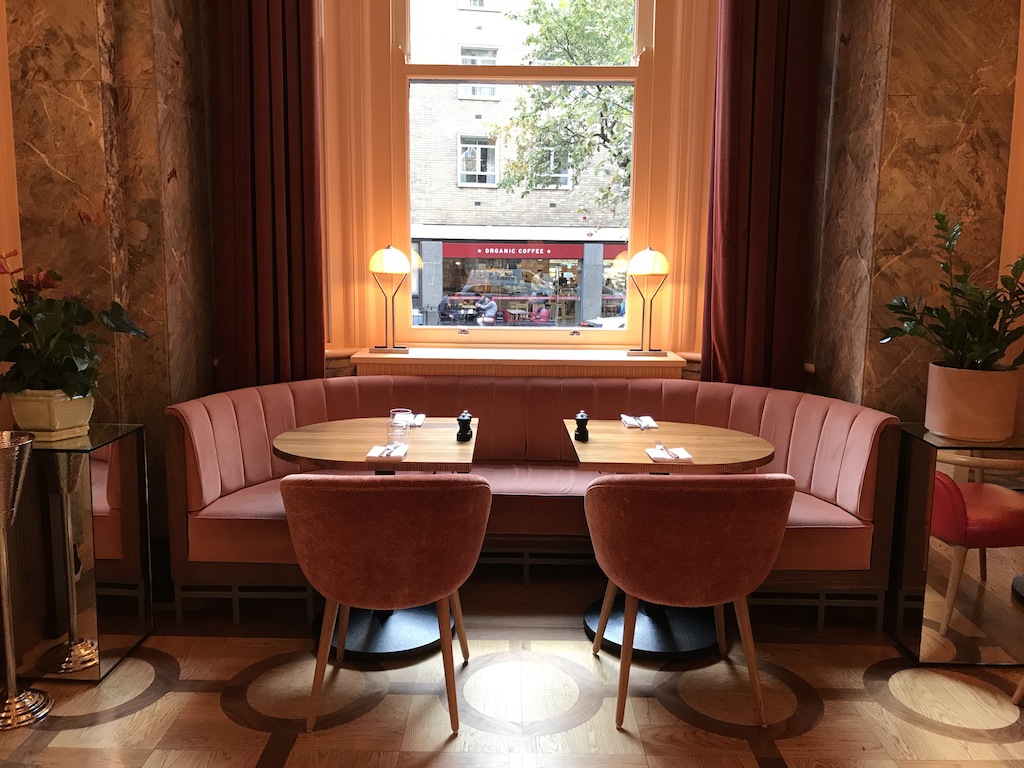 Carin von Berg-Neptune
Neptune restaurant provides breakfast, lunch and dinner in a relaxed, yet stylish setting with a selection of modern seafood dishes created by duo Brett Redman and Margaret Crow. To start, order the Seafood Platter that is a seafood lover's dream and includes Oysters, Langoustines, Scallop Crudo, Fish Tartare, Smoked Mackerel rillettes, Cock Crab and Cornish mussels. If you are feeling extra lavish, go for the Deluxe Seafood Platter that includes all of the above with the addition of 10 grams of Caviar and half a Lobster. One of the not to miss starters is the unbelievably flavorful Burratta with beetroot, figs and lovage. Mains include Beef Cheek with wholegrain polenta, Spaghetti with clams, Sirloin with dipping onions and Lobster with sea herbs.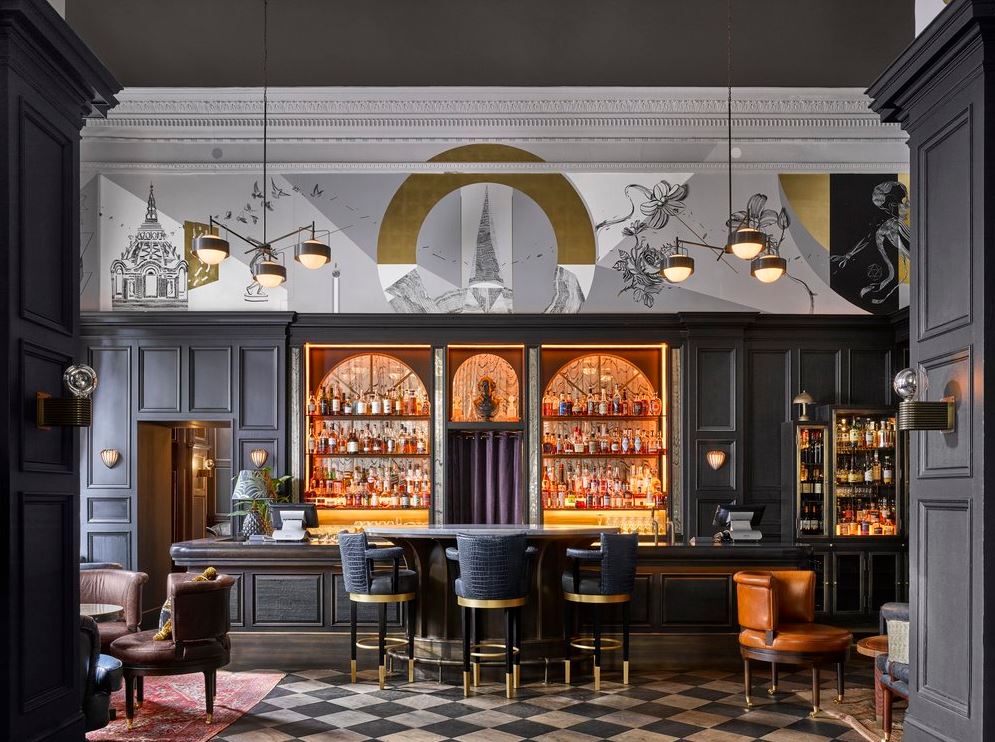 Photo Credit: Will Pyrce
After enjoying a sumptuous and relaxing dinner at Neptune, head over to Fitz's bar where you will immediately feel that you have been transported via time capsule to the Gatsby era, also known as the Roaring '20s and the Jazz Age. Somehow, Fitz's manages to exude accessibility and exclusivity at the same time. Think rich dark wood, glam gilded furnishings, seductive lighting and luxurious velvet combined with original stained glass and works from Milan-based artist 2501. Named after Charles Fitzroy Doll, the architect of the Kimpton Fitzroy London, Fitz's cocktail menu pays homage to the free spirits of Bloomsbury's past and present with drinks such as the uber-elegant Spy Princess named for British SOE officer Noor Inayat Khan of World World II fame or the Zola In Exile named after French/Italian novelist Emile Zola. The Spy Princess combines Holy Grass Vodka, Edinburgh Rhubarb and ginger liqueur, Amaro Montenegro, apple, lemon, egg white and champagne for a memorable cocktail. The more robust Zola In Exile has Laubade Armagnac Blanche, Quaglia Chamomile Suze, Merlet Apricot Brandy, lavender, lemon, and Pink Peppercorn Tonic.
Carin von Berg
Carin von Berg lives in Los Angeles and writes about food and wine, luxury travel, beauty, fashion and luxury products. She is the editor-in-chief of Luxlife Magazine and the author of the novel Gucci Girl. In her spare time, she works as a lifestyle model when she isn't traveling to some exotic, luxury destination or dining in the latest hot-spot. ...(Read More)