By Elisabeth Rushton Nov. 12th, 2019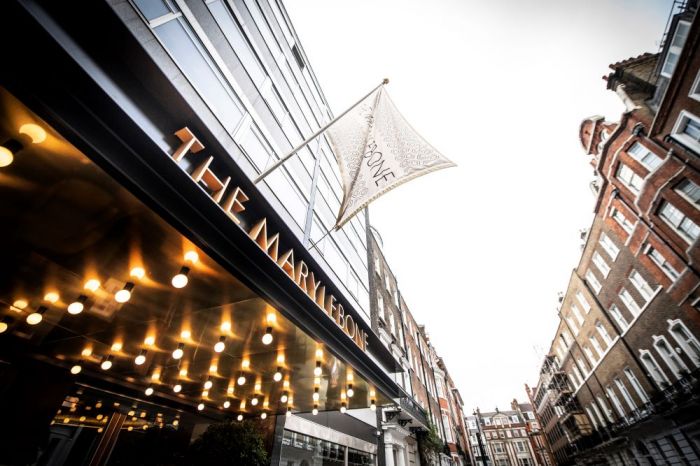 The Marylebone Hotel
Bordered by Euston Road to the north and Oxford Street to the south, Marylebone Village occupies a unique position within central London. It is a true urban village in which culture and business collide and thrive. It is also a surprisingly residential area, exuding a warm community feel that is somewhat lacking in, say, Soho or Fitzrovia. Despite being just minutes from the commotion on Oxford Street, Marylebone Village sits within an oasis of relative tranquillity. It is an attractive and welcoming milieu in which there is a blend of small independent shops (such as Papouelli and VV Rouleaux) and larger, more established brands (Lululemon and Anthropologie, for example).
Although I have lived in London all my life, I have spent relatively little time exploring Marylebone – something that I wanted to remedy. When my mother-in-law offered to babysit my two-year-old so that my husband and I could have a night out (the first since our younger daughter was born six months ago!), we decided that a night in a Marylebone hotel would be ideal; close enough to home without wasting an inordinate amount of time travelling, but far enough to feel as though we had experienced a proper break.
We chose to stay at The Marylebone Hotel, which is superbly located in the heart of Marylebone Village on the intersection of Welbeck Street and part-pedestrianised Marylebone Lane. The neighbourhood's vibrant, bijou atmosphere is mirrored in this chic, stylish hotel that shares its name. The Marylebone is part of the Irish-owned and brilliantly run Doyle Hotels coterie, and combines smartness and modernity with pizzazz. Bernadette Gallagher, Chairman of the board of directors of the eight-strong Doyle Collection, has an impeccable sense of style, and has played a huge role in the internal décor of The Marylebone. There is a symbiotic relationship between style and modernity, which pervades the hotel – for instance a bright and efficiently managed lobby is juxtaposed with the grand entrance and bowler-hat clad doorman. There is a certain club-like feel to the place – certainly there is no suggestion of soullessness that so often can blight impersonal central London hotels. Toby, the charismatic Guest Relations Manager, explains that the hotel makes use of local designers for the furnishings, with muted décor offset by occasional bold colouring, and creative use of art deco mirroring to lend a sense of expansiveness. In addition, the lobby, restaurant and reception rooms areas showcase an imaginative array of thoughtfully curated modern art pieces.
Charm and efficiency are the watchwords at The Marylebone, which is particularly conspicuous in a place of this size. There are 250 rooms in six categories, including 44 suites all well-appointed and a decent size, and set off corridors lined with a dark suede-style fabric. In the rooms, neutral colours contrast with striking furnishings and mahogany wardrobes. Our Luxury Suite (room number 586), has an airy, uncluttered feel, reflecting the style found elsewhere in the hotel, and offers terrific views of the surrounding streets. The bathroom is Italian marble with bath and shower and Malin+Goetz products.
There are four restaurant/bar options at the Marylebone; 108 Brasserie, 108 Bar, 108 Pantry and the Cocktail Bar. The first two front onto Marylebone Lane with outside seating (and gas heaters) giving the impression of a local restaurant rather than a hotel (indeed, our friendly neighbouring diners were somewhat taken aback when we asked for our dinner bill to be added to our room!) British dishes with a sophisticated spin take centre stage at 108 Brasserie; I had scallop sashimi followed by some sensational dover sole, while my husband enjoyed some fabulous burrata followed by butternut squash risotto). We shared a post prandial nightcap in the alluring Cocktail Bar, which is divided into four sections each designed to reflect the seasons – 'summer' being on the terrace. The winter section was replete with red-leather seating, zinc-topped bar and a most engaging barman. The following morning, we enjoyed acai bowls and sweetcorn fritters at 108 Pantry, which also offers a great self-service selection alongside the array of a la carte options.
For me, one of the most appealing aspects of The Marylebone is the fact that guestshave complimentary access to the exceptional on-site Third Space health club, which counts Prince Harry and the Beckhams amongst its members, and which has a wide range of equipment with a retro gym, 18-metre swimming pool and health and beauty treatments with everything from Reiki healing and Chakra balancing to massages and facials. I opted for the Marylebone Life Elixir Mindful Treatment at the Third Space Spa – a one-hour treatment comprised of a 30-minute-deep tissue massage and a hands on facial. The treatment is wholly bespoke; my wonderful therapist Jade asked which areas that I would like her to concentrate on during my massage, and also gave me a choice of four different oils for both the massage and the facial. My husband is a keen runner, and was supplied with detailed three-mile (5 km) and six-mile (10 km) route maps by the charming concierge. Those looking for some retail therapy might be keen on a personal shopper, which can be arranged with Selfridges and there are Blue Badge Tours of the area every Friday morning.
After the delights of the Spa, we decided to explore the surrounding area.We visited the Saturday Cabbages and Frocks Market in the garden of Marylebone Parish Church and then meandered over to Moxon Street, which is renowned as a destination for food lovers with adjacent La Fromagerie and the Ginger Pig a paradise for cheese and meat lovers. We lunched at Aubaine Marylebone; a large relaxed French restaurant flanked by floor to-ceiling windows. The staff here were exceptionally friendly – of particular note was the delightful manager, Julia, who fussed over our baby and regaled us with tales from her hometown in Italy. There is a convivial, neighbourhood atmosphere, and the size of the restaurant allows for some fairly large familial gatherings. The food does not disappoint either (go for the ponzu salmon and superfood salad if they are on the menu).
We return home after our brief stay feeling wholly refreshed and buoyed up by the infectious energy and style of Marylebone Village, vowing to return for another revivifying stay very soon.
Https://www.MaryleboneVillage.com
doylecollection.com/hotels/the-marylebone-hotel
aubaine.co.uk/our-restaurants/marylebone/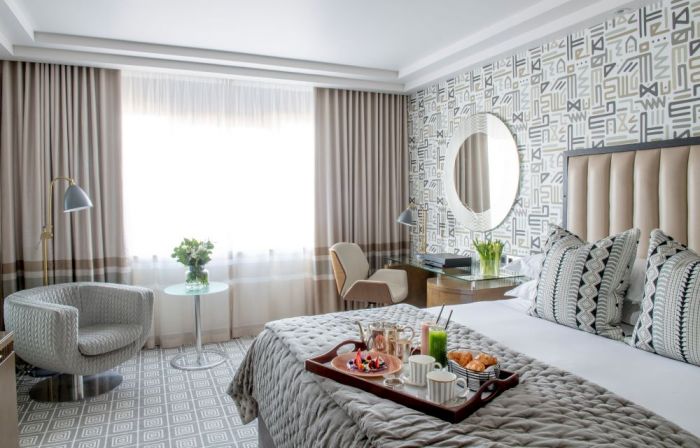 The Marylebone Hotel
A Deluxe Room at The Marylebone Hotel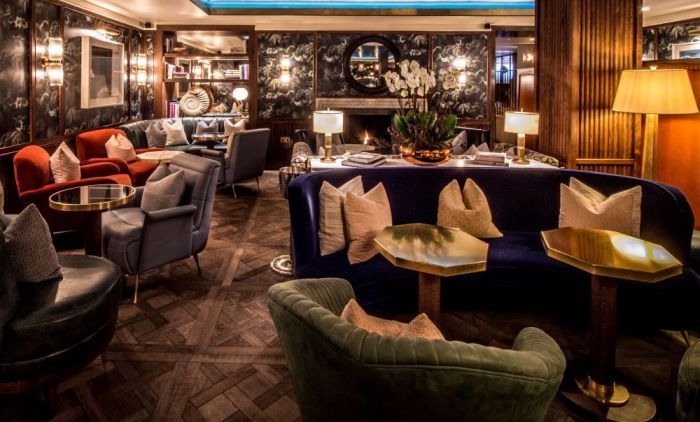 The Marylebone Hotel
The Cocktail Bar at The Marylebone Hotel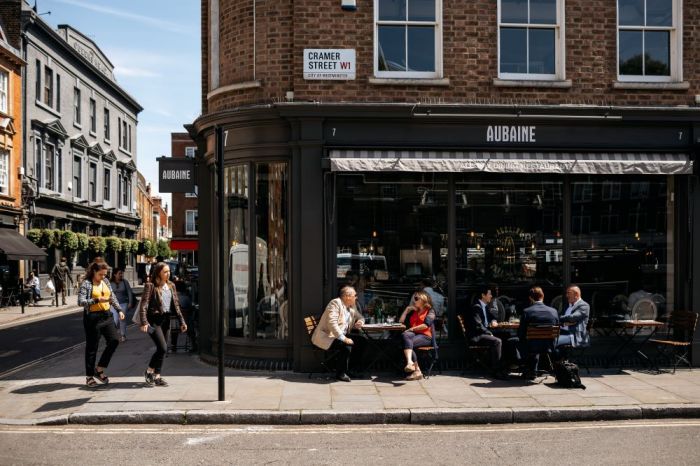 Aubaine
Aubaine Moxon Street
Elisabeth Rushton
Elisabeth has over a decade of experience as a luxury lifestyle and travel writer, and has visited over sixty countries. She has a particular interest in the Middle East, having travelled extensively around Saudi Arabia, Oman, and the UAE. A keen skier, she has visited over fifty ski resorts around the world, from La Grave to Niseko. She is currently focused on writing about luxury products fo...(Read More)