By Anya Cooklin-Lofting Dec. 20th, 2020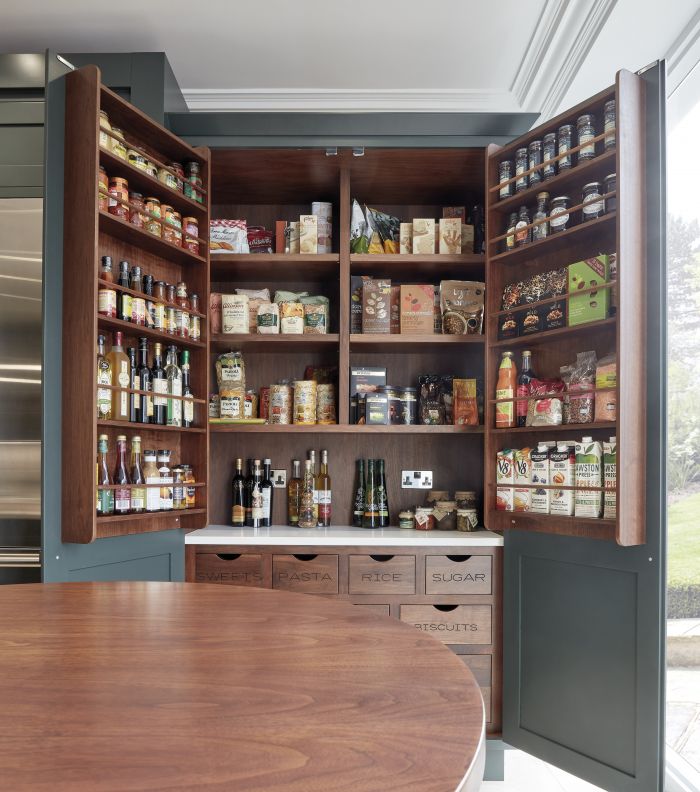 Kavanagh collection in Avocado, Tom Howley
For Tom Howley, the Design Director of the eponymous kitchen maker, designing a kitchen is a fusion of mathematics and creativity. "It's all about scale, color and balance," Howley says, adding, "the most elegant kitchens simply look right in the space." This same rule applies to pantries, which are the most sought-after kitchen elements with the company's clients right now. "As the silent star of any kitchen design it's important to design what looks right in the space, but also something that serves its function," he says, describing perfectly the comforting role and value of the pantry in such an uncertain year.
"Effective storage is of course the primary function of the pantry," Howley says. This comes down to not only the internal working of the cabinet but also where to incorporate it into a kitchen design. "Where possible it's always useful to keep the pantry adjacent to your fridge, meaning that your food storage is all zoned in one area and it also looks neat." With a bespoke kitchen designer like Tom Howley, customers can benefit from a completely tailored pantry storage solution.
Pantries can also serve a dual purpose as a way of concealing appliances. "With a greater shift towards keeping work surfaces clear of clutter, to give a more minimalist feel and allow for more prep space, the pantry serves as an excellent solution for hiding unsightly toasters or coffee machines," says Howley. According to Howley and his team of regional designers, bi-fold countertop cabinets will also have the same effect. They are perfect for creating a fully functioning breakfast bar, whilst still being able to use the rest of the cabinet for food storage. "Keeping this away from your main oven and sinks helps to zone the space. Being able to close the bi-fold doors when the appliances aren't being used keeps the kitchen space looking sleek," he adds.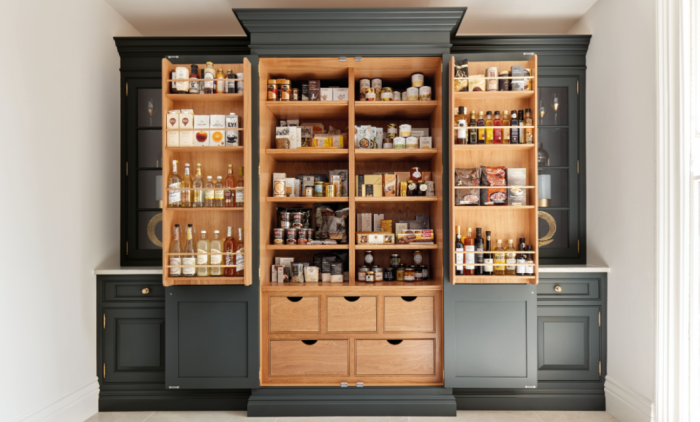 The Devine Collection in Inky Sky, Tom Howley
From a design perspective, pantries act as a platform for creativity with color and scale. "Our clients are always looking for new ways to add another dimension to their kitchens, and pantries provide a very effective way of creating a design statement," says Howley. "The key here is to choose one area as the focal point so the space looks cohesive. If you are limited on wall space, which can be relatively common with open plan extensions, using a large pantry draws the eye to the back of the room without making the space feel cluttered or losing out on any storage space. For an even greater design statement paint the pantry and any other full height cabinetry in a contrasting color."
Pantries are inescapably personal elements of any kitchen. Howley tells me that the most memorable part of the most fabulous kitchens for him is a double pantry, laden with interesting bottles of infused oils, rustling packets of the finest truffles, artisanal jarred vegetables and special seasonings. "The act of opening a double pantry is truly a moment of awe and gives the process of cooking and entertaining a real sense of occasion," he says. From a decorative perspective, Howley suggests choosing finishes for the external and internal cabinetry that work together to create a contrast, whether subtle or striking. If your cabinetry is deep green or black a la moment, choose a smoky wood finish for the internal shelving for a stylish edge.
Anya Cooklin
Anya is a freelance writer across lifestyle, design and the arts. ...(Read More)