By Anya Cooklin-Lofting Jan. 30th, 2022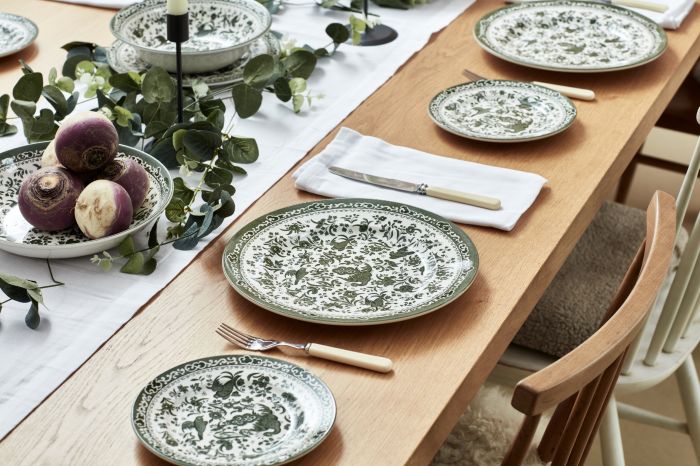 Green Regal Peacock Dinner Plate, £22, Green Regal Peacock Side Plate, £18, Burleigh, www.burleigh.co.uk
A visit to Middleport Pottery is transporting in the most fundamental sense of the word. Its patchwork of late 19th-century redbrick buildings, stitched together with uneven staircases and narrow corridors, feels like a preserved relic of a more simple time. It is the home of Burleigh, the world-renowned ceramics company that creates traditionally British pottery in the floral tradition. Within its hodge-podge of walls and slanting floors are the stewards and guardians of Burleigh's rich, 171-year history.
Burleigh's manufacturing methods have been largely unchanged since it commenced trading in 1851 and it is the last pottery of its kind for more reasons than one. Above all, Burleigh is the last pottery in the world to practice the rare decorating method of tissue transfer printing, a skill that takes apprentices up to a decade to master and forms part of a wider decorating process steeped in history. One of the many Burleigh designs is etched into a copper roller, some of which are archive patterns that have stayed in circulation since the dawn of the pottery. The roller is then used to print the pattern onto fine tissue paper, which is then laid on the biscuit ware before glazing.
"Underglaze tissue Transfer printing is way ahead of its time," says Jemma Baskeyfield, Burleigh's Company Historian and Retail Manager. "It was a technique perfected in the mid-1700s, yet it results in something that can well withstand the rigors of modern living. Dishwasher and microwave safe, transfer printed ware has the pattern under the glaze, so the pattern will never fade."
"The other advantage is the unique quality," she continues. "Every item is different, the patterns are printed in-house each day from engravings, this is then applied to the unglazed pottery by skilled transferors who take a 7-year journey to perfect the technique. All of this hands-on work means no two items are the same, and there is no such thing as a perfect piece of Burleigh. This is a human process and you come to Burleigh if you appreciate the way things are made."
Before the decorating process even begins, the pottery commences a highly physical, mesmeric process to shape the wedges of clay into recognizable, domestic form, by a select number of highly skilled artisans. Your Burleigh plate, for example, it will have been made by Andy, throwing a 'pancake' of wet clay at a plate mold revolving at speed. Its curved edge and smooth surface will have been formed by Annie.
Your Burleigh mug or teacup handle will have been stuck on and carefully positioned by Tracey. Your teapot will have been cast by Steve who will have inserted by hand into the mould a clay grid to ensure a fine flow of tea. Michela will have hand-finished the teapot spout too, making sure it pours elegantly and dribble-free.
Once fired in the kiln by Keith, the undecorated ware is brushed with pure bristle brushes by Vanessa to make sure it's clean.
After decoration the pottery is fired in the kilns again to 'harden on' the pattern, before it is sealed under a layer of glaze, adding that final luster to our ware. The glaze needs one final firing before it's ready for sale.
The final act of making Burleigh perfect goes to Wayne. He inspects every piece made in the factory by eye and hand, and his standards are high. Imperfections are marked with a red pen. Some can be saved by reworking, some go in the bin, most are sold in our factory shop as 'seconds'.
In the wake of its 170th anniversary in 2021, the heritage pottery is celebrating its long history and the promise of an even longer future with the reinterpretation of a time-honored classic: the Regal Peacock pattern in a never-before-seen green colorway.
Regal by name and regal by nature, Burleigh's elegant Regal Peacock pattern caught the eye of Queen Mary when it first launched in 1913 and it has been turning heads ever since. The striking oriental bird motif combined with the brand new green colorway brings a majestic beauty to any dinner party, Sunday lunch or breakfast spread.
Burleigh's iconic ware is stocked in Bloomingdales, Soho House, One Kings Lane, Harrods, Fortnum & Mason and Liberty, and it can be found in some of the world's most prestigious hospitality venues including The Ned, Chiltern Firehouse and Bibendum. Burleigh has also recently collaborated on a collection of pottery with Ralph Lauren. Its patterns are recognized all over the world.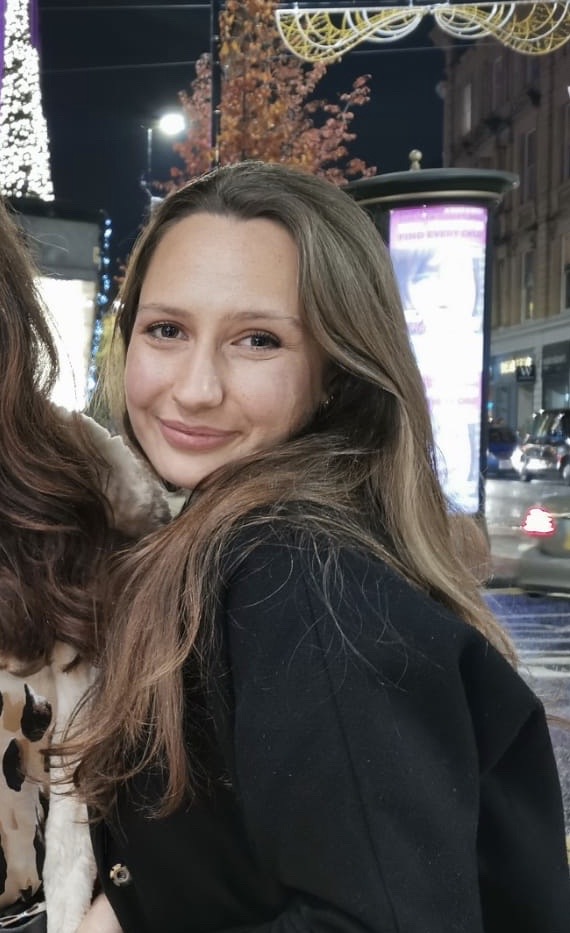 Anya Cooklin
Anya is a freelance writer across lifestyle, design and the arts. ...(Read More)