By Elisabeth Rushton Jun. 27th, 2023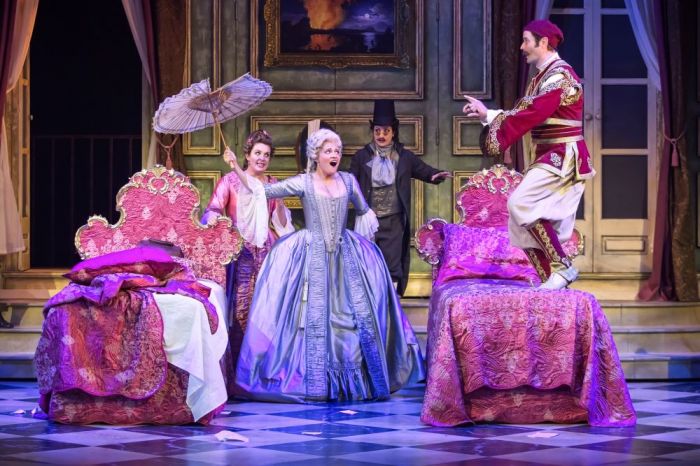 Craig Fuller
Così fan tutte is irrefutably Mozart's most contrived comedy, yet it nevertheless deals sincerely – not to mention tenderly and at times disconcertingly – with matters of the heart. At its core, it is a fable about the interchangeability and mutability of love and lovers: two young men pretend to go off to war to test their fiancées' fidelity, only to return in disguise and each (successfully) seduce the other's girl. It's a cynical ploy-cum-sex comedy.
It has also always provided scope for wide dramaturgical interpretation because Da Ponte's libretto gives very few clues about the nature of the characters, where they live, or even what happens at the end. The scenario is presented, along with some detailed relationship dynamics, which are delightfully nuanced by Mozart's music.
In his interpretation, Director Martin Lloyd-Evans is determined to steer clear of construals of the piece that are 'asphyxiated by the cultural barnacles of past assumptions.' He has taken the piece in its bleakest terms, but packaged it up in the most appealing, naturalistic design – the jarring discrepancy highlighting the inherent hypocrisy in the fidelity game at play. The façade with which we are initially presented: a scene set in period in the Bay of Naples, with posters on the wall advertising Pompeii and Herculaneum, seems so innocuous that there is little indication that something, like Vesuvius, is about to erupt.
On closer inspection, however, Dick Bird's gorgeous designs yield subtle clues about the sordid undercurrent beneath the veneer of elegance and respectability. A cupid sign hangs suggestively above the doorway, arrow poised to strike down anyone crossing the threshold. Garrulous women with heavily painted faces gaze intently at the men staggering in and out from the street through the big double doors leading to Don Alfonso's "school for lovers" – because where else could his four young friends learn more than in a brothel? Fiordiligi and Dorabella, drift around in pastel puff sleeve ball gowns and bows and swoon on lavish little sofas and bright pink-brocade beds. But underneath their sumptuous Neapolitan apartment is a whorehouse, where the girls succumb to the temptations of alcohol and eventually begin to explore their own sexuality.
Lloyd-Evans skill is in portraying the temptations to which the women are subjected in a wholly believable way, as well as making their capitulation to their new lovers understandable and authentic. At the same time, the audience is sympathetic to the mounting dismay of Guglielmo and Ferrando as their true loves turn out to be less steadfast in their fidelity than originally expected.
The production is carefully calibrated throughout: wholesome enough not to scandalise, but laced with a salaciousness that keeps things pacy and interesting, assisted in no small part by the stellar cast and the brilliant Bournemouth Symphony Orchestra, which bubbles along cheerfully under the baton of Kirill Karabits. Baritone Christian Senn is a resolute Don Alfonso, evincing a steely determination.
The emotional upheaval endured by all of Don Alfonso's victims is reflected in marvellous singing from all participants. Samantha Clarke's unflinching, dazzling soprano charts Fiordiligi's internal confusion and torment, while her sister Dorabella's more adaptable nature is deftly realised in Kitty Whately's proficient and mellifluous mezzo. A rancorous Gugliemo finds first class representation in Nicholas Lester's bold vocalism, whilst the essence of the rather more reserved Ferrando is captured in Alessandro Fisher's melodious tone. Despina, the devious, hand-wringing maid, who masquerades alternatively as a doctor and then as a notary, is played with assertiveness and aplomb by Carolina Lippa.
This is visually, as well as musically, a spectacular show, with a lavish, rotating set, and elegant costumes. Individual and ensemble performances are outstanding, portraying the rich complexity of the relationships between the various protagonists.
To book, please visit The Grange Festival.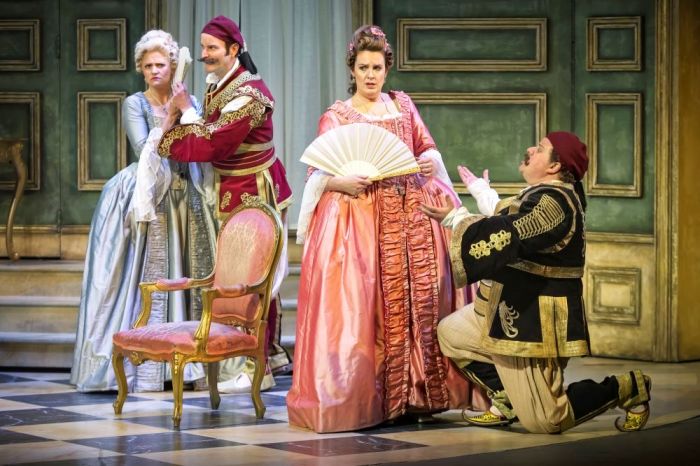 Craig Fuller
Samantha Clarke (Fiordiligi), Nicholas Lester (Gugliemo), Kitty Whatley (Dorabella), Alessandro Fisher (Ferrando).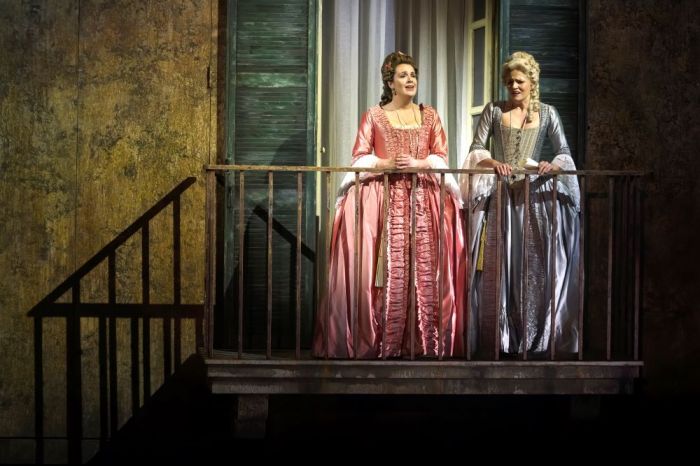 Craig Fuller
Samantha Clarke (Fiordiligi), Kitty Whately (Dorabella).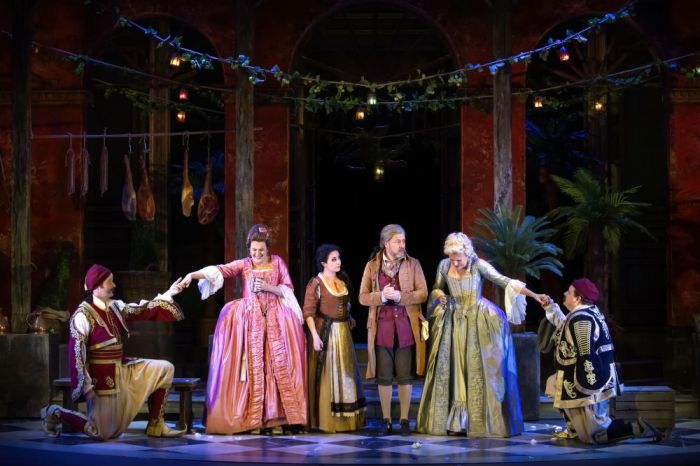 Craig Fuller
Nicholas Lester (Gugliemo), Kitty Whately (Dorabella), Carolina Lippo (Despina), Christian Senn (Don Alfonso), Samantha Clarke (Fiordiligi), Alessandro Fisher (Ferrando).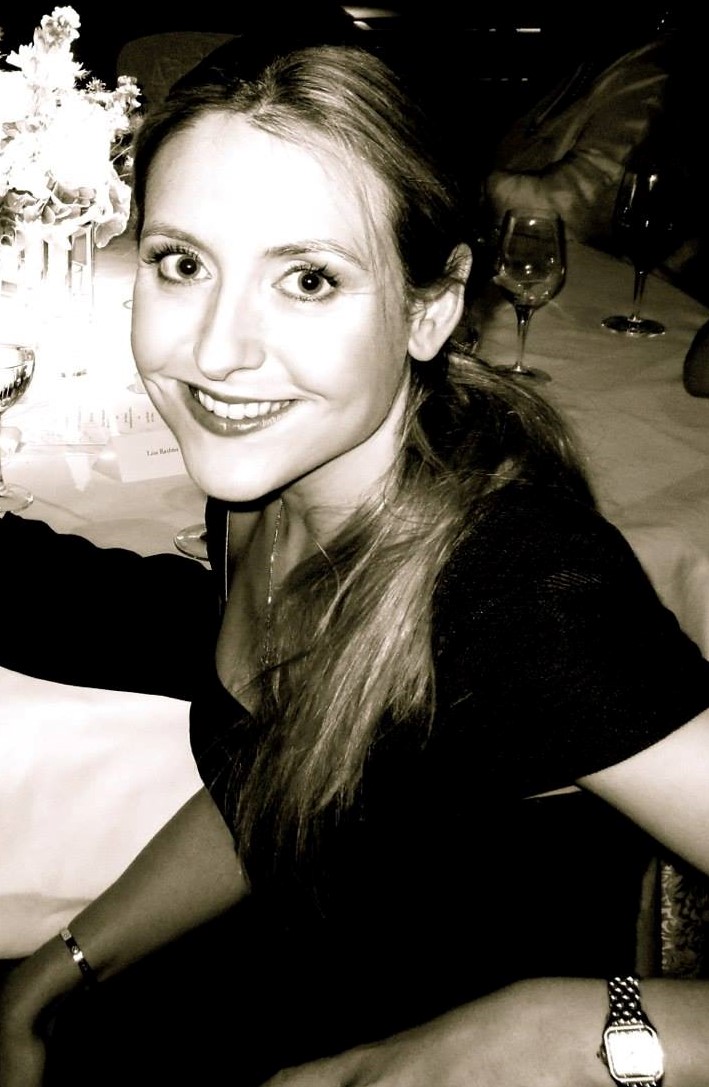 Elisabeth Rushton
Elisabeth has over a decade of experience as a luxury lifestyle and travel writer, and has visited over sixty countries. She has a particular interest in the Middle East, having travelled extensively around Saudi Arabia, Oman, and the UAE. A keen skier, she has visited over fifty ski resorts around the world, from La Grave to Niseko. She writes about experiences and products for children, thea...(Read More)