By Elisabeth Rushton Oct. 24th, 2023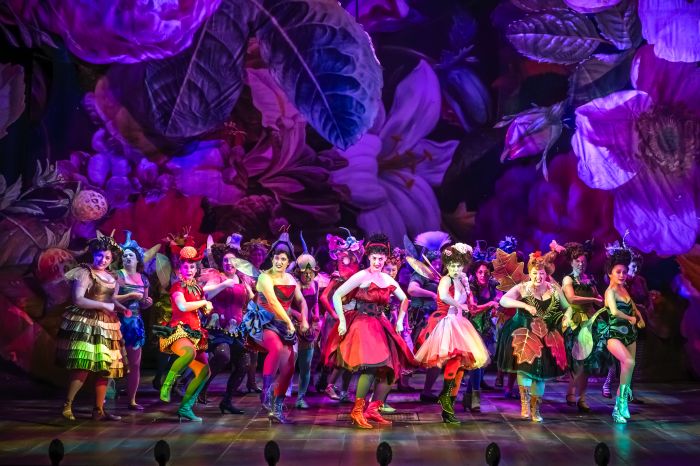 Craig Fuller
Satire may not endure endlessly, but it certainly keeps well. WS Gilbert penned his libretto for Iolanthe in 1882, skewing many foibles of the British political system, but above all the hereditary peerage; now, a mere couple of decades after the House of Lords Act finally clipped those blue-blooded wings, there are lines in it that are as pertinent today as they were then. Perhaps best not to ponder the parallels too deeply – and besides, profound thought is not really encouraged in this – the first revival of Cal McCrystal's 2018 English National Opera's production of Iolanthe. The emphasis, rather is on frivolity and straightforward silliness.
Nevertheless, Gilbert's lyrics were designed to lampoon the politicians and social mores of his age, while leaving the door open for later performances to apply up-to-date satire, and this production doesn't miss the opportunity. One peer has Boris Johnson floppy blonde mop-like hair and eye (and hands) for the ladies, one bears an uncanny resemblance to Michael Gove, and when John Savournin's Lord Chancellor reclines on the benches, he is the spitting image of Jacob Rees-Mogg. The likeness that draws the most laughs from the audience on opening night, however, is arguably the Nadine Dorries facsimile knocking forlornly on the (closed) doors of the House of Lords.
The plot follows the story of Strephon, an Arcadian shepherd, who is in love with Phyllis (and Arcadian shepherdess and ward in Chancery). Unfortunately, the Lord Chancellor and the entire House of Lords also have their eyes on pulchritudinous Phyllis.
It is shamelessly camp and sharply sardonic. There are the usual Gilbert & Sullivan themes of first love, skirmishing suitors, and impotent Englishmen, haplessly pursuing a maiden. This part of the storyline is notably played without lechery: for Cal McCrystal, it was important to observe that 'old men can be foolishly romantic' rather than debauched deviants.
The set, designed by the late Paul Brown, is eye-catchingly lavish: within a gilded proscenium, a pastoral utopia of flamboyant flowers and foliage and oil-painted Arcadian sets the scene.Visually, there is much to savor in Brown's designs, from the intricately designed costumes of the fluttering fairies to a steam train that trundles through a screen.There's a veritable menagerie of animals, including a unicorn whose horn, when pulled down, dispenses water, a flamingo, several sheep (some of which fly) and a pantomime cow. The lords' adversaries are the fairies, portrayed by Brown as a rather rambunctious motley crew in a bizarre admixture of gaudy costumes. As is noted in the spoken introduction, they don't all resemble the dainty creatures referenced in the libretto, but then that was Gilbert's point.
In vocal terms, the cast is superb – as is the orchestra – vivaciously conducted by Chris Hopkins, who gives robust support to singers who need to keep pace with the vigorous tempos demanded by Sullivan's propulsive score.Samantha Price reprises the title role with honeyed aplomb, and Marcus Farnsworth and Ellie Laugharne also reappear as Strephon and Phyllis with sparkle and panache. Ruairi Bowen and Ben McAteer judge things finely as Phyllis' two lordly suitors, and Keel Watson makes much of the guardsman's aria poking fun at the two-party system. John Savournin commands the stage as the Lord Chancellor, and even at one stage attempts a Disney-style sing-along from the audience – an audacious, but successfully accomplished feat. It is Catherine Wyn-Rogers, though – in her element, clad as a metal-plated Queen of the Fairies – who steals the show, discharging pyrotechnics from her spear, and dispensing caustic put downs to the hapless half-mortal, half-fairy Strephon – who she repeatedly misnames 'Strap-on', to uproarious mirth. Her deliciously rich voice conveys the requisite level of authority, and her sardonic disparagement of the fairies keeps them all in check.
This is a glittering production – packed with sparkling sets, shimmering performances and scathing satire which has – at times – a breathtakingly contemporary bite. The Coliseum is the perfect setting – situated a mere hop skip and a jump from the Houses of Parliament, whose occupants Iolanthe so pleasingly pillories.
English National Opera, London Coliseum, St Martin's Lane, London WC2N 4ES
To book, please visit eno.org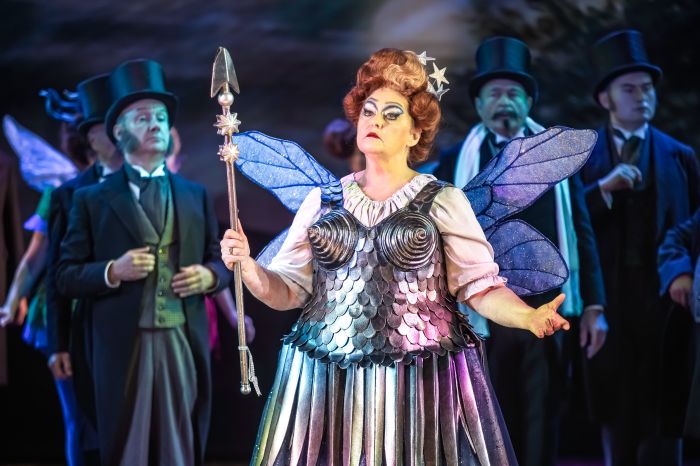 Craig Fuller
Catherine Wyn-Rogers in her element playing a majestic, armament-clad Queen of the Fairies.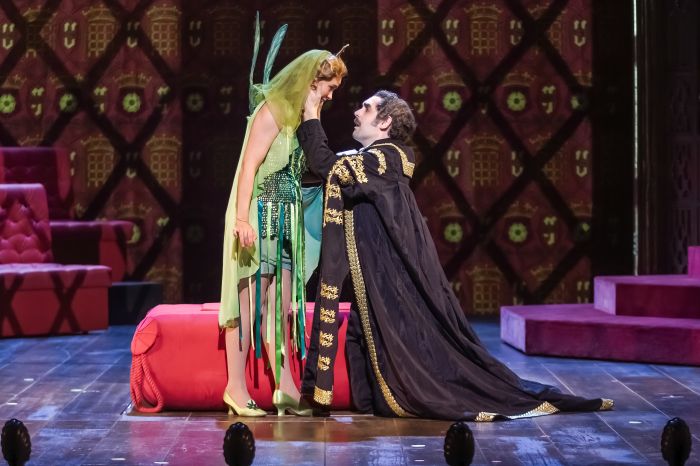 Craig Fuller
Samantha Price is a shimmering Queen of the Fairies and John Savournin as The Lord Chancellor.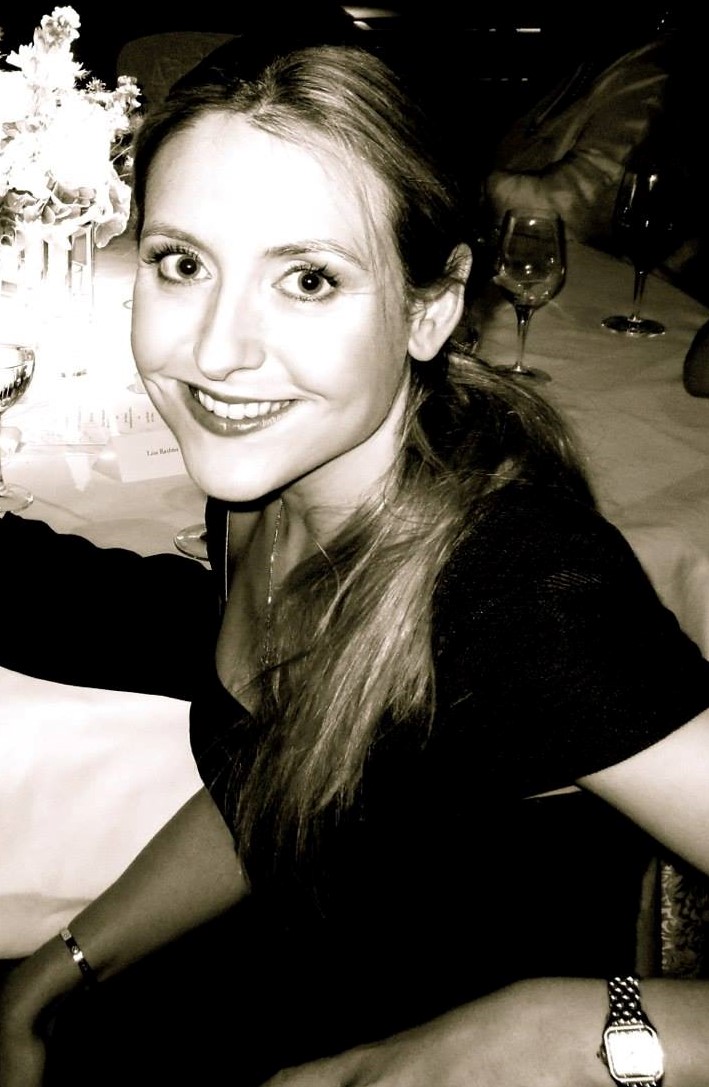 Elisabeth Rushton
Elisabeth has over a decade of experience as a luxury lifestyle and travel writer, and has visited over sixty countries. She has a particular interest in the Middle East, having travelled extensively around Saudi Arabia, Oman, and the UAE. A keen skier, she has visited over fifty ski resorts around the world, from La Grave to Niseko. She writes about experiences and products for children, thea...(Read More)