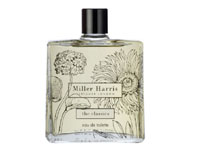 Shopping
World-famous luxury perfumer Miller Harris offers fragrances, candles, and body products in an array of wonderful scents. But what is truly unique is the bespoke experience!
A perfume designed exclusively for you is the ultimate personal luxury and the ultimate expression of Miller Harris's unique expertise in matching scent to sensibility. The process alone is fascinating. You get to spend a day with Perfumer Lyn Harris while she introduces you to the rare raw materials she uses in her creations. Over the following months, Lyn develops three distinct directions for the fragrance. The client's final chosen formula is registered with Lyn's fragrance house in Grasse, France. The bespoke fragrance, presented in a personalised engraved bottle, is the ultimate luxury in perfumery and there is no truer way than this to express one's self in scent.
Your bespoke fragrance can also be made into Miller Harris body care products and candles.