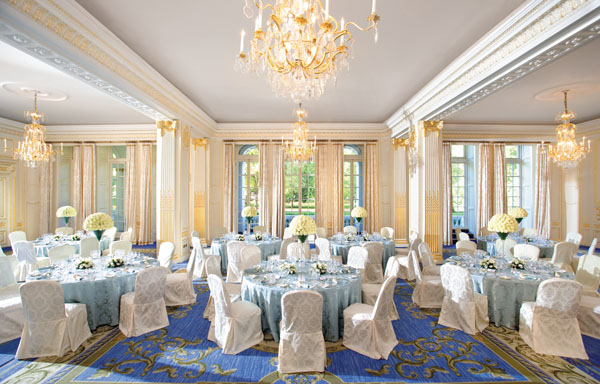 Hotels
Everything about Mandarin Oriental Hyde Park has style. With the world class shopping of Knightsbridge on it's doorstep and leafy Hyde Park at the rear, the address is one of the most prestigious in London, England. Enjoying wonderful views of the Household Cavalry as they proceed to Buckingham Palace.
Feel stress evaporate as you experience the essence of mind-body-spirit rituals, rooted in Asian custom, combined with sophisticated and varied water-based treatments. Relax in an environment that delights all of your senses. Be inspired by a team of wellness experts who can guide you towards a more enriching lifestyle. As you might expect, Mandarin Oriental Hyde Park offers a full range of facilities for the pleasure and convenience of the guests, including a Sanarium and a Vitality Pool. Their location in Knightsbridge means they're also perfectly positioned for other activities. Like shopping with Harvey Nichols and Harrods just a stone's throw away; the museums in nearby Kensington; and all the glamour of the West End theatre scene, just a short taxi ride away.
Whether you are visiting London for business or pleasure, Mandarin Oriental Hyde Park looks forward to taking care of your every need. Please take a little time to explore our site and sample the luxury that awaits you.
Accommodations
Rooms and suites are designed with quintessential English elegance and liberal luxury. We are both a favourite romantic getaway and preferred business address in London. Choose the view from your room, the fashionable streets of Knightsbridge or the swaying trees of London?s royal Hyde Park.
Dining Mandarin Oriental Hyde Park has unveiled two new fantastic dining experiences. Lyon born chef Daniel Boulud is featuring brasserie style cuisine at Bar Boulud while Heston Blumenthal, one of the UK?s most renowned chefs, marks this arrival at this prestigious London address.
Spa The Spa at Mandarin Oriental, London has been consistently voted one of the best urban spas in the country. Step away from the fashionable high streets and begin a personal journey to physical and spiritual harmony. We have created a luxurious haven of well-being. Our heat and water oasis offers guests a deeply relaxing experience prior to each treatment. Our supremely professional therapists blend techniques from around the world to meet your individual needs.
Meetings & Events We offer a distinguished meeting venue with our façade of Victorian grandeur and interior rich with heritage. Our location is unrivalled, overlooking the royal Hyde Park and the world famous shops of Knightsbridge.