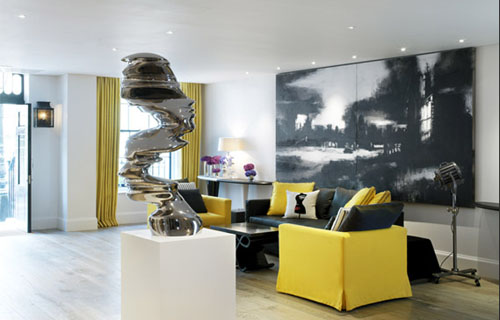 Hotels
Placed perfectly in the heart of London's theatre, Haymarket hotel attracts many to its verdant beauty and facilities. The Haymarket hotel, spotted on the 2007 Conde Nast Hot List, with a clear-cut distinction of guest-friendly atmosphere and facilities is a paradise for solitude-seeking travelers and also for shopping freaks.
It is well placed in the corner of Haymarket, facilitating a wonderful shopping experience in the nearby markets like Jermyn Street, Mayfair and Regent Street. Some of the renowned restaurants and bars are but a short walk away.
The wonderful amenities and the luxurious facilities provided by the Haymarket hotel are amazing. Fully illuminated, with beautifully landscaped lawns and flowered gardens, the Haymarket hotel stands elegantly as a specimen of the great hospitality found in London. The most decent behaviors of the executives and staff will astonish you. You will feel proud of being guest to such a reputed hotel.
The architectural style of the Haymarket Hotel in London is imposing; the hotel is designed in a modern English style. The hotel has spacious and luxurious bedrooms and suites and the exclusive town house in the hotel is marvelous, made with superb design and decorated with verdant colors. The amenities in the hotel are superb, the services are excellent, and the atmosphere is calm and dynamic. If you are looking for a business trip or for a vacation, Haymarket hotel offers you all infrastructures, communication facilities, fun filled activities and sumptuous stay.
It has been well equipped with all the best facilities, up-to-date with the changes in the modern technological world, for a luxurious and comfortable stay. Fully air conditioned rooms and lobbies; fully furnished marvelous rooms with TV, DVD and private computer online facility and 24-hour room service make the stay in Haymarket hotel unforgettable.
The hotel's restaurant, BRUMUS, is well maintained, beautifully decorated and fully equipped. . Enjoy the wide range of wines, cocktails and brasserie- style food items.
The environment is clean and tidy, beautifully placed in the middle of lusting green lawns and architecturally designed and decorated front yard landscape provide a royal look to the hotel. Just enter the majestic entrance of the Haymarket hotel; you are sure to feel the difference.