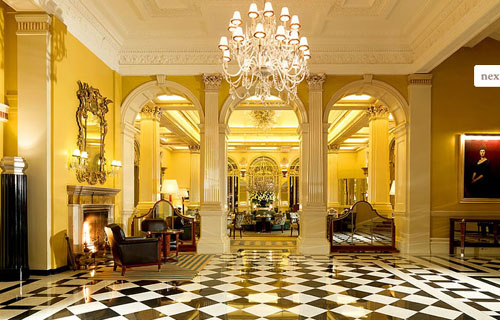 Hotels
With award-winning service and business facilities, Claridge-s luxury london hotel is a sumptuous retreat for the business traveller -- or a luxurious indulgence if you want to spoil yourself or a loved one. Claridge-s is a key part of London's history. Stars, socialites and the crowned heads of Europe have enjoyed this 5 star hotel for over 100 years.
Some of the world's greatest designers have left their mark on Claridge's. Original features mingle with distinctly modern twists, refining the effortless Art Deco elegance that makes London's finest hotel so special. A stay at Claridge's is an unforgettable experience. A dedicated staff will ensure your every whim is catered for.
Accommodations
Claridge's is proud to know that their designer rooms and suites are the biggest in London. Your beautiful room or suite, rich with glamour and timeless elegance, will make your stay at Claridge's an experience you'll never forget.
Your Claridge's suite or room is equipped with the best entertainment facilities and stocked with luxurious toiletries. Suites offer a wide range of in-room facilities and guest services.
Dining
The best afternoon tea in London and Gordon Ramsay's restaurant. A truly unforgettable experience awaits you at Claridge's -- from the decadent Foyer, The Reading Room and the stylish Claridge's Bar, to the distinctive Fumoir and the irresistible Gordon Ramsay at Claridge's.
Celebrations, meetings, soirées' breakfast, dinner, cocktails -- and world-famous afternoon tea. Claridge's is the London venue to be seen at.
Health & Beauty
For pure relaxation and energising workouts, visit Claridge's best-kept secret. Tucked away on the 6th floor, far above the London bustle, Claridge?s airy gym and luxurious treatment rooms are a hidden treasure. Claridge?s Mayfair Beauty and Fitness is a peaceful space to clear your mind and re-energise your body.
It?s light, spacious and welcoming, with stunning views across London?s rooftops and impeccable, discreet, friendly service.
Meetings & Events
From board meetings to lavish balls, this London luxury hotel is the perfect setting for prestigious events. As a venue for events ranging from parties, to banquets, to conferences, to private dining in London, Claridge's is unsurpassed in terms of elegance and prestige.
With its glamorous Art Deco heritage and timeless elegance, this London luxury hotel offers outstanding facilities for social occasions, and all the modern technological equipment to make business events an outstanding success.