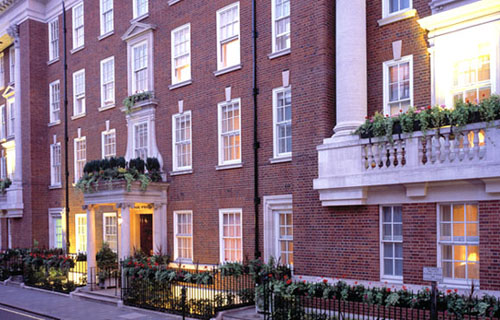 Hotels
47 Park Street - Grand Residences by Marriott, is an innovative concept in residential club membership, designed to be an alternative to second home ownership. It provides frequent travellers to London with a luxurious Mayfair residence, to be used at their convenience and at a fraction of the cost. 47 Park Street London is a full service luxury shared ownership property.
Accommodations
Following its transformation from a hotel, 47 Park Street is now available to accommodate Members and guests in 49 impeccably appointed one- and two-bedroom residences.
Inside every residence, elegant interiors rich in period detail with many original features offer luxury living. The spacious feel is enhanced by high ceilings and tall windows, in keeping with the 20th century Edwardian architecture. Stylish, comfortable and exquisitely finished, these are residences of rare distinction. From the moment you arrive, think of 47 Park Street as your home. You will enjoy a wealth of modern amenities, yet there remains a wonderful timeless atmosphere combined with highly personalised attentive service.
A spacious living and dining area, with elegant drapes and sumptuous gold, cream, and red furnishings, provides a sanctuary in which to relax and entertain. Members can leave personal belongings to be placed in the residence prior to their arrival, enhancing the welcoming and comforting atmosphere. Family photographs can be set out on the side table, freshly pressed clothes hung in your wardrobe, and our in-house florist can arrange your favourite flowers, making you feel truly at home.
Your living space offers comfortable seating arrangements, and a dining area seating up to six people (in a two-bedroom residence). Kitchens are well-equipped with Villeroy & Boch cookware and china, and Siemens appliances.
In the master suite, the king-sized bed, with carved mahogany headboard, is covered with Belgian linens. Luxurious Emperador marble bathrooms feature period-style nickel fittings and faucets by Perrin and Rowe of Mayfair.
Dining
There is a vast range of dining options available to Members at 47 Park Street, whether you wish to dine in your residence from our à la carte menu or elsewhere.
47 Park Street enjoys exclusive access to a private entrance to Michel Roux Jr's two Michelin starred Le Gavroche restaurant, where Members can enjoy the ultimate in fine dining. Alternatively Le Gavroche will deliver direct to your residence at 47 Park Street. Our in-house florist can add that personal touch to your dinner party.
Of course, you could also choose from one of the many exquisite restaurants in Mayfair. The close proximity of Scott's, Gordon Ramsay's Maze, Alloro, China Tang, Hibiscus, The Square, Umu, Veeraswamy, Wild Honey, Ceconni's and many others mean you will truly be spoiled for choice.