By Jarone Ashkenazi Mar. 16th, 2022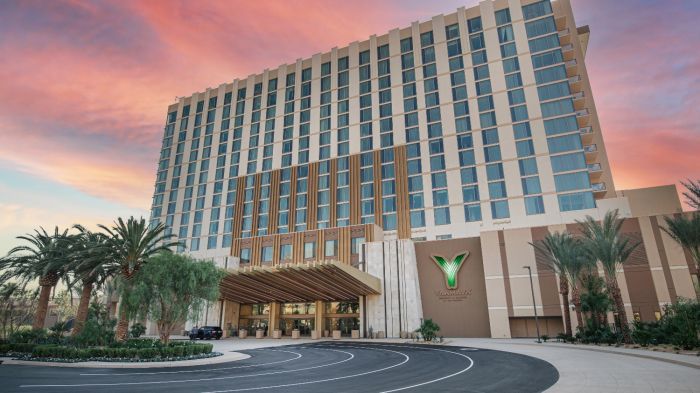 (credit: Yaamava' Resort & Casino at San Manuel)
Formerly San Manuel Casino, Yaamava' Resort & Casino officially opened on Monday, December 13, in Highland, California, just 60 minutes from Los Angeles. The 17-floor and 432-room hotel is the latest addition to the San Manuel Band of Mission Indians' award-winning casino. Meaning "spring - a time of growth, rebirth, renewal and transformation" in the native Serrano, the resort's rebrand includes a new visual identity and logo, inspired by the ancestral lands of the Serrano people. The resort features an elevated pool deck experience, a lavish full-service spa, more than 10 dining options and retail located on the main casino floor.
Led by Ken Ramirez, Chairman of San Manuel Band of Mission Indians, along with the Yaamava' team on site - which includes Peter Arceo, General Manager, Afsi Bird, VP of Hotel Operations, Kenji Hall, Chief Operating Officer, Casino, and David Kopasz Chief Operating Officer, Hospitality, - the team was able to pay homage to the culture and heritage of the San Manuel Band of Mission Indians, while presenting an elevated guest experience.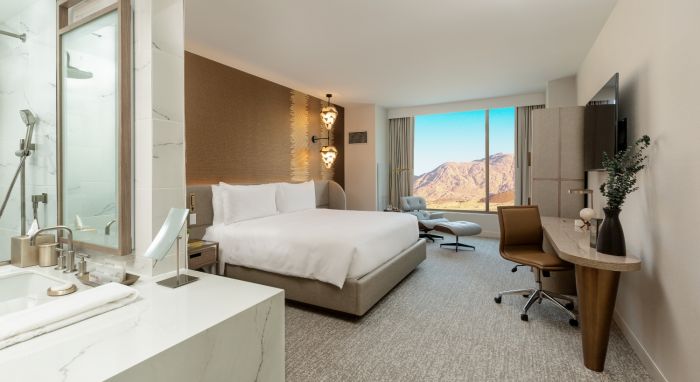 (credit: Yaamava' Resort & Casino at San Manuel)
"We're so proud to have been able to make our vision come to life with Yaamava' Resort & Casino as it truly encapsulates our mission and vision as a tribe and as a luxury hotel and resort," said Ken Ramirez, Chairman of San Manuel Band of Mission Indians. "I am happy that our guests can experience a taste of our Yuhaaviatam Serrano culture through elevated offerings and amenities that cater to each of our guest's needs."
Offering a selection of luxury rooms and suites, their 17 floors are home to the resort's 127 suite options. The most opulent accommodation at the resort is their 1,527 square-foot luxury unit which features two bedrooms, a large open bathroom, dining area, bar, and a living/entertainment room with unbeatable views of the San Bernardino Mountains. Designed as the ultimate Southern California getaway, each accommodation has carefully chosen design elements inspired by the local landscape, which were given a modern and sophisticated twist, as well as each having expansive bathrooms with a line of amenity products featuring the exclusive Yaamava' scent.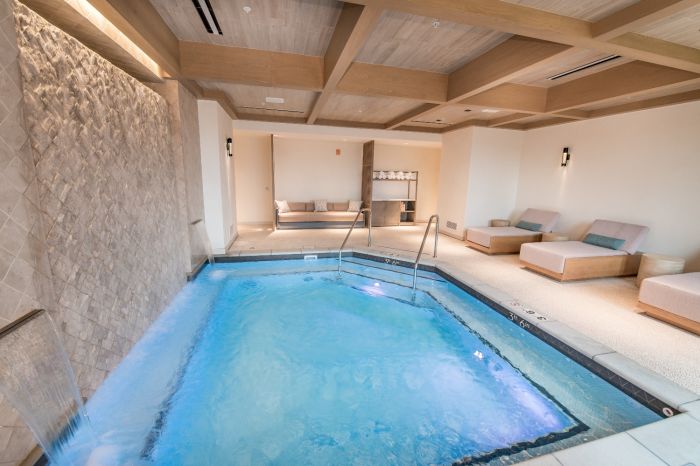 (credit: Yaamava' Resort & Casino at San Manuel)
Serrano Spa presents a platform for guests to discover a journey to be their best selves with their wellness journeys that are aligned with healing crystal energies. The lavish 22,000 square-foot full-service spa includes a boutique, salon, his and hers locker rooms with a sauna, steam room and experiential shower, 8 treatment rooms and their co-edwater sanctuary with a relaxing cascading waterfall and jacuzzi. Their experiences are based on the healing properties of different crystals starting with diamond (strength and resilience), turquoise (tranquility and purity), amethyst (nourish and hydrate), ruby (vitality and youth), aquamarine (calming and balance) rose quartz (love and happiness), selenite (amplify and elevate), black tourmaline (luster and shine) and moonstone (growth and strength). Each treatment begins in the tranquility lounge which faces the mountains where guests enjoy a foot scrub while waiting for their therapists with complimentary drinks and bites.
"We embrace the luxury of Yaamava' by taking our guests on a unique wellness journey every time they experience one of the 32 different spa treatments available," stated Shane Upson, Director of Spa Operations at Yaamava' Resort & Casino at San Manuel. "Whether a guest is looking to nourish their body and soul or to simply relax, they can customize the treatment to fit their desired interests."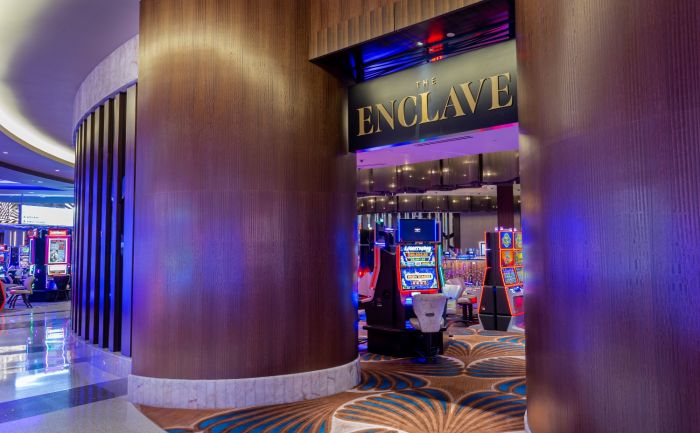 (credit: Yaamava' Resort & Casino at San Manuel)
The casino floor is a massive 700,000 square foot two story space that is home to over 6,500 slot machines, making it the casino with the most slots in the west. Across two floors, it also features 150 table games and five high limit rooms, making it the casino with the most high-limit rooms in the US. Just off the first floor, The Enclave is one of their newest high-limit rooms with over 50 slots and eight table games, while The Vault is a steampunk themed high-limit room for top-tier gamers offering over 200 slots and eight table games.
"The completion of our major expansion project is an exciting and monumental time as we expand our offering throughout the property," said Peter Arceo, General Manager of Yaamava' Resort & Casino at San Manuel. 'We now can provide our guests a 'stay & play' and luxurious experience, as we continue to raise the bar and become a premier destination.'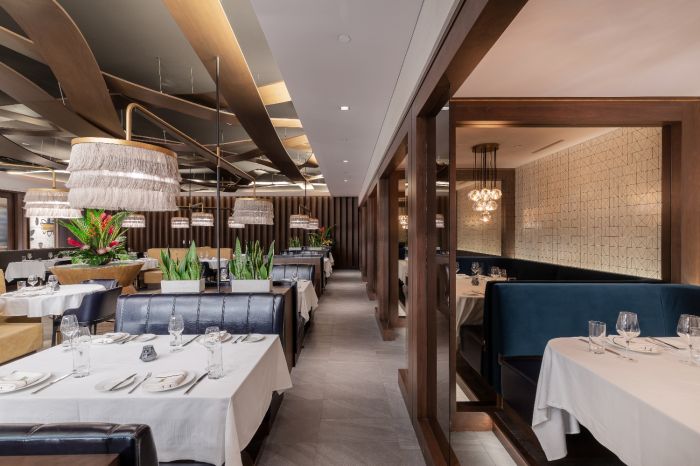 (credit: Yaamava' Resort & Casino at San Manuel)
Of their 10-plus dining establishments, Pines Modern Steakhouse presents fine dining paired with hand-crafted cocktails. Upon its relaunch, the restaurant debuted a number of truly VIP worthy offerings which include (among others) a: $5,000 cocktail made with Patron Lalique Extra Añejo and 1985 Salon Cuvee 'S' Le Mesnil Blanc de Blancs Brut served in keepsake Versace crystal glassware, a $5,000 Wagyu burger and Screaming Eagle Cabernet pairing, a $5,000 Japanese Wagyu trio paired with a bottle of 2011 Petrus, and a $10,000 ultra rare single barrel scotch flight paired with a set of luxe chocolates from House of Dorchester.
(credit: Yaamava' Resort & Casino at San Manuel)
Located on the third floor, the 36,000 square-foot pool deck - which is enclosed by native trees - offers guests the opportunity to relax in their own personal loungers or in one of the seven private cabanas. There is also Helix Bar & Lounge featuring a 18x10 foot screen TV on the southern part of the deck, perfect for sports watching. The top floor of the hotel tower features the exclusive Y Lounge with indoor and outdoor areas, which include a cigar room and circular bar for guests to imbibe and dine indoors or while taking in sweeping views of the San Bernardino Mountains.
In April 2022, a 3,000-seat theater will join the list of amenities and will be partnering with the world's largest promoter of live entertainment, Live Nation. The Yaamava' Theater will provide guests with an intimate and luxurious way to see revered artists and entertainers, as the theater features a retractable seating platform to allow seating flexibility according to the show. For those looking for a more elevated viewing experience, the Yaamava' Theater has nine private suites with plush seating, private restrooms and a dedicated drink service.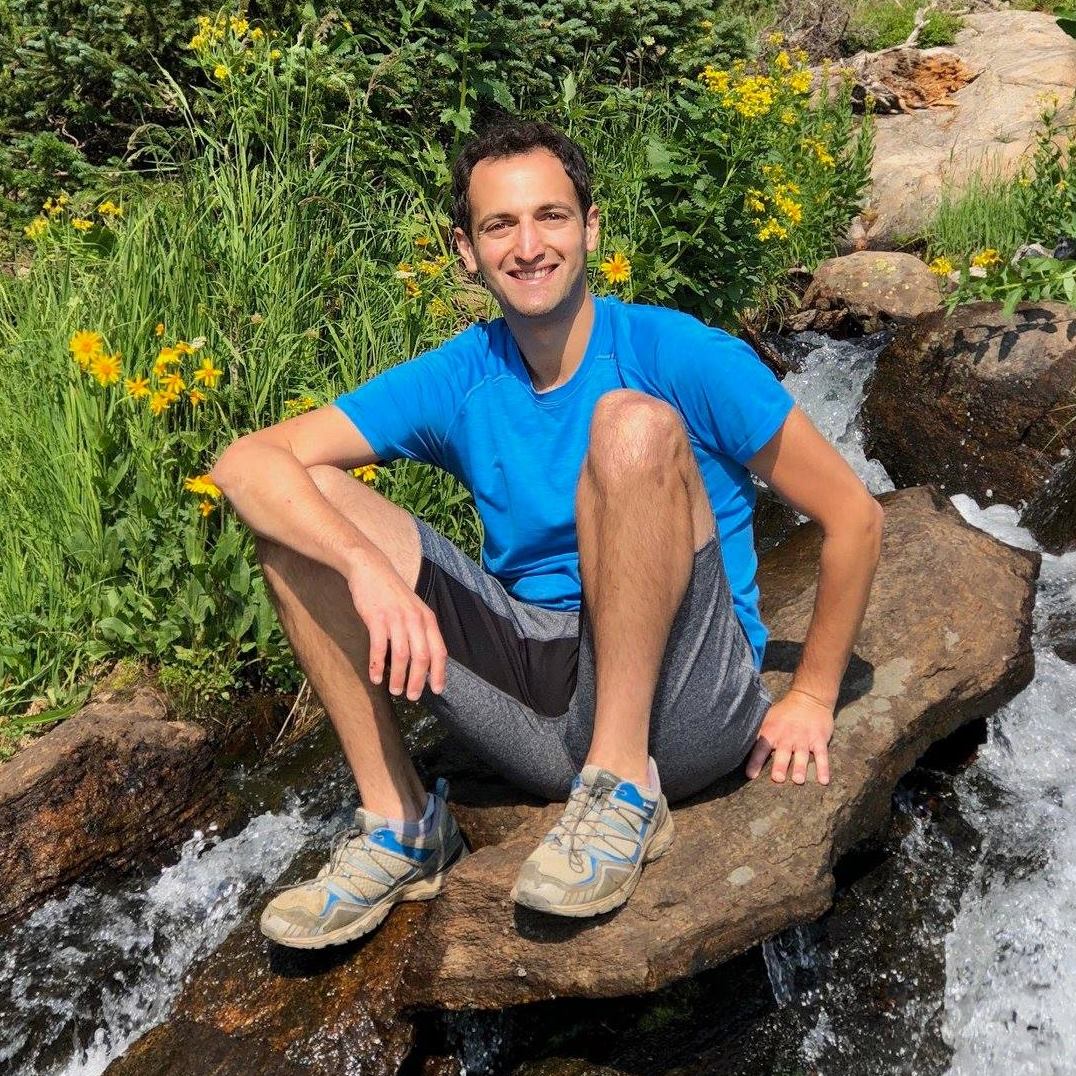 Jarone Ashkenazi
Jarone Ashkenazi is a seasoned writer who covers: travel, luxury items and other lifestyle topics. View more work at www.jaroneashkenazi.com. Connect with him on Twitter at @JaroneAsh ...(Read More)