By Jill Weinlein Mar. 20th, 2022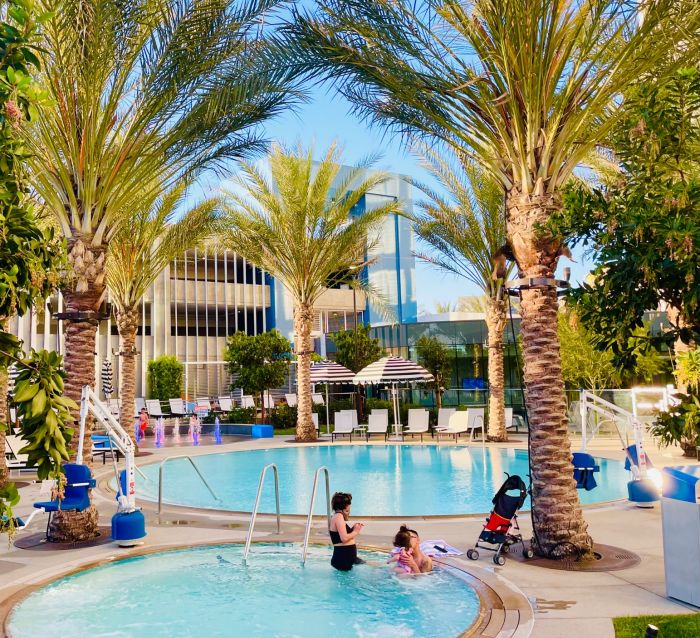 Jill Weinlein
When the Radisson Hotel Group launched it's first ever Radisson Blu hotel on the West Coast in Anaheim last summer, guests appreciated the subtle Disney-esque art and design throughout the stylish public spaces and guest rooms.
Less than a two mile walk to the Disneyland parks and Convention Center, and minutes by car to the Honda Center and Angel Stadium, the hotel is located near ample dining, entertainment, shopping and sporting events opportunities.
The luxury 326-room hotel features the tallest rooftop lounge and restaurant in Orange County, plus two other distinct food and beverage offerings. There are two outdoor heated pools and thoughtful art elements throughout the property.
The main level pool is open to all ages and features an ambient splash pad for little ones, plenty of lounge chairs and umbrellas, and stylish cabanas framing the circular pool and hot whirlpool.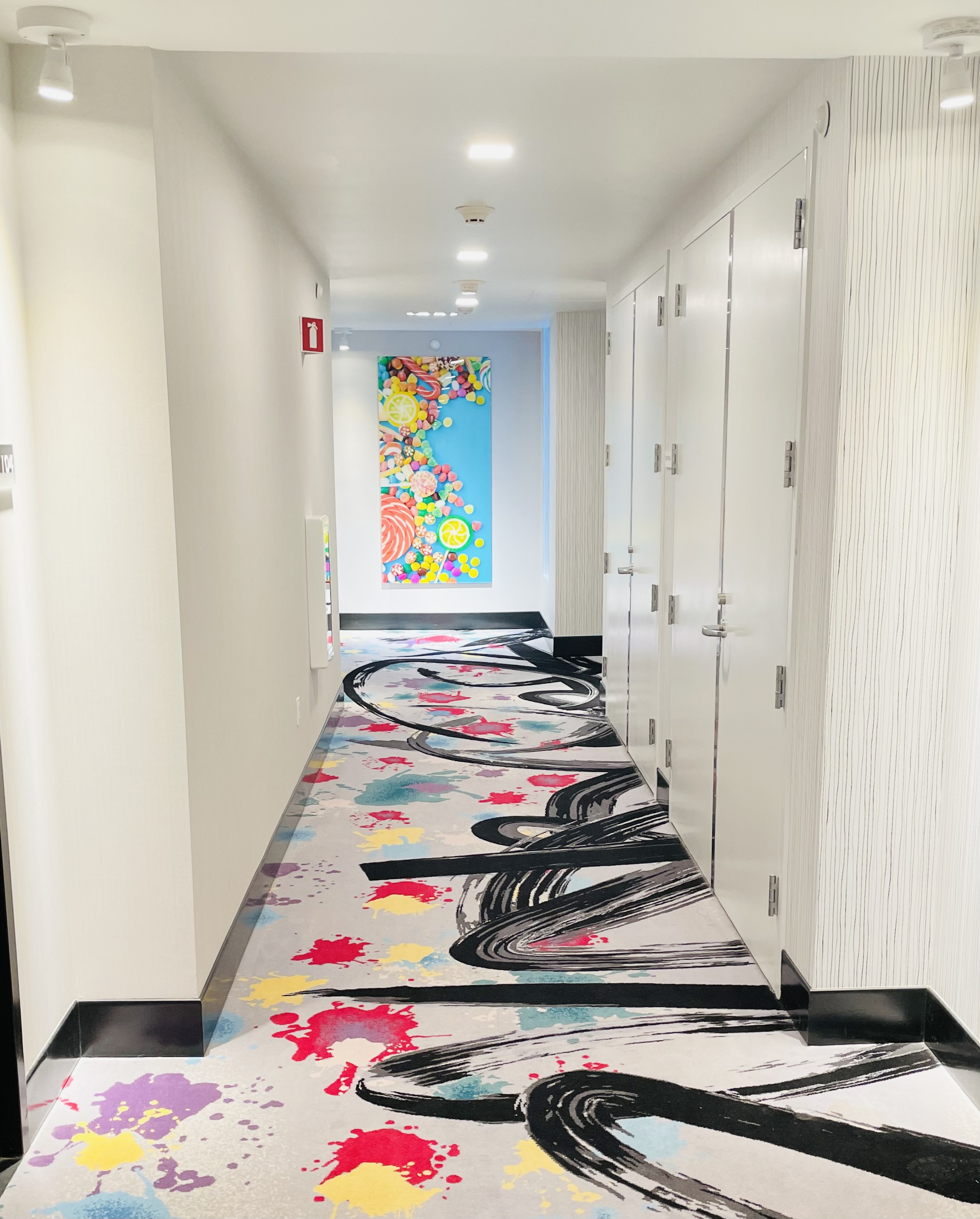 Jill Weinlein
Walking to one of the well designed hotel rooms, guests will notice bold and colorful brushstrokes in the hallway carpeting, a tribute to Disney's Fantasia movie.
Other hotel amenities in this Disneyland Good Neighbor Hotel include a fitness center, guest laundry rooms, electric car charging stations, complimentary Wi-Fi, and Disneyland guest services area for tickets and information.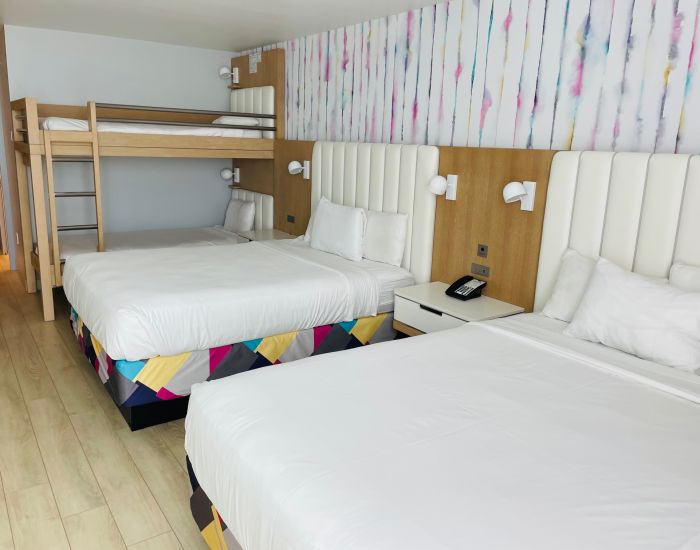 Jill Weinlein
There are 136 rooms with bunk beds and two queen size beds for families or friends up to 6 guests to stay together in one room. The hotel offers 40 pairs of connecting rooms, and 20 beautiful suites with sitting areas, a refrigerator, sink and microwave. The bedroom has a king size bed and spectacular corner window views.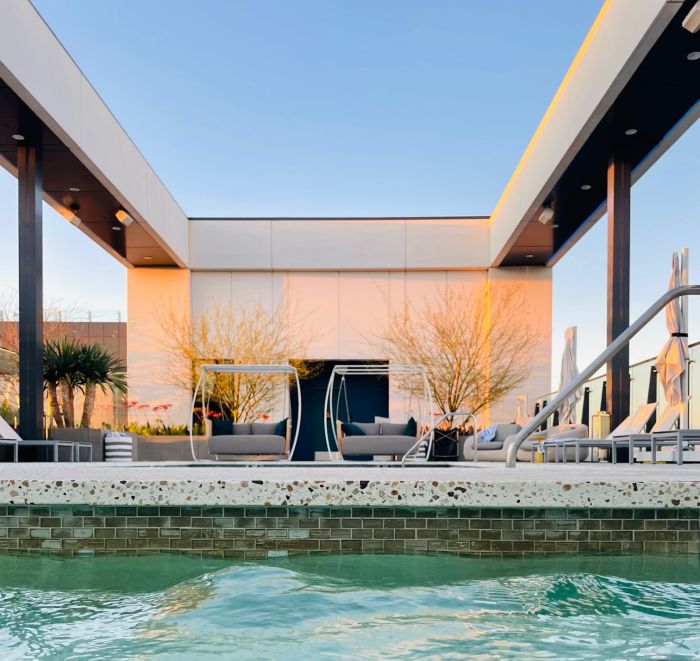 Jill Weinlein
Up on the 12th floor, guests walk by the stunning BluSky Restaurant & Bar to enjoy a more sophisticated rooftop adult pool. The design offers a vacation vibe with swinging chairs next to the water, and panoramic views of Orange County.
Jill Weinlein
Dining at BluSky Restaurant, guests are offered an array of Spanish cuisine delights while watching the sunset into the Pacific Ocean, and the Disneyland fireworks illuminating the sky.
Menu items include a special Basque County tasting experience and a la carte items that include Iberian ham and sausages; duck confit; fish and ribeye. There is a creative list of craft cocktails, craft beers and wines from around the world.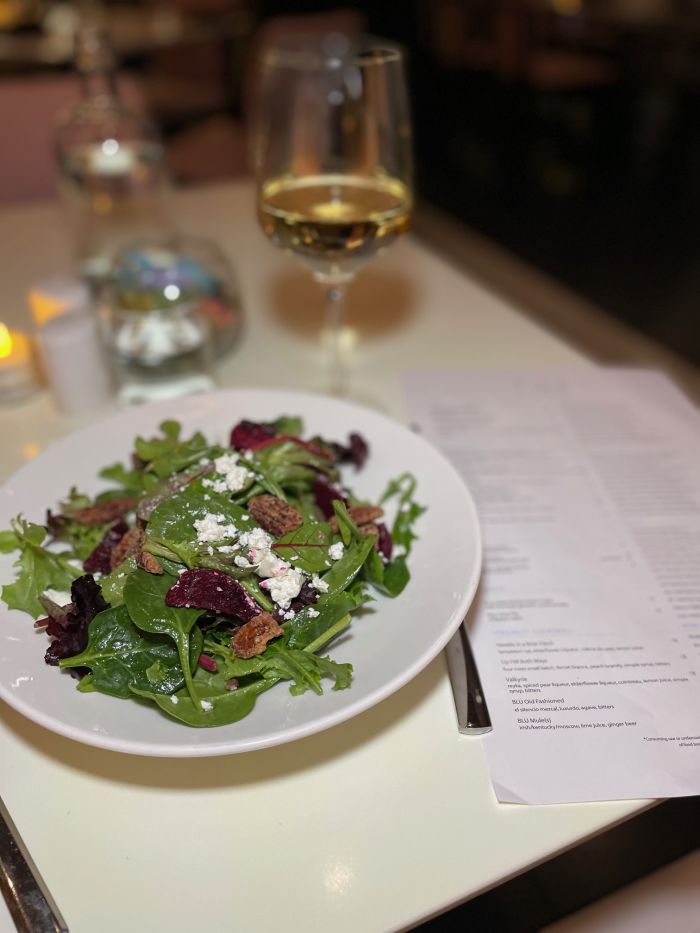 Jill Weinlein
Near the lobby is FireLake Grill House & Cocktail Bar, an all day dining experience offering a menu of seasonal California ingredients, while incorporating its rustic wood-fired cooking. Diners will notice hanging wall art throughout the restaurant featuring color palettes from iconic Disney movies such as The Lion King, Cinderella, Aladdin, and The Little Mermaid.
Signature plates include Smokehouse sliders with tomato jam; loaded bbq spiced fries with chopped brisket; and roasted Skuna Bay Salmon in a tomato and fennel stew.
The large and inviting wraparound bar is popular during happy hour and sporting events as viewers sit near TV screens to watch a game. Happy Hour discounted bites and 50% off cold draft beers and a selection of house wines is available on Monday-Friday from 5 to 7 p.m. This is the all day restaurant offering breakfast, lunch and dinner.
Doors open to allow guests to enjoy fresh air on the palm tree shaded pool deck, or to sit near a cozy fire-pit to sip creative cocktails or glass of California wine.
Also in the lobby is Blu Marketplace serving Lavazza coffee, pastries and fresh fruit in the morning. They also sell snacks, salads, sandwiches, hot and cold beverages. Across the way is an onsite gift shop offering travel essentials and souvenirs.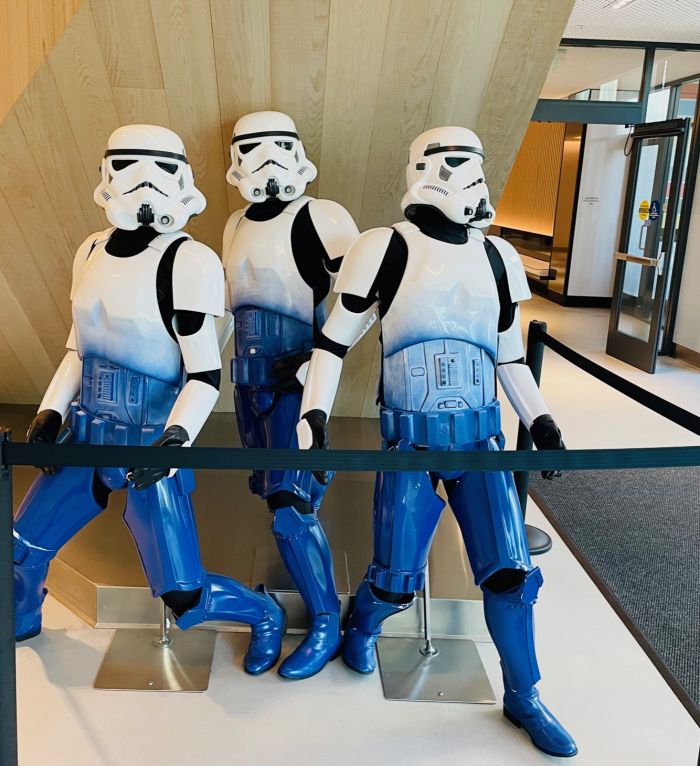 Jill Weinlein
The Radisson Blu displays an array of sophisticated interior design and art by HKS Dallas, Kevin Barry Art Advisory worked with a talented team of artists to provide thought-provoking and playful childhood nostalgia to display in the public spaces and inside guestrooms.
Walking from the parking garage into the hotel one of the most striking art sculptures is composed of three life-size resin and fiberglass Stormtroopers welcoming guests. Posed in a 'Charlie's Angel's stance, the blue ombre coloring is a nod to the Radisson Blu brand. Other whimsical art pieces include a playful childhood nostalgia with cotton candy artwork, two huge frames containing Disney Legos figurines, and a large Viewmaster slide hanging in the lobby titled 'Greetings from Anaheim' with images of the city's most popular sites and attractions.
Right now the Radisson Blu Anaheim is offering specials to honor emergency personnel, AAA members, AARP members and educators.
Jill Weinlein
Los Angeles based Jill Weinlein covers travel, food and lifestyle destinations for multiple newspapers, magazines and websites. Her areas of expertise include, luxury travel, culinary reviews, cruising and family travel destinations. Born in Los Angeles, Jill studied Communications and Theatre Arts at UCLA. She has a a Dine and Travel blog - www.dineandtravel.me and she writes a weekly restaur...(Read More)