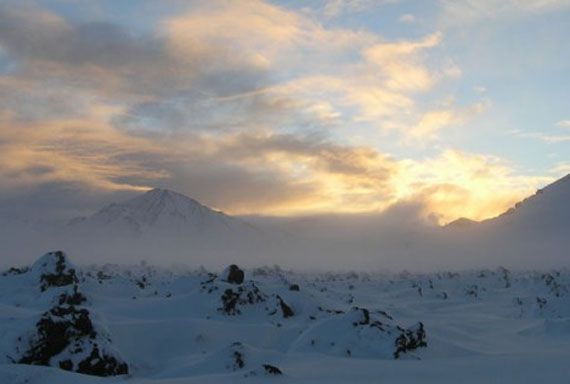 Challenge yourself on an expedition into the dramatic wilderness of Iceland's remote interior. Descend into untouched ice caves, race snowmobiles across the top of one of the largest glaciers in Europe and break new trails in unexplored mountain ranges, during this truly rare and demanding journey.

As an authority in luxury travel, Black Tomato has been creating bespoke travel experiences worldwide for more than six years. Their extravagant and extraordinary adventure travel itineraries are meant to leave a lasting impression, and this one is no exception.



What you can expect:
Experience of some of the most inhospitable natural conditions imaginable, as you dig snow holes to survive polar-like temperatures as low as -30 °C.
The opportunity to explore remote mountain ranges that few people have ever set foot upon.
A subterranean view of gigantic ice cathedrals only accessible using crampons and rope harnesses and in many cases, have never been explored before.
A snowmobile adventure across one of the largest glaciers in Europe, surrounded by seemingly endless panoramas in all directions.
Drive Across the Langjokull Glacier
Where do we start?
After landing into Reykjavik, your expert guiding team will transfer you straight out into the Iceland countryside.
You will be briefed on the expedition ahead, before spending the night in a private lodge.
At first light the next morning you will then set out in a Super Jeep towards the foot of the Langjokull glacier.
You will then drive up onto the glacier using the unique, all-terrain capabilities of your vehicle.
After you have summited the enormous glacier at c. 4,500 feet above sea level, a fleet of snowmobiles will be waiting for you.
You will hop on and race across the ice for the rest of the day as you travel further and further away from all civilization into the heart of the Icelandic wilderness.
Set Up Camp and Watch the Northern Lights
What happens next?
Eventually you will stop and set up a base camp of expedition tents with the help of your guiding team.
With rope harnesses, crampons and other technical equipment in hand, you will prepare to descend beneath the surface into a gigantic ice cave.
Explore the enormous subterranean ice cathedrals that very few people have previously glimpsed.
You will then return to base camp and with favorable conditions will hopefully be able to enjoy the thrilling natural phenomenon of the Northern Lights.
Receive Avalanche Survival Training
How will it end?
The following morning you will have a day of vigorous polar survival training.
Your expert mountain and ex-military guides instruct you in a wide range of disciplines, from avalanche survival to polar navigation.
You will then begin setting out across crevasses towards the imposing mountains that tower over the glacier.
Here you will ice climb and snowshoe through largely unvisited peaks.
It will then come time to dig a snow hole to shelter from the elements that night.
The experience of watching the sun rise over the mountains and glacier the next morning from the natural enclave of your snow hole is something you are highly unlikely to forget.
You will then spend the next few hours making your way back to base camp, before starting your return journey to Reykjavik at the end of your extreme Icelandic adventure.

See all of our picks for Best Adventure Travel