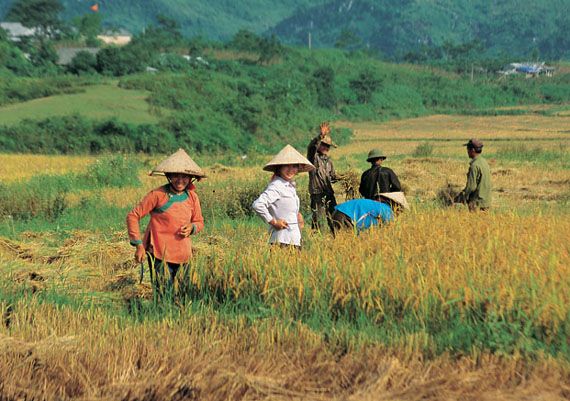 Looking to discover a new destination with a little added luxury? Then let us introduce you to Vietnam: a land of jungles, beaches and incredible natural beauty on the South China Sea. From the ancient monuments of Hanoi to the dreamlike waters of Nha Trang, we've combined the perfect trip for you to experience the length and breadth of this understated gem the Black Tomato way.

As an authority in luxury travel, Black Tomato has been creating bespoke travel experiences worldwide for more than six years. Their extravagant and extraordinary adventure travel itineraries are meant to leave a lasting impression, and this one is no exception.

What you can expect:
Traveling from Hanoi to Ho Chi Minh stopping by the most breathtaking sites including Halong Bay, Hoi An and Nha Trang
Sailing peacefully across Halong Bay in a luxurious traditional junk boat
Getting to know the locals in Hoi An while you join them for a day in their life
Island hopping across Vietnam's most treasured gems where crystal white sands and blue azure waters await to be explored
Whizzing through the bustle of Ho Chi Minh on a vintage vespa before being whisked through the labyrinthine of the Cu Chi tunnels with your own private guide
Explore the Capital City of Hanoi
Touch down in Vietnam's buzzing capital Hanoi, where we'll whisk you off to the Silk Path Hotel for some serious R 'n' R. But if you're itching to explore this monument-riddled city, we'll arrange a chauffeur-driven vintage classic just for you. Take in the sites, stopping off at the magical Hoan Kiem Lake, then marvel at a traditional performance of the famous Vietnamese water puppets. In the mood for a truly local take on this great city?
Ask anyone in Hanoi, and they'll tell you the only way to slow the pace and get around the heart of the city is by cyclo. With a private guide, we'll point you to the Old Quarter, squeezing you through the maze of narrow streets bursting with book sellers to banana traders. Next up, our local expert will take you for a trip through Chau Long market, after which you'll try your hand at some traditional Vietnamese dishes yourself.
Sail Away in Halong Bay
Following on from your taste of the capital, you'll head east to the enchanting waters of Halong Bay for a two-day cruise on a gorgeous traditional junk boat – The Ginger. Gliding across the emerald waters, you'll be amazed by the myriad limestone islands and islets, the beautiful beaches, fishing villages and mystical grottoes.
We've seen some amazing places in our time, but this UNESCO World Heritage Site is truly unique. One of the Ginger Boat's kayaks is a great way to explore the water, but for an exceptional take on this place, take to the skies and do Halong by heli. Now that's what we call a view.
Cycle the Pass to Hoi An & Snorkel on Hon Tam Island
After a night in imperial Hue, it's time to take to the sky. Over 1,600 feet above sea level, Hai Van (ocean cloud) Pass is a picturesque perch from which to take in the South China Sea and the Annamese Mountains. Your challenge, if you choose to accept it, is to cycle via the Pass to Hoi An – your next port of call. The spectacular view is well worth the effort, and your pamper-packed two-night stay at the Life Heritage Resort will prove the perfect way to recuperate.
The harbor town of Hoi An is awash with a great mix of cultures and natural beauty. There's no better way to get to know a place than with some local expert help. With that in mind, we've organised for our excellent guides to enlighten you to the ways of the local farmers and fishermen – a personal experience that will stay with you forever. In great company, wend your way through the emerald green paddy fields, plant local vegetables and explore the coconut palmed waterways from a bamboo basket boat.
Jet south to the beach capital of Nha Trang, Vietnam's where you'll embark for a day's island hopping like no other. The coastline here is renowned the world over, so make the most of it. Snorkel the crystal clear depths of Hon Tam Island, try your hand at some water sports and be sure to drop by one of the peaceful fishing villages of Lang Chai for a spot of lunch in picture perfect bliss.
Zipping Through Ho Chi Minh
Head to Ho Chi Minh, where there's only one way to get around the bustling streets – it's vintage Vespa or nothing at all. Whizz through the city in the company of our expert drivers and guides, taking in the exceptional mix of ancient Vietnamese and French colonial culture on view. Next up, a restored army Jeep will take you to one of Vietnam's most unique sites – the Cu Chi tunnels. No trip to Vietnam would be complete without stepping back into history, so we've arranged an exclusive tour of the labyrinthine network just for you.
You'll haggle at the floating markets and explore the ever-mysterious evergreen islands of the Mekong Delta before waving goodbye to your incredible Vietnamese adventure.
See all of our picks for
Best Adventure Travel