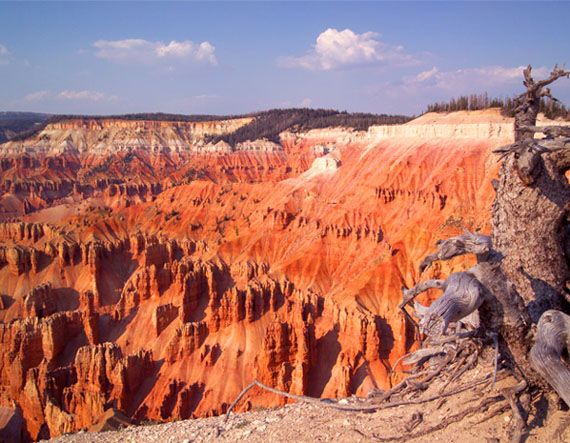 Photo Credit: Paul Roelandt & NPS
East of Cedar City,
Utah
is a spectacular surprise. Cedar Breaks National Monument is a relatively undiscovered scenic gem. Resting on top of the
Colorado
plateau, at over 10,000 feet in elevation, a breathtaking view awaits. Millions of years of sedimentation, uplift, and erosion are carving out a giant amphitheater that spans some three miles, and is more than 2,000 feet deep.
While the Grand Canyon, Zion and Bryce Canyon National Parks are elbow to elbow with tourists, Cedar Breaks offers visitors a more intimate back to nature experience with fewer people to contend with. Celebrating 78 years as a National Monument in 2011, Cedar Breaks offers unparalleled red rock vistas.

Colored by the presence of iron and manganese oxides, this limestone Clarion formation is made up of intricate ridges, pinnacles and buttresses, also known as "hoo-doos and fins." From sunrise to sunset, in blazing sun or cloudy periods, the rocks of Cedar Breaks display a rainbow of warm hues. A six-mile scenic drive leads past four overlooks, each offering a different perspective of the

Cedar Breaks and Ashdown Wilderness area. From these high vantage points, vistas extend over 100 miles to reveal the Escalante Desert to the west and northwest.

Within the park, stands of Bristlecone Pines, the world's oldest living tree species grow in abundance along the rim of the Breaks, along with dense forests of sub-alpine fir, spruce, and quaking aspen which blaze in brilliant golden hues in the fall.

Cedar Breaks is not only famous for its red rock scenery and fabulous fall colors but also for its broad meadows containing over 150 species of wildflowers that peak throughout the month of July. Cedar Breaks celebrates this bloom of color with a Wildflower Festival offering guided walks, interpretive fieldtrips, photography workshops, Junior Ranger scavenger hunts, and Zion Canyon Field Institute Classes. "Star Parties" at Cedar Breaks celebrate the beauty of the night skies. For more information about Cedar Breaks, visit NPS.gov.


This post originally appeared at CityRoom.com