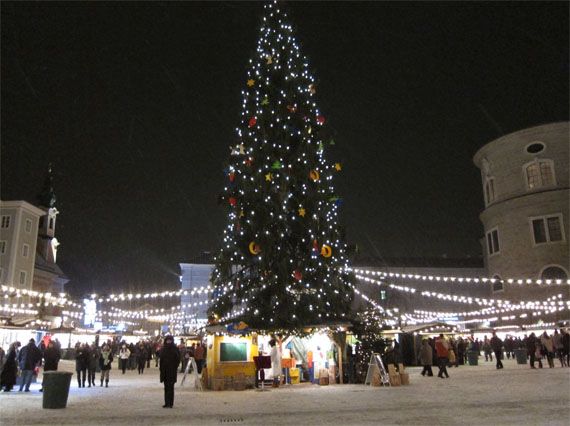 Photo Credit: Cynthia Dial, Erin Dial & Kathryn Hanson
My arrival to Europe for our dream-come-true, first-ever family holiday abroad was not what I had envisioned. Think snow storm, airport closing, accidental cancellation, expensive rebooking, probable lost luggage and you've got the picture.
"This is why spending a passport-required holiday was not a good idea,
" I thought as many times as I would be offered strudel while in route to
Austria
for Christmas in Salzburg and New Year's in Vienna. And this is why I would be wrong.
Song in Salzburg
As a sprinkling of snow dusted our collars and the peal of the church's seven bells boldly announced the wee morning hour, my family and I departed Salzburg's Cathedral. We had attended Christmas Eve's midnight mass and at its candlelit finale we witnessed a musical memory: an a cappella rendition of
Silent Night
(Austria's most revered Christmas carol). Sung from the church's interior balconies, sound projected from the top of its classic dome to the cobblestone walkways beyond. 
"Cherish this moment," I said as we negotiated the fairy tale-inspired town to our hotel home. "It's one we'll recall every Christmas." Indeed. Our imagined trip of a lifetime had unfolded into the real deal, a trip of a lifetime.
The players: my husband Kent, daughters Erin and Kathryn, Mark (Kathryn's husband) and me (mom/trip planner/complaint coordinator). How did we select Austria? Well-traveled friends mentioned their favorite winter memory,
traveling by train
from Salzburg to Vienna through a freshly snow-painted countryside. And the rest as they say is... well, you know what they say.
Though it's Austria's fourth largest city, Salzburg is really a village. Here, a stroll back in time is as easy as meandering Old Town's pedestrian paths – passing composer Wolfgang Amadeus Mozart's birthplace as street violinists play one of his sonatas, wandering beneath an imposing fortress, spying a medieval castle in the distance. It's a walk you could have taken centuries ago. 
Fast forward to the 20th century and Salzburg's starring role in
The Sound of Music
, when Julie Andrews' mountain-top twirl introduced this Alpine attraction to the world with the WWII story of the Austrian Von Trapp family singers. And when recognized as a World Heritage Site in 1996 it became official: a visit to Salzburg is a visit to the past.
The city is divided by the Salzach River – Mönchsberg is the left bank (the location of Old Town), Kapuzinerberg is the right. But regardless of side-of-river location, most sights are nearby. Centered in the middle of the action, Salzburg Cathedral is noted as the country's finest Italian-style Baroque structure. It's where Mozart was christened and his composition, the
Coronation Mass
, was written for the cathedral.  
Dominating Old Town from its hillside perch, Hohensalzburg Castle is one of Europe's largest. Reached on foot or by tram, combine your excursion with a meal at Fortress Restaurant. Dining far above the rooftops, it dispels the typical truism that eateries with exceptional views have inferior food. After a stroll along Getreidegasse, Salzburg's centuries-old shopping street, stop at address No. 9. 
It's Mozart's birthplace. But wherever you wander, time a visit to Glockenspiel at 7 a.m., 11 a.m. or 6 p.m. when the carillon tower's 35 bells play classical tunes.
Make Time For:
Advent Mozart Dinner – Imagine a candlelit concert of arias and duettos from Mozart's operas in historical Baroque Hall while feasting on 18th century recipes.
Horse-drawn carriage – Tour Old Town in back-in-the-day style, ending at the legendary Christmas Market.
Sound of Music tour. Yes, you read that correctly. But it's much more than singing Do, Re, Mi (right again, we sang, even Mark). It's a countryside bus tour including Mondsee, home of the village church in the film's wedding scene.
Venerable Vienna
Vienna is the serene, sophisticated sister of Salzburg. Its musical culture is a serenade to history, where street musicians are likely to play Brahms, not Bono. A large city, it's a place that requires time to acclimate. But the effort is worth becoming acquainted with the one-time stomping ground of the Habsburg rulers.
To best see Vienna, begin at the city's physical center, Stephansplatz. Home to the most visible icon, St. Stephen's Cathedral, the reward for visiting one of its soaring towers is a panorama. From there, walk along Kärntnerstrasse (pedestrian thoroughfare from St. Stephen's to the Opera House). The former terrain of emperors, kings and legions of Viennese composers, it's full of yesteryear's history and today's shopping.

Though coffee houses (konditoreis) line Vienna's streets, imbibe selectively. Stop at Café Sacher for a mélange (mild roast coffee with steamed milk) and its Original Sacher-Torte (chocolate cake with apricot jam).
 Having conducted an unofficial taste test of tortes, Erin and I deemed it "best."
The statuesque Opera House rounds out the route and begs your attendance at a performance. Our coup: five tickets for Barber of Seville. Erin, Kathryn and I were enthralled by Vienna's social scene as much as the opera itself. Mark was less than entertained, and Kent enjoyed a two-act nap. The city's best known avenue, Ringstrasse, circles the old city. Best explored by streetcars #1 or #2, travel along this promenade is like placing one foot in a sepia photograph.
You Miss It, You Lose
Belvedere Palace – Actually two imposing palaces, among the many reasons to visit is The Kiss, artist Gustav Klimt's greatest painting.
Spanish Riding School – An emblem of Vienna throughout the world is the Lipizzaner, the country's famous white horses known for their ensemble performances.
Vienna Boy's Choir – In 1998 the Vienna Boys' Choir celebrated its 500th anniversary. But though they travel the world, the Imperial Chapel is its major place of performance. If possible, go.
Finale Time
New Year's Eve, aka end of the year, end of our trip, warranted an evening that filled our photo albums with made-in-Vienna memories. 
Snap:
concert in Schönbrunn Palace.
Snap:
arrival at Stephansplatz's party central.
Snap:
celebratory countdown to midnight.
Snap:
surround-sound fireworks.
Caption:
 Austria. Wish you were here!