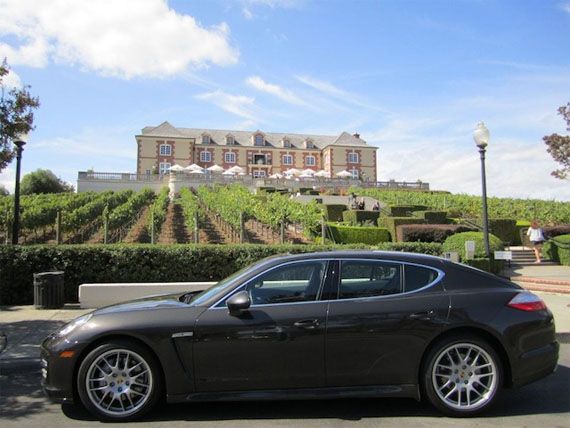 It's harvest time up in Napa. The sun is shining, the grapes are ripe on the vine and it's time to make some world-class wines. That also makes it the perfect time for you to plan getaway to California's premier winegrowing region, which also happens to be one of the world's great luxury destinations.
Your Home Away From Home
The Carneros Inn is one of Napa Valley's most lauded luxury resorts, nestled in a quiet corner of the Carneros appellation at the very southern end of the Valley on 27 bucolic acres. All 86 rooms and suites are housed in individual cottages and houses, so no slamming doors or upstairs neighbors to bother you.
For the ultimate romantic weekend, reserve one of the newly renovated two-cottage Vineyard Suites. Each has 900 square feet of interior space, and a 1,400-square-foot private central deck and patio with outdoor furniture perfect for lounging on (glass of wine in hand, of course). One cottage houses a lounge living room area with a large flat-screen television and its own bathroom. The other cottage is the bedroom with a king-size bed, another entertainment system, and a spacious full bathroom with a soaking tub. Both bathrooms have indoor and outdoor showers to enjoy in the fine weather.
A Cool Conveyance
The roads of Napa are open and scenic, so we opted for a sports car that could still fit a gaggle of our friends, Porsche's Panamera S sedan. The Panamera S has the size and smooth ride of a luxury sedan comparable to the BMW 7 series or the Jaguar X series, but the seismic power of a Porsche roadster. To wit, the engine purrs with the force of 400 horsepower, and gets the car from 0-60 miles per hour in a mere 5.2 seconds (top track speed is 175 miles per hour).
The smooth ride is a result of the patented Porsche Active Suspension Management that makes flying past the vineyards and taking curves on the Silverado Trail feel like riding on a cloud.
Inside is a gadget geek's dream come true. The car's computer interface is through a 7.1-inch color touchscreen which grants the driver control over the climate, audio, navigation and phone systems. The dashboard itself is a model of German efficiency with five circular instrument screens including one that's a 4.8-inch TFT color screen with direct access to the on-board computer, and whose output can change to display the various systems and performance gauges (we liked checking our gas mileage and individual tire pressure). Some of the other fancy options available include Lane Change Assist, Adaptive Cruise Control, and a Bose Sound System.
Thanks to Porsche's history as a racing brand, emphasis is placed on an intelligent lightweight construction, both for economical and ecological reasons, meaning you get lower fuel consumption combined with superior performance. The Panamera S is no exception, constructed in large part from super high-strength sheet steel, alumni-cast alloys and plastics. We put 350 miles on ours and still had a quarter tank left, so we could use our gas money to stock our cellar instead.
Sophisticated Sips
Spend your first day speeding along the rolling curves of the Carneros Highways as you visit the architecturally stunning Artesa Vineyards and Winery, and Domaine Carneros, which is owned by the French Champagne house, Taittinger, and produces some of America's finest sparkling wines. The winery looks like Taittinger's historic La Marquetterie in Champagne and makes a scenic stop on any itinerary.
At the other end of the spectrum, Anaba is an up-and-coming boutique winery that produces some of the area's best Pinot Noirs as well as an interesting assortment of interesting whites like the Rhone-style blend called Coriole. The tasting room is in a historic little bungalow near the corner of the Carneros Highway (towards Sonoma) and the 116.

For your second day of wine-tasting, it's on to Vineyard 29 just north of St. Helena. Here you'll taste wines made by up-and-coming French winemaker Philippe Melka (Food & Wine's 2010 "Best Winemaker You've Never Heard Of"). Be sure to try a glass of the powerful-yet-finely-tuned single-vineyard Aida Estate Cabernet Sauvignon.
Finally, for the most stunning views of the Valley, and to visit a winery with a thoroughly modern design sense, it's time to take the winding mountain roads up to Ovid, which has only been making wine since 2005, but which has already garnered accolades and raves from both the professionals and enthusiastic amateurs alike. The wines to try here are the elegant yet playfully named Experiment (the composition of it varies every year, but the 2007 contains Cabernet Franc, Cabernet Sauvignon, Merlot and Petit Verdot); and the Napa Valley Cabernet, whose powerful fruit and oak notes are belied by the silky finesse of its tannins. Perfect for enjoying while keeping an eye on the panoramic views up and down the Valley.
Hot Tables
You can't spend all your days tasting just wines, though. Start one of your mornings with a strong cup of coffee, some green eggs and ham and a bucket of the famous cinnamon and sugar donuts at the Carneros Inn's Boon Fly Café.
You should also plan to spend one of your evenings having dinner at the resort's high-end dining room, Farm. In the rustic elegance of the dining room, you'll enjoy seasonal specialties like chilled tomato soup with Dungeness crab, asparagus, celery, avocado and fresh horseradish; and butter-poached Alaskan halibut with pearl pasta 'caviar,' corn, chanterelles and parsley sauce.
For something a little more casual, though still quite gourmet (hey, this is Napa!), the hottest tables in town right now are at a new Italian eatery in the town of Napa called Oenotri. Call ahead for reservations because you won't want to miss out on their house-cured salumi platters; specialty pizzas like one with fresh figs, leeks, radicchio, balsamic and fontina cheese; and pasta bowls including green nettle cresta di gallo with Monterey Bay calamari, cherry tomatoes and pine nuts. Don't skip the quince-almond crostata with candy stripe figs and hazelnut ice cream for dessert. And because you've done your due diligence tasting wines from all over the Valley, if you happen to choose an Italian wine from the list, no one will look at you askance. Cheers!
Visit TheCarnerosInn.com for more information about the resort.

The king bedroom in a Carneros Inn Vineyard Suite.

A seasonal pizza with leeks and figs at Oenotri.