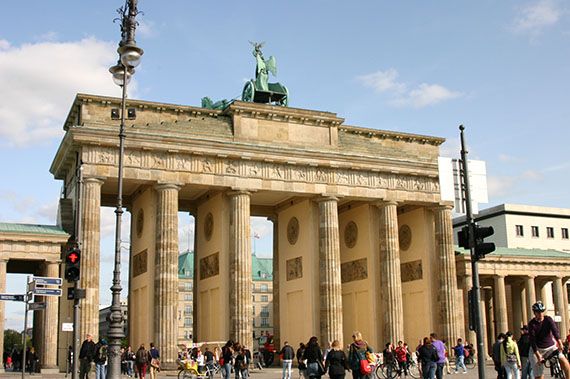 Photo Credit: Cynthia Dial
Hamburg and Berlin. Like stunning siblings— one a sophisticated, petite brunette and the other an outgoing, out-there blonde— these sisters have their own distinctive personalities. Each is special, each is different. And both are worth getting to know.
Hanseatic Hamburg
When in Germany's second city (1.8 million) you're never far from water. Situated near the River Elbe, two Alster lakes, countless canals and more bridges than Venice, Hamburg is defined by its aquatic location. And though it's one of the country's largest cities, it has a compact, refined feel.
"You don't see many old buildings," I'm told as I initially observe my surroundings. "Most were destroyed in the war."
Fast-forward to 2011. More millionaires call Hamburg's 105 districts home than any German city. And with the development of Hafencity, a glossy new 21st-century harborside district, an even brighter future is forecasted.
Hafencity, one of the top three tourist sights (alongside Miniature Wonderland and St. Michael's Church), is Hamburg's most prestigious urban development enterprise. Its flagship project, the Elbphilharmonie, will house one of the world's premier concert halls; 90-minute tours of the wave shaped landmark-in-the-making are offered on Sundays.
In this land of culturati there are three state theatres, 40 private theaters and 50 museums— from the Museum of Horrors and Prototyp Automuseum (showcases Germany's world of racing) to the Warehouse, Maritime and Coffee museums. But if railways are your thing, visit the Miniature museum.
Hamburg is the perfect remedy for the anti-mall crowd. Home to more than 1,300 shops and an impressive number of homegrown international designers, including Jil Sander, it overflows with aisle action. Surrounded by the Alster's canals is Neuer Wall, Hamburg's most luxurious boulevard of boutiques (among Europe's top ten). Mönckebergstrasse ("Mö") serves up an additional one mile of shoulder-to-shoulder shops. And the graffiti-adorned Karolinen quarter is where you'll find new-to-the-scene designers, such as award-winning Anna Fuchs.
Not to be one-upped by shopping, Hamburg's dining is equally superlative. With eleven Michelin-star restaurants, outstanding meals are the norm. But venture further. Visit TV chef Tim Mälzer's see-and-be-seen restaurant Bullerei and order the Surprise Menu. "If you trust us, we'll get you what we think you want," says Mälzer.
Two suggestions for your home base: SIDE— Hamburg's only five-star boutique hotel, or Park Hyatt— a converted merchant's counting house, now temporary home to many a celebrity.
The Beat Of Berlin
Though less than two hours away by train, Berlin is a full-blown change of pace. It's busy, it's buzzing, it's happening. With 3.4 million residents, 175 museums, 3 opera houses, 7 symphony orchestras, 150 stages and 440 galleries, it is little wonder Berlin has overtaken Rome as Europe's third most visited city (following London and Paris).
It was my first time in the reunited capital and I wanted to see it all. But due to limited time and unlimited curiosity, most of my visit was confined to East Berlin, a rejuvenated region given the historically unique opportunity to start from scratch.
Remember those faded photos of Berlin? Forget them. These days it's the epicenter of luxurious lodging, bustling boulevards and creativity in overdrive (even its street art).
Where to begin? Brandenburg Gate. When the wall fell in 1989, the majestic gate became a symbol of freedom. Today it's a lively gathering spot— adorned with entertaining guitarists, busy bratwurst carts and amateur photographers.
Legendary Hotel Adlon sits nearby. It's the site of Greta Garbo's famous line, "I want to be alone," where Michael Jackson infamously dangled his son from a window and the primetime spot for Berlin's New Year's Eve fireworks.
One block north stands the Reichstag, Germany's parliament building. Topped by a glass cupola, advance reservations allow you to visit the dome and overlook the happenings of parliament.
Stroll along Unter den Linden, one of Europe's grandest pre-War avenues. An expansive square, Bebelplatz is the site of the infamous Nazi book burning. One of the city's premier hotels, Hotel de Rome, overlooks the famous plaza and represents one of East Berlin's few original buildings. Offering selections from Europe's longest dessert bar, Opernpalais patisserie is a must for tea and cakes. Order chocolate— you'll need energy for Museum Island. Ensconced within the banks of the Spree River the island is home to several important museums, including the Pergamon (star attraction— the Pergamon Altar) and Neues (Egyptian art collection).
Shop til you drop.
Kaufhaus des Westens (called KaDeWe by Berliners) is Europe's largest department store, so visit. Its long ago original slogan: "In our shop a customer is a king and the King is a customer."
Off-the-beaten path but not off-the-fashion mark is Mulackstrasse, a tiny street known for local designers and luscious boutiques. Stop into hà duong for her flirty dresses (take a peek into the back workroom, they may be working on their next creation) or Lalaberlin for Leyla Piedayesh's knitwear creations (fans include Cameron Diaz and Heidi Klum).
Foodie Fabulous.
Sporting 13 Michelin stars in 12 restaurants, Berlin is the continent's MVP. But my top pick was a resuscitated soap factory-turned-restaurant, Kater Holzig. A don't ask, don't tell kind of place (seriously, they forbid photos), it provides a glimpse of the city you won't see from a tour bus.
For a real insider experience, go with lifestyle/gastro guide Henrik Tidefjärd on a Gastro Riverside Tour through the Turkish area of Kreuzberg.

To Sleep or Not to Sleep.
The converse of old-world Hotel de Rome and Hotel Adlon is now Europe's first music hotel. Appealing to a guest's inner rock star, free room service offers Gibson guitars and Casio keyboards.