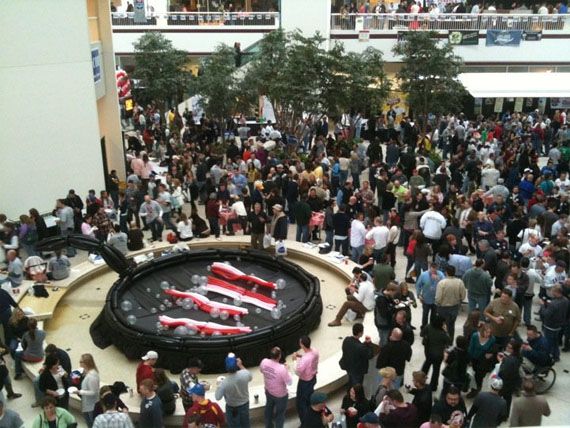 Photo Courtesy of Blue Ribbon Bacon Festival
Food festivals
can be divided into two categories: those that showcase a broad and diverse culinary spectrum; and those that hone in on a single ingredient and celebrate it to the tens.
The first category is where you find the big-name chefs and $200/ticket tastings. The single-food festivals draw the specialists, the peculiar traditions and the devotees. Plus the curious onlookers, of course. Whenever hundreds of people gather to wrestle in gravy or hurl buckets of overripe tomatoes at each other, thousands of gawkers will follow. From bizarre to gourmet, the single-food festivals below demonstrate all the ways that an ingredient can transcend the plate.


When Jay Leno sends a crew to film an obscure midwinter fishing contest for his show, it's a reason for the whole state to celebrate — and to stage a press campaign as well. Hence, 2012 is the year of the media blitz for the International Eelpout Festival. This Minnesota lake-fishing, eel-loving tradition is actually in its 33rd annual run this Februrary 16-19, and draws about 10,000 people. Even if you don't want to kiss an eel for luck or jump into an iced-over lake, you might enjoy the "frozen" wet tee-shirt contest or the ice bar on the lake. (Photo courtesy of Eelpout Festival)



Bacon's been the hip flip side to veganism for several years now, but even when it was still at the top of the goodie-two-shoe caution lists five years ago, the Midwest still considered it a food group. Founded in 2008 by a group of friends who love bacon (calling themselves the Iowa Bacon Board), the Blue Ribbon Bacon Festival is a down-home, turf-kicking party at the Iowa State Fairgrounds. Iowa Select Farms is the presenting sponsor. They have 10 bacons and 23 restaurants participating this year. Ticket purchasers get a commemorative koozie, and Coors is the main beer sponsor (For something a little harder, Templeton Rye is the sponsoring liquor). Last year, tickets sold out so quickly that this year, there's a maximum of two General Admission tickets per purchaser. This event takes place February 18, 2012. (Photo courtesy of Blue Ribbon Bacon Festival)



There are many fruit festivals in the world, but Thailand — a country where exotic fruits appear in every meal — ranks up at the top for variety, size and pageantry when it comes to celebrating the fruit harvest. Certain months are better for experiencing city-wide celebrations of fruit, from the delicious and juicy (the Lumpoon Lamyai Festival in August, the Pomelo Fair in Nakhon Pathom normally in September) to stinky but culturally colorful ones like the Durian World Expo in Chantaburi in May. (Photo courtesy of Tourism Authority of Thailand)



Though its roots are religious, Spain's Tomatina festival doesn't have a particularly pious claim to fame. It's known for being the messiest food fight in the world. Millions of tons of ripe tomatoes meet their doom in the town of Bunol, Spain, on the last Wednesday of August, when townsfolk and 15,000 visitors from all around go wild in the streets for an hour. Tomato sludge covers the town by the end, and is up to a foot deep in places. Participants hurl the tomatoes at each other with such force that they often wind up flat on their backs in it. The main rules are A) no weapons more harmful than tomatoes are allowed; B) participants must "squish" the tomatoes before throwing them; and C) no ripping or tearing of clothes. The last one is generally ignored. (Photo courtesy of Tomatina Festival)



The traditional food of Jolly Old England is the source of great sport in its home country — not just in the sense that people make fun of it (though they do), but also literally.  Of numerous annual competitions, Lancashire's World Black Pudding Throwing Championship might win the "Quirkiest in the Land" badge because the rules require that black puddings be wrapped in a pair of women's stockings before being thrown — not just into the distance, but at a target comprised of other puddings. (Photo courtesy of World Black Pudding Throwing Championship)

However, other competitions like the Olney Pancake Race (which has an international satellite in Kansas) and the Gloucestershire Cheese Roll have just as big a following. Most of these events originated in medieval times, giving us further proof that yes, people were much more resourceful in entertaining themselves before the days of radio and TV.



British Columbia loves its seafood, and a walk through Vancouver's markets will reveal a daily bounty of salmon, crab, trout, lingcod, oysters and more. However, when wild spot prawn season comes each May, the whole city goes crazy for the delicious little crustacean, which Vancouver Magazine named "Ingredient of the Year" in 2008. If you're a seafood fan with a conscience, keep your calendar clear in early May and keep scanning Northwest culinary blogs for the dates of the 6th annual Spot Prawn Festival. (Photo courtesy of Gloucestershire Cheese Roll)

Rainy green home of the renegade farmers and original hippie holdouts, Mendocino Country is a great place for foragers and explorers. Every November at the opening of mushroom season, it celebrates Mushroom Madness, with special menus at the restaurants, cooking classes, foraging walks, and other fun activities inside and outdoors.

See More Food and Wine Events