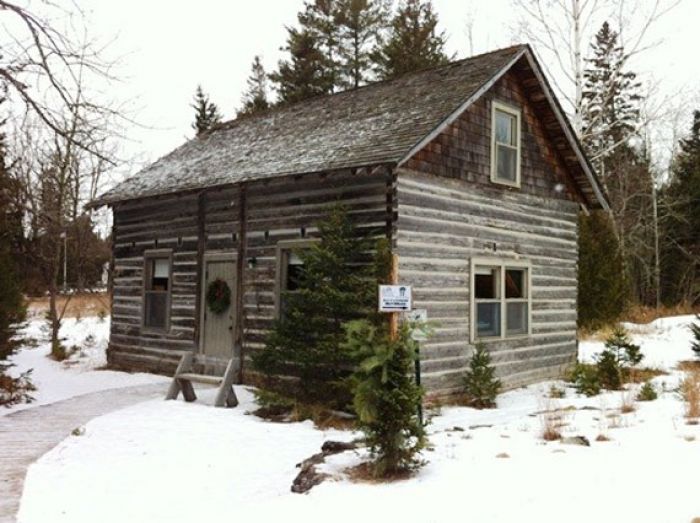 Photo Credit Ruth Mitchell
Most people think about visiting Door County Wisconsin in the summer or fall, but the winter can be a great time too. This beautiful peninsula just north of Green Bay (Packerland) is often referred to as the
New England
of the Midwest, but its microcosm of Nordic gene pools such as Norwegian, Swedish, Danish and even Icelandic populations, gives Door County a Scandinavian influence all its own. While it goes without saying there are winter activities to partake in such as cross country skiing and tubing, ice fishing, or even a romantic sleigh ride behind a team of massive draft horses, there are a lot of fun things to do indoors that will make your winter visit unique and luxurious.
On a recent visit my guest and I stayed at the Lodgings at Pioneer Lane in Ephraim, where we enjoyed a beautiful suite with a whirlpool bath and its own little deck. Waking up leisurely, we spent the morning at Door County Coffee and Tea Company where we had a decadent breakfast of Marchia's Cherry Bread Pudding, fresh fruit, and a bacon strata. I purchased some cherry "to-die-for" cupcakes for later. There was plenty of shopping as well at DCC&T. Their quaint store was filled with delightful gift items like little tea party sets packaged in picnic baskets, chocolate covered cherries, and of course, coffee, which we purchased and turned out to be some of the best I've ever had. The secret to their coffee is that they use only #1 Arabica beans according to CEO and founder Vicki Wilson.
We then headed north to Sacred Grounds Spa, one of the
best luxury spas
in the area, for a one-and-a-half hour Body Melt Back Treatment. Just let me say the adjective "melt" certainly applies here. As I looked out the window at the falling snow, I enjoyed an intensive full body massage followed by steaming hot towels steeped in therapeutic herbs including arnica, rosemary, comfrey, witch hazel, and wintergreen. Outside the snow silently fell and accumulated while I enjoyed a most relaxing treatment.
That night we drove to Fish Creek where we experienced a unique Door County "Fish Boil" at the historic White Gull Inn. The White Gull, built in 1896 is on a sleepy little road that dead ends under a canopy of cedar trees at water's edge. We enjoyed the drama of the "boil over," and after dinner consumed our fill of Door County cherry pie. The White Gull is also a very quaint place to stay. In 2010 the Inn was honored with ABC's "
Best Breakfast
in America" award for their cherry stuffed French toast.
The next day we visited the little town of Egg Harbor where we enjoyed shopping at some great little boutiques including Jane's Designs for Women where I purchased two colorful scarves, and Maxwell's House, a chic home furnishings store and art gallery where everything looked too artistically arranged to disturb with a purchase. Down the street, waiting for us, was the highlight of the day, a cheese tasting at the Schoolhouse Artisan Cheese Company. Head cheese monger, Peter Kordon, prepared a tasting for us that included some of the best cheeses the state of Wisconsin has to offer.
We opened bottle of 2009 French Vouvray to complement the array of flavors and the time spent there was heaven for our taste buds. One of the more interesting cheeses was a semi-soft, Mobay by Sid Cook of Carr Valley Cheese, from LaValle, Wisconsin. The unique Mobay is derived from an old, French cheese-making style that features two layers separated by a layer of edible grapevine ash, a novelty originally created out of frugality by dairy farmers in France to take advantage of small batches of milk. In the United States, artisan cheese makers are creating cheese by layering goat and sheep's milk. The result is both delicate and rustic.
We did manage to get out one afternoon and do a gentle snow shoeing through the Ridges Sanctuary in Baileys Harbor. The pristine 1,600 acre natural area is a National Natural Landmark, an Audubon Important Birding Area, and a Wisconsin Wetland Gem. So bringing our long johns did turn out to be prudent. When we reunited with the men in our party they were happy, cold, and loved the ice fishing!

For more information visit
LodgingAtPioneerLane.com
, or to make a spa appointment see
SacredGroundSpa.com
.
Ruth Mitchell
Delectible artisan cheese
Ruth Mitchell
We experienced top notch spa treatments at the Sacred Ground Spa.