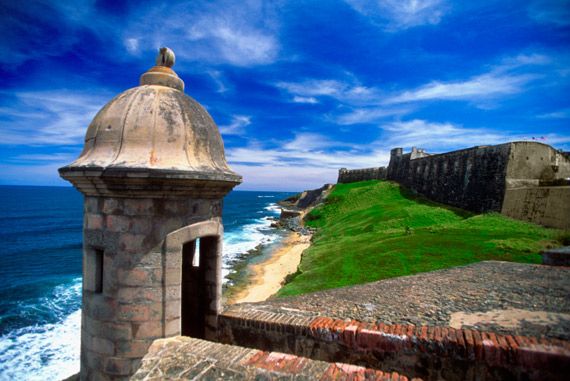 Confession: I've been to San Juan twice. Each time I visited as a cruise ship passenger for a partial day visit and each time I departed liking it but not loving it. So when the opportunity arose for a more comprehensive peek at the Puerto Rican haunt, it was with mild enthusiasm that I returned to the island. However, not being one who refuses to admit that I was wrong, I admit it. I was wrong. This is the Puerto Rico I found.
Cynthia Dial
Evidence appears in history books, Christopher Columbus discovered it, Ponce de León governed it, and Sir Francis Drake failed to conqueror it. Old San Juan is living testament to its colorful past. It exudes old-world European charm, is accessorized by indigo-blue cobbled streets and is defined by El Morro's ancient fortress walls. With its impressive number of National Historic Sites, it is little wonder that the area is considered a life-size museum of colonial architecture. Old San Juan is said to have more museums per square foot than anywhere else in the world.
Cynthia Dial
Even its shopping is historic. Favorite stop: A 36-year-old boutique, Olé, which specializes in authentic Panama hats. The hats originated in Ecuador but are named for the workers wearing it when constructing the Panama Canal. Here, owner Guillermo Christian Jeffs offers a custom, steamed-to-fit (if necessary) hat adorned by your choice-of-color headband. The experience alone is worth a stop.
Despite all of the above enticements, my lure was Saborea, Puerto Rico's annual food fest, which began with an exclusive kick-off called "A Privileged Taste of Saborea." Nineteen showcased chefs created a one-of-a-kind, multi-course meal perfectly paired wines that was prepared tableside. Our table's star was Chef Javier Menéndez of the restaurant Texas de Brazil fame. My favorite sampling was the seared salmon with white polenta and sautéed spinach and blue cheese, paired with Shaya Habis Verdejo 2009. (Photo Credit SaboreaPuertoRico.com)
Developed back-in-the-day as a playground for the rich and renowned (think Vanderbilts and Rockefellers) it was also Hilton's hand-selected spot for its first international property, the
Caribe Hilton
, which remains a prominent beachfront hotel. Today's lodgings uphold the tradition, from the six-star El Conquistador, a Waldorf Astoria resort perched atop a 300-ft cliff, to the The W Vieques, located on a tiny island noted for its two secluded beaches. The W Vieques has also been awarded with "best island in the Caribbean" title. Countless casinos, miles of white sandy beaches, 17 champion-level golf courses, specialty luxury spas and El Yunque National Forest (one of the island's 16 rainforests) complete the priceless package. (Photo Courtesy W Vieques)
Fast forward to the official opening of the two-day Saborea Puerto Rico Village on Escambrón Beach. Here the best of the best in cuisine from more than 60 restaurants was cooked on the spot and served ready to taste beneath a massive white tent. The favorite of the evening was Chef Manolo Martínez's family paella recipe. Saborea Farmer's Market held court beneath a small tent but gave big insight into many of the island's traditions in cuisine. I loved the fried cheese paired with guava dipping sauce, said to be a favorite after-meal treat. (Photo Credit SaboreaPuertoRico.com)
Cynthia Dial
Beyond Saborea's annual weekend of gastronomy, I sought to uncover the island's additional 51 weeks/weekends of food and drink. Noted as the culinary capital of pork, roasted-on-a-spit whole suckling pig type of pork, was a mandatory side trip for authentic foodies. It was about a 30-45 minute drive from San Juan into the mountains to La Ruta del Lechón (aka Pork Highway). Known for its concentration of informal roasted pork eateries, you'll be rewarded with a feast including roasted pig,
Morcilla
(savory blood sausage), rice with pigeon peas, and native vegetables such as yucca, breadfruit and plantain.
Cynthia Dial
Sunday is the day to go. Puerto Rican families are in full force and it's a good old-fashioned family-reunion type of atmosphere. Get there early. Should you arrive after 1 p.m, expect to be greeted by a North American-style traffic jam. Favorite sampling from the excursion was
crackling
, crisp, cooked-to-perfection suckling pig skin. Some mornings demand comfort food. So if you imbibe one too many Puerto Rican rums, make a 911 visit to Old San Juan's legendary La Bombonera, an island institution since 1902.
Cynthia Dial
A family-run, old-style coffee shop, its atmosphere recalls the past. Locals settled at its long counter while reading the daily newspaper, sharing neighborhood gossip and lingering over coffee. My favorite sampling was the
mallorca con jamon y quesco
, a confectioners sugar-dusted ham and cheese sandwich. And on the other end of the spectrum, MiX On The Beach is Chef Alain Ducasse's only Caribbean restaurant and the pride of
The W Vieques
.
It was our guide, Raymond Sepúlveda, who best explained the island's cooking style logic: "In Puerto Rico everything is cooked in fat, but we only do that because everything is better when cooked in fat." And the Puerto Rican chefs lovingly revealed their teachers—their mothers and grandmothers. But it is the Piña Colada, the locally-created liquid concoction, which inspires controversy. With a couple of claims as its birthplace, we set out for a taste test (reminder: it's all research). At the Caribe Hilton's Beachcomber Bar it's said that bartender Ramón "Monchito" Marrero set out to capture the sunny, tropical flavor of Puerto Rico on August 15th 1954. Thus, the Piña Colada was born. It's all etched in glass above the bar's entrance. (Photo Credit Caribe Hilton)
Cynthia Dial
Making a similar pronouncement, the doorway of Barrachina Restaurant in Old San Juan is flanked by a marble plaque: "The house where in 1963 the Piña Colada was created by Don Ramon Portas Mingot." The plaque was awarded by the Institute of Culture said our server José, who wouldn't share the beverage's recipe, but did impart that it is made from one part coconut milk, three parts pineapple juice and dark as opposed to light rum. Favorite sampling (post-research): Barrachina's Original Piña Colada.
Cynthia Dial
Puerto Rico produces 11 million pounds of coffee annually, and Ciales represents the island's coffee country. Thus, we headed inland to visit the municipality, Puerto Rico Coffee House and its owner Pedro Maldonado, who represents the third generation of a four-generation operation. Coffee tasting is not unlike wine tasting. "Cup it, smell it, taste it, feel it on the upper side of your tongue," instructed Maldonado. Among his selections was Kopi Lowak, the world's rarest coffee, which sells for $400/pound and became better known after its mention in the movie, "The Bucket List."
Puerto Rico has star quality. Erik Estrada, Jimmy Smits and Marc Anthony are of Puerto Rican descent and it's the setting of many movies, including "Executive Decision" and "Assassins." As an unincorporated territory of the United States, American visitor perks are premium: no passport is required, currency is the U.S. dollar, English is widely spoken and cell usage/coverage is similar to the states. But it is the food, food inspired by Spanish, African and U.S. influences, that best tells Puerto Rico's colorful story and makes you want to return again to read chapter after chapter. Buen provecho!